The most exciting things to do in Boston in April center around major events and celebrations - the Boston Marathon, Patriots Day reenactments of the beginning days of the Revolutionary War, the start of Red Sox season, the first signs of real spring, and star-studded concerts.
Red Sox tickets are in demand for home games at Fenway Park, especially for Opening Day, where you can experience Boston's intense sports culture in the stands and savor a freshly grilled Fenway Frank from a street vendor.
But ... it's April, with spurts of bright sunshine, balmy days, and nights. Catch a sea breeze at a local beach, cool off in a splash fountain, or cruise to Provincetown at the tip of Cape Cod for the day.
See the city on a Duck Tour sightseeing adventure, or cruise the Lagoon in the Public Garden on a Swan Boat. Check out Boston's latest beer gardens.
And remember, many of the best things to do in Boston during April are free: lie on the grass in Boston's many gorgeous parks, catch the Friday Flicks on the Esplanade, and simply walk around the city admiring the first waves of spring flowers.
Here are some of our favorite fun Boston events and activities for April.
Find more fun Boston events during April
Top photo: Spring magnolias blooming along Marlborough Street in Boston's Back Bay, (c) Boston Discovery Guide
Boston Discovery Guide is a reader-supported publication. When you buy through our links, we may earn a commission at no additional cost for you. Learn more
---
Find Your Favorite Patio Dining Spot & Soak Up Some Sun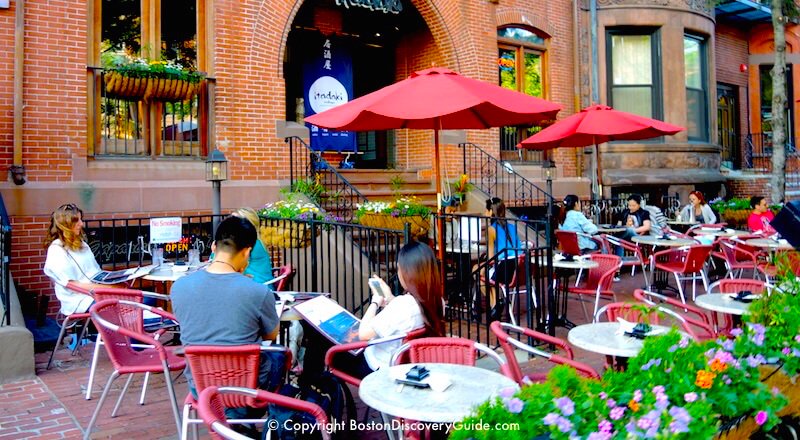 Boston restaurants start setting up their outdoor dining areas as early as April 1st (assuming the weather cooperates and we don't have an April Fool's Day snowstorm).
As spring progresses, outdoor dining areas in front of nearly every bistro and cafe/coffee bar give you ideal spots to people-watch, enjoy lunch or dinner, and bask in the sun at umbrella-topped tables. There's no better way to welcome spring in Boston!
Find Boston's best outdoor dining spots
---
More Ways to Enjoy Boston's Foodie Culture
Have fun exploring Boston's historic neighborhoods by joining a specialty food and beverage tasting tour. Here are several favorites:
Boston's North End: Secret Food Tour - Sample the North End's famous foods - fresh lobster roll, Italian specialties - along with the Founding Fathers' favorite beverage (hint: not tea) on this fun sightseeing tour covering 400 years of local history and 7 food stops
Historic Pub Crawl Tour along the Freedom Trail - Follow in the footsteps of Boston's founders (and brew lovers) on this fun tasting adventure as you learn how our historic pubs played an important role iin the American Revolution
Boston Underground Donut Tour - Sample Boston's best locally-made gourmet doughnuts on this walking tour of several historic city neighborhoods
More fun Boston experiences:
---
Take a Sightseeing or Sunset Cruise around Boston Harbor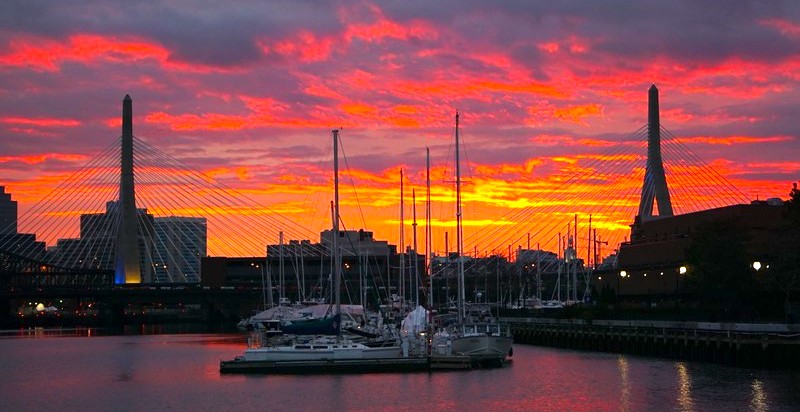 Popular Cruises on the Northern Lights:
Sailing on the Adirondack III
Adirondack III Day Sail - Enjoy cool breezes and the afternoon sun on this relaxing sightseeing sail around Boston Harbor and the Inner Harbor Islands - Starts May 3
Adirondack III Sunset Sail - Relax as the setting sun turns the sky brilliant colors - Starts May 3
Adirondack III 90-Minute Mimosa Day Sail - Soak up the sun on this afternoon sail through the Inner Harbor and Harbor Islands with drinks available for purchase at the bar - Starts July 1
Book Your July 4th Cruises Now!
---
Visit Franklin Park Zoo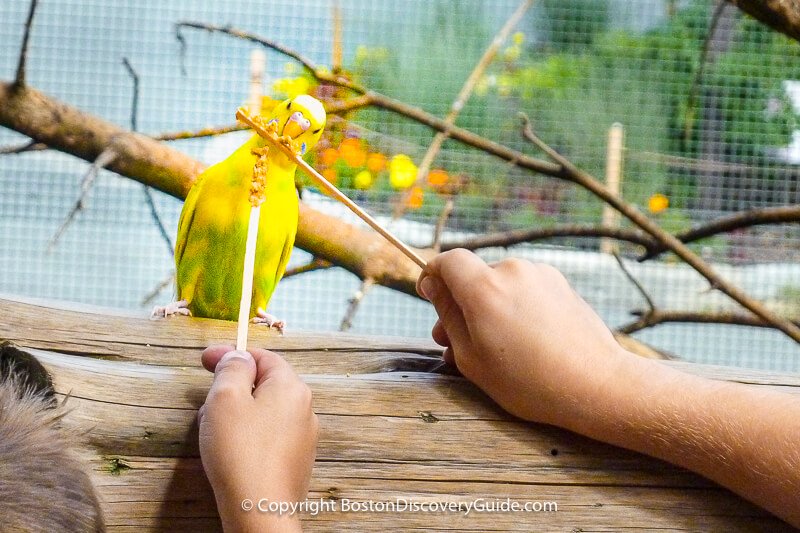 Boston's Franklin Park Zoo comes alive in April as zebras, lions, kangaroos, tigers, wildebeests, ostriches, and others are out frolicking in the spring weather. You'll also see tropical forest animals such as gorillas, lemurs, pigmy hippopotamuses, ocelots, birds, plus farm animals.
Rainy day? Not to worry! Head for the tropical forest and soak up the 72 degree warmth at Bird's World and other fascinating environments. Dining at the Giddy-Up Grill is available when you get hungry, and don't forget to look for special and holiday events and education programs that take place throughout the spring.
Get your tickets online before you go.
---
See Something New - Go on a Tour or Cruise!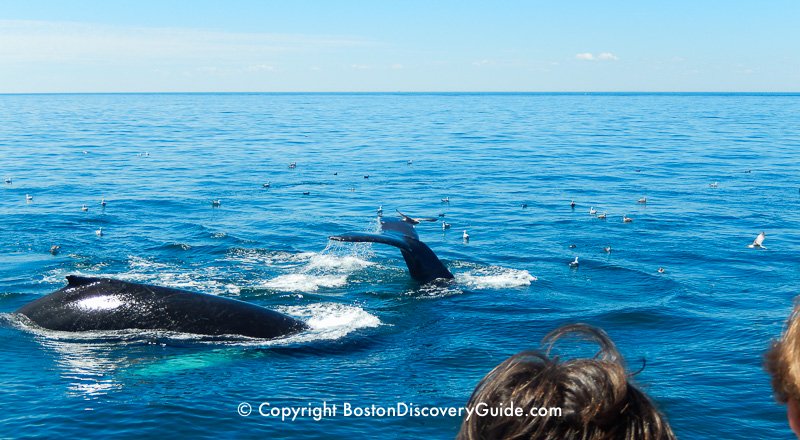 Boston whale watching cruises begin operating again in late March - so April is the perfect month for seeing these magnificent creatures up close, along with friendly dolphins and numerous fish and sea birds.
Boston Duck Boats begin re-appearing in large numbers in April, and offer a unique vantage point from which to tour through the city's most historic areas downtown, as well as parts of Back Bay and Beacon Hill, and then to view it from the special perspective of the Charles River. You may even see nesting ducks along the river's edge - perhaps descendants of Mr. and Mrs. Mallard.
Lots of other Boston tours and cruises are also available - a fun way to explore the city and discover things you might not see on your own:
---
Cheer the Red Sox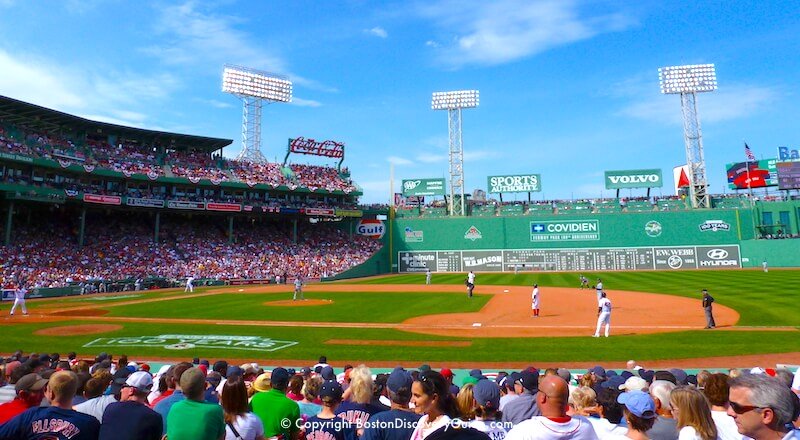 Fresh from their pre-season games, the Red Sox play their Opening Game at Fenway Park this month.
Although tickets for the opening game may be challenging to get at this point, the Red Sox play plenty of other home games throughout April - so be there!
Red Sox April Schedule & Tickets
Enter DISCOVERY10 to save 10% on TicketLiquidator & TicketNetwork tickets. Good through 12/31/24.
See all Red Sox schedule & tickets for April
Find Red Sox tickets for other months
Can't make it to a game? Go on one of these popular Fenway Park tours - a truly thrilling experience for all baseball fans.
---
Immerse Yourself in Daffodils on Marathon Weekend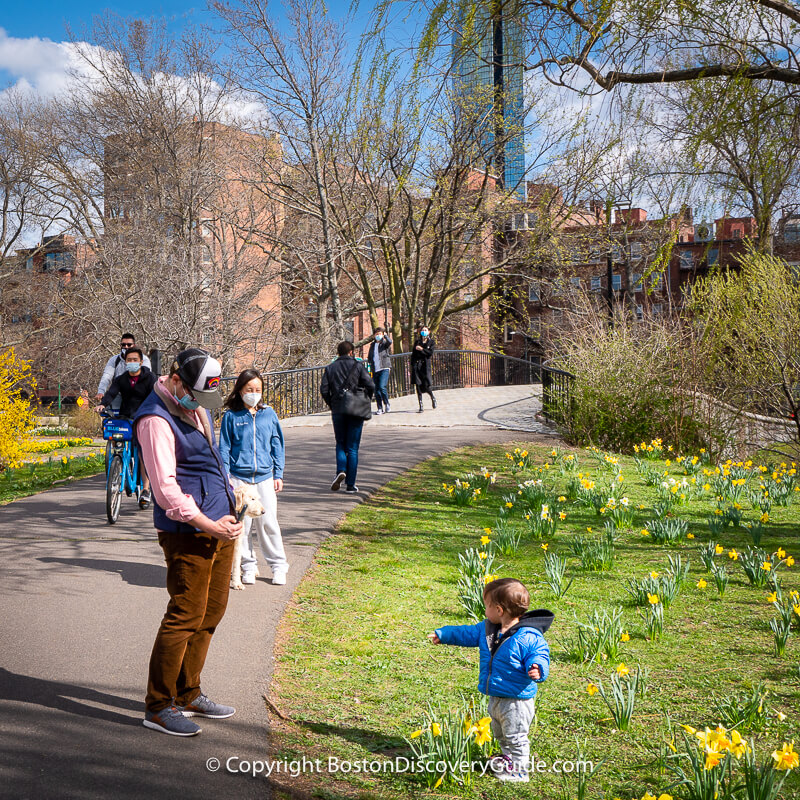 Daffodils all over Boston burst into bloom in mid-April, just in time for Marathon Weekend. You'll see recently-planted swaths of them along the Esplanade, on the Greenway, and in the Boston Public Garden, as well as thousands of pots of daffodils placed along the 26-mile course of the Boston Marathon route from Hopkinton to Copley Square.
The yellow daffodils honor Boston's resilience after the tragic events of the 2013 race - and add to the beauty of the city today.
---
More Sports: Catch the Bruins & Celtics Last Regular Season Games 2023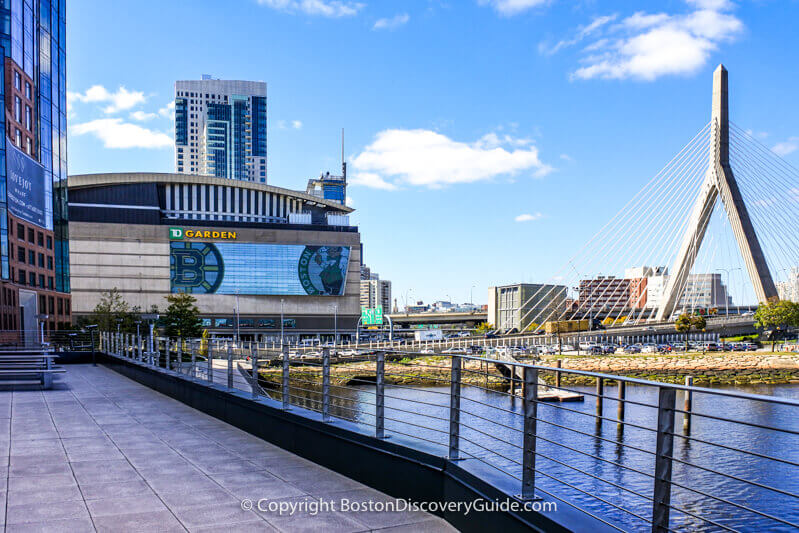 Watch the Bruins and Celtics play their final home season games at TD Garden. Will the Bruins go to the NHL Eastern Conference Quarterfinals and the Celtics go to the NBA Eastern Conference First Round? Stay tuned!
Whether they win or lose, head over to Boston sports bars near the Garden.
Save with this ticket discount code:
Enter DISCOVERY10 to save 10% on TicketLiquidator & TicketNetwork tickets. Good through 12/31/24.
Bruins Tickets
Celtics Tickets
Find Celtics tickets for April
---
Go to a Concert or Show (or Both!)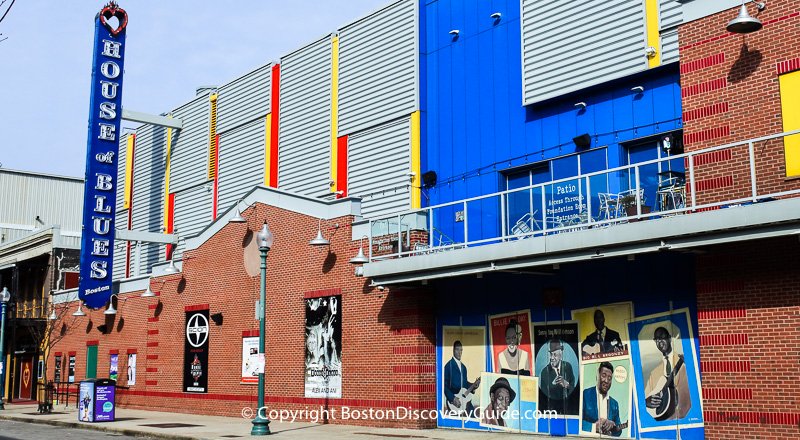 Concerts and shows take place almost every night of the week in Boston. Our many concert venues attract top performers, and Boston's Theatre District is home to everything from Broadway shows to avant-garde contemporary drama.
Save with this ticket discount code:
Enter DISCOVERY10 to save 10% on TicketLiquidator & TicketNetwork tickets. Good through 12/31/24.
Schedules & Tickets
More Concerts & Shows for April
Boston Concerts throughout the Year
Find more April concerts & shows
Theater Schedule & Tickets for April
2024 Shows in Boston:
---
Street Performers at Faneuil Marketplace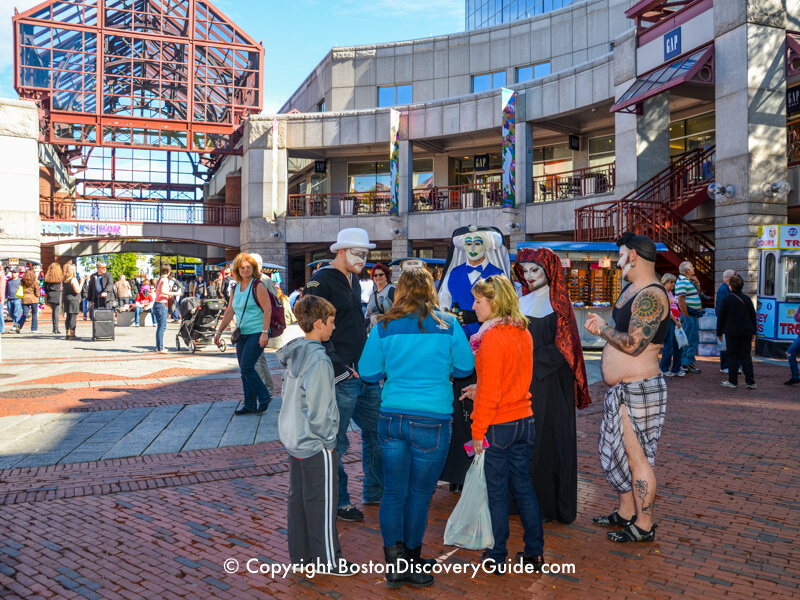 Although Faneuil Marketplace's famous street performers entertain fans throughout the year, the return of balmier weather during April make this the perfect month to catch a show. Performances take place throughout the day (with most between about 11am-4pm) and vary daily, but you can usually expect to see stunts, musical acts, magicians, and acrobats doing balance routines.
Explore Boston
Whether this is your first or your 40th visit, you can have fun exploring Boston's unique, spectacular, and sometimes quirky neighborhoods. Here are two suggestions to get you started:
South Boston Waterfront: In Boston's most sizzling neighborhood, you'll find the Institute of Contemporary Art, Leader Bank Pavilion where many summer concerts take place, and lots of popular restaurants overlooking the waterfront. For the ultimate experience in this neighborhood, check out all the cruises departing from Boston's Cruise Terminal - and then make reservations on one!
Fort Point: Across Congress Street from the South Boston Waterfront is the Fort Point neighborhood, home to artists, art galleries, and many of the city's top chef-owned restaurants. Explore the galleries and boutiques, and be sure to have a meal here.
Check our Boston sightseeing guide and map to find attractions in other neighborhoods.
Easy Ways to Save BIG in Boston
Find out more about Boston discount cards, and how they give you big savings on top attractions.
Head Outdoors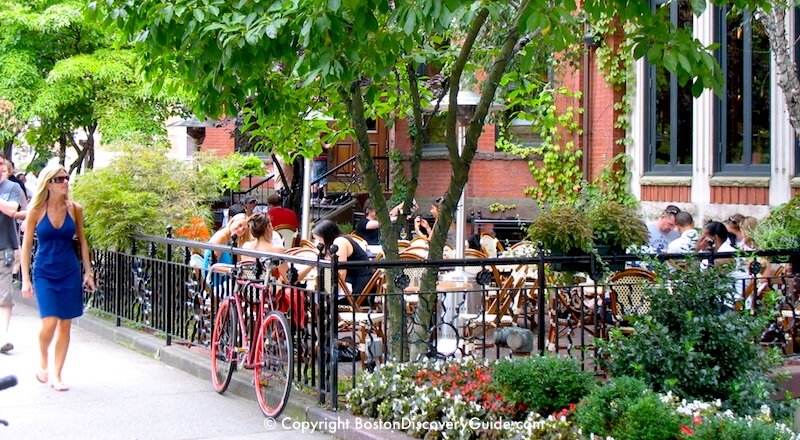 April is a perfect time to explore Boston's many parks and green spaces. Stroll or bike along the Esplanade, walk the length of the Greenway from Chinatown to the North End, and enjoy the views from HarborWalk.
Toward the end of April, magnolias and other flowering trees burst into bloom in Back Bay and the Public Garden. To get a preview, check out our article on where to see spring flowers in Boston. Garden tours start next month - so start planning!
---
Hoist Some Sails
Sailing in Boston begins in earnest in April. If you sail, or want to learn how, check out the opportunities for sailing during your visit. You, too, could be out sailing on the Charles River or Boston Harbor.
For more excitement, watch (or participate in) the Run of the Charles - New England's biggest kayak and canoe race.
More Fun Ways to Discover the Best of Boston
---
Seek Out Spring Flowers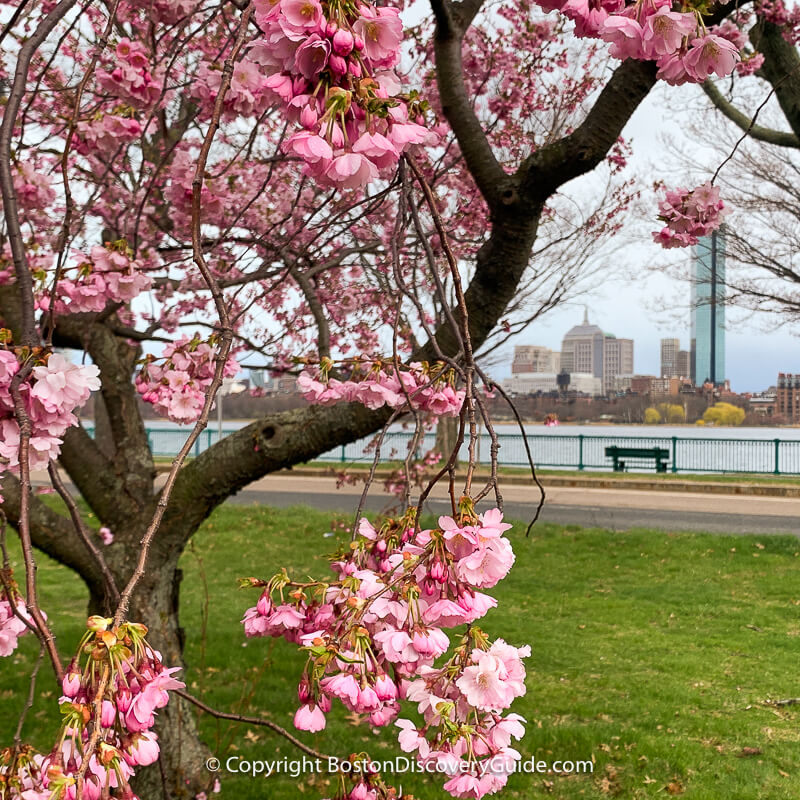 As the city bursts into bloom in April, people turn out in hordes to admire all the spring flowers. You'll find lots to love on a stroll through the Victorian-era Public Garden or the lushly-planted Rose Kennedy Greenway, but especially on warm weekend afternoons, these well-known spots can get crowded.
Find out where to see cherry blossoms and other spring flowers in Boston
To see pockets of color known mostly to locals, explore some of Boston's "secret" parks and gardens, conveniently located in the central core of the city but just enough out of the way to be almost hidden, unless you happen to know where they are.
---
Watch the American Revolution Begin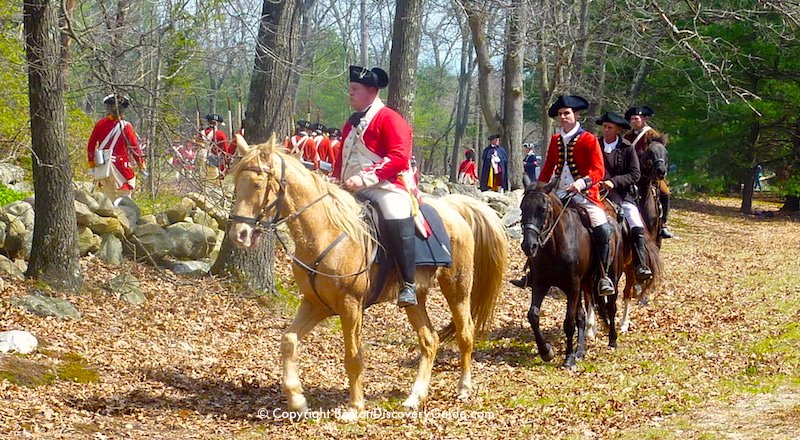 Patriots Day, held in mid-April on Marathon Monday marks the anniversary of the first Massachusetts battles of the Revolutionary War.
Every year in these mostly-free events, local Minuteman companies and historical societies reenact the original events as a way to commemorate history and honor the events that led to American liberty.
Find out more about Patriots' Day in our comprehensive guide and schedule
---
Cheer for the Marathon Runners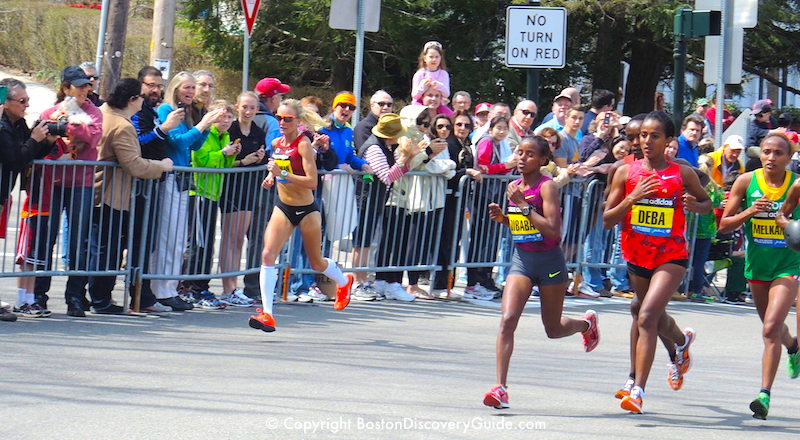 Held every year on Patriots Day and sometimes called "the Patriots Day race," the Boston Marathon draws elite athletes and fans from all over the world. Although the winners finish within a couple of hours, the race continues throughout the day as the other 25,000 competitors continue along the 26 mile route.
If you love huge crowds, the most exciting place to be is near the finish line on Boylston Street near the Boston Public Library. In keeping with tradition, the Red Sox finish a home game against the Yankees about when the first runners turn onto Boylston street, and crowds pour out of Fenway to join other cheerers. You may not get a glimpse of the runners, but you can join the enthusiastic cheering.
Alternately, you'll find plenty of quieter, saner spots along the rest of the Boston marathon route. Take the T, as driving - especially in the city - is nearly impossible on Marathon Day.
Need a hotel? Check out our suggestions about Boston Marathon hotels
More to See and Do in Boston during April
More Things to Do in Boston in April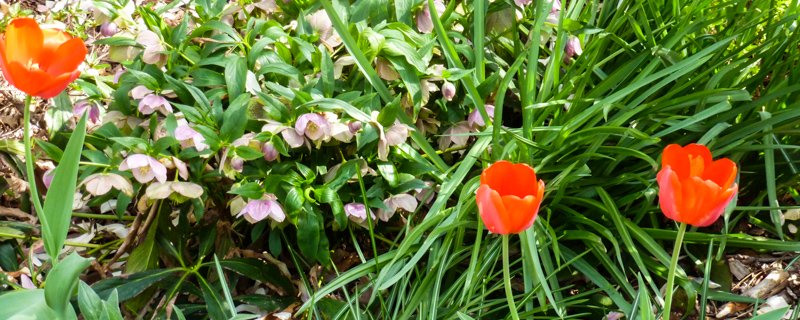 Check Out More Top Boston Events Each Month
January | February | March | April | May | June | July | August | September | October | November | December | Year at a Glance
More Articles about Things to Do in Boston in April