Teens and thrill-seekers love Codzilla.
Speed, spinning turns, loud rock music blaring from 30 on-board speakers, and the crew's comic routine involving pirates and mutant cod make it the wildest ride in the Harbor.
What is Codzilla?
It's a sea monster . . . um, no, actually, it's a souped-up, 2,800 horsepower, twin turbo-charged engine muscle boat. . . well, cruise boat trying to look like a shark . . . or at least not like a placid codfish.
If you're looking for a unique cruise experience that combines sightseeing with fun - and you don't mind getting wet - this may be the Boston Harbor tour for you!
CORONAVIRUS UPDATE: Expected to restart cruises on July 4 - stay tuned for updates
Get Your Codzilla Tickets Online
Top photo; Codzilla as it races around Boston Harbor, (c) Boston Discovery Guide
Boston Discovery Guide is a reader-supported publication. When you buy through our links, we may earn a commission at no additional cost for you. Learn more
---
Is Codzilla the Right Cruise for You?
Yes, if . . .
You love speed and thrills - or you're with teens who do
You like to laugh, and appreciate cheesy humor
You want to cool off on a hot summer evening
You want to combine fun with sightseeing
Maybe not if . . .
You don't like to get wet, or you worry about your hair
You're with young children who might feel scared by the turns
You hate cheesy humor, or prefer a more sedate cruise
You loathe loud music and think the '80s was a lost decade
Still interested? Get your tickets online
---
Your Codzilla Experience . . . What to Expect
Once you come on board, the crew will offer you a free plastic bag to protect small belongings and for a couple of dollars, a poncho to protect you. Accept their offer!
During the 40-minute cruise, you'll go as fast as 40 miles per hour, although first, the captain has to maintain a more sedate pace through Boston Harbor due to rules about not creating wakes.
You'll see some wonderful views of Boston, and while this isn't a typical sightseeing cruise, the crew points out some of the most famous sites.
But as soon as you pass Deer Island, get ready to rock and roll!
The captain revs up the engine and blasts out AC/DC and other '80s rock music through the 30 speakers on board, while the crew continues their comic routine.
You'll feel the wind (and possibly the water) on your face as the captain spins Codzilla around in 360 degree turns and gives you as bouncy a ride as possible by hitting wakes from other boats.
Rides vary based on the wind, waves, and wake conditions on a particular day - but if you're sitting in the back, expect to get wet.
For a bumpier but generally drier cruise, sit in the front of the boat.
Codzilla Departure Location & Tickets
Codzilla cruises depart from early May through Indigenous Peoples Day (2nd weekend in October) from Long Wharf, next to the New England Aquarium.
If you're coming by subway, take the Blue Line to Aquarium Station. Look for the BHC (Boston Harbor Cruises) sign on Long Wharf.
Boston Insider Tips: What You Need to Know about Codzilla Cruises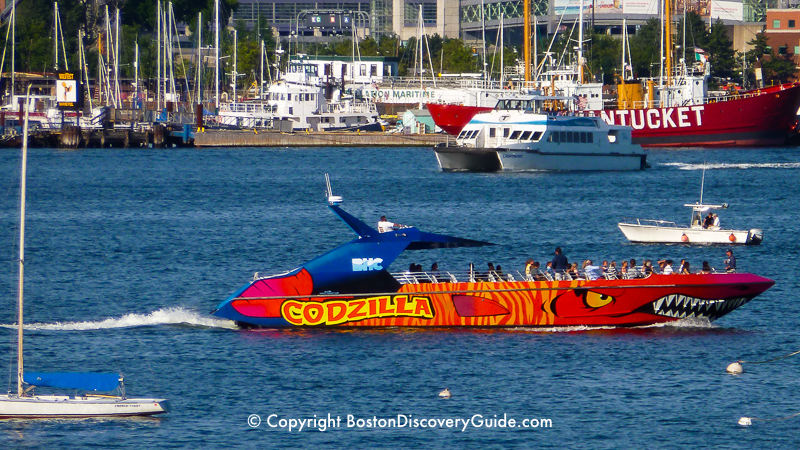 What to wear? Dress for a Codzilla cruise with the expectation that you'll get wet...perhaps very wet.
Hats recommended? Don't bother wearing a hat or anything else that might blow off . . . even glasses have been known to blow overboard.
Sunscreen! Be sure to apply it - 40 minutes on the water can give you a burn.
Number of stops during Codzilla cruises: Zero.
Does Codzilla operate year-round? No. Cruises take place from mid-spring through late fall, although you can reserve your spot in advance at any time.
---
More Fun Things to See & Do in Boston
---
More Articles about Things to Do in Boston
Need a Boston Hotel or Apartment?
Use this handy map from Booking.com to find the perfect place to stay. Just enter your dates to find what's available, see the best rates, and make your reservations.