Boston Discovery Guide's recommendations for the 13 best things to do in Boston in October share a common theme: Soak in the gorgeous October weather, enjoy gold and crimson fall foliage, and join the seasonal celebrations and festivals happening in Boston this month.
Boston's huge Columbus Day Parade, art festivals and open studios, the world-famous Head of the Charles Regatta, interesting walking tours, and New England Patriots football games give you plenty of great excuses to be outside.
This year, 2021, there's a potential bonus: the Boston Marathon, which couldn't take place as usual in April due to the pandemic, has been rescheduled for Columbus Day Weekend.
And don't forget Halloween events in Boston and nearby Salem all month!
Need more suggestions? Check the October Events Calendar.
---
13 Top Things to Do in Boston in October
1. Watch Boston's Columbus Day Parade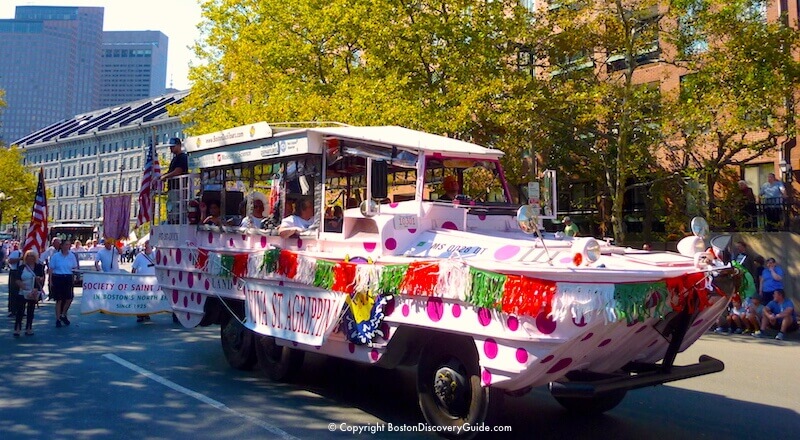 Marching through Boston's North End neighborhood in odd-numbered years (2021, 2023, 2025) and East Boston during even-numbered years (2022, 2024, 2026), the Columbus Day Parade celebrates the city's Italian heritage, the armed forces and their contributions to American freedom, and implicitly, the voyages and explorations made by Christopher Columbus.
This 2-hour parade attracts more people from the neighborhood than tourists, and chatting with all the neighbors and other groups while watching the bands, military units and honorary militias, floats, performers, clowns, and even antique cars march by adds to the fun.
Be sure to: Go for dinner in one of the mouth-watering North End or East Boston Italian restaurants after the parade:
More about the Columbus Day Parade
---
Bonus Event on Columbus Day Weekend: The Boston Marathon 2021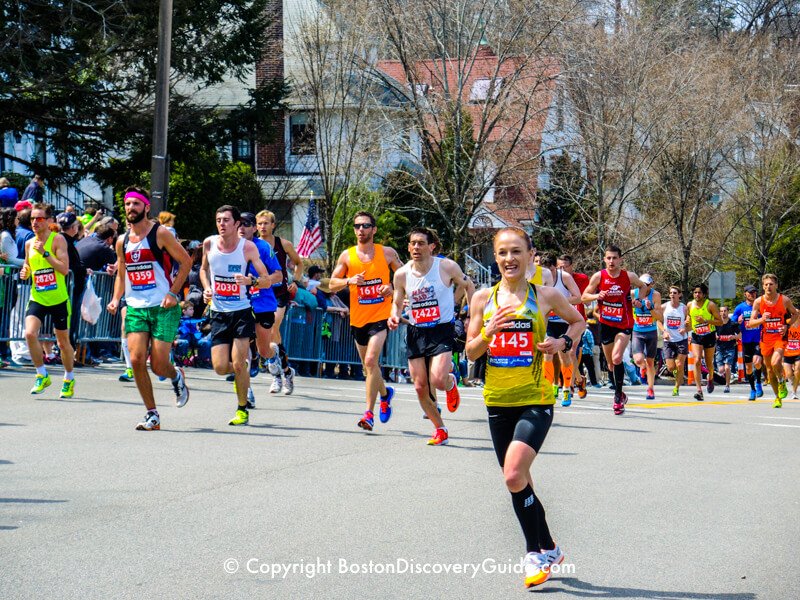 Boston Marathon runners not far from Heartbreak Hill
The Boston Marathon - one of the city's biggest events of the year, and also known as the "Patriots Day Race" - features about 31,500 elite runners from around the world competing in a route made difficult by rolling terrain and features such as "Heartbreak Hill."  Although this hugely popular event normally takes place in April, it has been rescheduled this year for Monday, October 11 - stay tuned for more details!
More about the Boston Marathon
Hotels close to the Boston Marathon route
Best places to watch along the Marathon route
---
2. Celebrate Halloween!
With its many historic graveyards, ghost stories, and grisly murders (think Jack the Ripper), not to speak of millions of pumpkins from the surrounding New England countryside, Boston revels in Halloween, with celebrations and special events going on all month. If you're visiting, not-to-be-missed events include the famous Ghosts and Gravestones tours, ImprovBoston's very funny and totally outrageous GoreFest production, and if you have time, a day trip to Salem, the witch capital of the world.
More about the Ghosts and Gravestones tour
More about Halloween events in Boston
3. Say A Fond Goodbye . . .
. . . to Boston's pop-up beer gardens until they return in the spring. Stop by for one last enjoyable brew at your favorite beer garden on the Greenway or the Esplanade.
But don't wait - they fold for the season just after Columbus Day Weekend, or even earlier if the weather takes a dicey turn. And although they reappear in May, that's a long time away.
4. Explore Boston by Bike
Another fun thing to do in October is to join a bike tour led by Urban Aventours (109 Atlantic Ave, just across from Christopher Columbus Park in Boston's North End).
Tours depart several times daily, and you can select from a bunch of interesting options:
Find out more about Boston Bike Tours
---
5. Watch the Head of the Charles Regatta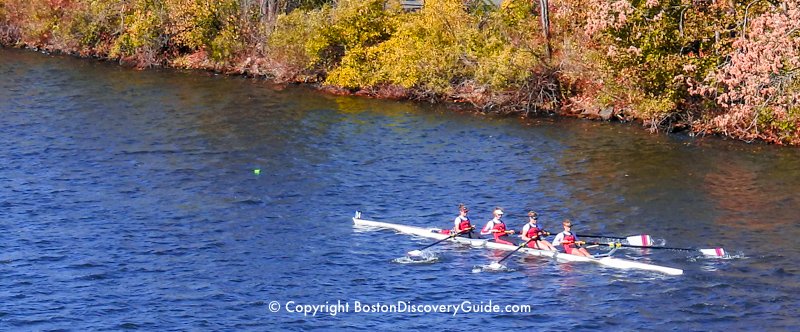 Sculls (racing boats) powered by rowers ply the Charles River almost year-round - truly a quintessential Boston sight.
But when over 11,000 local and elite rowers from around the world gather for the huge Head of the Charles Regatta in late October, they fill the river with an exciting spectacle that attracts huge crowds along the banks and looking down from the bridges. Best of all, the Regatta gives you the perfect excuse to be outdoors enjoying fall foliage during the most beautiful season of the year.
Find a great viewing spot from either the Cambridge or Boston side of the river or one of the bridges, and enjoy the races!
More about the Head of the Charles Regatta
---
Two Easy Ways to Save BIG in Boston
Find out more about Boston discount cards, and how they give you big savings on top attractions.
---
Join a Walking Tour
Combine walking around and viewing Boston's fall foliage with seeing interesting parts of the city from an "insider" perspective by taking a walking tour. Here are 3 excellent choices:
Boston Wine Tasting and Walking Tour - You'll stroll around one of Boston's iconic neighborhoods - the North End, South End, Back Bay, or Harvard Square - while your guide leads you to 3 award-winning restaurants where you'll sip up to 6 different wines while your guide shares information about Boston's culinary scene, wine pairings, and other tips. Boston in October doesn't get much better than this!
Find out more and book your tour now
Boston Food & Beverage Tours - Sample Boston food and beverage favorites while you tour iconic neighborhoods:
Indulge Your Passion for Sports
For Boston sports fans, October offers Bruins, Celtics, and Patriots games. With TD Garden right in the middle of the city, getting to a game couldn't be easier. Even though Gillette Stadium requires a little more time to reach, you can easily get there and back on the special "Patriot Train" departing from North Station.
Admire Boston's Biggest Pumpkins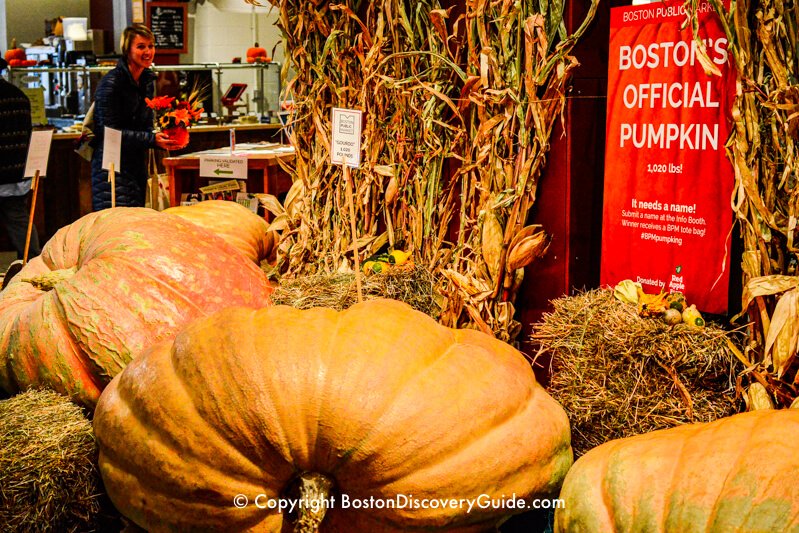 Boston Public Market, located at 100 Hanover Street near the Rose Kennedy Greenway and City Hall Plaza, showcases locally produced food from 40 or so New England farmers, fishers, and specialty bakers, coffee bean roasters, and candy makers and is always a great place to pick up prepared food for an impromptu picnic or ingredients for dinner at home.
In October, giant pumpkins steal the show. Stop by to admire the biggest and the best - and then browse the booths for a tasty snack.
More Top Tours for October
---
Visit Open Art Studios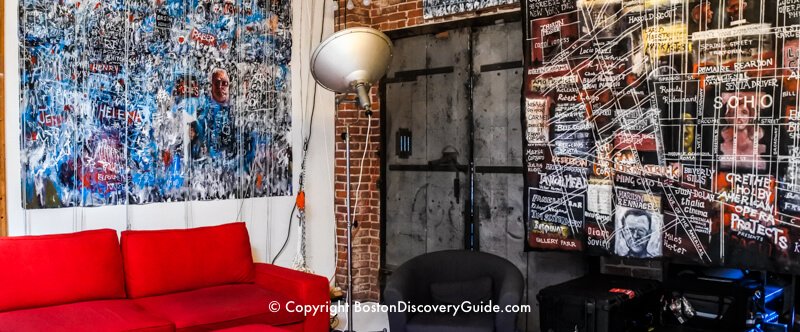 Open Studios will be a virtual event this fall due to the coronavirus pandemic. Online festivities will include live artist talks and discussions, studio tours, workshops and demonstrations, performances, readings, docent tours, and LOTS of art. Check here at the event website for details:
The Fort Point Arts Community, located next to the Fort Point Channel, dividing Downtown Boston from the South Boston Waterfront, has flourished since the first artist pioneers arrived in the 1970s to convert abandoned factories to art studios and galleries. More than 300 artists now live and work there, and on one special weekend in October and another in May, open their studios to the public in one of the city's biggest art events.
Fort Point Open Studios provide a wonderful opportunity to explore the many diverse studios, talk with the artists, and immerse yourself in this world of art. It's also a great excuse to explore more of the rapidly developing South Boston Waterfront.
Get dates and times for the Open Studios from the October Events Calendar
Find out about the Fort Point neighborhood's top chef-owned restaurants
---
Photograph Boston's Gorgeous Fall Foliage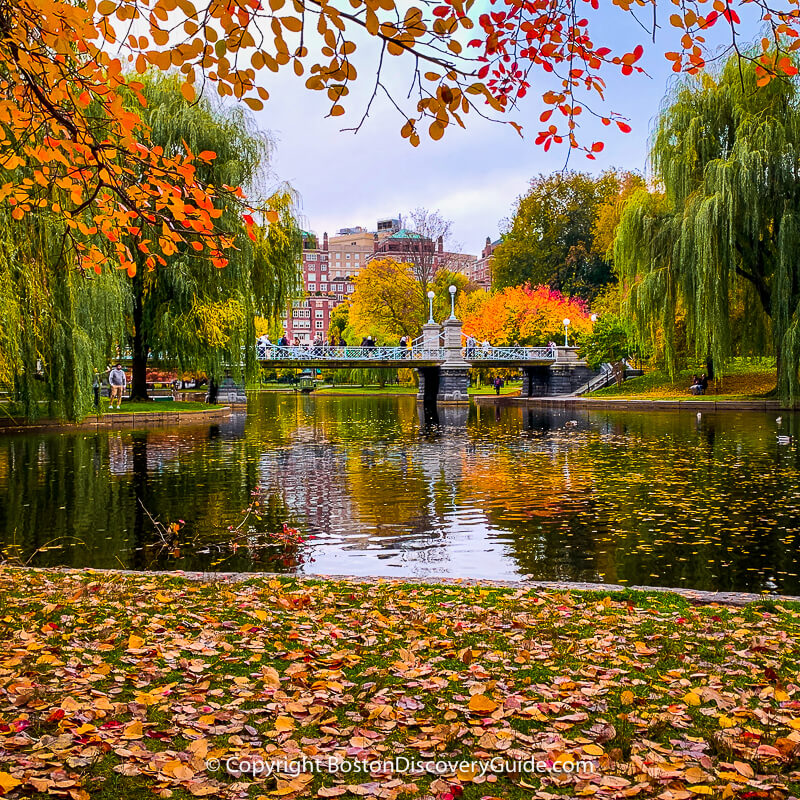 By early October, Boston's many trees begin to show tinges of gold and crimson and by the end of the month, breathtaking fall foliage can be seen throughout the city.
October is the easiest time of the year to take stunning photos. You'll see plenty of tourists and locals walking around the city with cameras in hand.
If you have to pick just one spot for your foliage viewing/photographing, head to the Lagoon in Boston's Public Garden. With giant weeping willow trees and bright-colored maples of many species reflecting in the water, you can take stunning photos from many different perspectives.
Be sure to check the views from the middle of the suspension bridge - or stand on the shore and make it the focal point of your photos. As an added benefit, Boston's famed swans will still be in residence for most of the month.
Want to combine foliage, sightseeing, and photography? Join a Boston Photography Tour of nearby historic Beacon Hill
---
Enjoy a Concert Show
With all the Boston and Cambridge college students back in town, you'll find plenty of entertainment to choose from every night.
Top October Concerts in Boston
Enter DISCOVERY 10 to save 10% on TicketNetwork & TicketLiquidator tickets
Schedules & Tickets:
Check Boston Discovery Guide's Concert Schedule for October for more ideas.
---
Bask in the Warmth of the Sun
In just another month, October's relatively warm, sunny days will be just a memory - so go outdoors and soak up the sunshine now - masked, of course!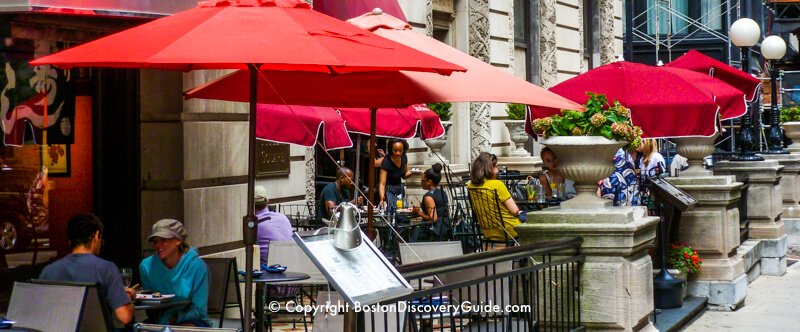 Some suggestions:
---
Enjoy a Show in Boston's Lively Theatre District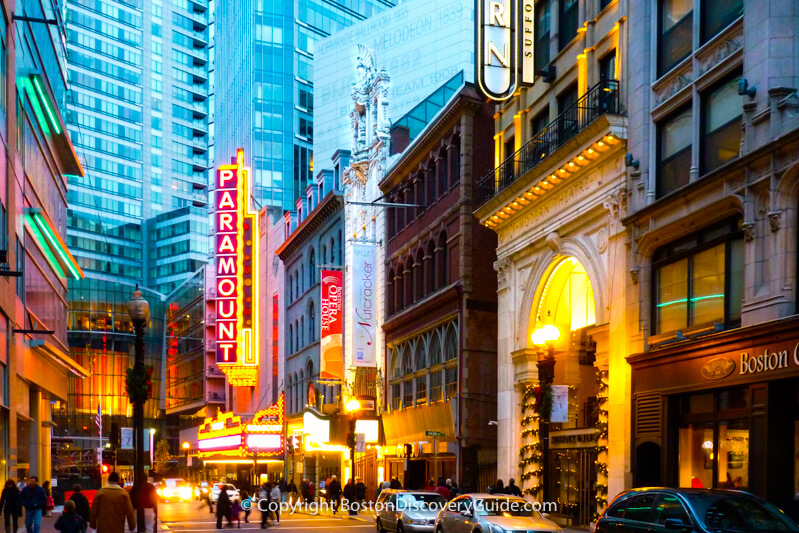 Boston's vibrant theater scene includes more than a dozen major performance venues in the Downtown Theatre District. From Broadway hits to avant-garde experimental theatre, you'll find performances all year but October is usually an especially good month to find exciting shows, musicals, and dance as the new season hits full stride.
And don't forget about Boston's comedy clubs - always good for a laugh!
Top Theatre District Shows in October
Schedule & Tickets
Enter DISCOVERY 10 to save 10% on TicketNetwork & TicketLiquidator tickets
Find out more about the Boston's historic Theatre District
Tour the dazzling Wang Theatre
Boston Comedy Club Events in October
---
More to Do in Boston in October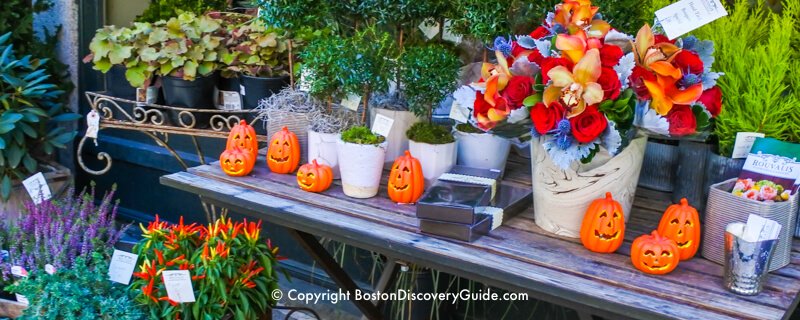 ---
More to See and Do in Boston during October
---
Find a Hotel for Your Boston Visit
Enter your dates to see available hotels and rates:
More about how to save on Boston hotels
---
Check Out More Top Boston Events Each Month
January | February | March | April | May | June | July | August | September | October | November | December | Year at a Glance
---
More Articles about Things to Do in Boston in the Fall
---
Need a Boston Hotel or Apartment?
Use this handy map from Booking.com to find the perfect place to stay. Just enter your dates to find what's available, see the best rates, and make your reservations.