Massachusetts RV parks and camping sites near Boston give you a unique way to enjoy the beauty of the New England countryside, woods, and beaches while also having easy access to visit Boston.
To get the best of both worlds, choose RV camping grounds located close to public transportation to the city.
You'll get the benefits of RVing including reasonable RV rates, yet you can easily take a train to Boston.
We reviewed all of the RV campgrounds near Boston, and found three within a 30-40 mile radius of Boston that put you close to the commuter rail, the easiest way to get into the city from these locations.
Top photo: RV parks let you enjoy the beautiful areas surrounding Boston while avoiding expensive city hotels - Photo credit: Siggy Nowak
Boston Discovery Guide is a reader-supported publication. When you buy through our links, we may earn a commission at no additional cost for you. Learn more
---
Recommended RV Parks with Convenient Access to Public Transportation into Boston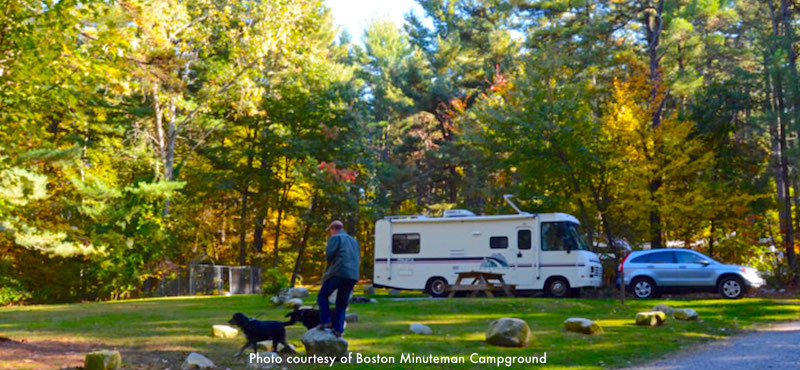 Here are three RV campsites with parking near commuter rail service to Boston for you to consider:
Winter Island Marine Park in Salem (Rockport Line of the Commuter Rail) - Near the water, plus all of Salem's historic sites - website
Ellis Haven Family Camping and Picnic Grounds in Plymouth (Kingston/Plymouth Line) - Gorgeous South Shore location near cranberry bogs, piney woods, sandy ponds, and Cape Cod - website
Boston Minuteman Campground in Littleton (Fitchburg Line) - West of Boston, close to Concord and Lexington - website
Of these three RV campgrounds, Winter Park in Salem is the closest to Boston, and is ideal if you're visiting during October to experience Halloween in Salem, or interested in exploring its many interesting historic and cultural attractions such as the Peabody Essex Museum at any time of the year.
If you're interested in Patriots' Day celebrations and Revolutionary War sites near Concord and Lexington to the west of Boston, the Boston Minuteman RV Park in Littleton is only about 15 minutes from Concord on the commuter rail's Fitchburg Line.
You can also find some of the best apple orchards west of Boston located in and near Littleton - go pick your own if you're visiting in the fall.
For a perfect location between Boston and Cape Cod, consider Ellis Haven. Relax on the sandy shores of Ellis Pond, or enjoy catch-and-release fishing at nearby ponds.
Keep in mind that you will need a way to get to the commuter rail stations from these RV campsites, such as a bike, car, or a taxi.
---
Are There Any RV Parks in Boston?
This is the most commonly asked RV parks and parking question we get - and the answer is "no!"
Boston is a small city, surrounded on 3 sides by water. Lots of our streets were laid out in Colonial times - the 1600s and 1700s - and they are narrow. Parking a car in Boston can be tough - and RVs are a lot larger than a car!
Also - you really don't want to try to drive an RV in Boston. We, uh, have a tendency to park (perhaps illegally) on both sides of already-narrow streets, leaving only enough room down the middle for a car to squeeze through - if it's lucky. An RV would never make it.
Many of our bridges are low, especially along Storrow Drive, which runs along the Boston side of the Charles River and is the major east-west road into and through Boston.
Trucks are banned, but drivers of Uhauls and occasionally RVs do try to use it. We have a word for what happens when they fail to notice the 10' maximum clearance signs and shear off the top of their vehicle: Storrowing.
Storrowing happens more often than you might think.
Then there are our tunnels. All items such as propane tanks labeled Hazardous Cargo is banned, and violators have to pay a hefty fine. You can find out more about this from the Massachusetts Department of Transportion's website: www.massdot.state.ma.us
For these reasons, the RV parks outside of Boston - especially the three near public transportation listed above - are attractive options.
---
More Information about Massachusetts RV Parks
An excellent source for information about most Massachusetts RV parks is RV Resources.
Keep in mind that most state parks also offer camping facilities.
For Boston commuter rail information, go to http://www.mbta.com, and click on the Commuter Rail links. You can use these sources to figure out which RV campsite best meets your needs.
---
Boston Insider Tip: Do You Need to Make Reservations?
If you're RVing to Massachusetts and hoping to stay in one of these RV campsites near Boston, make your reservations as soon as you know your dates to make sure you get a spot.
Although many people drive from across the country to stay in these spots, they're also a big favorite with locals - and competition for reservations can be fierce!
---
Questions & Answers about RV Parking near Boston
Where can we park an RV in Boston?
I'm interested in RV parking near Boston.  Are there any RV parking places at or near public transportation to Boston? . ..
RV Parking for Peabody Museum of Archaeology at Harvard
My wife and I will be visiting the Peabody Museum in June. We will be driving our 31 foot Fleetwood Tioga motor home (Class C) and are wondering what …
RV Parking near Boston Subway (T) Stations 
If you do not want to park and stay at a campsite when visiting Boston, are there any alternatives for RV parking near the city - or especially near a …
RV Parking in the Boston area 
We are driving an RV across country and would like to visit Lexington/Concord area one day and then Boston downtown area the next and then down to Plymouth. …
Where can we park an RV in Boston?
We are staying at Wompatuck State Park with our 30 foot RV and want to visit Boston from there. Is there any parking facility for RVs in Boston? ...
---
Things to Do in Boston during Your Stay
---
Boston Hotel Map
Enter your travel dates to see hotels available rooms and get accurate rates.
More about how to save on Boston hotels
---
More Boston hotels: All Boston Hotels - Newest Hotels - Deals & Discounts - Theatre District Hotels - Boston Marathon - Hotels with Fireplaces - Seaport/CruisePort Hotels - New Year's Eve Packages - Inexpensive Hotels - Discount Hotels - Back Bay Hotels - Hotels near Fireworks - Hotels with Outdoor Pools - Faneuil Market Hotels - Valentine's Day Packages - Downtown Boston - Park & Fly - Airport Hotels - Waterfront - Seaport - Historic Downtown - Suburban Hotels - Fenway Park Hotels - TD Garden Hotels - Gillette Stadium Hotels - Financial District
---
More Articles about Where to Stay in Boston
---
Need a Boston Hotel or Apartment?
Use this handy map from Booking.com to find the perfect place to stay. Just enter your dates to find what's available, see the best rates, and make your reservations.