We are driving an RV across country and would like to visit Lexington/Concord area one day and then Boston downtown area the next and then down to Plymouth.
Is there somewhere we conveniently park an RV and take the T into the city.
Are there any RV parks near Belmont?
Thanks,
Amy
Seattle
Top Photo: Stone wall and field in Minute Man National Historical Park
Boston Discovery Guide is a reader-supported publication. When you buy through our links, we may earn a commission at no additional cost for you. Learn more
---

Amy, that sounds like a wonderful trip.
There is an RV park close to Concord - Minuteman Park in Littleton - that is close to the commuter rail line that goes to Concord. (The T - Boston's subway - doesn't extend as far out as Littleton or Concord.)
If you're bringing bikes, you could bike to the Littleton rail station, take the train to Concord, and then bike from Concord through Lincoln and then on to Lexington on a "rails to trails" bike path called the "Minuteman Trail."
You'll find famous historic sites in all three of these towns, especially in Concord and Lexington.
The bike path goes through parts of Minute Man National Historical Park, where some of the opening battles of the American Revolution took place back in 1775.
If you're here in mid-April, you can see numerous reenactments of those events in the park, Concord, Lexington, and other areas as part of our local Patriots Day celebrations.
You can find more information about the Littleton RV park here.
There are also a number of RV parks in and near Plymouth, and there is another commuter rail line that you could even take into Boston. Normally, the ride is less than an hour. You can find the train schedules on the MBTA (Metro Boston Transit Authority) website: http://www.mbta.com/schedules_and_maps/rail
As far as I'm aware, there are no RV parks near Belmont because it as well as the surrounding towns are practically in Boston, where there is scarcely sufficient room for car parking, much less anything larger. Since parking a car in a Boston garage can easily cost $40-$50 day, I shudder to think how much parking something as large as an RV might cost!
If you are choosing between RV parks in Littleton or Plymouth, I believe the Minuteman Park in Littleton would be the closest to Boston. 
Your best option for getting into Boston would be to take the commuter rail train from either Littleton or Plymouth (or some other point, depending on where you stay). 
As soon as you know your dates, you may want to make reservations in whichever RV parks you choose - they have relatively small numbers of spaces for RVs available, and they tend to fill up very early in the season.
Have a wonderful trip!

Publisher, BostonDiscoveryGuide.com
---
More Frequently Asked Questions about RV Parking in Boston
We get numerous questions about parking RVs in Boston. Here are links to some of the questionsand our answers:
Find out more about parking in Boston
Fun Tours of Historic Sites in & near Boston
---
How to Get Around Boston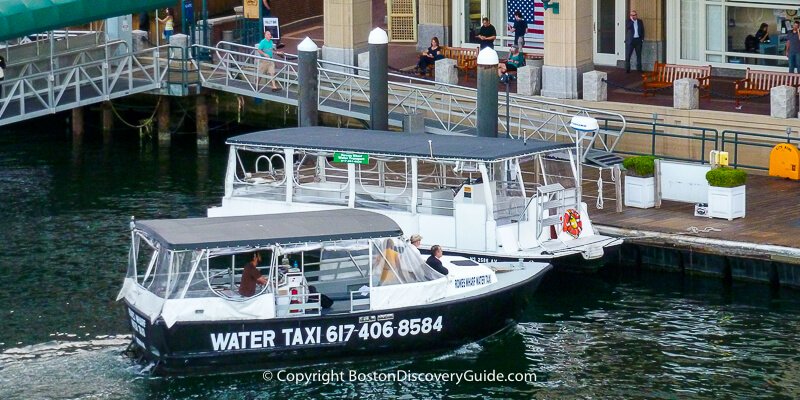 ---
More Articles about Getting Around Boston
---
Need a Boston Hotel or Apartment?
Use this handy map from Booking.com to find the perfect place to stay. Just enter your dates to find what's available, see the best rates, and make your reservations.