My wife and I will be visiting the Peabody Museum in June.
We will be driving our 31 foot Fleetwood Tioga motorhome (Class C) and are wondering what is the best way to park for one night so that we can visit the museum (no camping hookups necessary).
We will not be towing a car.
Thank!
Kim H.
Decatur, Alabama
Top Photo: Stone wall and field in Minute Man National Historical Park
Boston Discovery Guide is a reader-supported publication. When you buy through our links, we may earn a commission at no additional cost for you. Learn more
---

Hi Kim,
Although the Harvard Square area in Cambridge, where the Peabody Museum of Archaeology & Ethnology is located on the Harvard campus, has a number of parking lots and garages, most are restricted to Harvard employees only.
Cambridge's narrow streets don't provide much room in general even for cars so I don't necessarily recommend trying to drive a motor home around Harvard Square.
However, one possibility to contact the Church Street parking lot, located at 35 Church Street just off of Harvard Square.
They are owned/operated by Propark America. Click on the Locations tab to find the Church Street lot. Phone number is 617-661-5623. They do allow 24x7 parking, although next-day rates kick in at 5am, so assuming that you could park here, you'l be looking at charges for 2 days.
I do not know if the Church Street Lot can accept a vehicle of your size, especially as the lot is rather small - but it never hurts to ask!
Be sure to ask how much they will charge so that you're not shocked later, as they would probably charge for the number of spaces you would take up. And again, you're probably looking at rates for a 2-day period if you park there overnight.
Rates at the Church Street Lot currently run about $22 for up to 2 hours, $29 for over 2 hours (up to 5pm), and $36 for all day, which is typical for this part of Cambridge (and cheaper than many parking facilities in Boston).
Also, if they do allow overnight RV parking, find out when you would need to get there, or alternately, if you could reserve space(s) by paying in advance. They usually fill up fairly quickly, regardless of the day of the week.
The museum is only about a 10 minute or less walk away from the Church Street Lot if you cut through Harvard Yard.
However, since you asked about the best place to park your RV, a better choice is to not bring your RV into the city at all. Driving in Boston poses difficulties even with smaller vehicles (see our Boston Driving Tips article to get a sense of what
Instead, park at one of Boston's commuter rail or subway (called the "T") stations and take the train or T into the city. Trust me, it is a much saner option! (You can find out more about Boston's subway here.)
Parking policies, especially at the train stations, depend on the company that operates the parking facilities, so you'd need to check directly with each parking garage that you're considering. Most are managed by one of just a few companies, so this would be quicker than it sounds. 
First, you'd need to figure out which garages or lots would be most convenient for you based on the direction that you're coming from. You can find maps showing each station for the commuter rail and T lines at the MBTA website: http://www.mbta.com/schedules_and_maps
If, for example, you're approaching Boston from the South and want to take the commuter rail, you might want to consider the Route 128/Westwood station because it's just off of Route 128, and it's also huge - about 2,500 spaces. So click on the commuter rail icon, find Route 128 station on it, and click on it to bring up station-specific information.
Parking at the Route 128 station is managed by LAZ Parking, which also manages many other stations' parking. You'll see their phone number right on the page. Also, if they accept RV parking, ask what time you need to arrive in the morning to be sure of getting spaces. Finally, of course, ask how much they will charge.
Two things to keep in mind if you're taking the commuter rail or T:
1) The Commuter Rail runs according to a schedule, and the T doesn't - so make sure the schedule works for you if you take the train.
2) The T closest station to the museum is the Harvard station, which is on the Red Line. If you take the train, or a different line of the T, you'll need to transfer - not a big deal, but just keep this in mind when you're planning logistics.
Have a wonderful day at the Peabody - it's a terrific museum - and best of success with the parking!

Publisher, BostonDiscoveryGuide.com
---
More Frequently Asked Questions about RV Parking in Boston
We get numerous questions about parking RVs in Boston. Here are links to some of the questionsand our answers:
Find out more about parking in Boston
---
Fun Tours of Historic Sites in & near Boston
---
How to Get Around Boston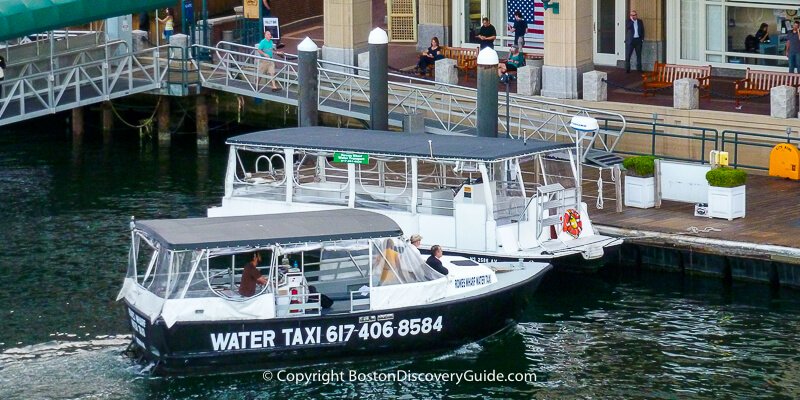 ---
More Articles about Getting Around Boston
---
Need a Boston Hotel or Apartment?
Use this handy map from Booking.com to find the perfect place to stay. Just enter your dates to find what's available, see the best rates, and make your reservations.