Sleek and luxurious Hyatt Regency Boston is one of the best downtown hotels in Boston for comfort and convenience.
In fact, the location of the Hyatt Regency Hotel Boston puts you in the perfect location when you want to combine business and leisure travel.
Located in the heart of the Theatre District adjacent to the Financial District, the Boston Hyatt Regency is also very close to Boston Common, the Freedom Trail, and other popular Boston tourist attractions.
You can also easily walk to the Waterfront from the Hyatt.
And as a special bonus, you can sometimes find excellent rates at this child-friendly and pet-friendly Boston hotel favorite.
Top photo: Boston's Hyatt Regency near the Theatre District, (c) Boston Discovery Guide
Boston Discovery Guide is a reader-supported publication. When you buy through our links, we may earn a commission at no additional cost for you. Learn more
---
What to Expect at Boston's Hyatt Regency Downtown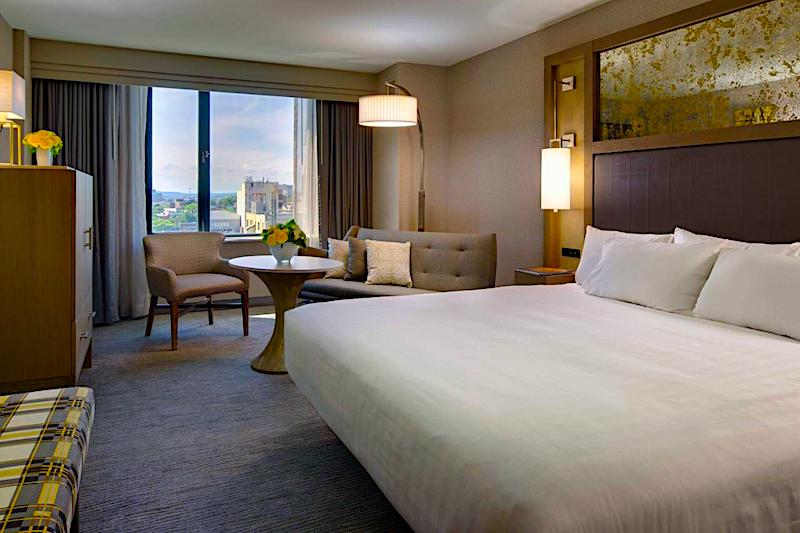 Each room features a comfortable sitting area near the windows. For best city views, request a room on floor 10 or higher.
Guestrooms are arranged around an attractive atrium. Public spaces are particularly luxe - lots of polished granite and chic contemporary furniture.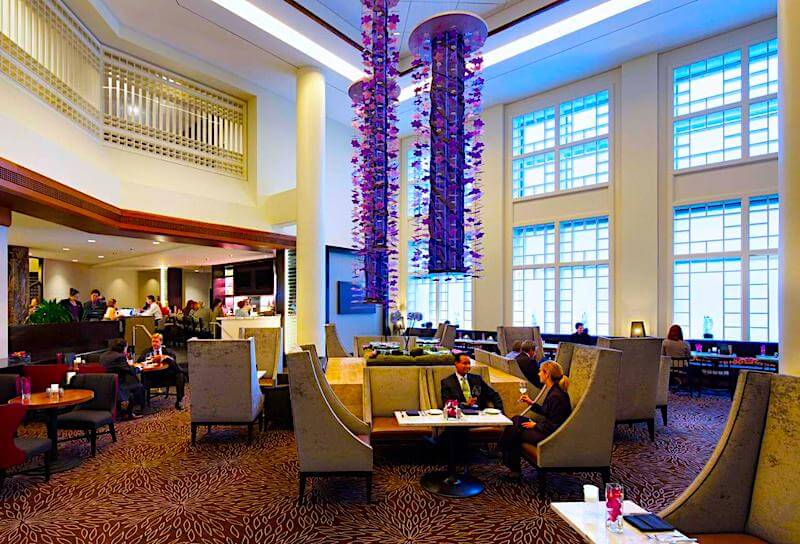 Attractive public spaces provide plenty of seating for enjoying a drink, meeting with colleagues, and even working on your laptop. A well-equipped onsite fitness room gives you a convenient place to work out.
Although the hotel has an appealing on-site restaurant and bar, you'll also find many other wonderful Boston restaurants right in the neighborhood - along with some of the city's top nightlife venues.
And remember, the Hyatt is a favorite business hotel. This means that if you're a leisure traveler and are planning to visit on the weekend or other less popular time business travel times, you can sometimes find very attractive rates at the Hyatt Regency Boston.
---
Attractions near the Hyatt Regency Hotel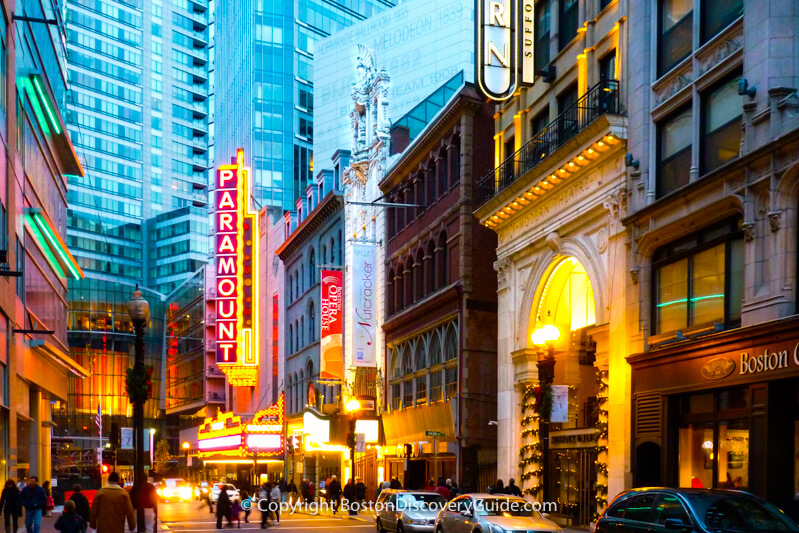 The bustling Downtown Crossing shopping district, the beautifully restored Opera House, and several other Boston theaters are within 1 or 2 blocks from the hotel.
Faneuil Marketplace is only a 5-minute walk away.
The Boston Hyatt Regency is near Boston's lively Chinatown, where you'll find many tantalizing restaurants featuring cuisine from many parts of Asia.
Emerson College and Tufts New England Medical Center are also in the neighborhood.
Best of all, you can easily get to the Hyatt from Boston Logan Airport. Take the Silver Line subway (or "T" as it's called here in Boston) from Logan right into South Station. Alternately, if you're arriving by train, Amtrak will bring you directly to South Station. From the station, you can easily roll your suitcase the few blocks to the hotel - much cheaper and usually faster than a cab!
The Hyatt is less than 2 blocks from the Downtown Crossing T station, so you can take the T to other parts of the city if you don't want to walk.
Find cheapest rates and reserve your room
---
Hyatt Regency Hotel Parking
Although no onsite parking is available, but you can use valet parking. A cheaper option, if you don't need in/out service, is to drop off your bags at the hotel (give them a call if you need help with your bags) and then head to a garage.
The cheapest nearby parking for weekends and nights is at Boston Common Garage (a 5-6 minute walk).
A better (and cheaper) option is to not bring your car at all, if possible.
---
Boston Hotel Map Showing Hyatt Regency Hotel & Other Nearby Hotels
Enter your travel dates to get the most accurate hotel rates. If the Hyatt Regency doesn't appear on the map, that means it's booked for your dates - so check out rates at other nearby hotels.
More about how to save on Boston hotels
---
More to Do & See in Boston
---
More Articles about Boston Hotels
---