Hi Susan. I enjoyed browsing through your site. You have a lot of good information.
I was wondering if you could offer some suggestions for us because we're traveling as a group of 16 (extended family). We are arriving at Logan Airport on Saturday morning around 7:30am and will be cruising out of Boston's terminal later in the day..
Given that we will have luggage with us, can you suggest where we might go to spend our morning along with our luggage?
My parents will be with us and they are in their 70s so they won't want to do too much. However, there will be kids as well (youngest is 8) so we can't expect them to just sit in a lobby all morning somewhere either.
Also do you have a suggestion for group transportation from Logan Airport to the cruise terminal or where ever you might suggest for us?
Thanks in advance!
- Mark
Boston Discovery Guide is a reader-supported publication. When you buy through our links, we may earn a commission at no additional cost for you. Learn more
---

Hi Mark -
Glad you found Boston Discovery Guide helpful - thanks for the compliments! Sounds like you're going to have a lot of fun on the cruise with your extended family.
Here's an idea that covers transportation from Logan Airport to CruisePort, luggage, and even some Boston sightseeing, all rolled into one suggestion:
Given that your flight gets into Logan well ahead of the earliest check-in time (typically 10:30am) at CruisePort, take a Rowes Wharf water taxi from Logan to Rowes Wharf, located next to the Boston Harbor Hotel downtown.
Transportation between Boston Logan Airport & CruisePort
Water taxis are the fastest way to get from Logan Airport to downtown (typically about 8 minutes), but for you and your group, there's another bonus.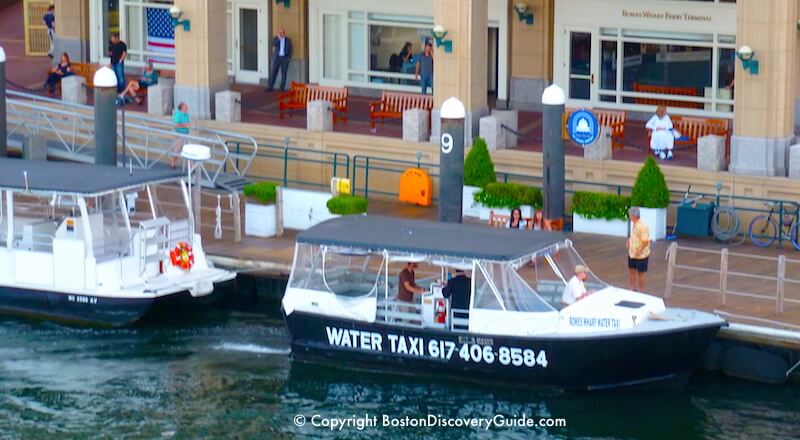 Rowes Wharf Water Taxi will store your luggage for free for the day in their locked baggage room (check the details here) so that you can enjoy your time in Boston before your cruise.
More about this and other luggage storage options . . .
Getting the free luggage storage at Rowes Wharf frees you up to enjoy your time in Boston without worrying about your bags.
When you're ready to go board your cruise ship, all you need to do is head back to Rowes Wharf, retrieve your bags, and hop on another water taxi to Boston's Cruise Terminal.
Another option is to take the SL1 bus for free from the airport to South Station (more about that here), store your luggage at South Station for the day, and then take the subway to the Cruise Terminal from South Station on the SL2 bus. Definitely a cheaper option - but maybe a little harder for your parents?
---
Suggestions for What to Do Before Your Cruise
Assuming you've taken the Rowes Wharf water taxi and have landed next to the Boston Harbor Hotel, you'll be pleased to know that its central location on the Rose Kennedy Greenway puts you right in the middle of a number of easily accessible sightseeing destinations and activities that will work for different age groups, especially if you split up.
For example, if your parents want to relax over a cup of coffee and croissant, they can head into BHH's Sea Grille restaurant with patio dining overlooking the Harbor.
Or, if they're feeling energetic, they could walk up the Greenway to the North End and stop for an espresso at one of the bakery/cafes along Hanover Street.
Or, they could head down the Greenway to Chinatown, and try out one of the fun contemporary Asian restaurants.
Both the North End and Chinatown are about a 10 minute walk from BHH. If your parents decide to walk but get tired, they'll easily find plenty of seating along the Greenway.
If the kids want to work off some energy, pack a frisbee in your carry-on. They'll find plenty of places on the Greenway to toss it around, plus the Greenway has lots of activities for kids - splash pools, grassy lawns for playing, a carousel, and even a zipline. Check out our suggestions for things to do on the Greenway and also our self-guided Greenway walking tour.
If you walk up the Greenway, the New England Aquarium is on the waterfront, just before you reach the North End - huge hit with kids and adults, and a great rainy day activity just in case our fickle weather doesn't cooperate.
Across from the Aquarium is Faneuil Hall Marketplace - lots of fun to walk around, and it intersects Boston's Freedom Trail.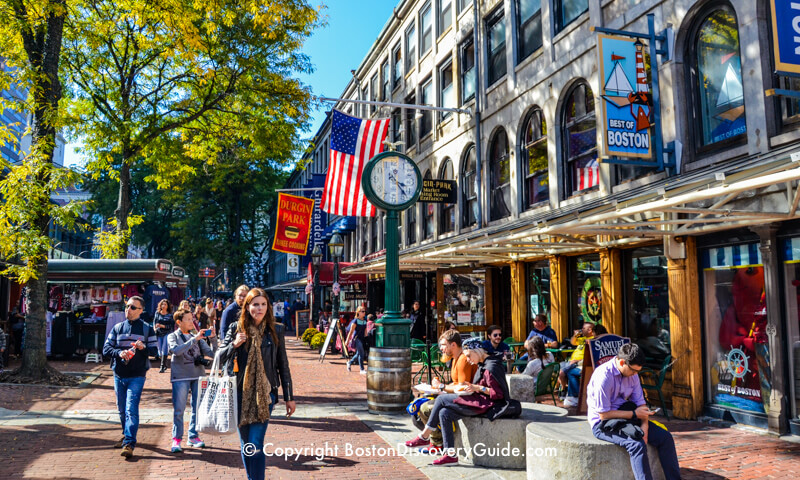 You could walk along part or all of the Freedom Trail if you're interested - it gives you a fascinating look at some of Boston's earliest history. Go north, and you'll end up in the North End where you can visit Paul Revere's house.
Head the other way, and you'll get to Boston Common. Across from the Common is the Public Garden where you'll find the Make Way for Ducklings statues (popular with kids) and a gorgeous shallow lagoon where you can take a spin on a swan boat.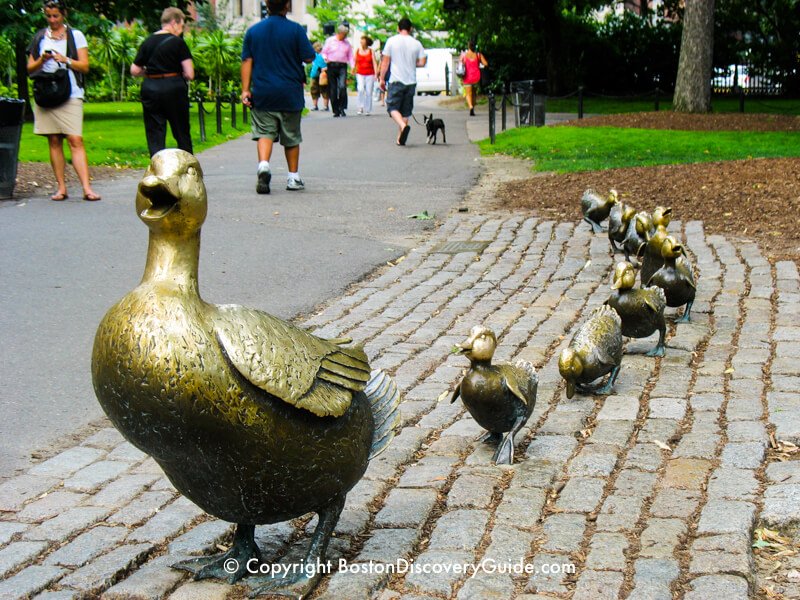 Check out our sightseeing map for more details about what you'll find in different locations, and keep in mind that central Boston is really small and compact, so walking around from place to place doesn't take much time.
If you think that you'll visit two or more attractions, you should consider getting one of the Boston discount cards - with the GoSelect card, for example, you'll usually save 15%-25% even if you visit just a couple of attractions. The other advantage is that you get to head straight to the head of the line - big plus when your time is limited.
You might also want to check out Boston shore excursions. Your flight gets into Logan Airport early enough to permit you to join these tours. Although they do make stops so that passengers can get out, look around, and take photos, you spend much of your time on the trolley or tour bus, which might work well for your parents.
---
More Thoughts about Luggage Storage
One final thought about the free luggage storage option at the Rowes Wharf Water Taxi office. Although you can ask the water taxi dock dispatcher at the airport for the Rowes Wharf taxi, a better approach is to call Rowes Wharf Ferry Service ahead of time - 617-406-8584 for regular reservations, and 617-261-6620 for group reservations.
Since you're part of a group of 16, you might try for group arrangements. Rowes Wharf Water Taxi offers a special fare to Cruise Port passengers of $25 (includes airport pickup, transport to their office on the downtown waterfront, baggage storage for the day, and then transport to the Cruise Terminal). You might even be able to negotiate a group rate.
Hope this helps! Have a wonderful time in Boston - and on your cruise!

Publisher, BostonDiscoveryGuide.com
Top Photo: Water taxi - easiest way to get from Logan Airport to Boston's Flynn Cruise Terminal
---
Fun Ways to See Boston
---
How to Get Around Boston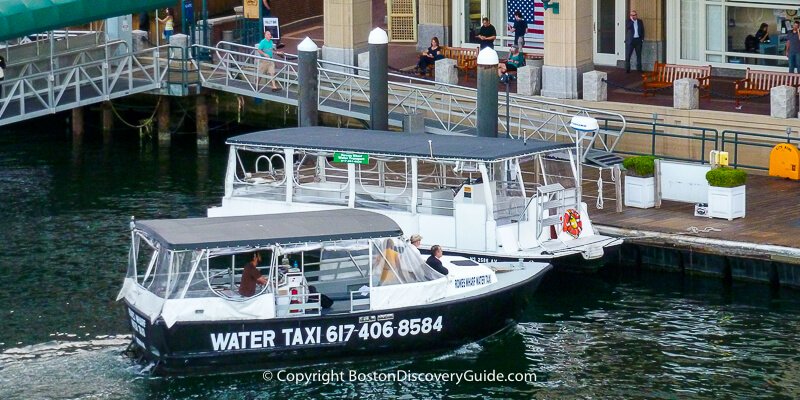 ---
More Articles about Getting Around Boston
---
Need a Boston Hotel or Apartment?
Use this handy map from Booking.com to find the perfect place to stay. Just enter your dates to find what's available, see the best rates, and make your reservations.