Are there lockers at Boston Logan airport to store luggage while you take in some of the sights while waiting for your flight?
Or, is there a car rental at the pier to motor around town and get to the airport for your late flight?
Thanks,
Brian
London
Top Photo: South Station in Downtown Boston
Boston Discovery Guide is a reader-supported publication. When you buy through our links, we may earn a commission at no additional cost for you. Learn more
---

Hi Brian,
Unfortunately, no luggage lockers are available at Boston Logan Airport due to security concerns, but there are some other convenient options - more about those in a moment.
To answer your second question: You can rent a car at the airport fairly easily.
However, if what you really want to do is see some sights in Boston without having to haul around your bags, a rental car may not be the most convenient way to do this.
Driving here can be a nightmare if you're not used to it - or even if you are.
Boston's streets are narrow and winding.
Many are 1-way - and never in the direction you want to go.
Very little on-street is available, especially in some neighborhoods. You may be shocked by the cost of parking garages.
But there are some other really great options for sightseeing - more about that in a moment too, because let's first pivot back to your question about what to do with your luggage.
Very little on-street is available, especially in some neighborhoods. You may be shocked by the cost of parking garages.
---
Luggage Storage Options in Boston
Luggage Storage at Rowes Wharf
So if sightseeing without the burden of bags is your focus, here's another suggestion for a place to stow them - and avoid having to deal with a car.
Take a Rowes Wharf water taxi from Logan Airport to Rowes Wharf, where passengers with round-trip tickets can stow bags for free for the day. If you're a 1-way passenger, you can also store your bag here for a small fee.
You'll find the details about luggage storage near Logan Airport here.
The view of Boston during the quick 7-8 minute trip across the Harbor gives you a great introduction to the city.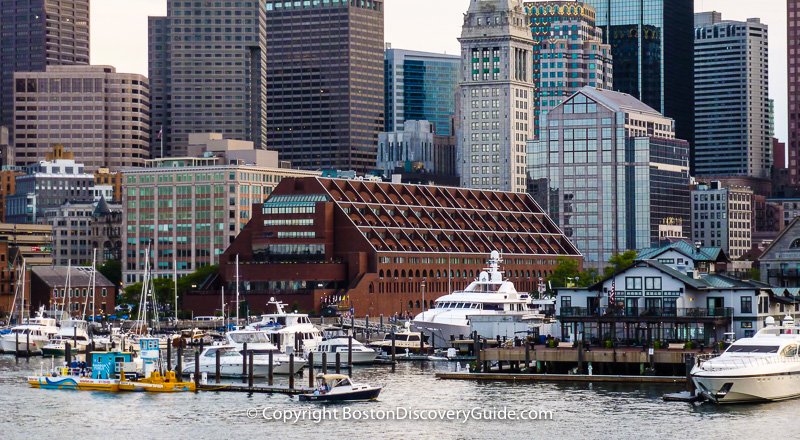 ---
Luggage Storage at South Station
Another good option is to store your bags at South Station (700 Atlantic Ave), which is one of our major train/bus/subway terminals.
Package Express, located on Level 5 (parking) of the bus terminal at South Station (700 Atlantic Ave) will store your luggage for a small fee per bag for up to 24 hours, within limits of their operating schedule. You will need to pay in cash, but there's an ATM machine in the station's 1st floor waiting area.
Package Express is open 7 days a week (Monday - Friday from 7am to 8pm; Saturday and Sunday from 8am to 5pm; Thanksgiving and Christmas - call ahead for the schedule). More information about Package Express
South Station is also quite easy to reach from Logan by water taxi (check out the map). The nearest stop is at the Intercontinental Hotel (stop #13 on the map).
From Logan, the water taxi trip to the Intercontinental is only 8-10 minutes. The 1-way fare will be in the $10-20 range, and there may be a somewhat discounted fare for round-trip - in any case, even with luggage storage fees, this option will probably be cheaper than a rental car.
From the Intercontinental, South Station is only about a block and a half away. The water taxi will let you off at the back, at the wharf. Walk to the front of the hotel, on Atlantic Ave (you'll see the Greenway across the street). South Station will be to your left - a big older round-fronted building (you can see its photo at the top of this page). If you're not sure, just ask someone.
Once you've stowed your bags, you can walk up the Greenway to Faneuil Hall Marketplace, follow the Freedom Trail in either direction to see historical sites, or walk over up to the Italian North End for latte and cannoli.
Or, from South Station, walk across the Greenway to Chinatown - you'll see the large gate. Stop for dim sum, and then continue walking to Boston Common, just a few blocks away.
---
One More Bag Check Option
Also, as an alternative to stowing your bags at South Station, another option to explore, if you travel frequently and have a high-level frequent traveler status with any of the large hotel brands with a presence in Boston is to check with the local hotel to see if they might keep your bags for a few hours.
Depending on where the hotel is located, this might be even more convenient than going to South Station.
More information about storing your bags when arriving at the airport
---
Rental Cars at Boston Logan Airport
If you really want to rent a car, you'll find shuttle bus transport to all of the usual rental agencies at the airport - Hertz, Dollar, National, etc.
Then, you need to drive from East Boston where the airport is located to Boston - the staff at the car rental counters can tell you the best way to get into the city.
Zipcar is also a great option, especially when you need a car only for a few hours - they can really save you money. Plus, they have pick-up/drop-off locations all over the city, so you'll probably find one close to your hotel. Zipcar drivers even get preferential parking in some places.
If you do rent a car, check out our tips for driving in Boston.
Depending on when your flight is, you should allow plenty of time to get back, especially if you return anywhere close to rush hour (4:30pm - 7pm).
Hope this helps! Have a great time in Boston during your layover!

Publisher, BostonDiscoveryGuide.com
---
Luggage Stored? Best Ways to Tour Boston
Now that your luggage is stored, check out Boston tours for fun ways to see the city!
---
How to Get Around Boston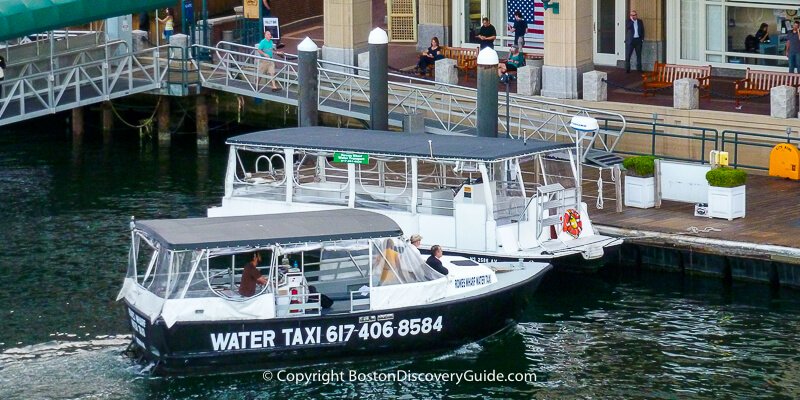 ---
More Articles about Getting Around Boston
---
Need a Boston Hotel or Apartment?
Use this handy map from Booking.com to find the perfect place to stay. Just enter your dates to find what's available, see the best rates, and make your reservations.