Do you have to put money in the parking meters along Boston streets on Saturday? Thanks!
Charles
Newport, RI
Boston Discovery Guide is a reader-supported publication. When you buy through our links, we may earn a commission at no additional cost for you. Learn more
---

Yes, you do - unless one of the official City of Boston holidays happens to fall on the Saturday when you want to park. In that case, parking is free.
Normally, the only free days for on-street parking are Sundays and holidays.
Time limit restrictions are also lifted on these days, meaning that you can keep your car in the same space all day if you want.
Otherwise, the parking time limit is typically two hours for a specific space or parking zone (which may be a large as a couple of blocks). There is no universal rule about the time limit, so you will need to read the small print on the meters or nearby signs to figure this out.
Some parking spaces limit you to an even shorter time period, such as 30 minutes or in drop-off zones, only 10 minutes.
If you park longer than the stated limit and you keep going back to your meter and adding more quarters, you still risk getting a ticket for staying too long because sometimes the parking officers mark your wheels with chalk.
The way to avoid getting ticketed for staying too long at a meter is to move your car to new space or area every two hours - or park in a garage.
We get lots of questions about parking along Boston streets, as it's an ever-evolving, ever-changing, kind of tricky situation.
So here are some additional questions and answers about parking that may help you.
Have a great time in Boston, and don't get a parking ticket!

Publisher, BostonDiscoveryGuide.com
Top Photo: Cars parked along Boylston Street near Copley Square in Boston's Back Bay neighborhood
---
Frequently Asked Questions about Metered Parking in Boston
Is metered parking free on holidays in Boston?
Yes, but keep this in mind: holiday parking is free only on the official day of the holiday, NOT the day when it's celebrated. For example, if a holiday falls on Saturday but government offices and businesses close on Friday to celebrate it, you can park free on Saturday but not Friday.
Find out more about parking for free in Boston
Is finding curb-side parking spaces easier on Sundays and holidays?
No. For what it's worth, finding a metered parking space on Sunday or a holiday is usually just as hard, if not harder, than on weekdays and Saturday for two simple reasons: 1) parking on these days is free!, and 2) everyone has a little more free time than usual to come into the city and take advantage of all the restaurants, attractions, entertainment, and events.
How much do parking meters cost in Boston?
The cost depends on the neighborhood and sometimes even the street. So don't get compacent and think you know how much parking will cost - always read the fine print on the meter.
At this time, metered parking in Boston costs between $1.25 and $3.75 per hour as the city experiments with how the cost of parking impacts the amount of traffic congestion in different neighborhoods.
The tentative conclusion seems to be that the higher the cost of parking, the lower the congestion because at some point, driving and parking a car just isn't worth the money and the hassle.
So since the goal is to reduce traffic congestion to a more tolerable level, you can expect parking rates to continue to rise.
Do Boston's parking meters accept anything other than quarters?
Yes. Most parking meters either accept credit cards or are replaced by a nearby pay station that does, so there's no longer a need to have a pile of quarters to fund a couple of hours of parking. (Although you should have some quarters, as sometimes a meter's card function doesn't work, and the city does have at least a few quarter-only meters left.
Typically, the parking pay stations simply require you to insert or swipe your credit card (or feed in quarters) to get a time-stamped ticket, which you then stick to your side window after peeling off the backing. For example, the parking spaces around the Public Garden use pay stations. The good news is that the pay stations seem to be far less likely than meters to malfunction and not accept credit cards.
Does Boston have a parking app?
Yes, the ParkBoston app. It makes parking in Boston so much easier because you no longer have to worry about using quarters or even a credit card to pay. Find out more about it and how to use it here.
There's just one small caveat: remember how most curb-side parking spaces give you only up to two hours parking within a certain zone? The app will detect if you try to stay longer. This is when having a few extra quarters can come in handy - assuming the parking police haven't marked your tires.
Do Boston parking garages offer lower weekend rates?
Yes, many Boston parking garages charge much lower rates on Saturday and Sunday than they do for weekday parking. For example, centrally-located Boston Common Parking Garage, Back Bay's Prudential Center Garage, and State Street Garage near Faneuil Marketplace offer relatively cheap weekend rates.
You'll probably still end up paying a couple dollars more than you might for street-side metered parking, but if you overstay your meter and get a parking ticket, you'll pay a lot more.
Plus, finding an empty space at a meter can chew up a lot of time and gas.
What about "Resident Only" parking zones? Is it safe to park in one of those spots for, let's say, just half an hour?
No. Don't even think about it. Residents monitor these parking spaces jealously and will call the police to ticket you.
In fact, be careful when parking anywhere in Boston to read all the signs up and down the block, as restrictions aren't always obvious, and fines can be hefty.
Also, in some areas such as Back Bay, areas with meters become Resident-Only parking after a certain point in the early evening. The signs stating that change can be very easy to miss.
The result? You'll park and put money in a meter, only to come back later and find a bright orange traffic ticket under your windshield wiper. So again - save yourself the hassle and park in a garage - or take public transportation to your destination and avoid driving and parking at all.
Can I park on the street in Boston when snow is falling?
All bets are off when snow starts falling, as snow emergency rules may kick in to prohibit parking on the street, even if you've found a legitimate space at a parking meter. That's because plows need access up to the curb to clear off the snow.
So again - read the signs very carefully because getting towed during a snow emergency is a LOT more expensive and more trouble than getting a parking ticket!
Find out more about parking in Boston
---
Fun Ways to See Boston Without Driving or Parking
---
How to Get Around Boston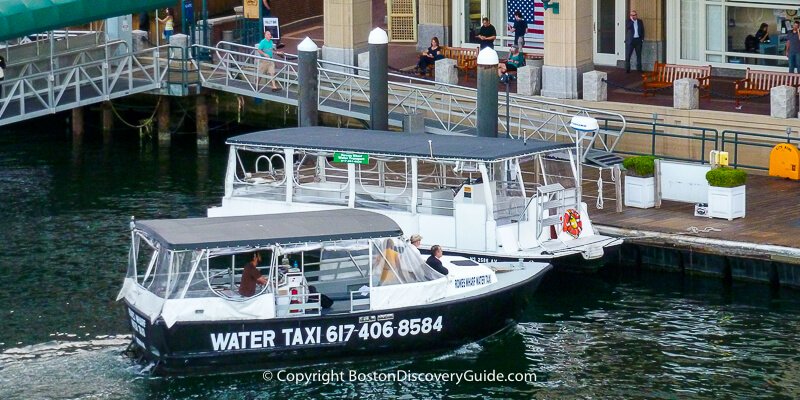 ---
More Articles about Getting Around Boston
---
Need a Boston Hotel or Apartment?
Use this handy map from Booking.com to find the perfect place to stay. Just enter your dates to find what's available, see the best rates, and make your reservations.