What is the best transportation to take from the Boston cruise terminal to Boston Logan Airport after our cruise? We'll have all our bags with us.
Will there be a multitude of taxis waiting? Rates?
Thanks for your help!
Jerry
Kansas, USA
Top photo: Boston Harbor; photo credit: Boston Discovery Guide
Boston Discovery Guide is a reader-supported publication. When you buy through our links, we may earn a commission at no additional cost for you. Learn more
---

Greetings, Jerry -
Since it sounds like you have a lot of luggage, a regular taxi may be your most convenient option.
The fare to Logan will probably be around $20, including tip - more if you get stuck in traffic.
If traffic cooperates, the trip should take about 10-12 minutes.
On cruise days, there are usually plenty of taxis waiting at the Cruise Terminal but if not, a dispatcher will call for more.
You could also book a ride share, such as Uber or Lyft.
However, there are other faster and cheaper ways to get to the airport from CruisePort if you can manage your own bags.
The fastest and most scenic way to get to Logan, if you don't need too much help with your bags, is by water taxi - trip is less than 10 minutes, and 1-way fares run about $20. More out more about water taxis
The cheapest way, if you can manage your own bags, is by the Silver Line bus - there's a stop right next to the terminal.
You'll hop on an inbound Silver Line bus at the termiinal and take it to either the Seaport (World Trade Center) stop or to South Station, where you'll then board an outbound Silver Line bus going to the Logan. The buses will clearly display where they are going - so it is not as confusing as it may sound.
Each bus segment will run you $2.65 per person, unless you have a reloadable fare card called a "Charlie Card" (which you're not likely to have if you don't live here).
---
Best Transportation if You Also Want to do Some Sightseeing
If you have time before your flight and want to store your bags securely and explore Boston for awhile, the easiest and also the cheapest option is to take advantage of the Rowes Wharf Water Taxi's cruise ship special.
For a reasonable per-person fee, a Rowes Wharf water taxi will pick you up at the Cruise Terminal, take you to Rowes Wharf just a few minutes away, store your luggage for free in their locked storage room while you explore the city, and then take you over to the airport for your flight home. To get current rates and arrange this service, call their office at 617-261-6620, or the water taxi captain at 617-406-8584.
---
Other Options - Pros and Cons
Of course, there are also other options, such as private limo services, but those are much pricier and won't get you there any faster.
The airport is actually quite close to the cruise terminal - just across the Harbor.
The impediment to reaching any Boston location quickly is our traffic, combined with narrow, often 1-way, roads - Boston is quite compact which is beneficial if you're walking around, but congested roads and slow traffic are the prices we pay for that convenience.
That's why a water taxi, if you can juggle your luggage, will get you to the airport faster than a land taxi.
Have a wonderful cruise!

Publisher, BostonDiscoveryGuide.com
Top Photo: Water taxi heading to a dock on Boston's waterfront, with a plane overhead
---
Want to See Boston's Top Attractions?
Experience the best of Boston on these fun and informative tours:
Boston Hop-On Hop-Off Trolley Tour - See top historic and modern Boston attractions on this fun and informative hop on, hop off city tour - Book now
Whale Watching Cruise - Experience a different world on this cruise to a marine sanctuary where you'll get up-close views of whales, dolphins, and other marine life - Book now
Beer Tasting Tour - Learn about why beer has always been such an important of Boston's culture on this VIP tour to 4 Boston breweries & cider houses - Book now
---
More Fun Ways to See Boston Without a Car
---
How to Get Around Boston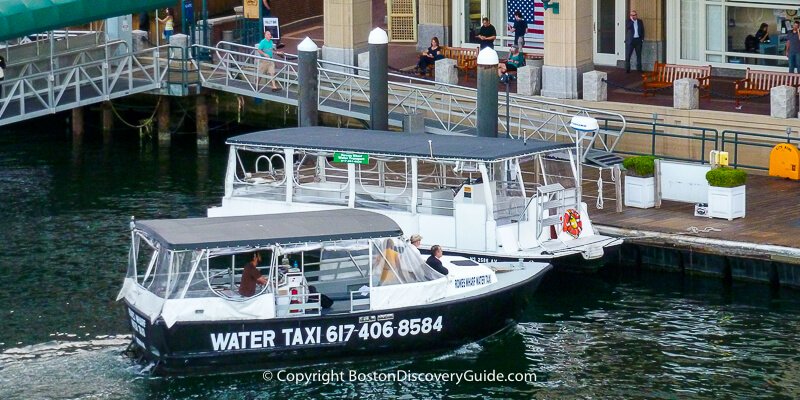 ---
More Articles about Getting Around CruisePort
---
Need a Boston Hotel or Apartment?
Use this handy map from Booking.com to find the perfect place to stay. Just enter your dates to find what's available, see the best rates, and make your reservations.