Staying in a Beacon Hill hotel puts you in a convenient location for exploring Boston's most historic neighborhood, once home to the "Brahmin" elite and still the city's most elegant neighborhood.
With Beacon Hill's superb location overlooking Boston Common and the Public Garden, and only a 5-10 minute walk to Downtown, Back Bay, and TD Garden in the West End, these hotels put you within easy reach top attractions and entertainment.
All of Beacon Hill's attractions will be at your doorstep - boutiques and restaurants along Charles Street, stately mansions around Louisburg Square, and the Black Heritage Trail.
Only a few hotels are located in this special neighborhood, but several others are very close by.
Best of all, you can choose from a wide price range, from budget to luxury hotels, all in and near the wonderful Beacon Hill neighborhood.
Top photo: XV Beacon Hotel located at 15 Beacon Street near the Massachusetts State House & Faneuil Marketplace, (c) Boston Discovery Guide
Boston Discovery Guide is a reader-supported publication. When you buy through our links, we may earn a commission at no additional cost for you. Learn more
---
Whitney Hotel - Beacon Hill's Most Elegant Hotel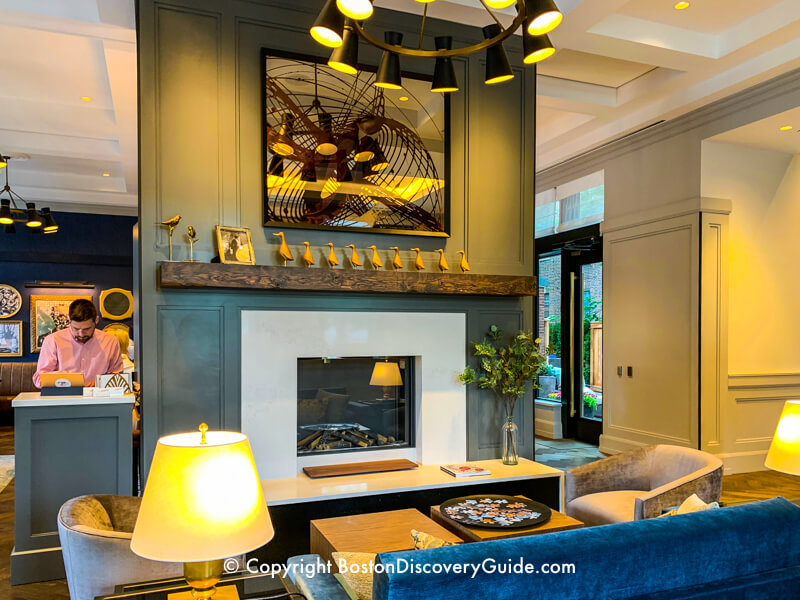 The elegant and luxurious 65 guestroom Whitney Hotel occupies a prime Beacon Hill location on Charles Street near Massachusetts General Hospital, historical Boston landmarks and 21st century attractions, and next to a footbridge leading to the Esplanade, a lovely park along the Charles River with running paths, summer concerts, and sailing.
Top-notch organic amenities, personalized service, plush beds with Frette linens, and an emphasis on comfort make the Whitney an ideal place to stay when you want a hotel experience that feels like your home away from home.
Each guestroom features a selection of hand-picked books, and you'll find even more on the shelves flanking the reception desk.
What's special: Complementary chocolates and other goodies in your room sourced from neighborhood gourmet stores, bikes to use during your stay, a state-of-the-art fitness room, and pet-friendly policies.
Have a drink or dine on tasty coastal Mediterranean specialties in Peregrine, the boutique hotel's onsite bar/restaurant created by two awarding-winning local restaurateurs, and enjoy the secluded courtyard garden with its soothing fountain, beautiful flowering plants, and fire pit.
---
Fifteen Beacon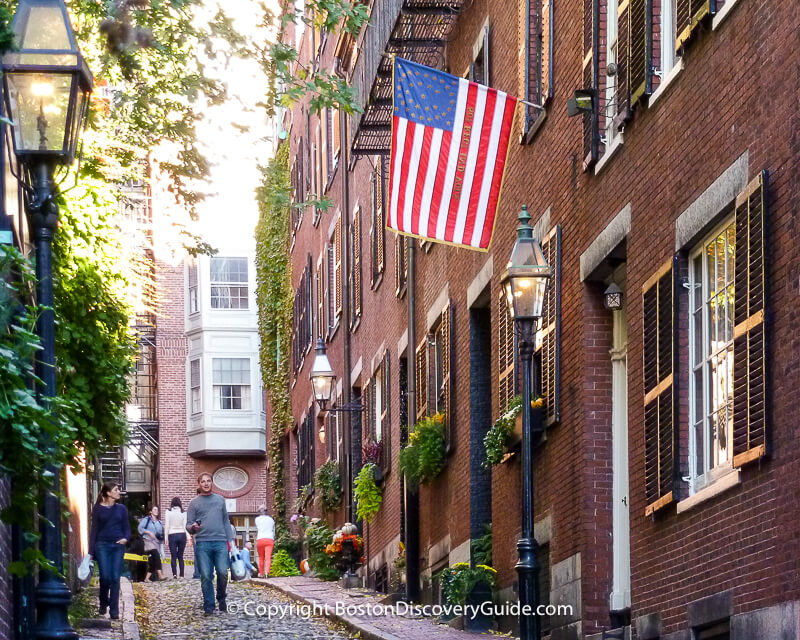 XV Beacon is one of Boston's top independently-owned luxury boutique hotels, with fireplaces in all 63 guestrooms and suites, personalized service, and every comfort you could possibly want.
Located on Beacon Street, the hotel gives you a super-convenient location to launch your explorations of Beacon Hill, the Freedom Trail, Faneuil Marketplace, and the Downtown Waterfront.
What's special: Views from the roof-top terrace - especially if you're lucky enough to be here over July 4th when fireworks light up the sky over the nearby Charles River.
Plus, Boston's Freedom Trail runs past the hotel, giving you an easy way to begin exploring Boston.
---
Beacon Hill Hotel
With just 12 guestrooms and one suite, Beacon Hill Hotel gives you a true boutique hotel experience, with serene decor, personalized service, and a renowned bistro on the ground floor.
The hotel's Charles Street location puts you right in the middle of the action and in an ideal spot to begin your explorations of this iconic neighborhood.
What you'll enjoy: The bistro's outstanding cuisine, and the wonderful rooftop terrace.
For a special treat, book a winter getaway and bask in the warmth of the fireplace in the lobby.
---
Liberty Hotel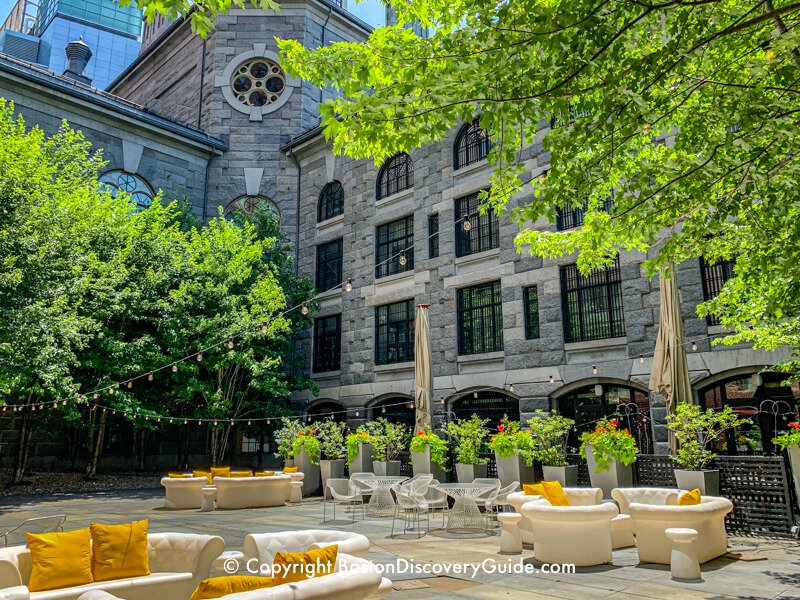 Liberty Hotel's claim to fame is that the 1851 granite building served as the Charles Street Jail until 1990.
Renovations turned it into luxury accommodations while retaining some of the jail's "features" such as a few barred windows.
Although the Liberty Hotel is across Charles Street and thus technically in the West End rather than Beacon Hill, you'll find it perfectly convenient for exploring the neighborhood as well as enjoying the nightlife around TD Garden.
It is also adjacent to Massachusetts General Hospital.
What's special: Terrific service (such as airport luggage pickup/delivery) and fun ambiance in its lobby and excellent restaurant and bar.
Some rooms offer great views of Boston's July 4th fireworks show over the Charles River. Public spaces such as Clink, the jail-themed bar, attract locals as well as visitors.
---
Wyndham Boston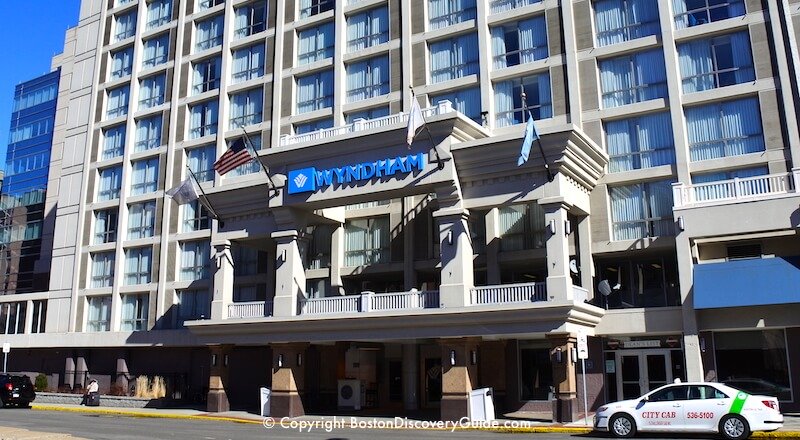 Like the Liberty Hotel, the Wyndham Hotel is located across Charles Street from today's Beacon Hill (a century or two ago, this area was considered part Beacon Hill's north slope), and is also close to MGH.
The Wyndham offers moderate (for this neighborhood) rates, comfortable furnishings, and convenient location.
What's special: The secluded rooftop swimming pool. Also, behind the hotel is a Whole Foods with a huge section of freshly prepared hot and cold carryout food, rumored to be the biggest of any WF in the country.
Why Beacon Hill's Attractions Make It a Top Boston Attraction
---
The Newbury Boston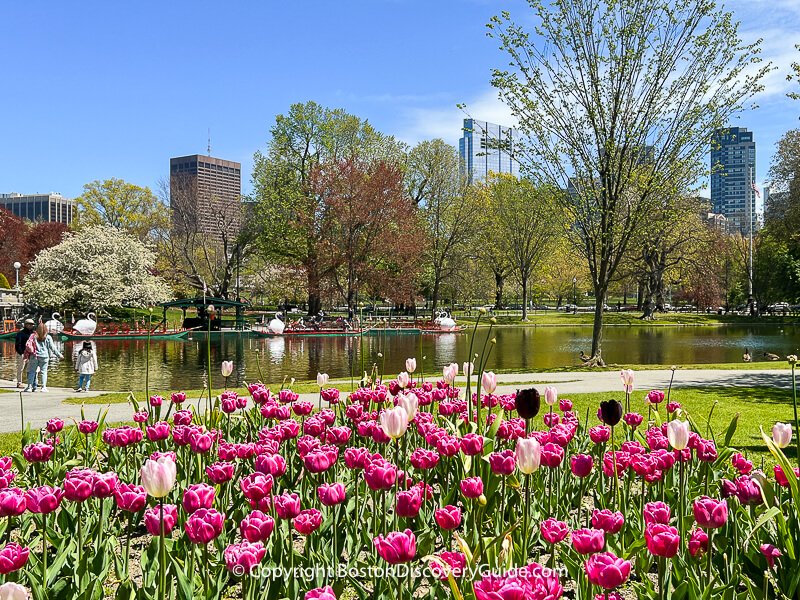 The Newbury Boston, located at the edge of the Back Bay neighborhood across from the Public Garden, is another excellent choice close to Beacon Hill as it is only about a 2-minute walk away.
With 286 guestrooms and (including 90 suites, some with wood-burning fireplaces), The Newbury exudes luxury at every turn, with antique furnishings, original art, and high-end linens and amenities.
What's special: Floor to ceiling windows in the bar give you a superb view of the beautiful Public Garden as you sip your drink.
But there's a lot more to love here: afternoon tea service, crystal chandeliers everywhere, lovely antiques and art.
Don't miss the chance to dine at the hotel's Comtessa restaurant's rooftop terrace overlooking the Public Garden.
---
More Choices: Historic Downtown Boston Hotels near Beacon Hill
Close to the Freedom Trail and Boston Common, the Hotel AKA Boston Common offers a great location and a comfortable boutique hotel experience.
What's to love here: Great service and amenities.
---
Directly on the Freedom Trail and close to Faneuil Marketplace, Omni Parker House is one of Boston's finest historic hotels.
What's special: This is the original home of Boston Cream Pie - so be sure to indulge while you are here!
---
Boston Hotel Map
Enter your travel dates to see hotels available rooms andget accurate rates.
---
More Boston hotels: All Boston Hotels - Newest Hotels - Deals & Discounts - Theatre District Hotels - Boston Marathon - Hotels with Fireplaces - Seaport/CruisePort Hotels - New Year's Eve Packages - Inexpensive Hotels - Discount Hotels - Back Bay Hotels - Hotels near Fireworks - Hotels with Outdoor Pools - Faneuil Market Hotels - Valentine's Day Packages - Downtown Boston - Park & Fly - Airport Hotels - Waterfront - Seaport - Historic Downtown - Suburban Hotels - Fenway Park Hotels - TD Garden Hotels - Gillette Stadium Hotels - Financial District
---
More Articles about Where to Stay in Boston
---
More Fun Things to Do in Boston
---
Need a Boston Hotel or Apartment?
Use this handy map from Booking.com to find the perfect place to stay. Just enter your dates to find what's available, see the best rates, and make your reservations.