At first glance, the Old Corner Bookstore looks like a newer red brick building on a busy Downtown Boston corner, just beyond bustling Downtown Crossing and near the beginning of the Government Center area.
A popular Mexican restaurant occupies its first floor.
Only a small plaque on the side of the building confirms that a bookstore once operated here.
Why, you may wonder, does the Old Corner Bookstore rate a spot on the Freedom Trail, the Boston Women's Heritage Trail, and the Literary Trail of Greater Boston?
Top Photo: Old Corner Bookstore - now occupied by Chipotle
Old Corner Bookstore: Literary Hub of 19th Century Boston
Although a wooden frame building built in 1634 by Anne Hutchinson (famous for her support of religious freedom during the repressive Puritan period as well as for opposing enslavement of Native Americans) originally occupied this plot of land, it burned to the ground along with hundreds of other nearby homes and businesses during the Great Fire of 1711.
But by 1718, the owner rebuilt it in the style of the day with an apothecary shop at street level and his home above it.
This is the red brick building that you see today, and one of Boston's oldest brick structures.
Look up at the sloping gambrel roof, and note the decorative bands of bricks marking each floor on the State Street side, and you're seeing essentially the same building that Benjamin Franklin and other saw as they walked down the street in 1718 - aside from the "London-style" bay windows added in 1828 by an aspiring publisher who bought the building.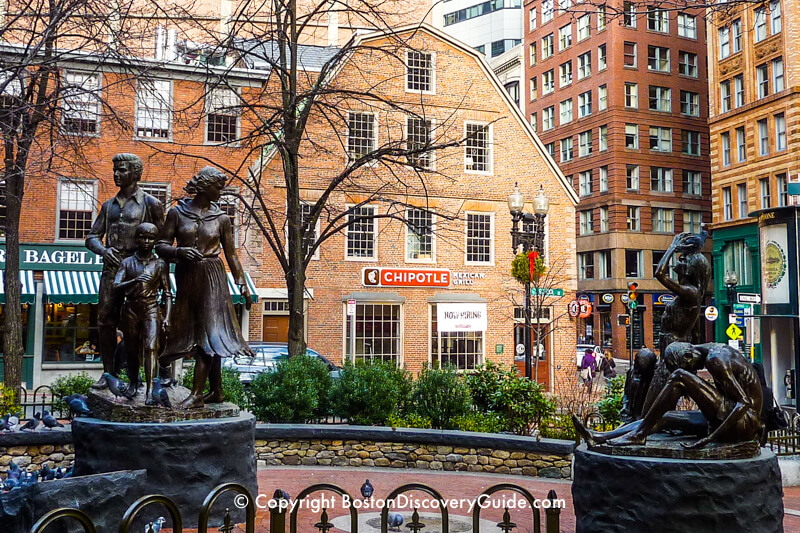 However, the Old Corner Bookstore's place on Boston's Freedom Trail is due to literature, not architecture.
Within a couple of decades, the publisher who owned the building evolved by 1845 into Ticknor and Fields, publisher for most of the most famous authors in 19th century America and England.
Walden, The Scarlet Letter, and The Star Spangled Banner are just a few of the well-known classics published here.
Ralph Waldo Emerson, Henry David Thoreau, Nathaniel Hawthorne, Charles Dickens, Mark Twain, Henry Wadsworth Longfellow, Alfred Tennyson, Harriett Beecher Stowe, Oliver Wendell Holmes, and many others gathered here to discuss their works and exchange literary gossip at what they called The Saturday Club.
Ticknor and Fields also published prestigious literary journals such as the North American Review and the Atlantic Monthly.
But by 1903, the publishing company moved to larger quarters elsewhere, and eventually became part of current-day Houghton and Mifflin.
The property deteriorated and by 1960 became targeted for demolition by developers who wanted to build a parking lot on this prime downtown location.
In the nick of time, private investors formed the non-profit group Historic Boston, Inc., and restored the property for commercial as part of its mission to preserve Boston's cultural and architectural heritage while increasing the city's tax base - the first of many similar restorations, and part of the reason why you'll see so many thriving historic landmarks scattered among Boston's modern buildings.
Directions & Other Information for Old Corner Bookstore Visitors
Location: Corner of School Streets and Washington Streets, Downtown Boston on the Freedom Trail

Open: As a commercial business - so go in for a meal!
More information: Historic Boston - 617-227-4679; website: http://historicboston.org
Getting there by subway: Red and Green Lines/Park Street; Green Line/Government Center
Park: Boston Common Garage is easy - just follow the Freedom Trail from the Common to the Old Corner Bookstore
Old Corner Bookstore on Freedom Trail Tours
Many Freedom Trail Tours walk past Old Corner Bookstore and provide interesting commentary. Your guide will probably point out the small plaque commemorating the bookstore on the side of the building.
Join a Fun Freedom Trail Tour
Where to Stay near Old Corner Bookstore
The historic Omni Parker House Hotel (shown in photo) is close to Old Corner Bookstore as well as other Freedom Trail sites near Boston Common and Faneuil Hall Marketplace.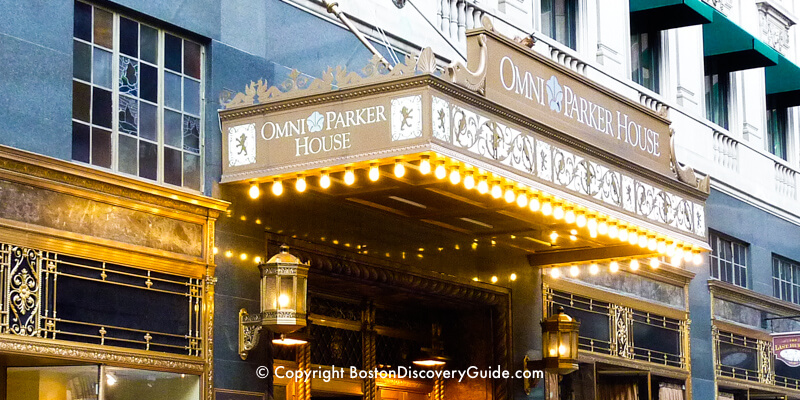 More top hotels near this part of the Freedom Trail in Boston's Historic Downtown:
Check out more hotels in Historic Downtown Boston as well as hotels near Boston Common and the Public Garden
More Fun Ways to See Boston near the Freedom Trail
Boston Freedom Trail Sites
Boston Common | Massachusetts State House | Park Street Church | Granary Burying Ground | King's Chapel | King's Chapel Burying Ground | Benjamin Franklin Statue | Old Corner Bookstore | Old South Meeting House | Old State House | Boston Massacre Memorial | Faneuil Hall | Old North Church | Paul Revere's House | Copp's Hill Burying Ground | Bunker Hill Monument | USS Constitution