Constitution Inn
Inexpensive Boston hotel in Charlestown Navy Yard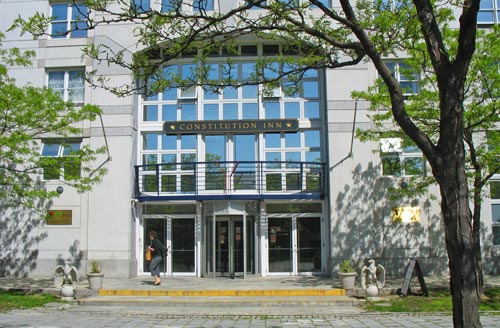 Photo of the Constitution Inn in Boston's Charlestown Navy Shipyard
Looking for Boston cheap hotels and deals?
The attractive Constitution Inn in Boston's historic Charlestown neighborhood gives you easy waterfront access without high Boston waterfront hotels rates.
It's one of Boston's best kept secrets!
For an affordable Boston stay near Downtown and the Charlestown Navy Yard, the Inn is hard to beat due to its location only a couple of blocks from Boston Harbor and just a 10-minute scenic ferry ride to Downtown Boston.
The USS Constitution and Bunker Hill, both part of Boston's Freedom Trail, add historic interest to the Inn's surroundings, where you'll also find playgrounds, marinas, and several good restaurants.
Courageous Sailing, where you can find terrific sailing lessons for adults and kids plus daily sailing and charters, is also just a short 4-5 minute walk away.
Attractive rates, nice amenities, and a laid-back setting in a convenient part of Charlestown have earned this favorite Boston discount hotel a loyal following among business travelers, tourists, and families.
What will you find close to the Constitution Inn?
The USS Constitution Museum, located nearby in the Charlestown Navy Yard, is one of the top Boston attractions. In addition to being the top kids' favorite among the Freedom Trail sites, adults also find it fascinating. Admission and tours are free.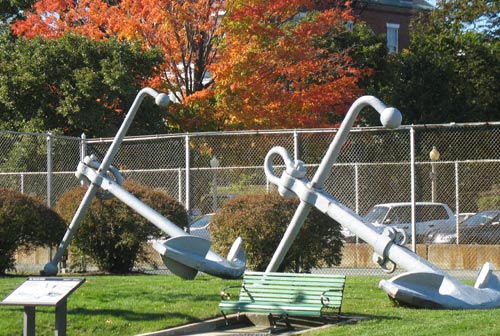 Photo of anchors in Boston's Charlestown Navy Shipyard, not far from the USS Constitution Museum
The Navy Yard itself is quite interesting . . . you'll find a mix of nautical artifacts (such as the large anchors shown in the above photo) displayed in some of the park-like areas near the museum. Other maritime enterprises, medical research facilities, a handful of businesses, the Courageous Sailing Center, and some very high-end condos are also located here.
In other parts of Charlestown (10-15 minute walk from the Inn), you can visit the Bunker Hill monument and other restaurants, including the historic Warren Tavern - also a personal favorite - where George Washington used to stop by for "refreshments" at the bar.
Why you'll enjoy staying at the Constitution Inn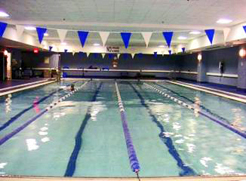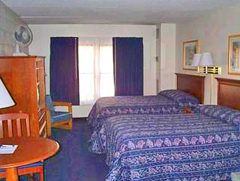 In addition to offering great Boston hotel discount rates, the Inn (which is affiliated with the Boston YMCA) has 2 excellent fitness rooms plus a nice heated indoor swimming pool.
Rooms are attractively furnished with a nautical theme, and some have kitchenettes.
In general, the Navy Yard is a quiet, relaxed area. The Inn is located on a quiet lane in a secluded area. Even though it's close to the waterfront and nearby businesses and attractions, visitors enjoy the peaceful setting.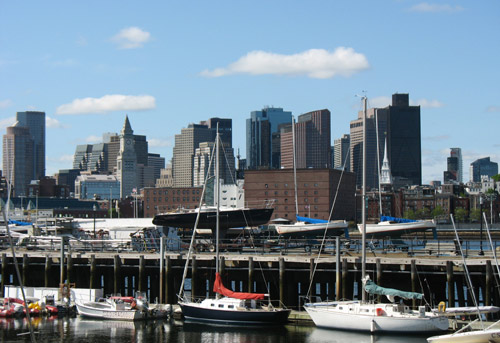 Downtown Boston photographed from Charlestown waterfront
You'll find plenty to explore along the picturesque Charlestown waterfront. At the same time, downtown Boston is so close that you'll feel like you can almost reach out and touch it. Best off all, you can be there in 10 minutes by ferry.
On the other hand, the Charlestown Inn isn't for everyone. If you like having restaurants located within your hotel, you won't find that here. And, if you enjoy being in the middle of a bustling area, the Charlestown Navy Yard will probably be a little too quiet for your taste.
But if you're looking for inexpensive Boston hotels and you like what the Inn has to offer, you'll feel like you've discovered the best kept secret among affordably priced Boston accommodations.
You can often find attractive rates here, especially off-season. Because the Constitution Inn is fairly small and popular with visitors to the nearby medical research center and other businesses, you should lock in your reservations as soon as you know your dates to be sure of getting a room.
More Boston hotel suggestions
Constitution Inn > Boston Hotels > Boston Discovery Guide