Want to experience the romance and excitement of an authentic tall ship cruise around Boston Harbor?
From May through early November, you can hop aboard a magnificent tall ship at Boston's downtown waterfront wharfs for a memorable sailing experience.
Tall white sails will billow against blue skies as you tour the Harbor on a schooner designed just like the stately tall ships that played a crucial role in Boston's history 250 years ago.
As the sails catch the wind and carry you forward, you'll be transported back to the time when the white sails of hundreds of tall ships, brigantines, and sloops defined the New England coastline.
Don't miss this quintessential Boston experience!
Here's everything you need to know about Tall Ship cruises in Boston Harbor, tall ship festivals, and other local cruising and sailing opportunities.
Get tickets for a tall ship cruise (spring through mid fall)
Top photo: Adirondack III schooner sailing into late afternoon sun on Boston Harbor - Photo courtesy of massmatt
Boston Discovery Guide is a reader-supported publication. When you buy through our links, we may earn a commission at no additional cost for you. Learn more
---
Boston's Tall Ships
Three magnificent tall ships - the Adirondack III, the Liberty Clipper, and the Liberty Star - sail the waters of Boston Harbor from late spring (May) into the fall (early-mid October), and offer cruises to the public.
A fourth - the historic USS Constitution- spends most of the year docked in the Charlestown Navy Yard, usually doing just one ceremonial cruise each year on Independence Day, July 4th. The ship isn't available for public cruises, but you can experience the Constitution close-up by going on board (free admission) and taking a special guided tour.
Here are the details about what you can experience on each ship.
Adirondack III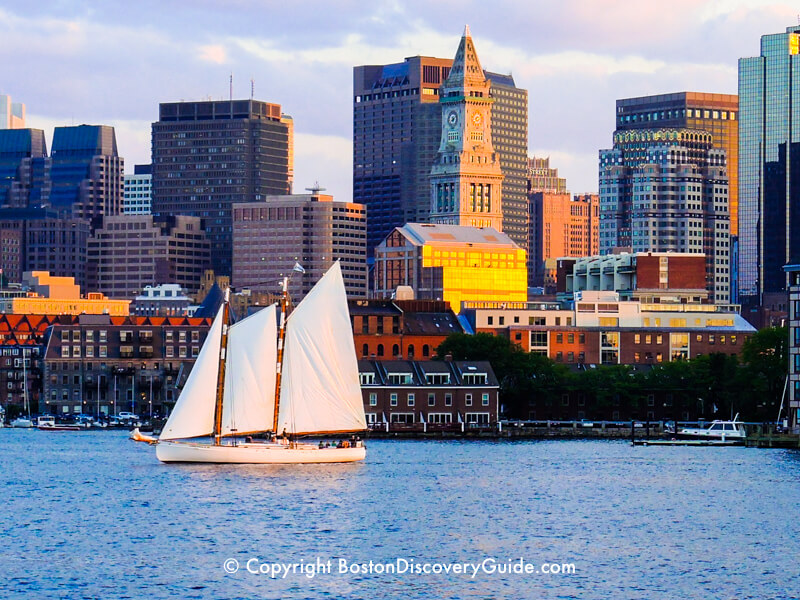 Adirondack III, a majestic 80 foot tall ship based on a classic 1890s pilot schooner style, offers a modern enhancement you'll appreciate: she is designed to carry passengers comfortably, unlike most historic schooners.
Although Adirondack III is an all-wooden vessel, she sports a sparkling glossy white overlay, teak decks, richly polished mahogany rails, two well-equipped bathrooms, and almost 2,000 square feet of billowing white sails.
Adirondack III sails out of Rowes Wharf, carries up to 41 passengers, and gives you plenty of room to move about freely or sit, whichever you prefer. The ship makes as many as 4 trips daily, so you can choose from day, afternoon, sunset, and night cruises.
Check Adirondack III cruises & get your tickets (spring through late fall)
Adirondack III also offers special occasion cruises, especially on or near holidays such as July 4th, Labor Day, and New Year's Eve when Boston hosts fireworks displays. A trip to view the USS Constitution's annual Boston Harbor turnaround cruise on July 4th is usually offered as well.
Coast Guard-certified captains and an attentive crew operate the ship, and will point out sights as you sail by.
Although routes may vary somewhat, you'll typically sail past several of the best-known Harbor Islands and historical sights, including Castle Island and Fort Independence, Spectacle Island, and the Long Island Head Light House on Long Island.
Most trips are about 90 minutes to 2 hours in duration, although some specialty cruises are longer.
You can purchase beer, wine, mimosas, cocktails, and other beverages on board (credit card only). Food is not available - so feel free to bring a snack or picnic lunch.
Adirondack III Cruise Schedules & Tickets
Boston Harbor Cruises on the Adirondack III:
---
USS Constitution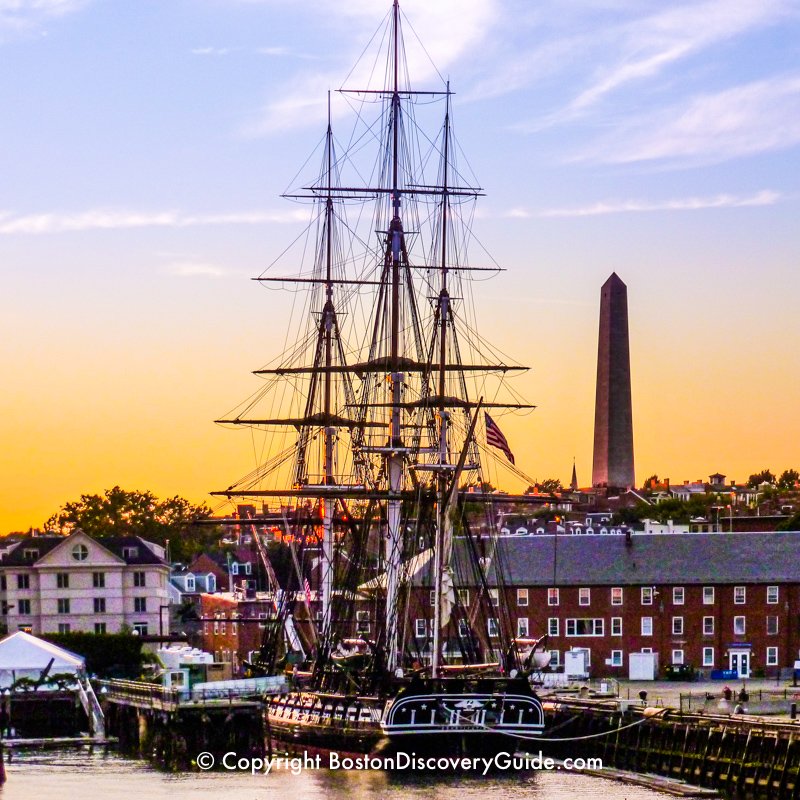 Built in 1797 and the oldest commissioned warship still afloat anywhere in the world, the USS Constitution is a magnificent tall ship outfitted for waging battles on the high seas. In fact, the Constitution's ability to deflect enemy cannon fire during the War of 1812 earned it the nickname of "Old Ironsides." The Constitution is a site on Boston's Freedom Trail.
Although the Constitution now spends most of her time docked in the Charlestown Navy Yard near Downtown Boston, you can take a free 30-minute tour conducted by Navy crew members and see the top deck, gun deck, and berth area up close as you hear your guide's stories about live aboard the ship 200+ years ago, her famous battles, and her role in American history.
Several Boston Harbor cruises also show you close-up views of the Constitution. For example, the narrated 90-minute narrated Boston Harbor Sightseeing Cruise if you want to get great views of Boston's historic North End, the Bunker Hill Monument, the Tea Party ships, the Bunker Hill Monument, and the USS Constitution ("Old Ironsides), America's famous ship from the War of 1812.
Book your Boston Harbor sightseeing cruise
More Cruises for Viewing the USS Constitution
These Boston Harbor sightseeing cruises typically take you past the USS Constitution in Charlestown Navy Yard:
---
The Liberty Fleet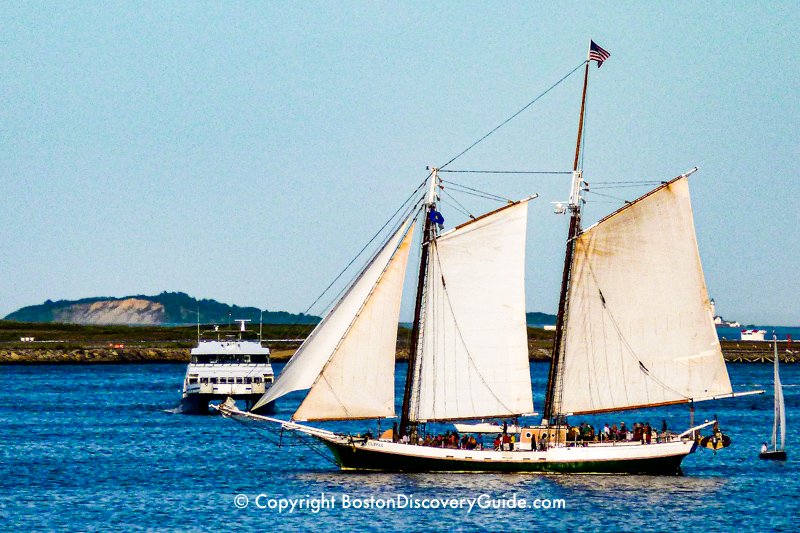 The Liberty Fleet includes two vessels, Liberty Clipper and Liberty Star, modeled on historic tall ships.
Liberty Clipper is a magnificent 125 foot gaff-rigged schooner ("tall ship") named after the sloop John Hancock used for smuggling tea into Boston before the American Revolution. She can carry 167 passengers.
Liberty Star is a beautiful 67 foot classic schooner with a 39 passenger capacity.
Built to exacting specifications with 3 head sails (jibs), a fore sail, and a main sail based on designs for real privateers, both ships depart from Long Wharf.
The Liberty Fleet offers a variety of cruises. Choose a Sunday Brunch cruise, a day sail, or a sunset cruise featuring gorgeous views of the Boston skyline at sunset. Most trips last 1 1/2 to 2 hours. Beer and wine are available for purchase on board.
During the day cruises, you can relax and enjoy the experience - or take a hands-on role in guiding the ship around Boston Harbor. Set the sails, take the wheel, and imagine that you are captain of the ship - because for this short time, you will be.
Specialty cruises are also offered, including July 4th and Labor Day cruises as well as a Rum & Revelry Sail (21+) on Saturday evenings featuring professional actors who perform traditional songs of the sea.
Find out more about Liberty Fleet cruises
Tall Ship Festivals in Boston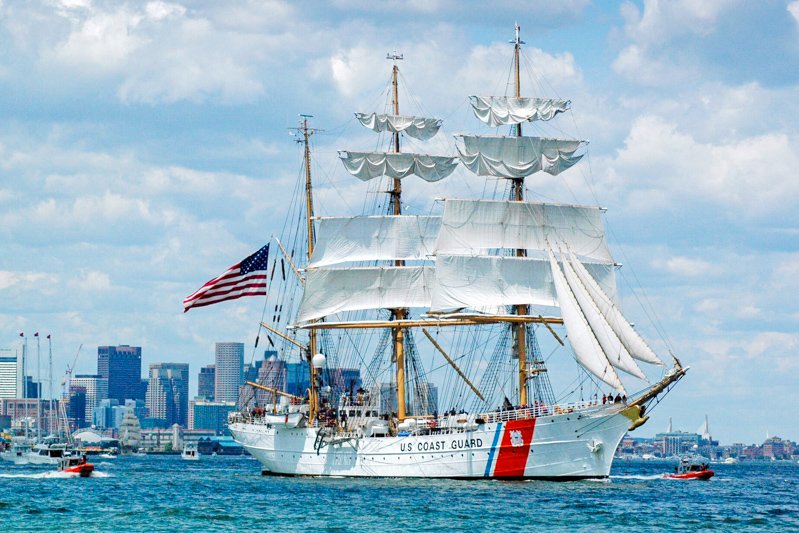 Every few years, Boston hosts an exciting tall ship festival - tall ships converge here from all over the world for a parade around the Harbor and other ceremonies. Best of all, you get a chance to tour the ships free of charge. Unfortunately, this is an "off" year.
You can find out more about what to expect at Boston's tall ship festivals here.
Tall Ship FAQs
What exactly is a "tall ship"?
Definitions vary, opinions differ, and sailing festival/race organizations tend to have their nuanced definitions - but when most people think of a "tall ship," we envision a large, traditionally-rigged vessel with multiple sails in both 3- and 4-cornered shapes (square rigs, top rigs) and configurations (mainsails, topmasts, topsails) - in other words, similar to the classic tall ships pictured in this article.
Tall ships can be characterized by type based on the number, shape, and configuration of masts. The most popular 21st century tall ship rigs include topsail schooners, brigs, brigantines, and barques.
Popular Modern Tall Ship Types:
Schooner - Has two or more masts. First used by the Dutch in the 16th and 17th centuries; became a favorite of North American and particularly New England shipbuilders in the 18th century due to its speed - traditionally used by blockade runners, transporters of enslaved people, privateers, bootleggers, and offshore fishermen. The Liberty Fleet and Adirondack III are schooners.
Brigantine - Dates back to the 13th century; used both sails and oars, and was lateen-rigged with two masts and 8-12 oars on each side to enable it to move against the wind. A favorite of Mediterranean pirates (and modern-day film makers) thanks to its speed, mobility, and ease of handling.
Brig - Originally used for cargo in the early 19th century due to its speed and agility; also used for 19th century naval battles such as the Battle of Lake Erie.
Barque - Has at least three masts; fore and main masks are square. Popular today in many sailing schools.
Other Tall Ship Types:
Full-rigged ship - Has three or more square-rigged masts. Commonly used in the 19th century to carry cargo in deep waters.
Barquentine - Has three masts, including two fore-and-aft rigged masts plus a square mask. Common in the Baltic Sea and North Sea.
Is a sailboat the same thing as a tall ship?
Sometimes - depends on how the vessel is used. And of course the sailboat needs to be traditionally rigged and meet other criteria for being a tall ship. There are plenty of types of sailboats that do not - small one-mast sloops, for example.
"Sailboat" usually refers to a vessel used for recreational (vs commercial or military) purposes, and can be designed for cruising or racing.
Historically, tall ships were meant for commercial or military purposes, and therefore would not be considered sailboats. For example, the Mayflower - famous for bringing the group of religious dissidents and merchants who established the first permanent English settlement in the New World at Plymouth - was a commercial tall ship used to transport cargo. The Constitution (aka "Old Ironsides") is a military tall ship.
Today, many tall ships such as the Adirondack III and the Liberty Fleet ships built to emulate or replicate classic or historic traditionally-rigged vessels and designed for recreational purposes (sometimes with features such as a comfortable ride), would be considered sailboats.
However, some tall ships continue to be designed and used for military purposes, usually for sail training, and would not be considered sailboats. For example, the Mexican Navy's Cuauhtémoc (built in 1982) and the U.S. Coast Guard's USCGC Eagle (built in 1936 in Germany and taken by the U.S. after World War II as war reparations) fall into that category.
So in summary: Not all sailboats are tall ships (in fact, only a tiny minority are). And not all tall ships are sailboats (but most are).
---
Why Tall Ships Once Cruised Boston Harbor
During the years before the American Revolution, tall ships brought supplies in and out of Boston Harbor on a continual basis.
In fact, the Colonists depended on them to bring food staples not available locally, fabric for clothing, molasses for making rum . . . and tea.


John Hancock: Patriot Smuggler and Liberty Owner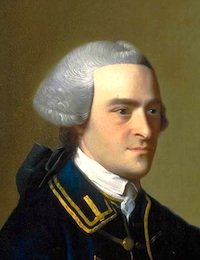 Shipping magnate and tea importer, John Hancock made a fortuning smuggling Dutch tea into Boston Harbor on his own Liberty ship.
Although Hancock didn't directly participate in the Boston Tea Party, he bankrolled the revolutionary activities of close pal and fellow Sons of Liberty member, Samuel Adams.
Because the British lowered the price of their tea before imposing the 3 pence tax, it actually cost less than Hancock's smuggled Dutch tea - so he stood to lose a bundle if the Colonists agreed to the tax.
As President of the Continental Congress and the first signer of the Declaration of Independence in July 1776, Hancock took pleasure in making his signature especially large and bold - an 18th century "in your face" gesture.
---
Where to Stay near Boston's Waterfront - Hotel Map
Enter your dates to see what is available:
---
Boston Insider Tips: What You Need to Know about Tall Ship Cruises
What to wear? Dress casually. You are likely to get splashed with water.
Hats recommended? Yes, except on windy days.
Sunscreen? Yes, except for sunset or evening cruises. Apply it before you go - 40 minutes on the water can give you a burn.
Do the tall ships make any stops during the cruise? No.
Are tall ship cruises available year-round? No. Although they may vary a bit year by year, they usually start up in late April/early May and end by mid-October (usually just before or just after Indigenous Peoples Day).
Does the USS Constitution offer free tours throughout the year? Yes. No reservations are required (except for large groups).
---
More Fun Boston Harbor Cruises
These cruises offer you lots of different options for experiencing Boston byi water:
---
More Articles about Things to Do in Boston
---
Need a Boston Hotel or Apartment?
Use this handy map from Booking.com to find the perfect place to stay. Just enter your dates to find what's available, see the best rates, and make your reservations.