Planning to visit one or more of the 50+ universities and colleges in Boston and the nearby Metro area?
Our Boston College & University Guide includes all of them, including many professional, specialized, and technical schools.
We include highlights about their specialties, academic programs and degrees, and online courses and programs.
To make your planning easier, we include transportation options, including the closest subway ("T") and/or commuter rail station.
We also provide a link to each school's website so that you can find out more and perhaps sign up for an admissions session and campus tour to help you decide which schools will be the best fit for you.
If you've heard the rumors that Boston is a great place to be a student, well, they're true!
Top photo: Harvard University campus, (c) Boston Discovery Guide
Boston Discovery Guide is a reader-supported publication. When you buy through our links, we may earn a commission at no additional cost for you. Learn more
---
Boston Colleges & Universities Offering Bachelor and Higher Degrees
The schools in this section offer Bachelor degrees, and in many cases, Master, Doctoral, and Professional degrees. Some also offer Associate degrees, while others offer experiential career-focused training in specialized areas ranging from health sciences to fine furniture making, glass blowing, and even wine making.
Add in numerous research centers, Boston career and technical schools, and online college courses from universities and colleges in Boston - and you can see the rich educational and intellectual diversity offered by our institutes of higher learning.
Even if you're just visiting for the weekend, you can take classes in everything from quantum physics to wine tasting.
Babson College
Babson is all about business . . . and both the undergraduate and graduate MBA and Masters programs have outstanding reputations.
Babson's highly-rated entrepreneurial leadership programs are considered among the top in the US with an international and multicultural focus that attracts students from 80+ countries from around the world.
Undergraduate programs are located on the bucolic campus in Wellesley, a leafy suburb about half an hour's drive from Boston. Graduate programs in Babson's F.W. Olin Graduate School of Business share locations in San Francisco, Miami, and Boston as well as Wellesley.
231 Forest Street, Babson Park, MA (Wellesley, MA) | Commuter Rail: Wellesley Hills Station (slightly less than 1 mile from campus) | website
Bay State College
Originally founded in 1946 to serve the airline industry, Bay State College, a for-profit career college in Boston's Back Bay and Taunton, Massachusetts, offers day, evening, and online courses toward Associate and Bachelor degrees in Business, Criminal Justice, Fashion, Nursing, Management, Information Technology, and Entertainment Management.
The college is owned by Beijing-based Ambow Education Group.
122 Commonwealth Avenue, Back Bay, Boston | Green Line: Arlington | website
Franklin Cummings Tech (Benjamin Franklin Cummings Institute of Technology)
Established in 1908 with funds given by an unusual provision in Benjamin Franklin's will, the Benjamin Franklin Cummings Institute of Technology is a private technical college that offers a Bachelor of Science in Automotive Technology and Health Information Technology, Associate degrees in a variety of Industrial and Engineering Technologies.
The Cummings Foundation provided a $12.5 million gift to help further the school's mission to advance its work in creating technical career pathways for students typically underrepresented in post-secondary education, and at that time, "Cummings" was added to the school's name.
Although BFIT offers some housing options, most students commute to the campus in Boston's South End neighborhood.
The college aligns its programs with workplace demands. About two thirds of recent graduates find employment in a field related to their major, and the remaining third transfers to a four-year college to complete their baccalaureate degree.
Construction of a new state-of-the-art campus in Boston's Historical Nubian Square is currently underway. The new campus will be located at 1011 Harrison Ave, and is expected to open in 2024.
41 Berkeley Street, South End, Boston | Orange Line and Commuter Rail: Back Bay Station | website
Bentley University
Located in Waltham to the west of Boston, Bentley University is a highly ranked business school that specializes in finance, accounting, management, marketing, and information systems.
Bentley's McCallum Graduate School offers MBA, MS, and PhD programs in a variety of business and management areas.
Waltham is a small city a few miles to the west of Boston, and home to a growing number of biotech companies.
Bentley's campus offers plenty of green space and on-campus housing for undergrads ranging from dorms to apartments for all four years.
A shuttle bus transports students between campus and Harvard. Waltham city buses have stops close to campus, and provide service into Boston and Cambridge. The MBTA Commuter Rail provides another way to get into Boston and Cambridge.
175 Forest Street, Waltham, MA | Commuter Rail: Waltham Station, about 1.5 miles from campus | website
Berklee College of Music
Berklee College of Music offers education in musical performance and composition in jazz, rock, and other contemporary music genres not normally stressed at other schools.
Berklee is the largest independent college of contemporary music in the world, and also includes a performing arts conservatory (formerly Boston Conservatory) with a focus on music, dance, and theater.
Undergraduates, who come from 70+ different countries, choose from a dozen or so music-related majors and can study at the school's Valencia, Spain campus in addition to the Boston campus.
Graduate programs at the Masters level (including MFA and MBA degrees) focus on a variety of music industry and performing arts specialties. Online programs for undergrad and graduate degrees are also available.
Berklee's urban campus includes a number of buildings in Boston's Back Bay and Fenway neighborhoods. Residence halls accommodate up to 1,500 of the 5,000+ undergrads and are within a 10-minute walk of campus.
Berklee hosts numerous free and ticket-based performances - usually multiple events on any given night. For details, click on Events on their website.
Admissions Office: Uchida Building, 921 Boylston Street, Boston's Back Bay neighborhood | Green Line: Hynes | website
Boston Architectural College
New England's largest independent design college, Boston Architectural College offers bachelor and master degrees in architecture (including interior and landscape architecture) and design.
BAC's faculty consists primarily of working architects and design professionals, and builds professional experience into their programs to ensure that students will be highly competitive in their fields as soon as they graduate.
BAC's McCormick Gallery (320 Newbury St) offers free exhibits open to the public throughout much of the year.
BAC may also be the only college in Boston that started 100+ years ago as a private club.
320 Newbury Street, Boston's Back Bay neighborhood | Green Line: Hynes | website
Boston Baptist College
Boston Baptist College is a small Christian college with about 130 students located in Boston's Hyde Park neighborhood. Offers an Associate and Bachelor degree in Biblical Studies.
950 Metropolitan Avenue, Boston's Hyde Park neighborhood | MBTA Bus: 24, 27 | website
Boston College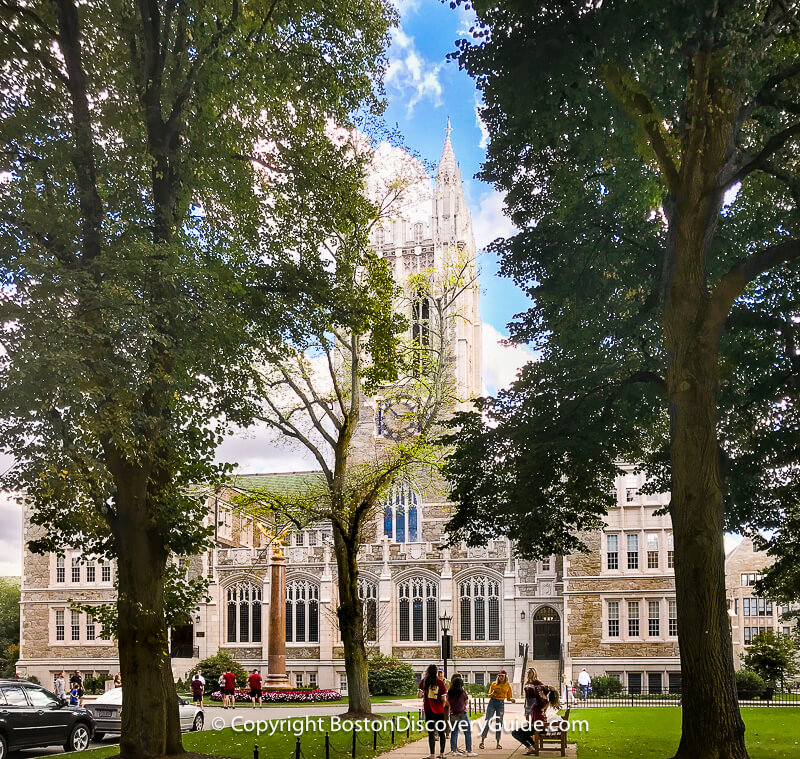 Despite its name, Boston College is actually a university, and home to one of the largest Jesuit communities in the U.S.
In addition to offering highly-ranked liberal arts programs as as programs in nursing, engineering, and business for undergraduates, it also has a gorgeous hilltop campus - possibly the prettiest in Boston - with many buildings featuring "collegiate gothic" architecture.
Chestnut Hill, Newton
Boston University
With over 30,000 students and 4,000 faculty, BU is the fourth largest private university in the U.S.
BU includes 18 schools and colleges, and offers undergraduate, graduate, and professional programs in numerous disciplines.
The Wheelock College of Education and Human Development is the newest division, formed by Wheelock College's recent merger into BU.
Commonwealth Ave, Boston, Allston
Brandeis University
Established in 1948 as a Jewish-sponsored private research university, Brandeis University is located on a bucolic tree-filled campus about 8 miles west of Boston.
Brandeis offers strong liberal arts and international programs, plus a number of graduate and research programs.
An Amtrak within easy walking distance of the station as well as a shuttle bus service makes getting to and from Boston and Cambridge easy for the students.
41 South Street, Waltham, MA | Commuter Rail: Roberts Station, on the western edge of the campus | website
Cambridge College
One of the go-to colleges in Boston for adult education for working adults, Cambridge College offers undergraduate and graduate degrees in education, counseling, management, human services, and other career-oriented specialities.
Cambridge College features collaborative learning and recognizes prior learning and life experiences. Classes are onsite and online. In addition to its Boston location in the Charlestown neighborhood, Cambridge College also has other Massachusetts locations in Lawrence and Springfield, as well as Southern California and Puerto Rico.
500 Rutherford Avenue, Boston's Charlestown neighborhood | Orange Line: Sullivan | website
Colleges of the Fenway
This group of small colleges located close to each other in Boston's Fenway neighborhood allows their students to cross-register, greatly increasing course options. Students also share many sports and student activities.
Colleges of the Fenway include Emmanuel, Mass College of Art, Mass College of Pharmacy, Simmons, and Wentworth.
Curry College
This private liberal arts school offering Bachelor and Master degrees started back in 1879 as the School of Elocution, with telephone inventor Alexander Graham Bell as its chancellor.
Milton
Dean College
Dedicated to help each student fulfill his or her potential based on individual learning styles, Dean offers Associate degrees in 15 academic majors, Baccalaureate degrees in Entertainment Management and Dance, and several Bachelor degree options in partnership with Suffolk University.
Franklin
Eastern Nazarene College
Sponsored by the Church of the Nazarene, this interdenominational school blends faith with scholastics, offering Associate and Bachelor degrees in 50+ areas, along with continuing ed and graduate programs for working adults. The tree-filled 15 acre campus doubles as an arboretum.
Quincy
Emerson College
This private university began as the Boston Conservatory of Elocution, Oratory, Dramatic Art, and today focuses on communications and performing arts. Emerson College is located in Boston's vibrant Downtown Theatre District, and owns several of Boston's historic theaters, as well as state-of-the-art television and recording studios.
You'll often see Emerson students in the coffee shops and cafes along Washington Street or soaking up sun on Boston Common.
Emerson is one of the most active colleges in Boston in the local media and performance arena, with top-notch faculty and numerous famous alumni, and has played a significant role in the revitilization of Boston's thriving Theatre District.
120 Boylston Street, Theatre District in Downtown Boston | Green Line: Boylston Street | website
Emmanuel College
A Roman Catholic liberal arts school, all-female until 2001 but now coed, offering internships, research, and other collaborative opportunities in Boston's Longwood Medical area.
Fenway, Boston
Endicott College
One of the formerly all-female colleges in Boston, Endicott was founded in 1839 for the purpose of educating women.
The school is now coed and offers a broad spectrum of liberal arts programs for Associate, Bachelor, and Master degrees. A mandatory internship program links classroom work with professional experience.
Beverly, Boston
Fisher College
Offering BA/BS and Associates (2-year) degrees, plus an online MBA in Management, Fisher blends liberal arts courses with career training and preparation in areas such as Sports Management and Video Production. Also offers a BS in Nursing.
Back Bay, Boston, plus other locations in Brockton, New Bedford, and North Attleboro; website
Framingham State College
Founded in 1839, this public college west of Boston offers small classes, 25 undergraduate majors, and 24 graduate programs.
Although especially well known for its teacher education programs, it also offers a nursing program (R.N.) and many liberal arts majors, as well as pre-law, pre-medical, and pre-engineering programs.
Framingham, MA
Gordon College
Wenham, MA
The only non-denominational Christian college in Boston and greater New England, Gordon College focuses on providing a Christian community for its students by integrating Christian beliefs with classroom studies.
Harvard University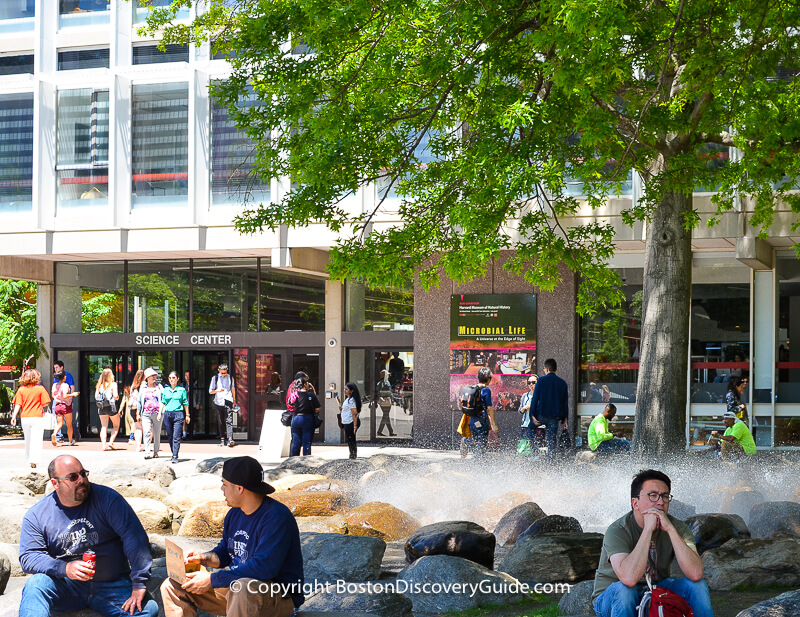 Founded in 1636, Harvard is the oldest institution of higher education in the United States and one of the most famous in the world.
Harvard University includes multiple faculties and major divisions located in Cambridge, Allston, and Boston's Longwood area including:
Harvard College (undergraduates)
Graduate School of Arts and Sciences
Harvard Divinity School
Harvard Design School
Harvard Division of Continuing Education
Harvard Graduate School of Education
Harvard John A. Paulson School of Engineering and Applied Sciences
Harvard Kennedy School
Harvard Law School
Harvard Radcliffe Institute
Harvard Art and Science Museums
Harvard Business School
Harvard Medical School
Harvard Dental School
Harvard T.H. Chan School of Public Health
In addition to the "official" Admissions Office tours for prospective undergrad students, Harvard students also offer campus tours complete with "insider" tips and insights.
Private walking tours of the Harvard undergrad campus and Cambridge led by professional guides are also availaible for groups of up to 12.
Hebrew College
Offers comprehensive Jewish and Hebrew studies in a non-sectarian environment. Emphasizes preparation for Jewish careers ranging from Jewish education to Jewish music to rabbinical studies.
Newton Centre
Hellenic College and Holy Cross Greek Orthodox School of Theology
As the only fully accredited 4-year liberal arts Orthodox Christian college in the Americas, Hellenic College offers Bachelor degrees. Holy Cross is a 3-year program of graduate-level theological studies leading to a Master of Divinity degree.
Brookline
Labouré College
As the first Roman Catholic school of nursing in New England, Labouré has offered Associate degrees in Nursing and Allied Health for a long time, and started offering a Bachelor of Science for Registered Nurses degree in 2009.
Dorchester, Boston
Lasell College
Founded in 1851 as a school for women, Lasell became coed in 1997. Fashion Design is the most popular major, although Lasell also offers degrees in Hospitality and Event Management, Athletic Training, Communications, Retailing, and Management.
Newton
Lesley University
Lesley offers undergraduate and graduate degrees in a variety of fields, and is highly regarded for its programs in Education, Counseling & Psychology, and Expressive Therapies.
Its College of Art & Design (formerly the Art Institute of Boston) focuses on preparing students for careers in art with courses in web and multimedia design, graphic design, advertising and editorial illustration, animation, photojournalism, art education, and even fine arts.
Lesley University also offers a robust selection of online college courses.
22 Everett Street, Cambridge, MA | Red Line: Porter or Harvard | website
Longy School of Music of Bard College
Longy is a a degree-granting Conservatory located in Harvard Square in Cambridge, and is one of three music colleges in the Boston area.
Longy is affiliated with the Los Angeles Philharmonic and specializes in Western art music and the French conservatoire method in which faculty master classes are emphasized. It offers undergrad and graduate degrees and diplomas in performance, composition, and other areas.
Undergraduate diploma students can jointly enroll in Emerson College's Bachelor of Music program in Boston, and its graduate program in teaching is located in Los Angeles. Longy became part of of Bard College in 2012.
Longy hosts 300+ performances each year and most are open to the public with free admission, so if you're planning a visit, check the Longy website for the performance schedule.
27 Garden Street, Cambridge, MA | Red Line: Harvard | website
Massachusetts College of Art and Design
Fenway, Boston
Combines a professional education in art and design with a strong liberal arts foundation in its undergraduate, graduate, and continuing ed programs.
Programs range from animation to fashion design, metalsmithing to sculpture, film/video to graphic design - and everything in between.
MassArt's film program provides weekly screenings of an eclectic mix of films and videos - you may even get to particpate in a discussion with the filmmaker afterward.
Massachusetts College of Pharmacy and Health Sciences
Fenway, Boston
Offers undergraduate, graduate, and professional programs in a wide array of programs in pharmacy and pharmaceutical sciences, nursing, dental hygiene, radiologic sciences, environmental sciences, health studies, health policy, drug regulatory affairs, premedical studies, medicinal chemistry, and other areas.
Massachusetts Institute of Technology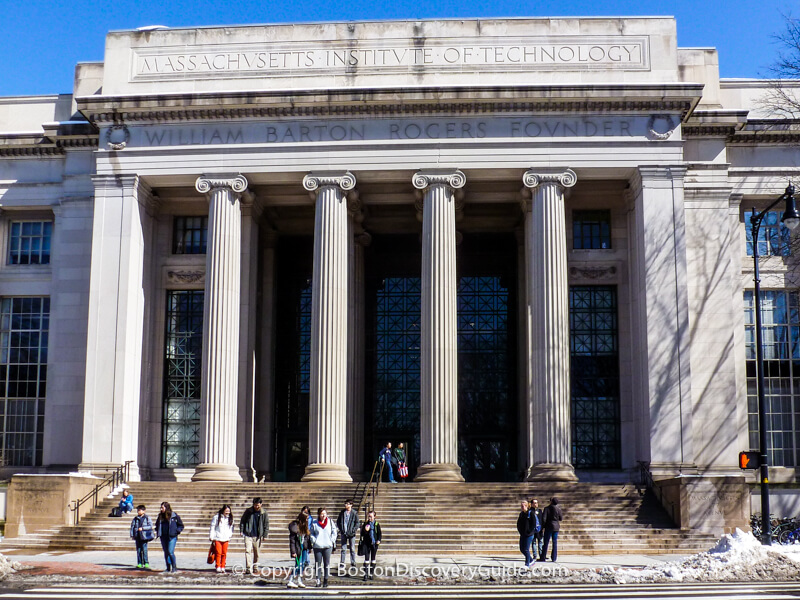 Massachusetts Institute of Technology, or "MIT," as it is commonly called, is a large, world-renowned research university with top engineering, science, architecture, and business programs.
MIT's campus overlooks the Cambridge side of the Charles River, and features architectural styles ranging from classical to cutting-edge contemporary designs by an "A" list of international architects.
MIT boasts a whopping 100 Nobel Laureates, 10 of whom are part of the MIT faculty and currently teach classes, and has one of the largest endowments and annual research budgets of any American university.
You can get a feel for the campus environment by joining one of the student-led MIT campus walking tours.
77 Mass Ave, Cambridge, MA | Red Line: Kendall | website
Massachusetts Maritime Academy
Buzzards Bay
This 4-year state college, located on Cape Cod, offers Bachelors and Masters degrees in disciplines that prepare students for careers in seagoing, engineering, and environmental professions, as well as other areas.
In addition to earning a B.S. degree, Massachusetts Maritime Academy Students also have the opportunity to earn a Merchant Marine Officer's License and a Naval Officer's Commission.
Merrimack College
North Andover, MA
This Roman Catholic college north of Boston offers programs in liberal arts, business, science, and engineering.
A cooperative education program combining classroom study with work experience in area businesses prepares students for careers in their chosen fields.
Montserrat College of Art
Started in the 1960s by a group of artists who wanted to provide professional education in the visual arts, Montserrat offers diplomas and a Bachelor degree to students who work primarily in a studio environment creating art under the guidance of a faculty of artists, designers, and scholars.
Beverly, MA
New England Conservatory
The oldest independent conservatory in the U.S., and one of the finest. Strong undergraduate and graduate programs, as well as preparatory, professional, and continuing ed programs.
Jordan Hall, NEC's primary performance space, hosts over 600 concerts a year. Its incredible beauty is matched by its world-famous acoustics.
New England Conservatory presents numerous music performances and concerts throughout the year, many of them free and open to the public. Click Concerts on their website for schedules and more information.
290 Huntington Avenue, Boston's Fenway neighborhood | Green Line E: Symphony Station | website
New England Institute of Art
Part of the national for-profit Art Institute group, the New England Institute for Art offers Associate and Bachelor degrees and a career-oriented approach in areas such as advertising, digital filmmaking, video production, graphic design, interior design, and photography.
Brookline
Northeastern University
Nationally renowned for its cooperative education program, Northeastern offers majors in a wide variety of disciplines while giving students to gain valuable hands-on experience in their chosen field.
Once known as a local commuter school, Northeastern now ranks as a large research institution with numerous professional and post-grad schools and programs.
360 Huntington Avenue, Boston's Fenway neighborhood | Green Line E: Northeastern | website
Olin College of Engineering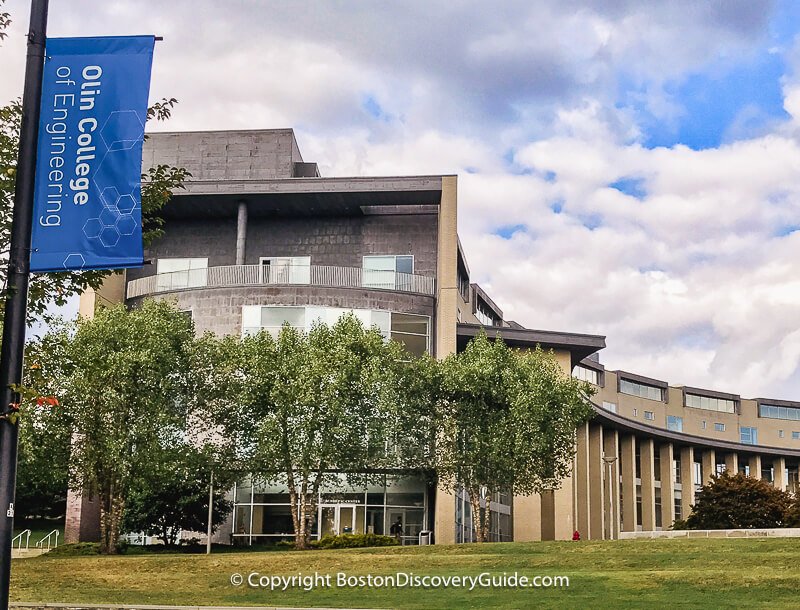 Open only since 2002, making it possibly the newest college in Boston, Franklin W. Olin College of Engineering is an undergraduate engineering institution exploring innovative approaches to engineering education.
Olin offers state-of-the-art facilities, a lovely campus about 14 miles west of Boston, and a commitment to enrolling a diverse and gender-balanced student body; over 50% of admitted students are female, which sets it apart from virtually every other engineering school in the US.
Olin is also committed providing a world-class engineering education at an affordable cost, and offers $100,000 merit-based Olin Scholarships to all students for 8 semesters (typically 4 years), and additional need-based aid to those with demonstrated financial need.
1000 Olin Way, Needham, MA | Commuter Rail: Needham Center Station (less than 2 miles from campus) | website
Regis College
This small formerly female-only Roman Catholic school became coed in 2007. It offers a liberal arts curriculum at the undergrad and graduate levels, and is known for its strong nursing program.
Weston
Salem State College
Salem
This public college north of Boston provides affordable tuition. Most popular majors are business, education, nursing, and criminal justice.
School of the Museum of Fine Arts
Fenway, Boston
Dedicated to the visual arts, the Museum School offers undergraduate and graduate programs to aspiring artists and art teachers in partnership with Tufts University and Northeastern University.
Simmons University
Started in 1899 for the purpose of educating women in "useful professions," Simmons is a small university with an all-women undergrad program combining liberal arts with professional work experience, and a much larger coed graduate school with particular strengths in health sciences, nutrition, social work, and library/information science.
Also offers the only MBA program in the world designed specifically for women.
Fenway, Boston
Stonehill College
This coed Roman Catholic college offers 70+ liberal arts, science, and pre-professional programs.
Easton
Suffolk University
This private university with an emphasis on globalism also has campuses in Madrid, Spain and Dakar, Senegal. It focuses on offering high quality education at a reasonable cost and emphasizing diversity.
Downtown, Boston
Tufts University
This internationally-known research university includes 10 schools, of which only 2 award undergrad degrees. Although perhaps best known for its emphasis on international studies, Tufts offers excellent programs in many different areas.
Medford
University of Massachusetts at Boston
This large public research university is the second-largest campus in the University of Massachusetts system, and includes 7 schools. Primarily a commuter school, it is in the early stage of shifting to a residential model.
Dorchester, Boston
Wellesley College
This all-women liberal arts college offers undergraduate degrees in single majors, double majors, interdisciplinary, and cross-disciplinary areas, as well as cross-registration with MIT and exchanges with other area schools.
231 Forest Street, Babson Park, MA (Wellesley, MA) | Commuter Rail: Wellesley Square Station (about 3/4 mile from campus) | website
Wentworth Institute of Technology
Fenway, Boston
Career-oriented Bachelor degree programs in architecture, computer science and systems, engineering, engineering technology, environmental science, construction management, and other technically-oriented areas.
Features a hands-on approach in extensive lab and studio work.
Wheaton College
Norton
Once an all-women's college, this private liberal arts college became coed in 1987.
Offering 40 majors and 50 minors, Wheaton also offers duel-degree and pre-professional programs, as well as courses designed to encourage students to think beyond their area of interest.
---
2-Year Associates Degree Schools
Bunker Hill Community College
Charlestown
The 13,000 students attending this 2-year college come from 90+ countries. Graduating students earn Associate in Arts (AA) or Associate in Science (AS) degrees, and acquire specialized skills necessary to enter the workforce or transfer into 4-year programs elsewhere. If you saw the movie Good Will Hunting, you've seen Bunker Hill's Charlestown campus- it's the place where Robin Williams' character taught. Several satellite campuses are sprinkled around the greater Boston area. Website
Quincy College
Quincy
A public community college run under the direction of the City of Quincy. Offers Associate degrees in a wide variety of subjects. Website
Roxbury Community College
Roxbury, Boston
This Massachusetts public college offers Associate degrees and certificate programs in liberal arts, career development, and workforce training. Many graduates transfer into 4-year schools to continue their education.
---
Research Institutes and Post-Graduate-Only Institutes
Boston Graduate School of Psychoanalysis (Brookline)
A small independent psychoanalytic graduate school offering Master and Doctoral degrees in psychoanalysis and psychoanalytic counseling.
Episcopal Divinity School (Cambridge)
An episcopal seminary that offers graduate degrees in theological studies, divinity, and ministry
Forsyth Institute (Fenway, Boston)
Primarily a research institute focused on dental and oral health, Forsyth also offers a large post-doctoral training program in biomedical research.
Massachusetts College of Professional Psychology (West Roxbury, Boston)
A graduate-level institute offer Masters and Doctoral programs in psychology.
MGH Institute of Health Professionals (West End, Boston)
Affiliated with world-famous Massachusetts General Hospital, the Institute combines clinical research with classroom experiences and awards Master and Doctoral degrees in Clinical Investigation, Medical Imaging, Nursing, Physical Therapy, and Communications Sciences and Disorders.
St. John's Seminary (Brighton, Boston)
Men-only Roman Catholic school that offers a graduate-level Masters of Divinity program, although most of its property was sold to Boston College in 2004-06.
Law Schools in Boston
Boston College Law School (Chestnut Hill, Newton, Boston)
Boston University School of Law (Fenway, Boston)
Harvard Law School (Cambridge)
New England School of Law (Theatre District, Downtown Boston)
NESL's part-time evening division allows many working adults to pursue a law degree, although the full-time day division is actually larger.
Northeastern School of Law (Fenway, Boston)
Suffolk University Law School (Downtown, Boston)
The fourth oldest law school in New England and the fourth largest in the U.S., Suffolk was founded in 1906 to provide immigrants, minorities, and the working class with the opportunity to study law. Suffolk offers full-time and part-time programs. Television shows The Practice and Boston Legal feature fictional Suffolk grads.
Tufts University - Fletcher School of Law and Diplomacy (Medford)
The nation's oldest graduate school in international relations, Fletcher offers an LL.M. degree in international law for legal professionals and an M.A. in law and diplomacy, along with Master and Doctoral degrees in other areas related to international law and diplomacy.
Medical, Dental, and other Health Professional Schools in Boston
Boston University - Goldman School of Dental Medicine (Fenway)
Boston University School of Medicine (South End)
Harvard Medical School (Fenway)
Harvard School of Dental Medicine (Fenway)
Harvard School of Public Health (Fenway)
MGH Institute of Health Professions (West End, Charlestown, and online)
This graduate school founded by the Massachusetts General Hospital (MGH) grants master's degrees, doctoral degrees, certificates in advanced study, and continuing education in onsite and online medical classes.
Programs include Nursing, Physicians Assistants, Physical Therapy, Medical Imaging, and Communications Sciences and Disorders.
New England College of Optometry (Back Bay)
The oldest continually operating college of optometry in the U.S., and a leading research center. Students in the Doctor of Optometry and Master of Vision Science programs get clinical experience at the nearby New England Eye Institute.
Tufts Friedman School of Nutrition and Policy (Chinatown)
Tufts School of Dental Medicine (Chinatown)
Tufts School of Medicine (Chinatown)
Tufts University - Cummings School of Veterinary Medicine (Grafton, MA)
Graduate Schools of Management in Boston
Babson College - F. W. Olin Graduate School of Business (Wellesley, MA)
Bentley University McCallum Graduate School (Waltham, MA)
Boston College - Carroll School of Management (Chestnut Hill, Newton)
Boston University School of Management (Fenway)
Brandeis International Business School (Waltham, MA)
Harvard Business School (Allston)
Northeastern School of Management (Fenway)
Suffolk University - Sawyer School of Business (Downtown)
UMass Boston College of Management (Dorchester)
Other Boston Schools to Explore
These schools offer certificates, professional and career training, and enrichment classes.
North Bennet Street School
North End and Arlington, MA
With a focus on training students for careers in traditional trades that require hand skills, this well-known school offers programs and workshops in a wide range of areas.
Perhaps best known for its highly acclaimed stringed instrument making and furniture making programs, Bennet also offers fulltime professional programs in bookbinding, preservation carpentry, jewelry making, and piano technology, continuing ed classes, and 1-day workshops in everything from building birdhouses (children welcome) to manuscript gilding.
38 North Bennet Street, Boston; website
Boston Center for Adult Education
Bay Village
Here's where to come when you want to learn something just for fun - cake decorating . . . how to pay off your debt . . . pet first aid . . . Samba . . . and much, much more.
Fees are very affordable, and many classes meet one time only - so if you're visiting Boston just for the weekend and want to take a class in something fun and interesting, check out BCAE's offerings. Website
Boston Wine School
Allston
For enrichment and pleasure, wine lovers can't go wrong at Boston Wine School, run by wine critic Jonathan Alsop.
Classes such as "Burgers and Bordeaux," "Fine Wine on a Tight Budget," and "A Night in Southern France" combine wine tastings with snacks and in some cases, dinners.
You can earn a certificate in some classes - useful if you work in the food or hospitality industry, and fun to have even if you just want to impress your friends. Website
Butera School of Art
Back Bay
This high-focused commercial art school offers a 3-year commercial art program that focuses on computer graphics, graphic design, and illustration, and a 2-year sign-painting program that prepares students for a sign art career by focusing on computer graphics, truck/van/boat lettering, and airbrush techniques. Facebook
Cambridge School of Culinary Arts
Cambridge
Professional culinary programs and recreational classes in cooking, including an especially strong pastry program, taught by an impressive roster of professional chefs. Website
Diablo Glass School
Mission Hill
This professional glass blowing school offers a wide spectrum of classes ranging from specialized professional training to enrichment classes in glassblowing, flameworking, fused glass, and stained glass. Website
Gibbs College
Back Bay, Boston
Formerly a secretarial training school, Gibbs offers 2-year Business Administration and Office Administration training programs. Website
New England School of Photography
Offers 1- and 2-year professional photographer training programs with specializations in areas such as advertising and commercial photography, photojournalism, digital arts, documentary photography, architectural photography, and more.
Website | Waltham
School of Fashion Design
Established in 1934, this school offers certificates and diplomas for up to three years of study about fashion design, construction, and production.
A popular "prep" program is also open to high school students.
Back Bay, Boston | Website
Urban College of Boston
Founded in 1993, this private 2-year college is designed as a "non-traditional, multicultural college" to bridge students from literacy, GED, adult education, and other programs into higher education.
It offers Associate degrees in early childhood education, human services administration, and a few other areas.
Downtown Boston | Website
---
More Articles for Future Boston University & College Students
---
Fun Ways to See Boston
Need a Boston Hotel or Apartment?
Use this handy map from Booking.com to find the perfect place to stay. Just enter your dates to find what's available, see the best rates, and make your reservations.