Planning to treat yourself to a stay in one of Boston's luxury hotels?
Here's what you need to know: while you can expect superb comfort, elegant furnishings, top amenities, excellent locations, and 5-star service at all of these luxury hotels, each one offers you a unique way to experience Boston based on its mix of activities and programs, size, ambiance, and locale.
How do you choose which luxury hotel fits you best? Take a look at our reviews to find out what makes each property unique, appealing, and welcoming.
If you usually prefer internationally-known luxury hotel groups such as Mandarin Oriental, Ritz-Carlton, Four Seasons, Fairmont, Taj, and InterContinental, you'll find them all in excellent locations in Boston.
Especially if you travel a lot, it can be comforting to stick to one brand and know that you'll find the same service, ambiance, and amenities in Boston as you do in Shanghai or Paris or Rio.
That doesn't mean that you won't find relative bargains, especially during winter months. Be sure to also take a look at special packages offered by aggregators such as Travelocity - you may find great deals.
And remember, you can accrue - and use - your frequent traveler loyalty points at many of these hotels.
When you want the very best, Boston luxury hotels deliver!
Quick links to hotels: Mandarin Oriental - Four Seasons Boston Public Garden - Four Seasons Boston One Dalton - Ritz-Carlton Boston - Boston Harbor Hotel - Fifteen Beacon Hotel - The Newbury Hotel - Intercontinental Hotel Boston - Fairmont Copley Plaza - Eliot Hotel - Lenox Hotel
Top photo: For the ultimate luxury, treat yourself to a suite at Boston Harbor Hotel with a spacious terrace balcony overlooking the water
Boston Discovery Guide is a reader-supported publication. When you buy through our links, we may earn a commission at no additional cost for you. Learn more
---
Mandarin Oriental Boston - Back Bay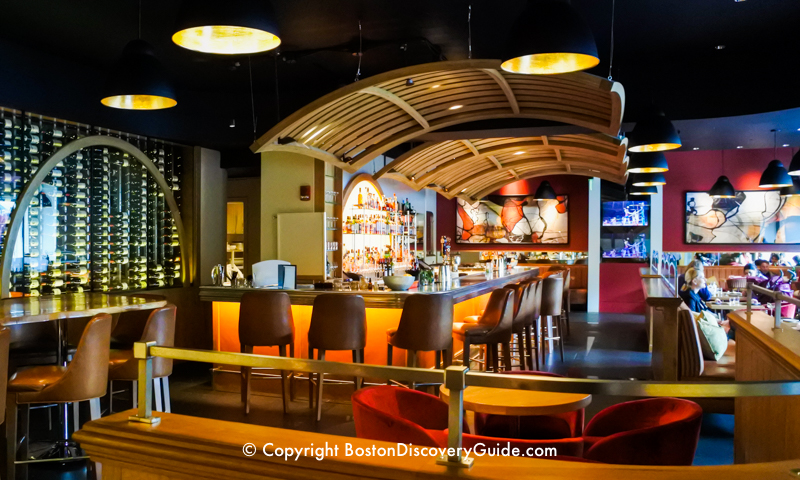 The world-renowned Mandarin Oriental Boston is famous for its high level of luxury and service, and the 5-star Mandarin Oriental Boston fulfills this reputation.
Luxuries to enjoy at the Mandarin Oriental Boston - The 148 rooms and suites feature serene decor, soaking tubs in the marble bathrooms, and state of the art technology. If you're visiting for the Boston Marathon, you'll love that the finish line is right outside the hotel.
More luxury to love at the Mandarin Oriental Boston:
16,000 square foot Spa and Fitness Center with personalized services, hydrotherapy rooms, and vitality pools
Direct connection to the Prudential Center
For the ultimate luxury, reserve the 2,600 square foot Presidential Suite
Best choice for: Sophisticated travelers who crave luxurious comfort and top-flight service
---
Four Seasons Boston - Public Garden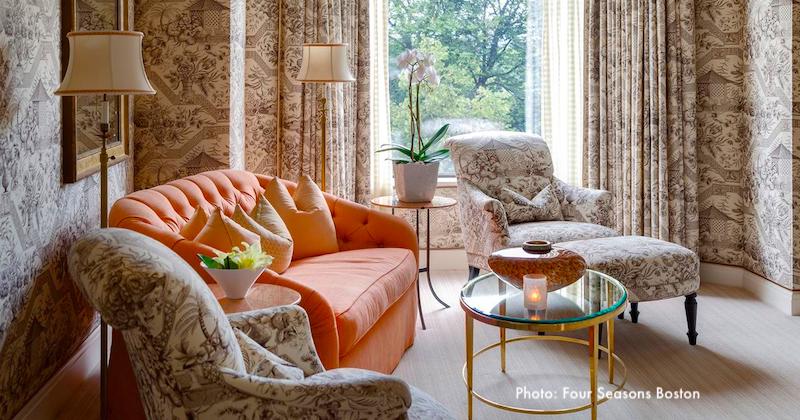 The well-heeled guests who frequent the famed 5-star Four Seasons Boston appreciate how the 273 rooms and suites feel like home - a very luxurious home, filled with every comfort and amenity including gorgeous views of the loveliest spot in Boston, the Public Garden. Discerning guests who appreciate top-of-the-line amenities and richly-elegant furnishings
Address: 200 Boylston Street
Luxuries to enjoy at the Boston Harbor Hotel - Indoor swimming pool on the 8th floor with floor-to-ceiling windows overlooking the Public Garden, richly elegant furnishings in muted tones, many personalized touches, and unparalleled service
More luxury to celebrate at the Four Seasons Boston:
Weekly cooking class for your kids plus other child-friendly amenities
The grand piano and fireplace in the Presidential Suite - music stars (and previous guests) Elton John, Billy Joel, and Whitney Houston
---
Four Seasons Hotel at One Dalton Street - Back Bay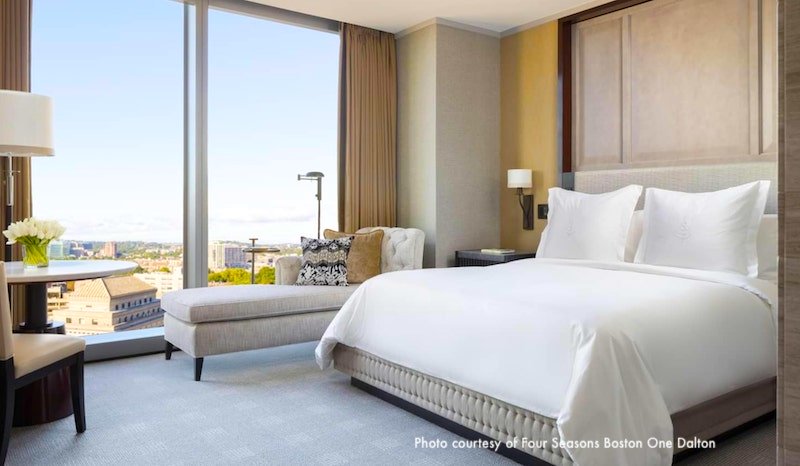 Four Season Hotel One Dalton Street is the famous 5-star luxury brand's second hotel in the ritzy Back Bay neighborhood, and one of Boston's newest hotels. Stay here, and you're just a few steps from international designer boutiques and acclaimed restaurants along renowned Newbury Street, Fenway Park, and the city's top cultural attractions such as the Museum of Fine Arts and Symphony Hall.
With 215 guest rooms topped by 160 ultra-luxury private residences, the hotel's 61-story building is Boston's third tallest.
What's special: You'll enjoy sweeping views from floor-to-ceiling windows, the onsite spa and fitness center, the serene indoor swimming pool, three onsite restaurants and bars, and of course Four Season's superb service. Plush contemporary furnishings are both elegant and supremely comfortable.
---
Ritz-Carlton Boston - Downtown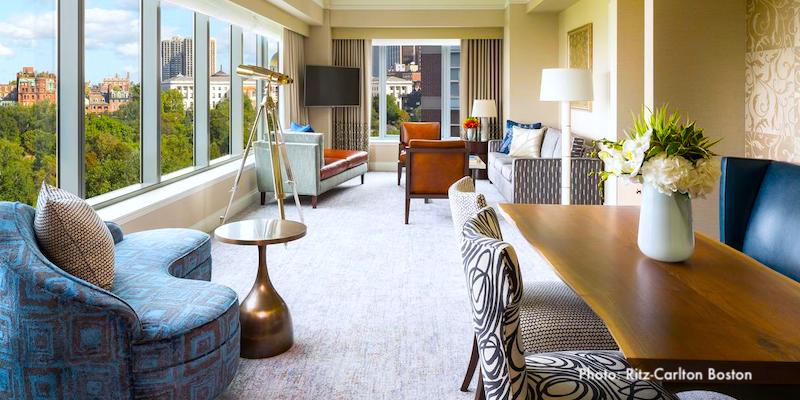 Understated and sophisticated, Ritz-Carlton Boston offers a superb location and perfect views sweeping across Boston Common.
Address: 10 Avery Street
Frequent traveler program: Ritz-Carlton Rewards
Luxuries to enjoy at the Ritz-Carlton Boston - Luxurious furnishings in the 193 guest rooms and suites, including fireplaces in the largest suites. Complimentary morning limousine service to select locations. High end electronics, and windows that open.
More luxury to relish at the Ritz-Carlton Boston:
-The huge 100,000 square foot Sports Club/LA fitness and spa facility
Best choice for: Those who crave the best but don't want to flaunt it
---
Boston Harbor Hotel - Downtown Waterfront
The striking arches at the center of the Boston Harbor Hotel welcome you to this independently owned luxury enclave of 262 rooms and suites, all with spectacular waterfront or city skyline views due to their locations on the 8th through 16th floors.
Address: 70 Rowes Wharf
Luxuries to enjoy at the Boston Harbor Hotel - With rooms starting at a generous 500 square feet, you're guaranteed the ultimate luxury in a Boston hotel: space!
More luxury to embrace:
The world-renowned Boston Wine Festival each January - March
A well-equipped fitness room, indoor pool, and spa
An excellent onsite restaurant and bar
A variety of waterfront concerts and other fun events
Best choice for: Fun-loving connoisseurs who relish the superb wine festival, fine dining, and summer harborside music and movie events
---
The Langham Boston
250 Franklin Street, Boston's Financial District
Prepare to be thrilled by the ultra-charming and luxurious Langham Hotel, located in the heart of Boston's Financial District.
Inside the ornate renaissance revival style building, once home to the Federal Reserve Bank, you'll find luxurious public spaces including a grand ballroom, personalized service, and sophisticated Italian cuisine in the onsite restaurant.
What You'll Love:
The private guests-only Club Lounge with multiple food and beverage options on the 8th floor - perfect place to combine relaxation with low-key networking
The dazzling indoor pool and health club
The hotel's spectacular art collection of 268 pieces on display throughout the property
Across the street, one of the city's most loveliest small parks in Post Office Square
---
Fifteen Beacon Hotel - Beacon Hill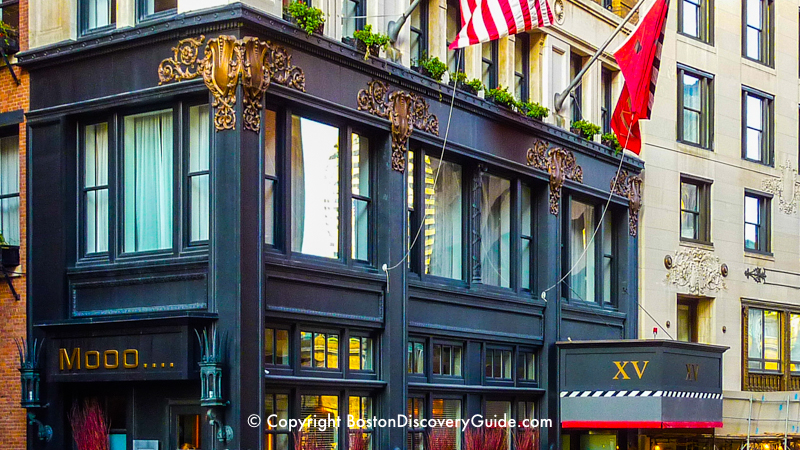 In the historic heart of Boston, XV Beacon close to everything: Boston Common, the Financial District, top attractions including Faneuil Hall Marketplace and the Waterfront, and some of the city's best restaurants. The unique shops and quiet streets of Beacon Hill are next door, and the Theatre District is a few blocks away.
Independently owned by a local businessman with a keen sense of the demanding standards and level of comfort desired at the upper-end of business travel, Fifteen Beacon delivers a perfect mix of luxury, outstanding amenities, and service to the lucky guests staying in the 63 rooms and suites of this luxury boutique hotel.
Luxuries to enjoy at XV Beacon: Gas fireplaces in every room, comfortable modern furnishings, Frette robes, rainforest showers in the Italian marble bathrooms, cashmere throws, cool electronics and big screens with CD library, iPad rentals, and windows that open.
More luxury to love at XV Beacon:
Great views from the rooftop deck
Complimentary in-town Lexus car service
Nespresso machine in your room or suite upon request
For Pooch, healthy homemade biscuits, a comfy bed, and dog-sitting and dog-walking services arranged through the Concierge
---
The Newbury Boston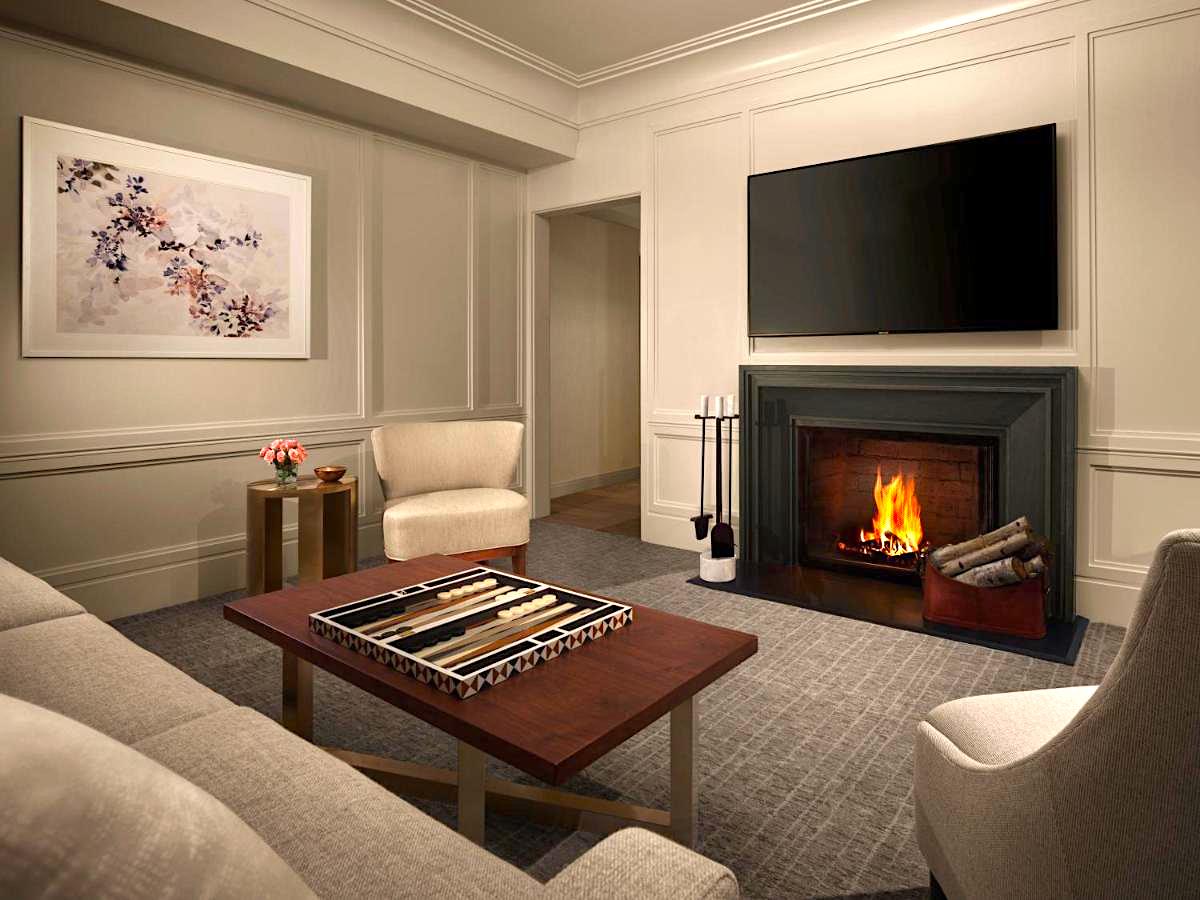 The Newbury Boston, located at the edge of the Back Bay neighborhood across from the Public Garden, is another excellent choice close to Beacon Hill as it is only about a 2-minute walk away.
With 286 guestrooms and (including 90 suites, some with wood-burning fireplaces), The Newbury Boston exudes luxury at every turn, with antique furnishings, original art, and high-end linens and amenities.
What's special: Floor to ceiling windows in the bar give you a superb view of the beautiful Public Garden as you sip your drink. But there's a lot more to love here: afternoon tea service, crystal chandeliers everywhere, lovely antiques and art. Don't miss the chance to dine at the hotel's Comtessa restaurant's rooftop terrace overlooking the Public Garden.
---
InterContinental Boston - Downtown Waterfront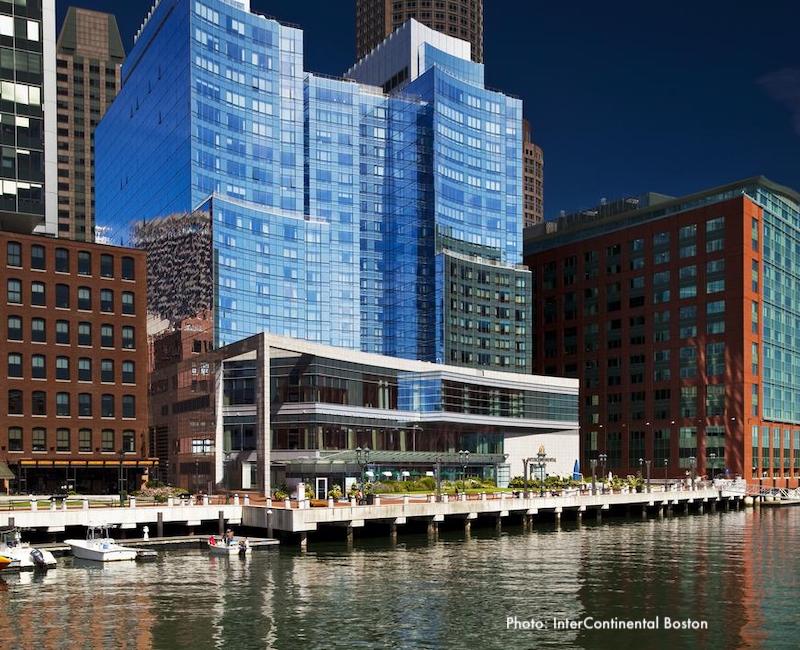 510 Atlantic Ave, Downtown Boston Waterfront
Encased with sleekly beautiful reflective blue glass and creamy marble on the outside and featuring plushly elegant contemporary furnishings inside, the InterContinental epitomizes understated luxury and world-class service.
With sweeping waterfront views on one side and thrilling city skyline views on the other, these luxurious hotels occupy prime locations overlooking Boston Harbor yet are just steps away from the Financial District and an easy walk to top historic attractions, Faneuil Market, and TD Garden, home to the Bruins and Celtics.
Luxuries to enjoy at the InterContinental Boston: Spectacular views, original artwork, and a fabulous on-site spa, indoor lap pool, and health club are just a few of the wonderful amenities. The hotel's restaurant and 2 bars contribute to the lively waterfront scene, and the outdoor patio seating provides one of Boston's best summer venues for watching boats cruise across the harbor.
Another luxury to love at the InterContinental Boston:
Honey-infused dishes and cocktails in the hotel's restaurant and bars made with very local honey - straight from the InterContinental Boston's rooftop hives
Frequent traveler program: Priority Club Rewards
---
Fairmont Copley Plaza - Back Bay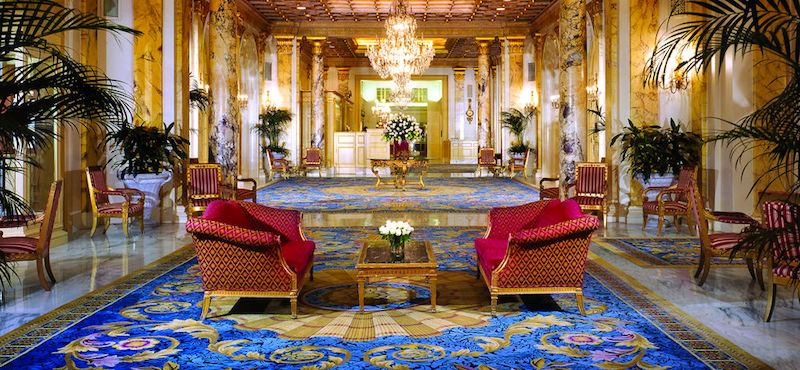 A Back Bay jewel, the opulent Fairmont Copley Plaza Boston Hotel, built in 1912, caters to business, leisure, and celebrity travelers who love its mix of luxury, top-notch service, privacy, and comfort.
The hotel offers guestrooms and suites in a wide range of sizes, meaning you'll have a good chance of finding accommodations here to meet your budget and needs. Luxurious fabrics and furnishings, commissioned sketches of Boston, and plenty of marble everywhere make staying here an unforgettable experience.
What's special: The Copley Plaza Boston's location overlooking Copley Square and Trinity Church, the Boston Marathon finish line, and the annual July 4th Fireworks display over the Charles River.
---
Eliot Hotel - Back Bay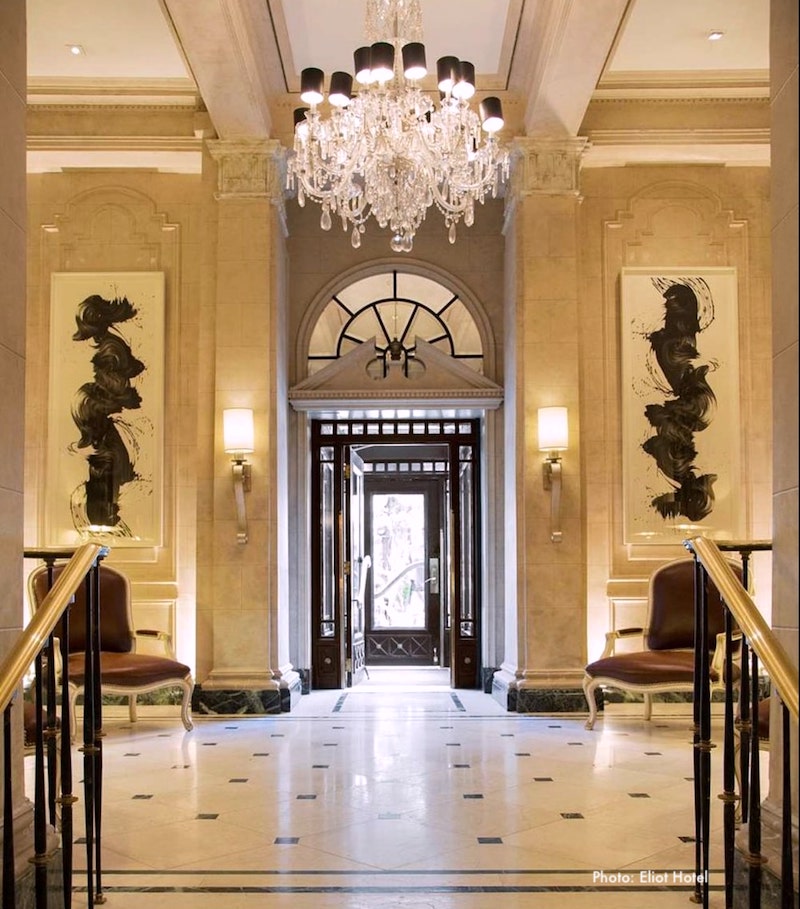 370 Commonwealth Ave, Back Bay
The nationally acclaimed Eliot Hotel, a small boutique jewel overlooking magnificent Commonwealth Avenue Mall in Back Bay, provides the perfect mix of elegance, comfort, and personalized service to provide you with everything from treats to your dog (yes, this is a pet-friendly property) to arranging for hard-to-get Red Sox tickets to booking you a table at any of Boston's top restaurants.
Soothing tones of silver, pale gold, and taupe make your guestroom or suite feel like a luxurious cocoon, yet you're just a quick walk away from boutiques and art galleries along Newbury Street, numerous top restaurants, and even Fenway Park.
More luxuries to enjoy at the Eliot Hotel: Superb location, and award-winning onsite UNI Restaurant.
---
Lenox Hotel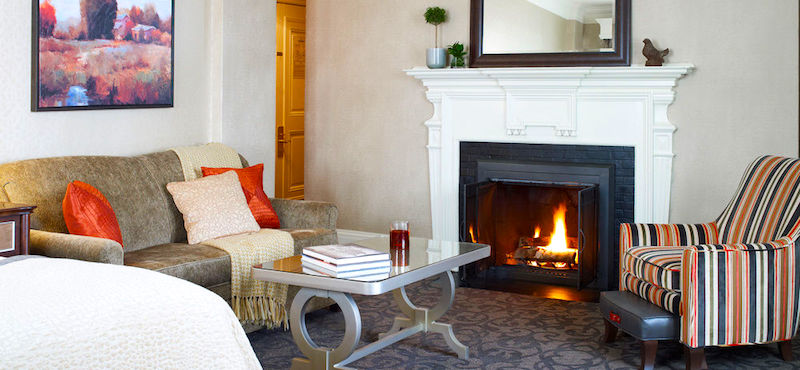 With a perfect location between Copley Square and Prudential Center, the luxury boutique Lenox Hotel is one of Boston's most revered Back Bay hotels.
What's special: Service here is top-notch - staying here is like being a guest in the private home of a very, very rich friend. Some guestrooms have the greatest luxury of all: real fireplaces.
---
More Boston hotels: All Boston Hotels - Newest Hotels - Deals & Discounts - Theatre District Hotels - Boston Marathon - Hotels with Fireplaces - Seaport/CruisePort Hotels - New Year's Eve Packages - Inexpensive Hotels - Discount Hotels - Back Bay Hotels - Hotels near Fireworks - Hotels with Outdoor Pools - Faneuil Market Hotels - Valentine's Day Packages - Downtown Boston - Park & Fly - Airport Hotels - Waterfront - Seaport - Historic Downtown - Suburban Hotels - Fenway Park Hotels - TD Garden Hotels - Gillette Stadium Hotels - Financial District
More Fun Things to Do in Boston
---
More Articles about Boston Hotels
---
Need a Boston Hotel or Apartment?
Use this handy map from Booking.com to find the perfect place to stay. Just enter your dates to find what's available, see the best rates, and make your reservations.