Our easy Boston and New England recipes will let you enjoy regional flavors straight from your own home kitchen. Enjoy a taste of Boston - wherever you happen to be!
Through the years, we've received lots of questions in our inbox from visitors asking how to make the local and regional specialties they enjoyed while visiting the city.
Most of these dishes are easy and quick to make, and rely on fresh ingredients for their great flavors.
We're happy to share our own fairly foolproof recipes for authentic New England clam chowder, classic Boston cream pie, succulent lobster rolls, and other traditional dishes.
Several of our recipes will also let you recreate contemporary favorites that you may have enjoyed in local Boston restaurants including home-style dishes such as Italian marinara sauce and pasta, New England stuffed pumpkin, and fresh fruit crisp.
Since we also get a lot of emails about where to eat whole lobsters in Boston (and have witnessed visitors struggling with them in restaurants), we've also included instructions about how to eat a lobster without making a huge mess.
The flavor of these regional favorites relies on healthy, fresh in-season ingredients that you can buy locally at Haymarket, ethnic markets, the Boston Public Market, and farmers' markets such as the big ones at Copley Square.
Seek out the freshest ingredients wherever you live, and you can't go wrong!
Wondering where to eat these dishes in Boston? Ssee our guide to Boston restaurants
Top Photo: New England-style lobster roll from Kelly's at Revere Beach, (c) Boston Discovery Guide
Boston Discovery Guide is a reader-supported publication. When you buy through our links, we may earn a commission at no additional cost for you. Learn more
---
How to Make a Lobster Roll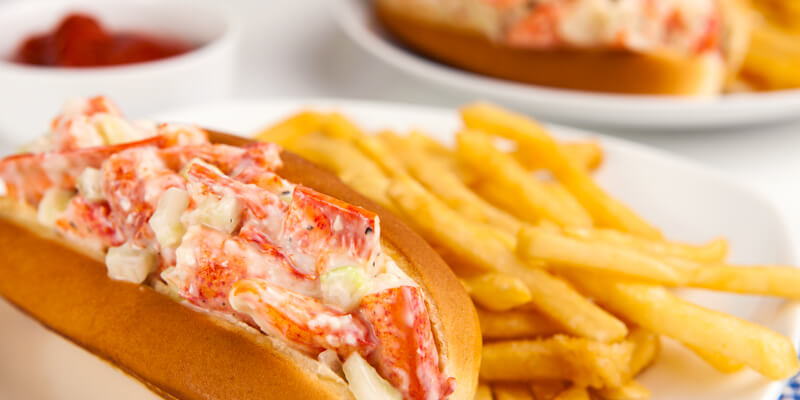 Lobster rolls embody summer in New England.
The best ones feature chunks of lobster overflowing the bun and contain only minimal other ingredients, so that nothing interferes with the fabulous taste of lobster.
This lobster roll recipe tells you how to make this treat from a freshly-cooked New England lobster. Nothing could be simpler - or more delicious!
---
New England Clam Chowder Recipe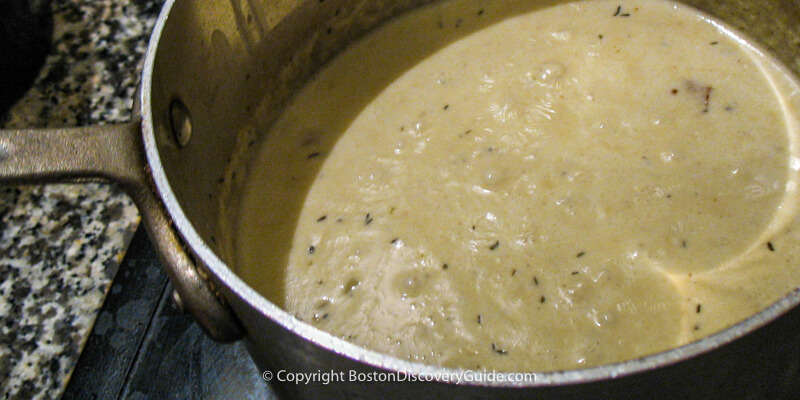 Almost every restaurant in Boston serves New England clam chowder,
a creamy soup ideally made with fresh clams and local potatoes.
To enjoy a taste of Boston with minimal effort, make this easy New England clam chowder recipe on a cold winter day - a bowl of chowder can be a meal.
And in the summer, offer a cup as part of a New England shore dinner.
---
New England Fresh Fruit Crisp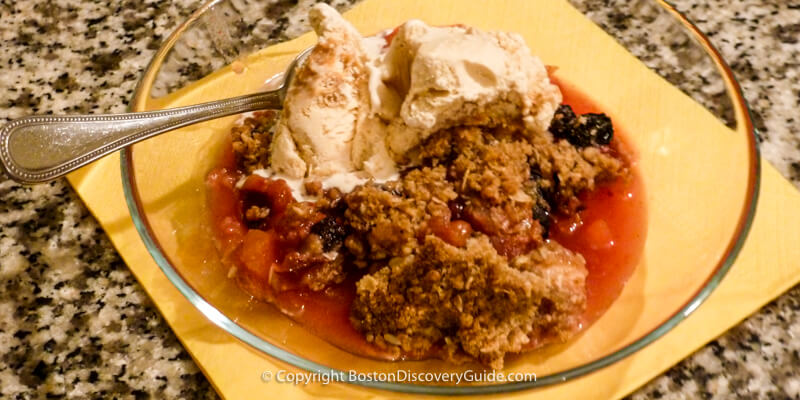 As soon as the first hint of fall weather can be felt in the air, you'll start to see variations of house-made New England Fruit Crisp on just about every Boston restaurant featuring local seasonal produce and ingredients.
At our local pubs and sports bars, this favorite dessert may be served with a simple scoop or two of vanilla ice cream, while at fancier bistros you can enjoy additional garnishes such as caramel sauce and perhaps a sprinkle of freshly ground nutmeg or cardamom.
New England is full of luscious fresh fruit and berries from summer through fall.
This Fresh Fruit Crisp makes the perfect way to serve apples, pears, berrys, plums, and other seasonal fruits as a dessert. Add ice cream on top, and everyone will want seconds.
If you're shopping for fruit in Boston, head to Boston's Haymarket, local farmers markets, or one of the nearby pick-your-own apple orchards in the fall. Best of all, it's very easy to make!
---
Boston Cream Pie Recipe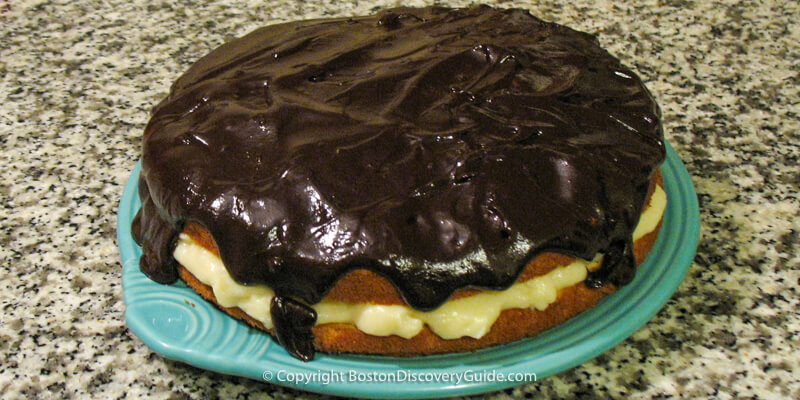 Boston cream pie, first created by a French chef for the opening of the city's Parker House Hotel in 1856, is the official Massachusetts state dessert and a huge local favorite here in Boston. 
You'll be surprised by how easy this Boston cream pie recipe is to put together . . . and your family and friends will beg you to make it again and again. 
We share a few shortcuts - so you can make the "authentic" version, or a quick version perfect for mid-week dinners.
The home-made version probably won't look quite like the fancy ones you can buy in local bakeries (unless you happen to be a skilled pastry chef) - but you'll love how great it tastes!
---
How to Cook a Lobster - Boil or Steam?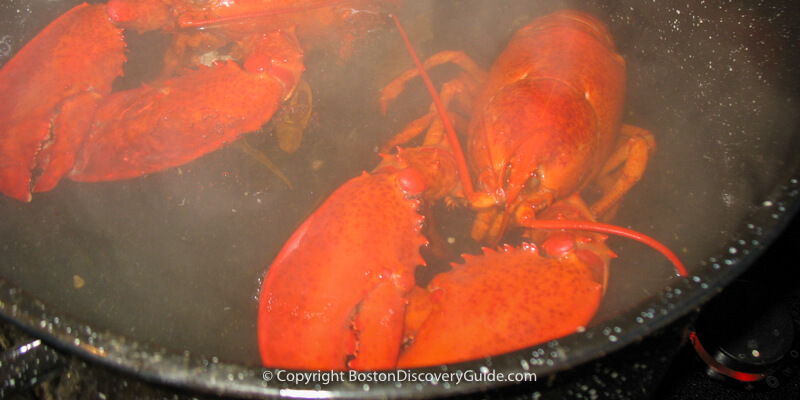 If you're going to make lobster rolls or eat a whole lobster at home, you'll need to know how to cook it. This usually means putting it into a pot and boiling or steaming it.
Which is better, steamed or boiled?
Each method of cooking lobster has its fans, so we'll tell you how to both. You can try each one, and decide which method you like the best.
Here are easy-to-follow directions for each method:
---
Pasta with Fresh Tomato Marinara Sauce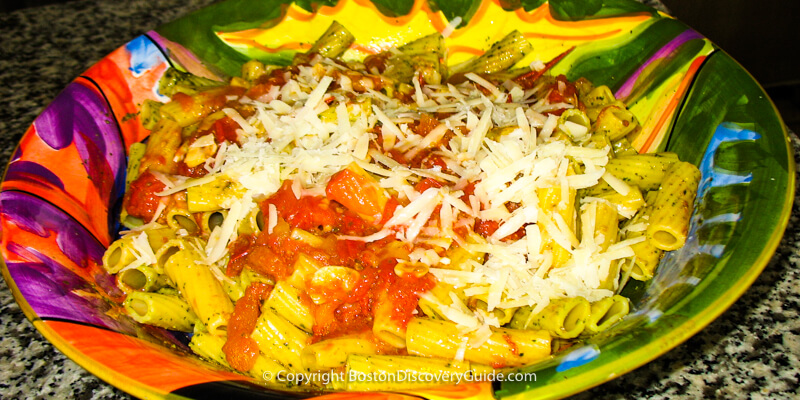 If you're a fan of Boston Italian restaurants in the North End and across the city, you know that a great marinara success is at the heart of this cuisine.
With this delicious marinara sauce recipe, you can make your own homemade tomato sauce for a taste of Boston right in your own kitchen.
Serve your marinara sauce with pasta for a tasty (and quick!) meal in summer or winter.
---
Basil Pesto Recipe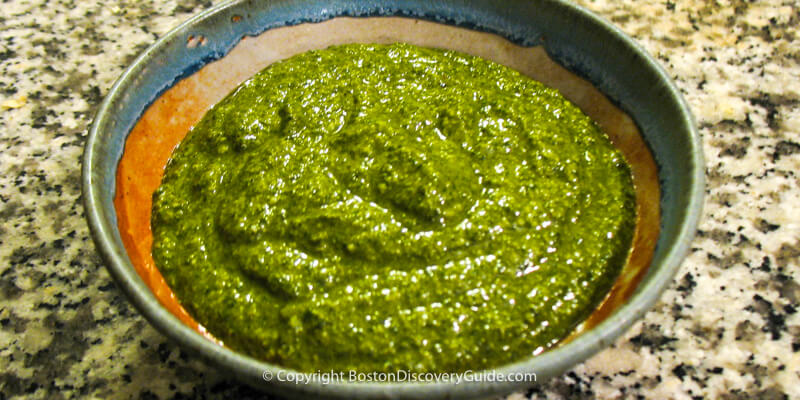 Pesto made from basil, garlic, nuts, and romano cheese appears in many forms in Boston's Italian and French Mediterranean restaurants.
You can also add a dollop of this delicious basil pesto to other Boston and New England recipes such as grilled swordfish to add a contemporary zest.
Pesto also gives extra flavor to our marinara sauce recipe.
---
Boston Baked Beans
Boston is called "Beantown" for good reason.
Ever since the Colonial days when Boston merchants participated in the Triangular trade in molasses, rum, and slaves, molasses has found its way into the local cuisine.
Beans baked with molasses and salt pork became synonymous with Boston cuisine.
This baked beans recipe recipe is delicious, easy, and reasonably authentic.
Get the recipe
---
Savory Baked Pumpkin Recipe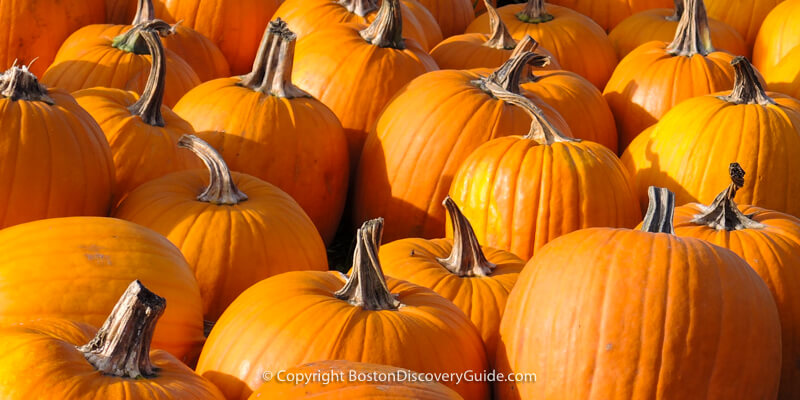 Take a drivethrough New England in early October, and you may see fields of ripening pumpkins.
In Boston restaurants, you're likely to see all sorts of savory dishes made with pumpkin on the seasonal fall menus.
Our version - a sugar pumpkin (the best kind for eating) stuffed with a savory blend of North African flavors, lamb, and veggies - is what locals make in their own homes.
The stuffed pumpkin bakes slowly in the oven for about 2 hours, and is the perfect one-dish meal for a chilly autumn night. Make it when sugar pumpkins become available at your local market.
Get the recipe
---
How to Eat a Lobster
Whether you're dining on a whole lobster in a fancy Boston seafood restaurant or enjoying one at home with family and friends, the red-shelled creature on your plate can look intimidating if you don't know how to tackle it.
But don't give up! You'll find the process very easy when you follow our detailed instructions for how to eat lobster.
---
More Fun Ways to Experience Food in Boston
---
More Articles about Cooking & Eating in Boston
Cookbooks by Boston chefs - Recipes by real Boston chefs from the city's best restaurants
Wondering where to shop for ingredients for making Boston and New England recipe? Boston is blessed with numerous specialty markets, ethnic markets, farmers markets, and more. Here are a few to try: Haymarket, Savenor's Market in Beacon Hill (one of Julia Child's favorites), Formaggio in the South End and Cambridge, North End markets, Farmers Markets around the city
You'll find examples of local cuisine in most Boston restaurants. For traditional favorites and fresh off the boat seafood, head to Union Oyster House. You can enjoy contemporary Boston and New England specialties in many of the city's Italian and French restaurants. And to enjoy Boston Cream Pie right where it was first served over 150 years ago, visit the famous Parker's Restaurant in the Omni Parker Hotel Boston.
---
Need a Boston Hotel or Apartment?
Use this handy map from Booking.com to find the perfect place to stay. Just enter your dates to find what's available, see the best rates, and make your reservations.