Home > Boston and New England Recipes >
How to Steam Lobster
Learn to prepare this New England seafood favorite
Why learn how to steam lobster at home?
If you've eaten in Boston seafood restaurants, you already know that ordering a whole steamed or boiled lobster can be pricey! Buying lobster at the fish market or dock is significantly cheaper. And once you master how to cook lobster yourself, you can enjoy delicious local and Maine lobsters without spending a fortune.
Why steam lobsters instead of boiling them?
Some fans feel that steamed lobsters are more tender than boiled lobster. Water and juices tend to drain out of boiled lobsters after they're cooked, so steamed lobsters are neater to serve and may retain more flavor.
However, steaming does take slightly longer than boiling. When you're cooking lobsters for a crowd, boiling is the way to go (check out how to boil lobster for directions). But if you're preparing no more than 3 or 4 lobsters, steaming is a delicious option. Once you learn how to steam lobster, you'll find it an easy lobster cooking method.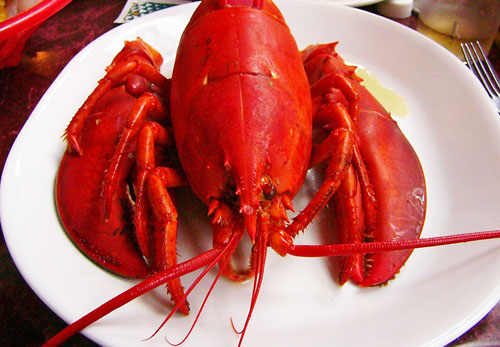 What you'll need for steaming lobster
Note: These instructions for how to steam lobster are for New England lobster . . . the kind that you'll see listed in Boston seafood restaurants as "Maine Lobsters." They're the ones with the delicious big claws.
So, before you get started, make sure that you have the following things ready:
1 or more lobsters weighing 1 1/4 to 1 1/2 pounds. (Steaming more than one? Make sure they're of equal weight as weight determines the cooking time)
A large pot, such as a stock pot
A steamer with legs that will fit in the bottom of your pot. (No legs on your steamer? Find 3 teacups of the same size, and place them upside down in the pot. Rest the steamer on top of them. The idea is that only steam, not water, should touch the lobsters)
Water
Scissors
A pair of long tongs
A clock
Butter (1/4 pound per lobster), olive oil, or mayonnaise for dipping, or slices of lemon or lime
Small pot for melting butter
A tea kettle with extra boiling water for replenishing your large pot during the steaming process
How to steam lobster in 4 easy steps
1. Add 2" - 3" water to the large pot and put in the steamer. The water should not touch the lobsters - so make sure it doesn't reach the bottom of the steamer. Heat the water to a rolling boil.
2. Pick up the lobster carefully by the back so that its claws can't reach you. Use your other hand and the scissors to clip the bands around the claws (now you'll be glad you're grasping its back). Quickly put the lobster in the pot. If you're cooking additional lobsters, add them as well. Put the lid on the pot, and check the time.
3. Use these steaming times to determine how long to cook the lobsters.
1 1/4 pound lobster . . . 12 minutes
1 1/2 pound lobster . . . 14 minutes
2 pound lobster . . . 18 minutes

About halfway through the steaming time, remove the pot lid and use your tongs to rearrange the lobsters on the steamer in case some spots were blocked from the steam. Check the water level and add more if necessary (it's helpful to have a tea kettle of boiling water on the stove in case you need to add more). Replace the lid.
While the lobsters steam, put the butter into the small sauce pan over low heat to melt it.
4. When the time is up, take off the pot lid and use the tongs to take out the lobsters. They will be bright red.
If you want to confirm that they're done, pull back the tail until it cracks near the body so that you can see the lobster meat. The meat should be white and opaque. If it looks at all translucent, put the lobsters back for another minute or two. Otherwise, put them on plates to serve.
And that's it - so easy!
Serve with the melted butter, mayo, olive oil, or wedges of lemon or lime. Brush up on how to eat lobster if necessary. Enjoy!
Where to buy lobsters to steam
If you live in Boston or along the New England coast, you probably already know the best place to buy lobsters - as close to the dock as possible!. If you're right in Boston, a convenient spot is James Hook Lobster at 15 Northern Ave, near South Station in Downtown Boston, and Yankee Lobster (300 Northern Ave) on the South Boston Waterfront. In Cambridge, I also like New Deal Fish Market (622 Cambridge St) and Court House Seafood Market (498 Cambridge Street).
But if you live elsewhere - or even if you live in Boston but don't have time to get to the docks, or don't want the hassle of driving and parking, or hauling lobsters home on the T - the best way to buy live Maine lobsters (the kind we eat in Boston and elsewhere in New England) is from a company that buys directly from the docks and ships the lobsters overnight to your door, such as Yankee Lobster (617-345-9799) and James Hook (617-423-5501). James Hook will also deliver their prepared food, including their famous $12 lobster roll, a Boston Cheap Eats favorite.
Shipping costs add up, so having lobster shipped is pricey, especially if you order just a couple, but the total for 4 or more will be about the same, maybe a little less when you consider tax and tip, than you'd pay for a lobster dinner in a restaurant. Best of all, they arrive fresh - and you can focus on steaming and enjoying!
Boston Discovery Guide > Boston and New England recipes > How to Steam Lobster