Home > Boston and New England Recipes >
New England Fresh Fruit Crisp Recipe
Make this Yummy Crisp with Fresh Fruit from Boston's Haymarket & Farmers Markets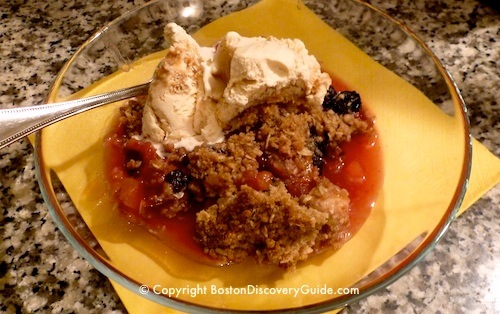 Serve this delicious fruit crisp with ice cream
This New England fresh fruit crisp recipe made with apples, peaches, plums, and blueberries celebrates the bounty of the early fall harvest that fills Boston's famed Haymarket, farmers markets, and nearby orchards and roadside stands in early September.
I like to make the crisp with a combination of whatever fruit looks fresh, ripe, and tasty.
Best of all, it's fast and easy to make - and the flavor of all the different fruits is simply fabulous.
All you have to do is cut up the fruit on a chopping board, and put it directly into the baking dish - no stirring, no extra bowl to wash. Use a food processor to make the topping in about 30 seconds!
Because you can vary the fruit and the spices you use, it will taste different each time you make it.
Serve it straight out of the oven with a dollop of vanilla ice cream - or if you're lucky enough to have leftovers, it makes a healthy breakfast.
Prep time 20 minutes - Cooking time 30 minutes - Serves 8-10 for dessert
Ingredients for New England Fruit Tart
For the fruit filling
8 or 9 cups of fruit and berries such as apples, plums, blueberries, raspberries, pears, yellow peaches, yellow nectarines (don't use white peaches or nectarines - they're great for eating fresh but too watery for this recipe)
1/2 cup sugar
2 tablespoons water
1 tablespoon fresh lemon juice
For the topping
1 cup flour
1/2 cup rolled oats
1/2 cup brown sugar, packed into the measuring cup
10 tablespoons (1 and 1/4 sticks) of butter, cut into 10-12 pieces
1 teaspoon cinnamon
1/4 teaspoon cardoman, allspice, ginger, or cloves (optional)
1/2 teaspoon vanilla or almond flavoring (optional)
large pinch (about 1/8 teaspoon) sea salt
For garnish
2 pints of vanilla or caramel good-quality ice cream (my personal favorite is Haagen Daz Dulce de Leche)
You'll also need
A 2 1/2 quart baking dish
A food processor
How to Make the Fruit Crisp
Preheat your oven to 350°
1. Using a chopping board, cut up the fruits into small bite-sized pieces and layer them in the baking dish, making sure to distribute each type fairly evenly across the dish. I usually add the berries last. The fruit and berries should fill the dish almost to the top.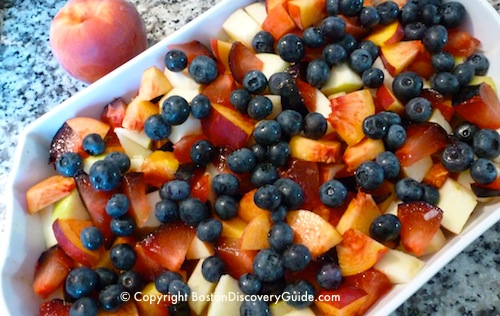 Fruit and berries arranged in a baking dish - no need to stir!
2. Sprinkle the sugar over the fruit, distributing it evenly.
3. Sprinkle the water and lemon juice over the sugar-topped fruit.
4. Put the topping ingredients into a food processor, and pulse until the butter is chopped into small pieces, about half the size of a pea or smaller.
5. Distribute this mixture over the top of the fruit. If a few pieces of fruit stick up through the topping, no worries. Some of the topping mixture will naturally settle down to the bottom of the dish and slightly thicken the liquid from the fruits' juices while cooking.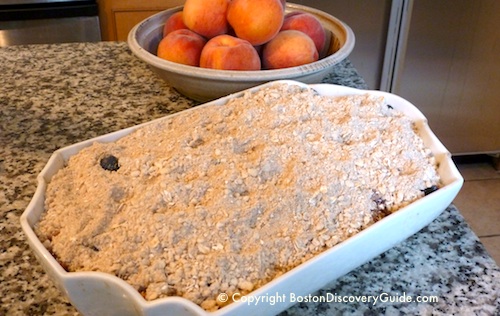 Fruit crisp ready to pop into the oven
6. That's it! You're done with the prep. Pop the crisp into the oven. Check it after about 25 minutes. As soon as you can see the juice bubbling around the edges and the topping looks crisp, it's done - usually about 30 minutes in my oven, but the timing may vary based on the juiciness of the fruit you used. Don't overcook, because you don't want the fruit to become mushy.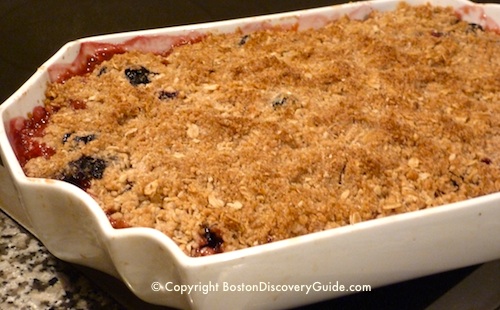 New England fruit crisp recipe just out of the oven
7. Serve the fruit crisp in bowls (as you can see in the photo at the top, the crisp looks gorgeous in glass bowls), and add a scoop or two of ice cream to each one.


Fruit Crisp Variations
Two not-so-secret ingredients give this fruit crisp recipe a special twist: the 1/4 teaspoon of a spice of your choice, and the 1/2 teaspoon of vanilla or almond flavoring.
If you choose to make the crisp just with cinnamon, it will still be delicious. But you'll be surprised by how much difference adding just an extra quarter teaspoon of an additional spice will make - everyone at the table will be asking you, "What's that fabulous flavor?" My personal favorite is cardomon - but definitely try them all (in individual crisps, of course) to find what you like best.
By the way, I personally find nutmeg a little too strong for this recipe, in case you're wondering why I didn't list it, but if you love nutmeg, give it a try.
Adding the half teaspoon of vanilla or almond makes only a subtle difference - mainly, it intensifies the flavor of the fruit. And that's what this delicious crisp is about - the fabulous flavor of fresh New England fruit.
I hope your family and friends love this fruit crisp as much as mine do!
Where to Buy Crisp-Worthy Fresh Fruit in Boston
I'm a big fan of Haymarket as well as Boston's farmers markets, such as the one held in Copley Square on Tuesdays and Fridays.
But in late summer and fall, nothing beats the experience of picking your own fruit at the orchards to the west and north of Boston. My family and I picked most of the fruit in the photos on this page at our long-time favorite, Doe Orchards in Harvard, MA, about 40 minutes to the west of Boston.
You can find a reasonably complete list of pick-your-own orchards in the Boston area here: http://www.mass.gov/agr/massgrown/pyo.htm
Apples waiting to be picked at Doe Orchards
More Boston and New England Recipes to Enjoy
More about Dining in Boston