Use this easy Boston Cream Pie recipe to make the city's iconic dessert - despite its name, not actually a pie but luscious cake layers separated by rich pastry cream glazed with a velvety chocolate ganache.
If you've visited Boston, you may have had the pleasure of sampling Boston cream pie at the Omni Parker House Hotel where it originated back in 1856.
Or perhaps you sampled it along with a cannoli and other local specialties during the popular Guided Walking Tour with Seafood Tasting.
This irresistible cake, cream and chocolate confection has delighted Bostonians ever since it was created by a famous French chef, Chef Sanzian (his first name seems to have been lost in the fog of history) who created it to commemorate the grand opening of the Parker House Hotel.
Originally, Boston Cream Pie was called Parker House Chocolate Cream Pie, but as you can tell by looking at it, it's actually a cake rather than a pie.
Back in the mid-1800s, many cakes were baked in round pie tins, which were called "Washington pie plates." Today, this special dessert is a Boston and New England recipe favorite.
So is our Boston cream pie recipe "authentic"?
No, not if you compare it with the original, but it is similar to what you'll find in many Boston restaurants today.
The Parker House's Chef Sanzian's creation was much more elaborate than the version that most restaurants and bakeries offer today. Chef Sanzian was from France, and used the exacting French pastry techniques of the 1850s in his creation.
You'll be relieved to know that this Boston Cream Pie recipe is much simpler to make and produces the modern (and delicious!) version of the cake.
We'll even reveal three shortcuts if you want to simplify the recipe even more.
But if you have the chance while you're in Boston, stop by the beautifully restored Omni Parker House Hotel for a slice where the original was served 150+ years ago.
Top Photo: Boston Cream Pie in Boston Discovery Guide's test kitchen, (c) Boston Discovery Guide
Boston Discovery Guide is a reader-supported publication. When you buy through our links, we may earn a commission at no additional cost for you. Learn more
---
Boston Cream Pie Recipe
Prep time: 40 minutes
Total time to prepare, start to finish: 3-4 hours - but most of that time is spent waiting for the cake and pastry cream to cool
Serves: 8 - 10 for dessert
Boston cream pie consists of 3 parts: a 1-layer butter sponge cake, which you'll split with a knife to form 2 thinner layers; the creamy filling; and a smooth chocolate ganache glaze. It tastes even better the day after you make it, which means it is the perfect make-ahead dessert for dinner parties.
Because the cake and pastry cream parts of this dessert should be cool when the cake is assembled, you'll need to start at least 3 - 4 hours before you plan to serve it.
You'll make and assemble your Boston Cream Pie as a 2-step process: 1) Make the cake and cream filling, and assemble them, and 2), make the chocolate ganache glaze and drizzle it over the cake.
Making a Boston Cream Pie can seem complicated the first time you do it because of all the steps. But it's really quite easy and fast to do.
---
Step 1: Make & Assemble the Cake & Cream Filling
How to Make the Butter Sponge Cake for Boston Cream Pie
Prep time: 10 minutes Baking time: 20 - 30 minutes Cooling time: 2 hours
Because this sponge cake recipe contains 6 eggs and not too much butter, it's more nutritious than some other sponge cake recipes but still retains its buttery texture.
The eggs also make it fairly dense, which helps it hold up under the weight of the cream filling.
Sponge Cake Ingredients
These ingredients should be at room temperature:
3 tablespoons butter
6 large eggs, separated
1 cup sugar
2 teaspoons pure vanilla extract
1 cup flour
1/4 teaspoon salt
Plus extra butter and flour for preparing the baking pan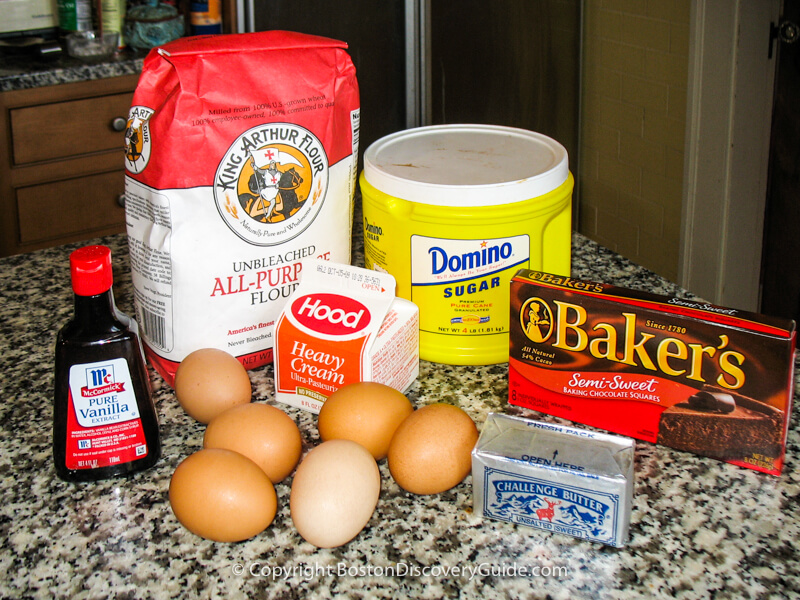 Equipment for Making the Sponge Cake
9" - 10" springform pan for baking
Wire rack for cooling
Small pot or bowl for melting the butter
Electric mixer (food processor will also work)
Wire whisk and spatula
Steps for Making the Butter Sponge Cake for Your Boston Cream Pie
1. Preheat your oven to 350°. Put the butter into a small saucepan and melt at a low temperature (or put it into a small bowl and melt it in your microwave).
Cool to room temperature.
Meanwhile, coat the bottom and sides of the springform pan with the extra butter.
Lightly dust the inside of the pan with a little flour, and discard the excess.
2. Mix the egg yolks and sugar in your mixer or food processor until they turn pale and become thick.
Use a spatula to scrape down the sides of the mixing or processor bowl.
Add the vanilla and process for a few more seconds. Add the salt and half the flour.
Mix at a low speed or pulse 4-5 times until the dry ingredients are just barely incorporated into the egg mixture - some lumps are OK.
Add the remaining flour, and pulse a few more times to incorporate.
Dump out into a large mixing bowl.
3. Using the mixer with clean whipping beaters or the food processor with a clean blade, beat the egg whites until they form a stiff peak.
4. Add about 1/3 of the egg whites to the batter in the mixing bowl, and fold them into the batter with a few strokes of a wire whisk.
Add another third and fold in, and then add and fold in the final third.
Don't worry if the whites aren't thoroughly mixed in.
5. Pour the melted butter on top of the batter. Use your whisk or spatula to carefully fold it in, being careful to not over mix.
6. Scrape the batter (which will be thick) into your prepared springform pan. Use your spatula to smooth the top.
Pop into the oven, and bake for 20 - 30 minutes.
When the cake is golden brown and springs back when the top is gently pressed, it's done.
Don't over bake, as that will make it tough and dry. Take it out of the oven, remove from pan, and put on wire rack to cool.
---
How to Make the Pastry Cream Filling for a Boston Cream Pie
Prep time: 20 - 30 minutes Chilling time: 4 - 5 hours
Pastry cream is a thick, rich vanilla pudding that contains small amounts of corn starch and flour to help it hold its shape under the weight of the top cake layer.
Pastry Cream Filling Ingredients
4 large eggs
3/4 cup sugar
1/8 teaspoon salt
1/4 teaspoon cornstarch
3 tablespoons flour
3 1/2 cups milk
3 tablespoons butter, cut into several pieces
2 teaspoons pure vanilla extract
Equipment Needed for the Pastry Cream
Sauce pan
A mixing cup with a spout, for pouring hot milk into food processor (optional, but much easier than trying to pour hot milk from the sauce pan)
Wire whisk and spatula
Bowl
Plastic wrap
Steps for Making Pastry Cream for Boston Cream Pie recipe
1. Heat the milk in the sauce pan until it's fairly hot, but not boiling or scalding.
2. Put the eggs, salt, and sugar into your mixer or food processor and mix at medium speed or process for about 30 seconds until well mixed. Add the cornstarch and flour, and process until smooth. Slowly pour in the hot milk, and process for a few more seconds.
3. Pour the mixture back into the sauce pan. Heat it, stirring constantly with a whisk, until it thickens and comes to a boil. Continue to stir constantly while you let it boil for 3 minutes. It will become even thicker. Remove from the stove.
4. Stir in the pieces of butter and then the vanilla. Dump the pastry cream into a bowl, and cover it with plastic wrap. Put the plastic wrap directly on the surface of the pastry cream to prevent it from forming a thick "skin" on top.
5. Refrigerate the pastry cream until it is completely cold. The time required for this will depend somewhat on the temperature of your refrigerator, but count on at least 2-3 hours.
The pastry cream will keep in the refrigerator for 3 days, so you may want to make it on the day before you need it.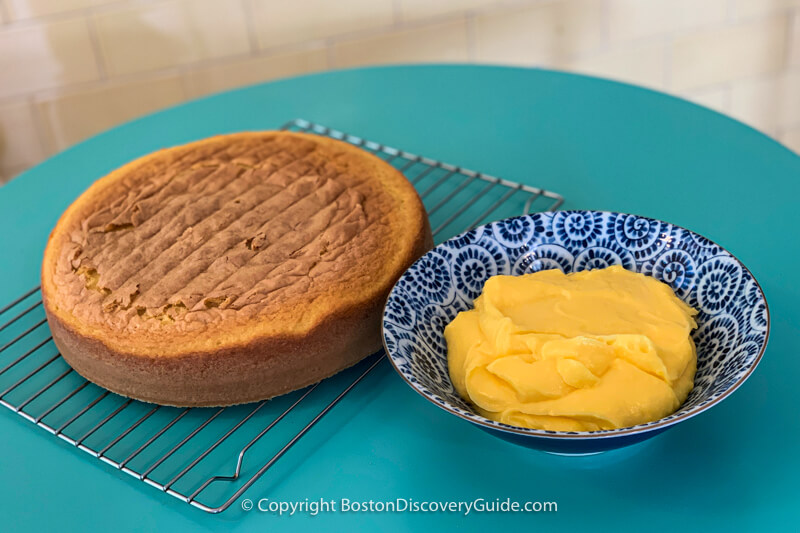 ---
How to Assemble Your Boston Cream Pie
Prep time: 5-10 minutes
Assembling the cake layers and pastry cream filling is fast and easy.
You'll need a plate that's ideally about 2 inches larger in diameter than your cake.
Optional 1st step: To make the final presentation look as nice as possible (ie, no chocolate smears or excessive numbers of crumbs on the plate's rim), tear off three or four 4-inch strips of aluminum foil or plastic wrap and cover the edges of your plate with them. (After the Boston cream pie is fully assembled, you'll carefully pull them out to remove them.)
1. Slice the cake horizontally to make 2 layers. Put one on a cake plate.
2. Cover the cake layer with the pastry cream, bringing it right up to the edges of the cake.
The pastry cream layer should be about 3/4" to 1" thick. It will soak into the cake very slightly, and will not be quite as thick once the cake assembly is completed.
If you have some of the pastry cream left over (which you probably will), you can keep it in the fridge and have it later as a snack with some sliced strawberries and bananas, or even on your breakfast toast.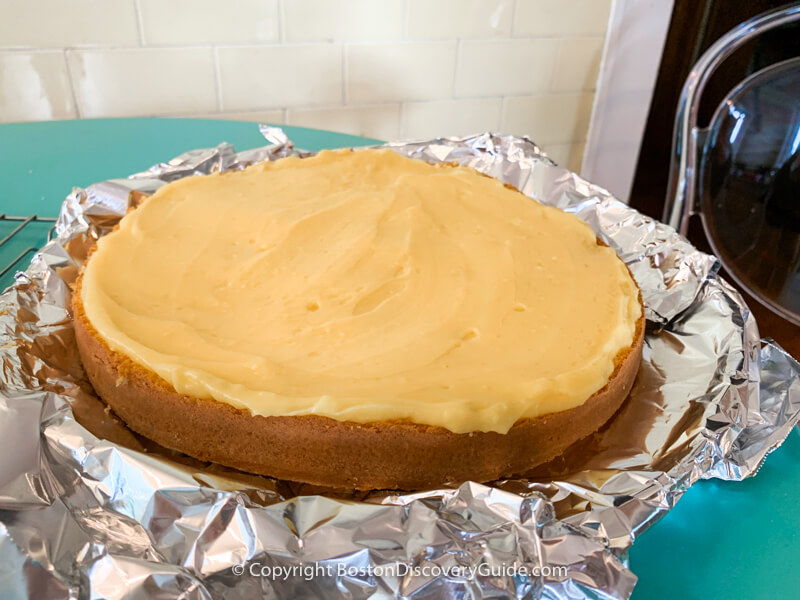 3. Put the second cake slice on top of the pastry cream, with the cut side facing down.
4. If you're not going to make the chocolate ganache right away, cover your cake with plastic wrap. If you're not planning to serve it within a few hours, refrigerate it.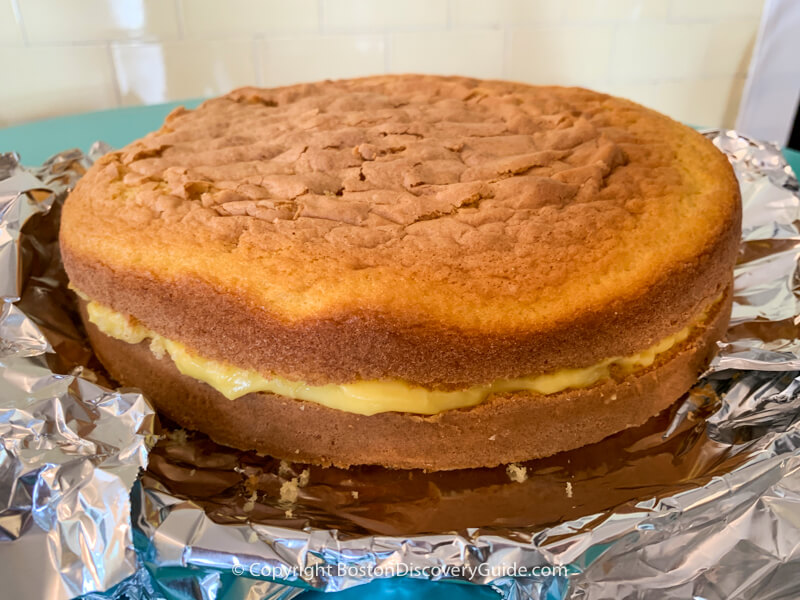 ---
Step 2: Make the Chocolate Ganache & Complete Your Boston Cream Pie
How to Make Chocolate Ganache
Prep time: 3 minutes
Chocolate ganache requires only 2 ingredients, and is incredibly quick and easy to make. You can make it using either a stove top or a microwave.
Although the ganache is part of what makes this Boston Cream Pie recipe special, you can use it to top any cake. Chocolate ganache is always elegant, easy, and delicious.
Chocolate ganache hardens fairly quickly. For best results, I usually make it right before I'm ready to glaze the assembled Boston Cream Pie with it.
Boston Discovery Guide's Tip: This Chocolate Ganache recipe also works well for dipping fruit to make chocolate covered strawberries or other treats. To make a chocolate dip for fresh fruit, dried fruit such as apricots, or even pretzels, use a 2:1 (chocolate : cream) ratio. Make sure the strawberries or other food to be dipped is completely dry before dipping, because it if is not, the chocolate won't adhere to it.
Chocolate Ganache Ingredients:
1/4 cup heavy cream
6 ounces semi-sweet chocolate
Equipment for Making Ganache
Small sauce pan or small microwave-safe bowl
Spoon or wire whisk for stirring
Steps for Making Chocolate Ganache
1. Chop the chocolate into fairly small pieces.
2. Put the cream into a small saucepan. Bring just to a simmer over medium heat. Alternately, heat the cream for about 90 seconds in a microwave.
3. Add the chocolate and stir until about half melted. Remove from heat and continue stirring until smooth. If you're using a microwave, add the chocolate to the cream, stir, and heat it for another 15-30 seconds, and stir again until it is smooth.
As the ganache starts to cool, it will become thick and difficult to spread - so proceed to the assembly step quickly.
How to Glaze Your Boston Cream Pie
Scrape the chocolate ganache out of the bowl onto the top of the cake, and use the back of a large spoon or spatula to gently spread it out to the sides.
You can encourage a little of it to go down the side in places for an artistic effect.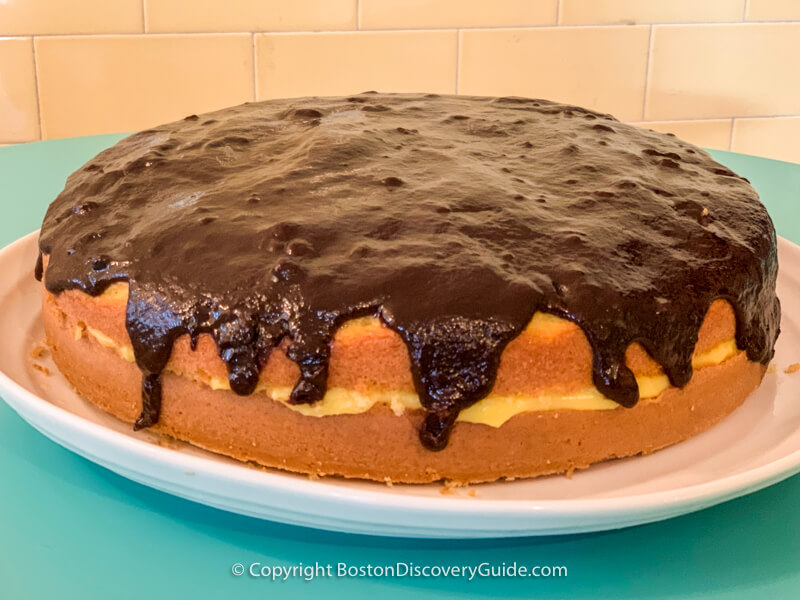 That's it! You now have a beautiful Boston Cream Pie.
You can serve it right away, or refrigerate overnight and serve the next day.
If you're making it a day ahead, cover it with plastic wrap and store it in the refrigerator. Take it out a couple of hours before serving to let it warm to room temperature.
---
Optional: Boozy Boston Cream Pie
The original Boston Cream Pie created by Chef Sanzian at the Parker House Hotel was enhanced by the addition of rum.
How much rum?
We don't know - but French pastry makers today enhance their creations with rum and other spirits - think Baba au Rhum - and usually use a generous amount.
The traditional way to add rum to a dessert is to make a rum syrup: place a 1/2 cup of sugar and 1/2 cups water into a saucepan and heat for a few minutes until the sugar dissolves. Remove from the heat, and add 1/3 cup of good quality dark rum and 1 teaspoons vanilla.
When you're assembling the Boston Cream Pie recipe, drizzle the top of the bottom layer with your rum syrup.
Use as much or as little as you'd like. If you don't use it all, it keeps well, and you can always use it as a syrup over ice cream later.
Or, you can take a simple (and lower calorie) approach. Simple drizzle the bottom layer with 2-4 tablespoons of rum or another favorite liquor (try Cointreau or another orange-flavored liquor).
Whichever approach you choose, add the pastry cream on top and continue with the recipe.
---
3 Super Shortcuts for Making Boston Cream Pie
Although this Boston Cream Pie recipe is already easy, these shortcuts will make the process faster:
Cake
Instead of beating the egg whites separately and folding them into the batter, put the whole (white and yolk) egg into the batter. The cake may be slightly more dense, but since this is already a fairly dense cake, you may not notice the difference (or care).
Or, use a yellow or pound cake mix. This doesn't taste quite as good, but it will save you a few minutes.
Pastry Cream
Instead of making the pastry cream from scratch, use instant vanilla pudding mix. This won't taste quite as good and for that reason, we actually don't recommend it, but if you're in a time crunch, it will work. And let's face it: you're probably the only one who will notice the difference. Either use a large box of the pudding mix, or 2 smaller boxes. And most important: use only 1/2 as much milk as the box directions specify to make a pudding thick enough to support the top cake layer.
Chocolate ganache
Use chocolate chips instead of baking chocolate, which will save you a few minutes because you won't have to chop up the chocolate into small pieces. Use a kitchen scale to weigh the chocolate, or buy an 8 ounce bag of chips and use 3/4 of them. Honestly, this is a time-saver you should use, unless you prefer a different type of chocolate.
---
Fun Boston Food Tours for You to Experience!
Want to explore more of Boston's food culture? Start with these fun tours:
---
More Articles about Cooking & Dining in Boston
---
Need a Boston Hotel or Apartment?
Use this handy map from Booking.com to find the perfect place to stay. Just enter your dates to find what's available, see the best rates, and make your reservations.