This basil pesto recipe is so fast and easy that you can make it in less than one minute once you assemble the ingredients.
Try it with your favorite fish, chicken, or pasta recipe, and watch it quickly become your new "staple."
Lots of Boston restaurants use pesto as a major component in their menus, although you may not even realize it.
Wonder what gives your ham and brie sandwich its special "zing"? Or why your favorite seafood restaurant drizzles it across their perfectly grilled swordfish right before presenting it at your table? Basil pesto is their "secret sauce."
Basil pesto is the perfect companion for fish, pasta, and chicken.
Add a bit to a simple marinara sauce recipe to elevate it to something complex and sublime.
Mix it with sour cream or whipped cream cheese, and you have a company-worthy dip for chips or raw veggies. Swirl a spoonful or two into a bowl of hummus for added flavor and an artistic effect.
Best of all, it freezes well . . . so if you plan ahead in late summer when fresh basil is cheap and plentiful in Boston's Haymarket and local farmers' markets, you'll have a supply to freeze and use all winter to flavor your favorite soups.
Want to make a fresh marinara sauce, fast? Try this easy recipe
Top Photo: Freshly made basil pesto, (c) Boston Discovery Guide
Boston Discovery Guide is a reader-supported publication. When you buy through our links, we may earn a commission at no additional cost for you. Learn more
---
Here's Our Easy Basil Pesto Recipe
Prep time: 5 minutes - Mixing time: 1 minute - Makes about 1 to 1 1/2 cups of pesto
Ingredients List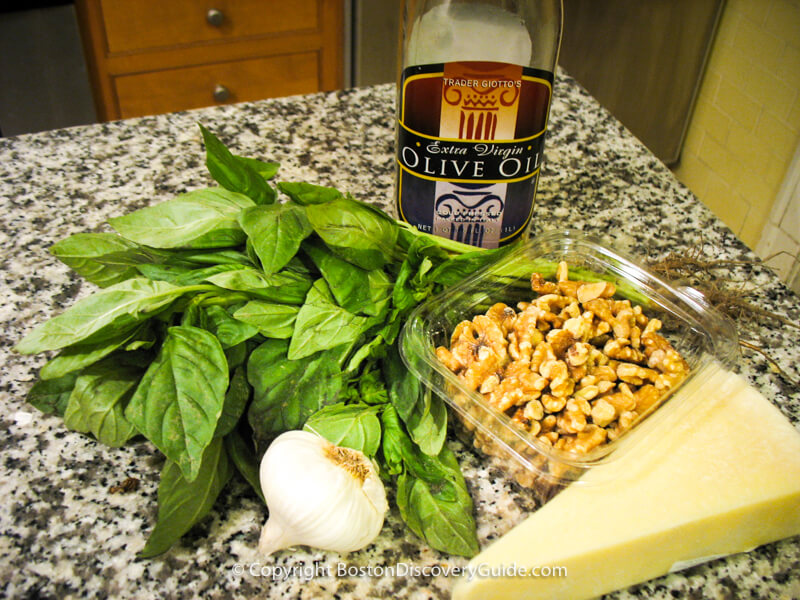 You will need:
1 bunch of basil - or enough to produce about 5 - 6 cups of loosely packed leaves
4 cloves garlic
1/2 cup pine nuts, hazelnuts, or walnuts (pine nuts are traditional, but hazelnuts and walnuts also give a delicious flavor)
2 - 3 ounces aged Italian cheese, such as romano, parmesan, or asiago
1/2 to 3/4 cup olive oil
Salt to taste (depending on the saltiness of your cheese, you may not need this)
Steps for Making Basil Pesto
1. Prep ingredients - Assemble and prepare all of the ingredients. Wash the basil very well, dry it, and pinch or cut off the stems, so that you have just leaves. Cut the cheese into small (1/2 inch square) chunks. Cut each garlic clove into several pieces.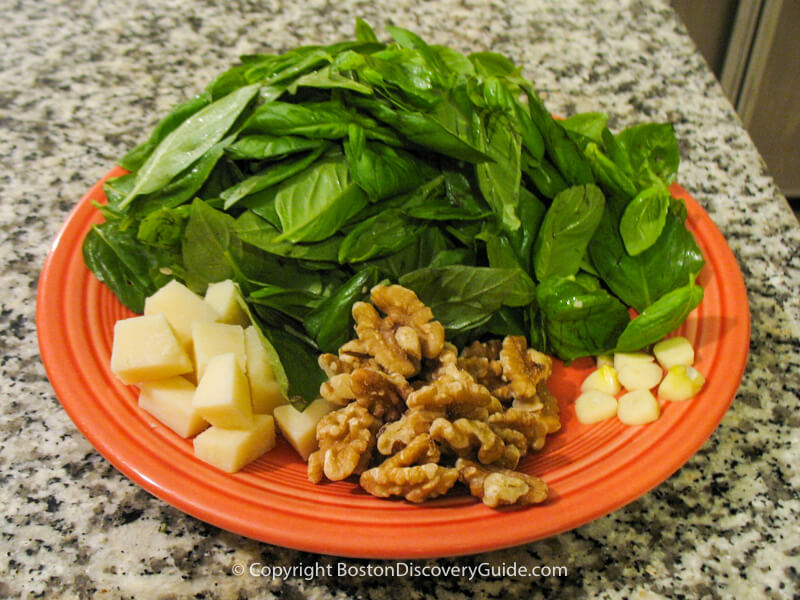 2. Chop - Put the basil, cheese, garlic, and nuts into the bowl of a food processor. Pulse about 15-20 times, so that all ingredients are fairly well chopped, but not pureed. Scrape down the side of the food processor's bowl with a spatula if necessary.
3. Add oil - Put the top back on the food processor, and with the motor running, pour in the olive oil. If you plan to use the pesto as a sauce for fish or chicken or for dipping with bread, add about 3/4 of a cup. If you're going to add it to another sauce, such as marinara sauce, keep the pesto thicker by adding only about 1/2 of a cup of olive oil. No need to actually measure it - just guess.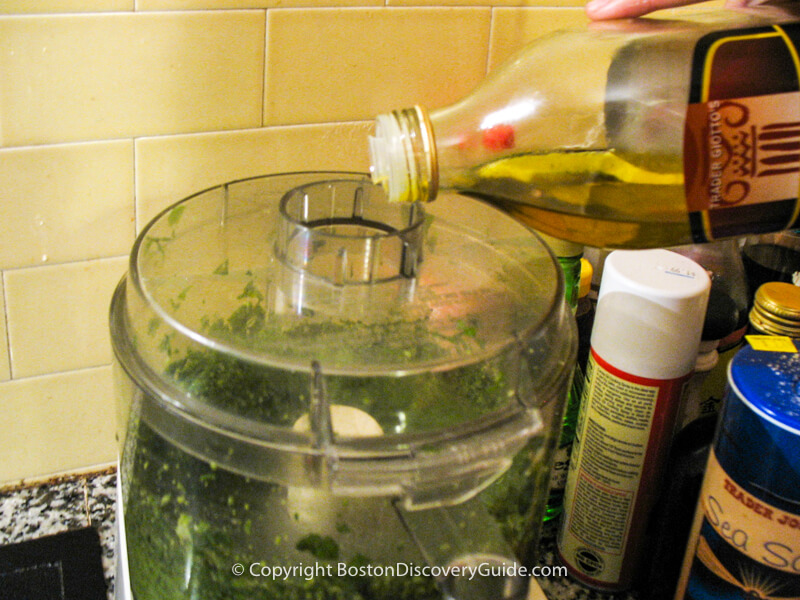 4. Season - Once all the olive oil is poured in, stop the processor and scrape down the sides of the bowl with the spatula again.
Taste the pesto. If the balance of flavors isn't quite what you want, add a few more nuts, chunks of cheese, or whatever it needs. You can also add a pinch of salt at this point if you want.
Turn on the motor again for one more quick blend . . and that's it. It's ready to use! Serve immediately - because otherwise, your pesto may lose its bright green color.
Why is Pesto Green? Or Not?
Pesto is initially green because that's the color of its major ingredient, basil. But unfortunately, basil oxidizes and turns brown when exposed to air, heat, or acidic ingredients such as lemon juice or vinegar. That's why ideally you should serve it immediately.
If you can't serve it immediately, try placing a piece of plastic wrap against the surface of the basil. Alternately, you can put it into a container with a tightly fitting lid. Neither of these methods are 100% effective and your pesto may turn olive green - but at least it won't be totally brown.
Why is Pesto Called "Pesto"?
"Pesto" means "pounded" or "crushed" in the Genovese dialect of Ligurian, an Italian-like language still spoken by some people in and around Genoa in Northern Italy. Traditionally (ie, in the days before electric food processors), the nuts, garlic, cheese, basil, and coarse salt used in pesto were crushed and ground with a mortar and pestle, and then blended with olive oil.
---
Basil Pesto Recipe Variations
Cilantro, Parsley, or Spinach Pesto
Substitute other green herbs or even vegetables for the basil. Try cilantro, parsley, or even spinach.
The flavor will be different but because of the strong taste of the garlic and cheese, you'll notice a similarity.
Non-basil variations don't work well with marinara sauce or other Italian dishes - so save the cilantro, parsley, or spinach combos for fish and chicken.
Or even better, blend them with whipped cream cheese, soft tofu, sour cream, or thick Greek yogurt to use as tips or sandwich spreads; add a bit more olive oil and use as dressing on your salad.
Cilantro-Ginger Pesto
If you substitute cilantro, omit the cheese but substitute ginger. Ginger varies in intensity based on age and probably other factors, so start with about a inch-long piece of peeled ginger root and chop it up a little before putting into the food processor.
Once it is blended, taste and add more if you want a stronger effect.
Use the resulting pesto as a baking sauce for catfish or bluefish filets.
Put the filets in a single layer in a fairly shallow baking pan, cover each with 1 - 2 tablespoons of the pesto, and pop the pan into a hot (400° F) oven for 6-7 minutes, until the fish flakes easily with a fork.
---
How to Freeze Pesto
If you decided to buy lobster meat already out of the shell, you can skip this step.
But if you cook the lobster yourself or have your seafood market cook it, you'll need to remove the meat from the lobster's claws, knuckles, and tail. (If you don't know how to do this, use our directions for how to eat a lobster). If you have the time and patience, you can also pick out the meat from the body to use later for lobster bisque or in a creamy pasta sauce.
---
Fun Boston Food Tours for You to Experience!
---
Find Your Favorite Boston Restaurant
Favorite Boston Restaurants & Pubs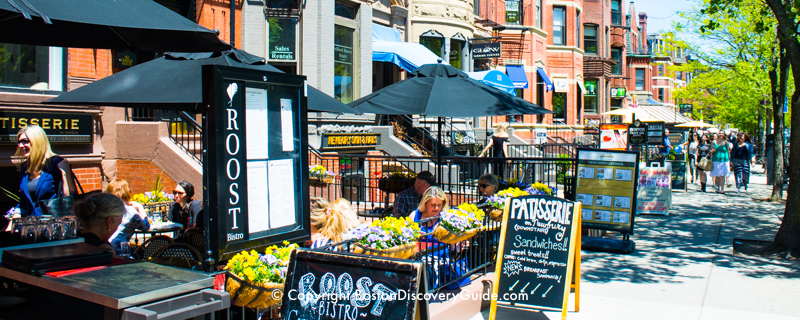 ---
More Articles about Cooking & Eating Lobsters
---