Home > Boston and New England Recipes
Basil Pesto Recipe
Perfect sauce for fish, pasta, chicken, and more
This basil pesto recipe is so fast and easy that you can make it in less than one minute once you assemble the ingredients.
And it's so good that it'll become your new "staple."
So many Boston restaurants use pesto as a major component in their menus that I've started doing the same thing.
It's the perfect seasoning or sauce for fish, pasta, and chicken - in fact, it's a key ingredient in my favorite marinara sauce recipe.
Best of all, it freezes well . . . so if you plan ahead in late summer when fresh basil is cheap and plentiful in Haymarket and farmers' markets around Boston, you'll have a supply all winter to flavor soups.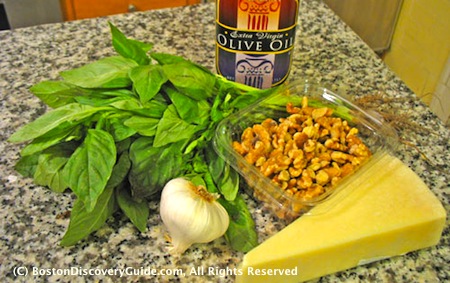 Basil Pesto Recipe
Prep time: 5 minutes - Mixing time: 1 minute - Makes about 1 to 1 1/2 cups of pesto
Ingredients
1 bunch of basil - or enough to produce about 5 - 6 cups of loosely packed leaves
4 cloves garlic
1/2 cup pine nuts, hazelnuts, or walnuts (pine nuts are traditional, but hazelnuts and walnuts also give a delicious flavor)
2 - 3 ounces aged Italian cheese, such as romano, parmesan, or asiago
1/2 to 3/4 cup olive oil
Steps for making basil pesto recipe
1. Prep ingredients - Assemble and prepare all of the ingredients.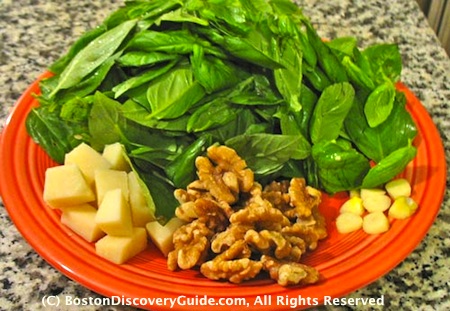 Wash the basil very well, dry it, and pinch or cut off the stems, so that you have just leaves. Cut the cheese into small (1/2 inch square) chunks. Cut each garlic clove into several pieces.
2. Chop - Put the basil, cheese, garlic, and nuts into the bowl of a food processor. Pulse about 15-20 times, so that all ingredients are fairly well chopped, but not pureed.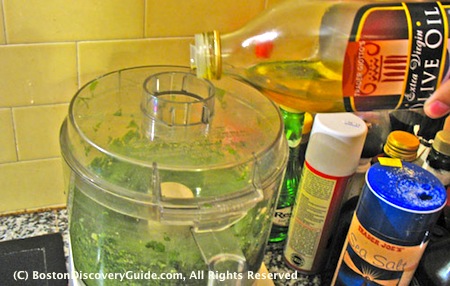 Scrape down the side of the food processor's bowl with a spatula if necessary.
3. Add oil - Put the top back on the food processor, and with the motor running, pour in the olive oil. If you plan to use the pesto as a sauce for fish or chicken or for dipping with bread, add about 3/4 of a cup. If you're going to add it to another sauce, such as marinara sauce, keep the pesto thicker by adding only about 1/2 of a cup of olive oil. No need to actually measure it - just guess.
4. Season - Once all the olive oil is poured in, stop the processor and scrape down the sides of the bowl with the spatula again.
Taste the pesto. If the balance of flavors isn't quite what you want, add a few more nuts, chunks of cheese, or whatever it needs. You can also add a pinch of salt at this point if you want.
Turn on the motor again for one more quick blend . . and that's it. It's ready to use!
Basil pesto recipe variations
You can substitute other green herbs or even vegetables for the basil. Try cilantro, parsley, or even spinach. The flavor will be different but because of the strong taste of the garlic and cheese, it's also kind of similar - although personally, I prefer basil if I'm adding it to marinara sauce or anything else involving tomatoes or pasta.
If you substitute cilantro, try omitting the cheese but add ginger instead - about a inch-long piece of peeled ginger root, chopped up a little before putting into the food processor. Use the resulting pesto as a baking sauce for catfish or bluefish filets. Put the filets in a single layer in a fairly shallow baking pan, cover each with 1 - 2 tablespoons of the pesto, and pop the pan into a hot (400° F) oven for 6-7 minutes, until the fish flakes easily with a fork.
How to freeze pesto
Fortunately, this basil pesto recipe makes a larger amount than you'll probably use all at once.
I always freeze the leftover pesto in one or more small plastic containers (a plastic ice cube tray would be ideal, but I don't have one).
Once the pesto is frozen hard, I pop it out of the containers and put the frozen chunks into a plastic bag that I keep in the freezer.
That way, I can use the small portions whenever needed. It's my "secret" ingredient in soups all winter.
Pesto freezes well. I once found some at the back of the freezer that had been there for over a year and to my surprise, it was still very fine and tasty - although I don't recommend intentionally keeping it for this long.