Home > Boston Tours >
Boston Movie Tours
Visit Boston Locations You've Seen in the Movies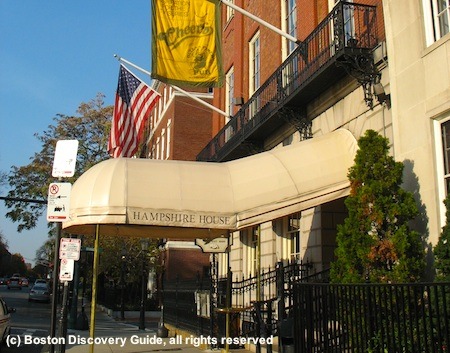 Cheers, Beacon Hill bar shown in exterior shots of the famous TV show
Want to see the Boston you've seen in the movies?
The Boston TV & Movie Sites Tour give you a unique sightseeing opportunity: you'll see locations featured in your favorite movies and TV shows while also seeing some of Boston's most interesting neighborhoods and landmarks.
As you glide through some of Boston's epic neighborhoods on a comfy tour bus, a local actor will be your tour guide as you sites from the big screen, and will share fascinating behind-the-scenes insights into how the TV and movie sets were created in these real locations.
Find out more about the tours and get your tickets
"I look at Boston in a different way since I took the Boston TV & Movie Sites Tour.
I now see Boston Common as a Revolutionary War battleground . . . I imagine speeding cars crashing into the gates of the Public Garden . . . And Beacon Hill's beautiful Louisberg Square? I now know it as the prowling ground of the Boston Strangler.
Then there's the massive luxury ocean liner explosion in Boston Harbor, and Ben Affleck's neighborhood in The Town . . . "
Jordan, Boston visitor
Both Boston Movie Tours take you to the exact locations you've seen featured in films and TV shows:
The Departed
American Hustle
Cheers
Blown Away
Ally McBeal
Glory
Field of Dreams
Boston Legal
Legally Blonde
Zach and Cody
Fever Pitch
Gone Baby Gone
Mystic River
Good Will Hunting
The fun starts as soon as you meet your tour guide - a local actor guide who will share insider stories about the neighborhoods and the movies, movie trivia, plus his or her own personal insights. You'll also see photos or film clips of the movies and shows being made - sometimes on the very spot where you're standing!
What to Expect on the Boston TV & Movie Sites Tour
The hour and a half Boston Movie Mile Walking Tour takes you on foot around historic Beacon Hill, home to gorgeous brick mansions, unique shops, and more than its share - in the past - of the city's most grisly murders.
I recently took this tour along with eight Boston visitors from all over the United States as well as Greece. Our guide Chris led us across Boston Common, where the tour began, and through the narrow winding streets of Beacon Hill on a beautiful early fall day with just a hint of color showing in the leaves overhead.
As we walked across Boston Common, Chris pointed out the site of the rugby scene in The Departed as we glimpsed a real-life rugby game being played by a group of 20-somethings a few hundred yards away.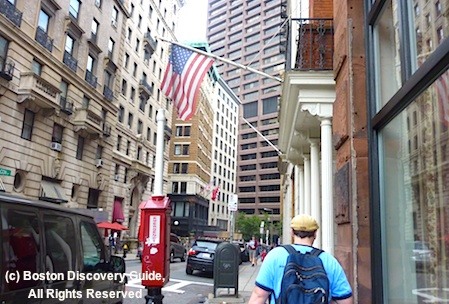 Chris leading us down historic Beacon Street at the foot of Beacon Hill
Then we began our exploration of Beacon Hill, one of Boston's oldest neighborhoods and the best historically preserved, where property values rank, on average, as the highest in the city.
Not surprisingly, Beacon Hill's narrow tree-lined streets lined with gas lights and stately brick mansions look great on the big screen and in fact, this is the most-filmed part of Boston.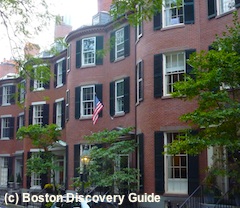 Louisberg Square in Boston's Beacon Hill
The Boston Strangler, as well as several other movies, used the Louisberg Square area shown in this photo as a scenic backdrop.
Beacon Hill's main shopping area, Charles Street, figures prominently in lots of movies. Hearing Chris's explanations about about the behind-the-scenes transformations required to make familiar neighborhood sights screen-worthy provided fascinating insights into how movies are made.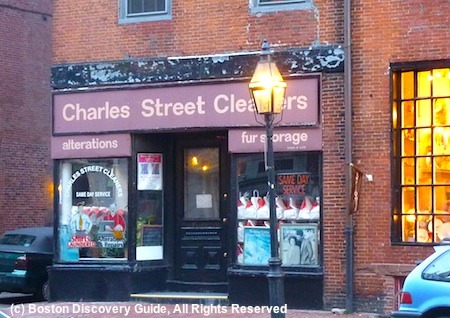 The Charles Street Cleaners transformed into Jack Nicholson's bar in The Departed
A highlight of the Boston Movie Mile Walking Tour came as we walked down the fairly steep slope of Joy Street toward Beacon Street and the Public Garden.
"See that gate post?" Chris asked. It's the one you can see in the left background in this photo: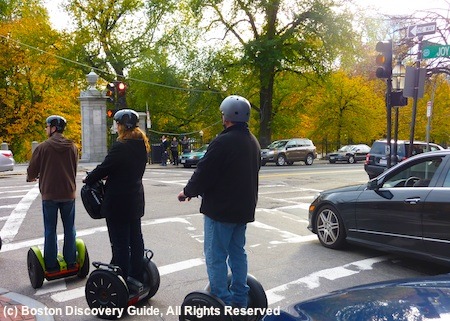 Segway riders tracing the
"That's the sight of the crash in the car chase scene in Blown Away," Chris tells us. "They had to build out a fake gate with styrofoam and padding to protect the real one."
Blown Away, the Tommy Lee Jones and Jeff Bridges film about an Irish bomber who targets a member of the Boston Bomb Squad, also involved an exploding ocean liner, leading to one of the most interesting bits of trivia revealed during the tour: the explosion, which caused 8,000 broken windows in East Boston, cost $2.5 million to film (including damages) and was the largest movie explosion to date.
Blown Away also has the honor of being the last explosion movie to be filmed in Boston.
All together, we walked by 30+ filming locations during our 1 1/2 hour stroll while Chris continued to share film lore, bits of history, and more interesting trivia.
By time we arrived at our final destination, the famous Cheers Bar on Beacon Street where Chris took my photo in front of the sign made famous by the TV show, I knew I'd never look at Beacon Hill in quite the same way again!
Boston Insider Tip: Boston Movie Mile Walking Tour
The Boston Movie Mile Walking Tour takes place rain or shine. Wear comfortable walking shoes and bring an umbrella if there's any possibility of rain.
If the weather looks iffy, no problem - opt for the Boston TV & Movie Sites Bus Tour.
Boston TV & Movie Sites Tour - Boston's Best Year-Round Tour
The 3-hour Boston TV & Movie Sites Tour, like the Boston Movie Mile tour, immerses you in Boston sightseeing, movie-making lore, and plenty of film history. However, its format is totally different.
This tour also starts at Boston Common, where you'll board an air-conditioned bus for your exploration of Boston's most famous neighborhoods. Your guide - a local Boston actor - will deliver a fun combination of entertainment and sightseeing as you visit 30-40 Boston sites featured in films and shows.
What makes this tour especially cool are the overhead video screens on the bus where you'll get to see clips of the movies and TV shows, so you can compare how a scene looked on the screen with how it looks in real life.
The bus tour makes several stops along the way for photos.
You'll even have a chance to stop for a drink at the L Street Tavern in Southie featured in Good Will Hunting - and you may want to get off the bus for that one! This is one of the very few city tours where you visit South Boston - another reason to come.
Making Reservations for the Boston Movie Tours
Should you make reservations?
Tours fill up and sell out - sometimes weeks in advance during the most popular summer months and around holidays.
So to avoid disappointment, make reservations for your Boston movie tour as soon as you know your travel dates.
More Fun Boston Tours
Return to Top - Boston Movie Tours

Boston Discovery Guide > Boston Tours > Boston Movie Tours