Home > Boston Events >
Fun Things to Do in Boston in May 2017
Best Boston Spring Activities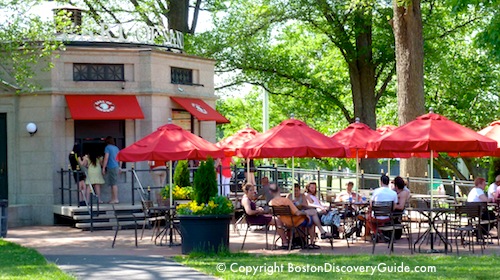 Outdoor diners on Boston Common soaking up warm May weather
With the arrival of warm weather, lots of fun things to do in Boston in May happen outdoors - so go outside and enjoy it!
You can cheer the Red Sox at Fenway Park, join the Duckling Day Parade on Mother's Day, and even head to the beach.
Tour Boston by bike, go on a Harbor cruise, walk along the Freedom Trail, visit art galleries, or just enjoy the gorgeous flowers blooming in all the parks.
As an added bonus to visitors, Boston hotel rates remain somewhat lower in May (except when college graduations take place) than during the summer, so plan your visit to take advantage of these affordable hotel rates.
Be sure to also check out the Boston Event Calendary for May.
If you're planning to be in Boston at the end of the month, also look at things to do on Memorial Day.
10 Best Things to Do in Boston in May
1. Enjoy all the flowers
One of the top things to do in Boston in May is simply to walk around Boston and enjoy all the flowering trees, shrubs, and bulbs. Back Bay is especially spectacular during May. You can find a great overview of what you'll find in each neighborhood plus a map in our Boston sightseeing guide.
Walk along Beacon and Marlborough Streets to admire the beautiful front pocket gardens and glimpse "hidden" gardens, like the one in the photo. Or stroll along Commonwealth Mall going east to the Public Garden, where you'll find even more spring color.
Want a preview? Check out BostonDiscoveryGuide's photo gallery of Boston's spring flowers in bloom.
Finally, the Hidden Gardens of Beacon Hill tour takes place this month - always a special event!
Hotels near Boston's Public Garden - Enjoy the flowers!
More Boston hotels overlooking the Public Garden and Boston Common
2. Visit Art Galleries
If you want to look at more than just flowers while you stroll around Back Bay, May is the perfect time to combine your walk with a tour of Newbury Street art galleries.
SoWa Open Markets, in Boston's trendy South End neighborhood, opens for the season in May with outdoor displays by indie artists and designers - we love to spend Sunday afternoons browsing among the market's white tents, and treat ourselves to a great dinner at one of the South End restaurants.
3. Cheer for the Red Sox
Whether you're visiting Boston or live here, one of the best things to do in Boston in May is to head for Fenway Park and cheer for the Boston Red Sox.
If you're coming into town just for a game, check out hotels near Fenway Park, as well as Fenway restaurants and area nightlife.
Want to know about other things to do near Fenway Park? You can find out lots about the neighborhood in our new Fenway guide.
4. Tour Boston by bike
Visiting Boston and looking for a unique way to tour the city? Go on a Boston bike tour - either a professionally-led group tour, or rent a bike and head out on your own. Do be careful of Boston drivers! Not sure why Boston drivers are so dangerous? Read our Boston driving tips to find out what to expect.
5. Tour the Freedom Trail
Whether this is your first trip to Boston or your 50th - or perhaps you even live here - one of the best ways to see some of the most interesting areas of the city is by following the Freedom Trail, Boston's walk through history.
Don't want to walk the whole 2.5 miles? The Freedom Trail goes through 3 neighborhoods - historic downtown, the North End, and Charlestown - so pick one and explore that part of the trail. Or check out other top Boston activities for summer.
6. Join the Duckling Day Parade
UPDATE: Due to the possibility of severe weather (a potential nor'easter) on Sunday, the Duckling Day Parade has been canceled. Please see the event sponsor's announcement for additional details: http://friendsofthepublicgarden.org/events-activities/duckling-day
If you're traveling to Boston with children, take part in this beloved annual event, based on Make Way for Ducklings by Robert McCluskey. You'll following the trail of Mr. and Mrs. Mallard and their 8 ducklings as they make toward Boston's Public Garden. For even more fun, come dressed as your favorite duckling (or better yet, dress up your 2-year-old).
More about Boston's Duckling Day Parade
7. Have some laughs
Boston's comedy scene is stronger than ever with Boston and Cambridge comedy clubs competing to attract rising local talent and top national/international comics. Cover charges are usually in the affordable $20 range - leaving you with a few extra dollars in your pocket for dinner in one of Boston's restaurants.
8. Go on a day trip to Newport
For an easy day trip from Boston, visit Newport, Rhode Island, just 60 miles to the south. Explore gilded-age mansions along Ocean Drive and Cliff Walk, take a harbor cruise, and have fun shopping and trying all the local restaurants.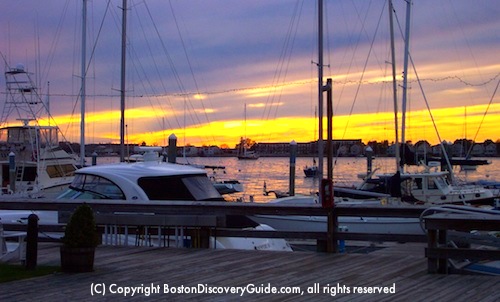 Sailboats in Newport's harbor in early evening
9. Head to the beach on Memorial Day
Enjoy the beach without leaving the city! Boston beaches may not rival Cape Cod or Martha's Vineyard - but they have lots of charm and convenience, especially when other reasons keep you in the city on the weekend. Check out other Memorial Day events in Boston.
10. Enjoy art and socialize at MFA's First Fridays
Relax, socialize, and enjoy art and perhaps a glass of wine on the FIrst Friday of May (and every other month) at the Museum of Fine Arts.
Need more ideas about what to do in Boston in May?
Boston Discovery Guide > Events > Things to Do in Boston in May