Congrats to the Pats on their 6th Super Bowl win!!!!! Check our February Events Calendar for updates about the Duck Boat Victory Parade!
Want to know where to go to celebrate Super Bowl Sunday in Boston?
The New England Patriots have made 6 trips to the Super Bowl since 2002 - and they will return again this year!
Super Bowl is big in Boston, whether or not the Pats are playing - but when they are, the city sizzles with excitement!
Can't bear to miss being at the game in person? Find where to get Super Bowl tickets, cheap flights, and hotel reservations.
Staying in Boston? We recommend prime spots for viewing, cheering, and celebrating.
1. Boston Sports Bars Hosting Parties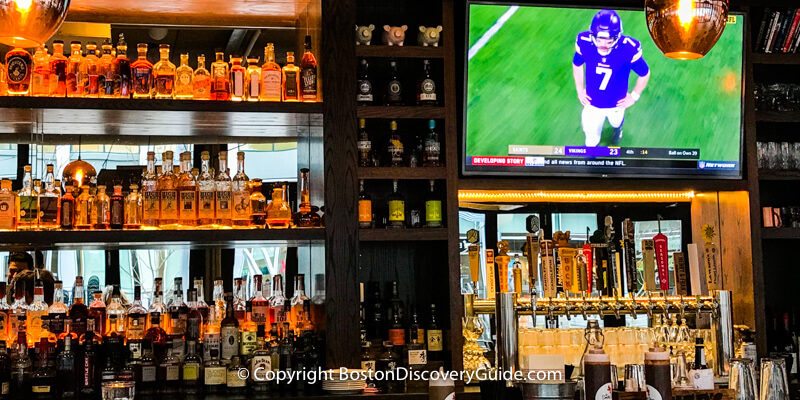 Patriots fans will pack every sport bar in the city - and we have plenty of them! You can expect all the sports bars around Fenway and TD Garden to be packed, but with plenty of big screens, you'll have a good chance at a great view. More sports bars in Boston.
Check out these Boston bars hosting Super Bowl viewing parties:
Don't forget to wear your Patriots gear, and come ready to have some serious fun!
2. More Places with Big Screens in Boston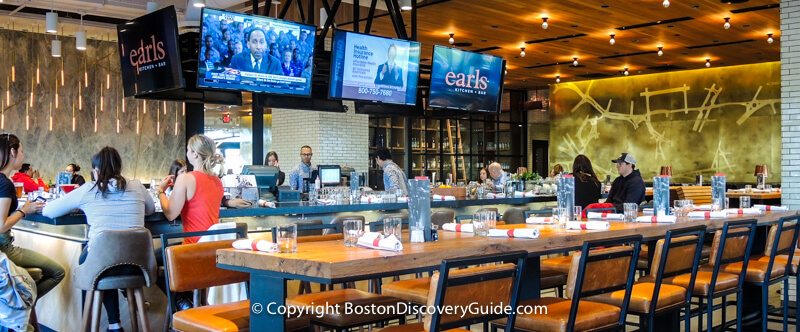 Want to avoid the crowds at Boston's sports bars but still watch the big game with like-minded folk in a convivial setting and perhaps enjoy a good meal?
Virtually every restaurant in the city has a bar, and almost every bar in Boston has several or more big HD screens.
For example:
Consult our guide to Boston restaurants by neighborhood and cuisine for more ideas.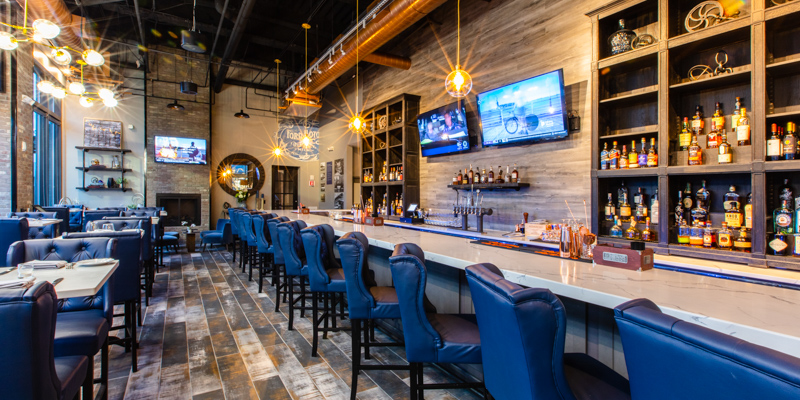 3. See the Super Bowl Up Close
Hey, Super Bowl happens only once a year, and whether or not the Pats play in it, nothing beats watching it in person - so get your tickets and hop on a plane!
Got your Super Bowl tickets? Now check out Priceline's last minute deals on flights. Book a hotel room and rental car while you're at it.

Now all you have to do is pack your Patriots gear, hop on that plane, and get ready for a memorable experience!
4. Patriot Place - Celebrate on the Patriots' Home Territory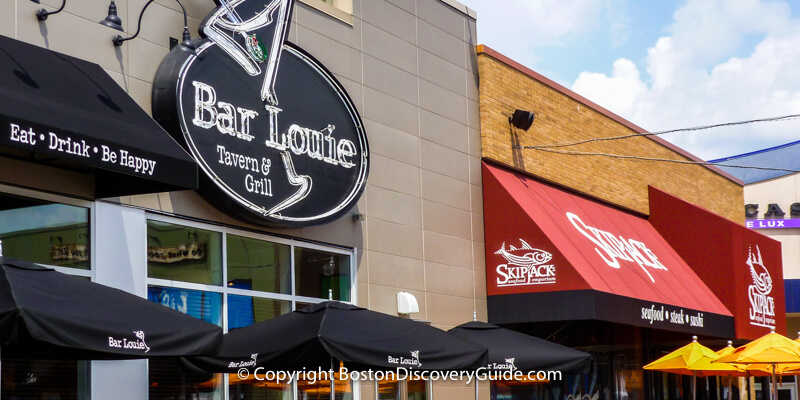 True, Super Bowl does not take place at Gillette Stadium - but you can still head down to Foxborough, have a tailgate party in the parking lot, and then watch the game at any of the great sports bars in Patriot Place next to Gillette.
If you're planning to party, don't drive back to Boston unless you have a designated driver. Stay at the Renaissance Hotel at Patriot Place or one of the other nearby hotels. Since the Super Bowl is not at Gillette (but maybe some year?), you should be able to get attractive rates.
Going to Gillette Stadium for a game or concert or to Patriot Place for shopping? Stay in a convenient nearby hotel, such as the spectacular Renaissance Boston at Patriot Place: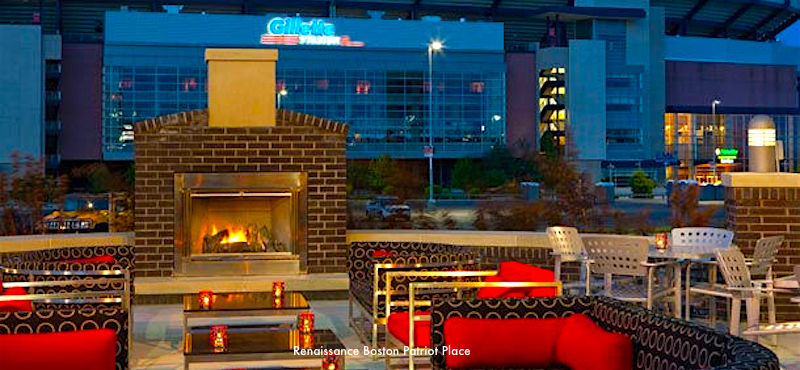 More comfortable hotels near Gillette Stadium:
Check out more hotels near Gillette Stadium
5. Have a Non-Sports Day
Let's face it - not everyone loves football, even if the Patriots are playing in the Super Bowl.
If that describe you, you'll find plenty of reasons to enjoy Super Bowl in Sunday without seeing a single football player.
Once the game starts, Boston will appear to be deserted, as long as you're not in a sports bar or anywhere else with a big screen.
This is your chance to enjoy your favorite activities without having to compete with other fans for tickets, parking, or reservations.
So check out schedules in Boston theaters, go ice skating on Frog Pond, head to a ski slope near Boston, or plan a leisurely dinner in your favorite restaurant.
Just remember that once the game ends, people will surge out into the streets again - hopefully to celebrate!
Q & A about Super Bowl Celebrations: You Ask, We'll Answer
Celebrating Super Bowl in Boston near TD Garden
My Fiancé and I plan on going to the Celtics Game Sunday before the Super Bowl festivities/game start. We are wondering where . . . More
Super Bowl Parties at Boston Bars
Can you suggest which Boston bars are hosting Super Bowl parties where you pay a cover charge and are therefore guaranteed . . . More
Boston Statues wearing Patriots Shirts
Which statues are decked out in Pats shirts? I want to come in to Boston to celebrate, and don't want to miss . . . More
New England Patriots - More to Know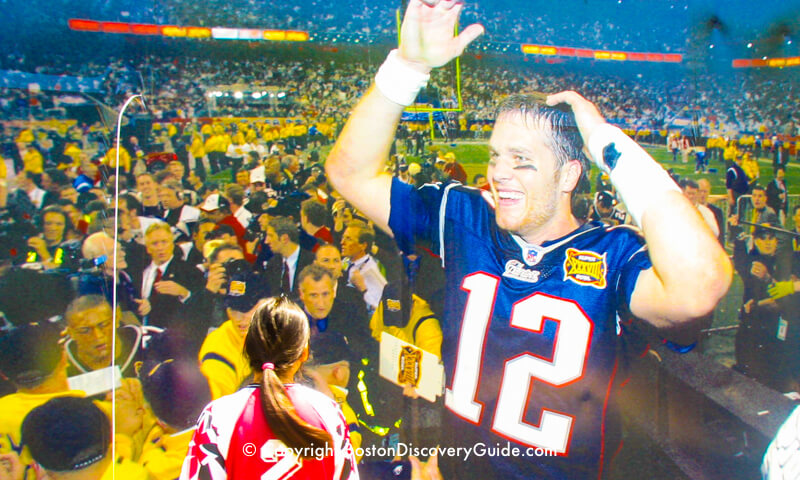 ---
When Does Super Bowl Take Place?
The date for Super Bowl varies each year - but you can easily predict when it will be.
Just find the date for Labor Day, the first Monday in September. Super Bowl is always on a Sunday exactly 5 months away.
So, for example, if Labor Day falls on Monday, September 2 in 2020, Super Bowl takes place on Sunday, February 9, 2020.
More about Sports in Boston

More Articles about the New England Patriots
How to Save on Boston Hotels
Check out all our tips on how to find discounts, deals, and promo codes for Boston hotels. Whether you're looking for bargain accommodations or want to pay less for luxury, we'll show you How to Save on Hotels in Boston.
More about how to save on Boston hotels
Save with Discount Event Tickets
Save BIG on half-price & discount tickets from Goldstar