Can you suggest which Boston bars are hosting Super Bowl parties where you pay a cover charge and are therefore guaranteed to get in so you can watch the game? And also a few where you don't have to reserve/get tickets but are still good places for watching?
I'm new to the city - and want to make sure I don't want to miss the game, so I'm planning far in advance!!!
Michael
Boston
Boston Discovery Guide is a reader-supported publication. When you buy through our links, we may earn a commission at no additional cost for you. Learn more
---

Michael -
As you can probably guess, sports bars and most other bars in Boston will be packed with New England Patriots Fans on Super Bowl Sunday, so your approach makes a lot of sense.
Here's a list (below) of a few Boston bars that typically host Super Bowl parties requiring tickets or cover charges, and several where you can just go in and watch - no tickets required.
Parties usually start being announced several weeks or more before Super Bowl, and tickets for the most popular sell out fast. But even the places not hosting formal parties will have a celebratory vibe, so whichever option you choose is sure to put you in the middle of cheering sports fans.
Most of Boston's sports bars are near Fenway Park and in the TD Garden - Faneuil Marketplace vicinity. Basically, both areas are filled with pubs and sports bars where festivities will be in full swing on Super Bowl Sunday.
Beyond these two areas, every bar, pub, and tavern in the city will be packed with fans watching the game on the big screens, so if none of these parties appeal to you, you'll have lots of other places where you can watch the game, enjoy some brew, and cheer for your favorite team. (Of course, if the Patriots are playing, they will be the team everyone is cheering for - don't buck this trend!)
Find out more about where to celebrate on Super Bowl Sunday in Boston
Enjoy the game!

Publisher, Boston Discovery Guide
Top Photo: Banners Kitchen & Tap - Sports bar near TD Garden
---
Where to Celebrate Super Bowl Sunday in Boston: Top Sports Bars Hosting Parties
Banners Big Game House Party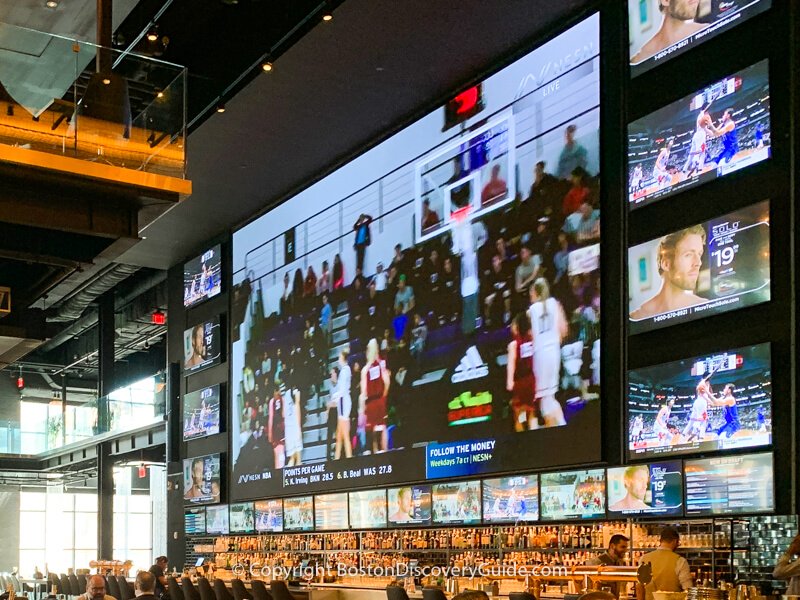 Watch the big game on the HUGE 40-foot Dream Screen (Boston's biggest!) at Banners Kitchen & Tap at The Hub on Causeway next to TD Garden starting at 3pm.
Tickets are $50 per person with a 4-person minimum. You get a premium table reservations, Super Bowl appetizers for the table including nachos, Banners' special wings, pretzel and beer cheese, and smoked bacon. And of course, you get to enjoy Banners' rotating selection of 50+ draft beers.
82 Causeway Street | West End | website
---
The Smoke Shop - Super Bowl LIV BBQ Bash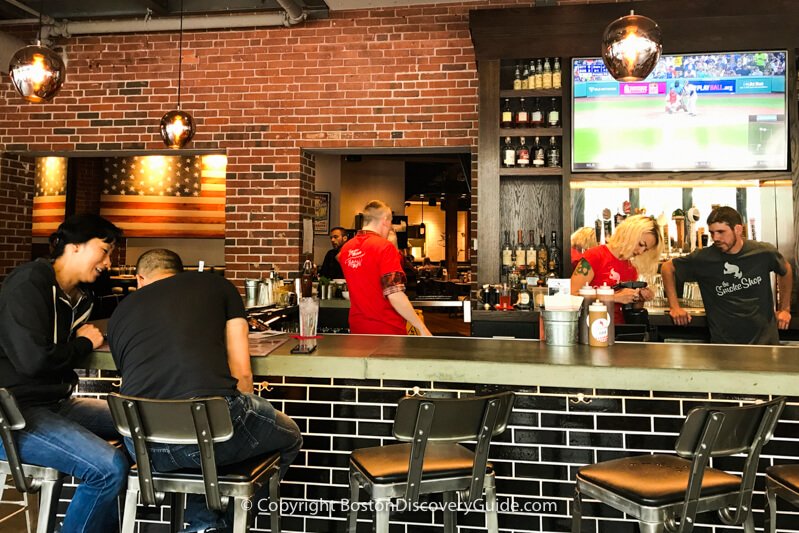 The Smoke Shack's annual Super Bowl bash at their Kendall Square location features Shiner Bock & Knob Creek brew, big screen TVs with state of the art surround sound, and a fantastic BBQ buffet with desserts at halftime.
The party starts at 5pm, with general admission plus three seating packages available. Tickets range from $29 per person for general admission. Seated packages include the $60 per person Owner's Box semi-private space with a whole roasted pig plus a wing buffet, and two other great options - see their website for all the details. The first 100 reservations will be automatically entered into a Super Bowl with fun prizes.
One Kendall Square | Cambridge | website
---
The Harp - Super Bowl Watch Party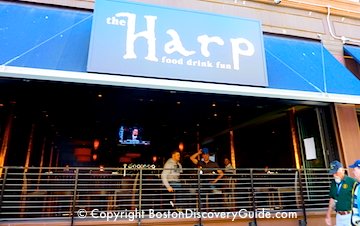 The Harp, popular sports bar across from TD Garden, kicks off their Super Bowl Watch party at 6pm, with food specials, featured drinks, HD projector and dozens of TVs with surround sound for watching the game, and free giveaways.
Seating is first come, first serve, and no tickets are required this year - but they recommend that you RSVP on their website.
85 Causeway, 617-742-1010 | www.harpboston.com
---
More Sports Bars for Watching Super Bowl
Game On!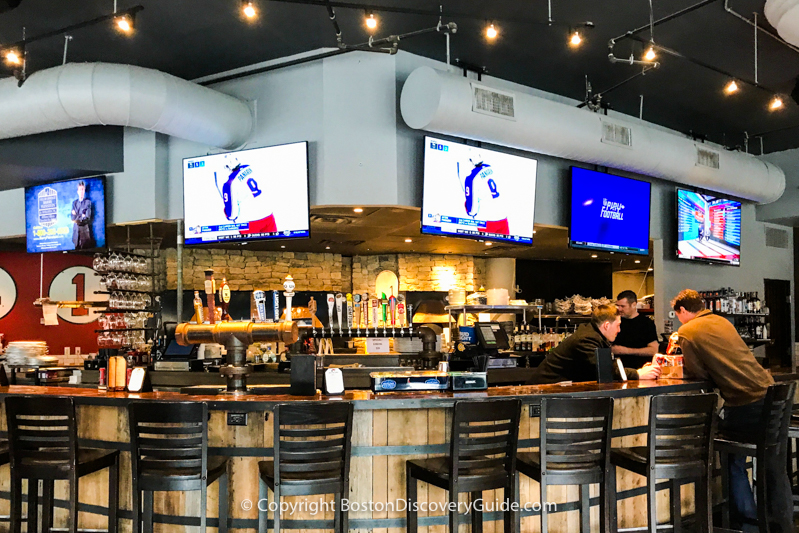 Game On!, a huge bar/entertainment complex near Fenway Park, features lots of big high-definition screens.
They will book tables for 2+ people.
As you can see in this photo, with the number of big screens there, you should have a good view from wherever you sit, plus they're high enough so they never get blocked by the crowds.
82 Lansdowne Street, 617-351-7001 | gameonboston.com
---
Cask 'n Flagon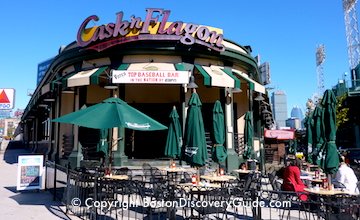 This popular sports bar filled with high def screens across from Fenway park, usually has a Super Bowl party with specials plus private viewing parties.
Look for Super Bowl specialties such as a free half time buffet, a beer bucket special, and the "Gronk" cocktail.
Food here is usually very good. They offer a tailgate platter, and Texas-style smoked BBQ, in addition to typical bar fare.
62 Brookline Ave, 617-536-4840 | www.casknflagon.com
More sports bars near Fenway Park
---
Tony C's Sports Bar & Grill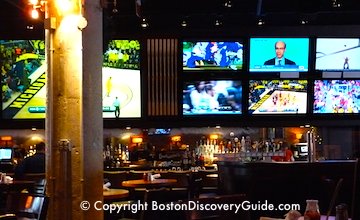 This sports-themed restaurant and bar, named in honor of Red Sox legend Tony Conigliaro, gives you a great view of the game on their massive HD audiovisual system and numerous screens.
Two Boston locations give you plenty of options:
250 Northern Ave in Seaport, 617-956-7369
Assembly Row in Somerville, 617-666-8282
www.tonycssportsbar.com/
---
Champions
Champions, a sports-themed bar at the Boston Marriott Copley Plaza Hotel has impressive viewing walls with 40 flat-screen TVs, perfect for viewing the Super Bowl, and lots of craft beers on tap. Best views are right at the bar, but the adjacent dining area also has plenty of screens.
Although they don't normally take reservations for the bar, you might give them a call and see if you can reserve a seat for Super Bowl.
110 Huntington Ave; 617-927-5304 | www.championsboston.com
---
Lansdowne Pub
Part Irish pub, part sports bar with a huge viewing screen and multiple HDTVs, and part restaurant, the Lansdowne Pub specializes in parties, event nights, games, and music. There's something here for everyone and the space gets packed - so check reservation or ticket requirements.
9 Lansdowne Street, 617-247-1222 | wwwlansdownepubboston.com
---
McGreevy's
McGreevy's is all about sports, and hosts game parties for most Boston games and sporting events. Their Pats game day rallies are legendary, so it's no surprise that their Super Bowl parties are as well. With game day specials, confetti cannons, and lots of HDTVs with full sound, this is a place to party.
Their Irish coffee is also awesome!
911 Boylston Street, 617-262-0911 | www.mcgreevysboston.com
---
CBS Scene Restaurant and Bar at Gillette Stadium
For the supreme Super Bowl party experience, head down to Patriot Place next to Gillette Stadium, where all the sports bars and restaurants will be in celebration mode.
There are lots of party options here, but one of the best is the huge CBS Scene sports bar overlooking Gillette Stadium. They'll be hosting playoff events all through January as well.
Patriot Place, 508-203-2200 | cbsscene.com
---
More Ways to Enjoy Boston's Brewery Scene
---
Check Out More Top Boston Events Each Month
January | February | March | April | May | June | July | August | September | October | November | December | Year at a Glance
---
More Articles about Super Bowl in Boston & the New England Patriots
Boston Discovery Guide makes best efforts to update event information but we cannot guarantee the information as it may change without our knowledge. Please confirm details with event sponsors prior to attending.
---
Need a Boston Hotel or Apartment?
Use this handy map from Booking.com to find the perfect place to stay. Just enter your dates to find what's available, see the best rates, and make your reservations.