My Fiancé and I plan on going to the Celtics Game Sunday before the super bowl festivities/Game start. We are wondering where would be a good place to Party?
Our hotel is Onyx Hotel (155 Portland Street Boston, MA 02114)
Somewhere close by would be ideal!
Thanks!!!

Sylvie
New Brunswick, Canada
Top photo: Strip by Strega restaurant in Boston's Theatre District; photo credit: Boston Discovery Guide
Boston Discovery Guide is a reader-supported publication. When you buy through our links, we may earn a commission at no additional cost for you. Learn more
---

The Onyx Hotel is in a great location for partying on Super Bowl Sunday after the Celtics game (or any other TD Garden game) because it is surrounded by some of Boston's best sports bars.
All are within easy walking distance of your hotel.
However, if you want even more choices, you can walk a couple more blocks to the Faneuil Marketplace vicinity.
Basically, both areas are filled with pubs and sports bars where festivities will be in full swing on Super Bowl Sunday.
One thing to be aware of: On non-Super Bowl nights, bars with dancing and DJs and/or live music may charge a small ($10-$20) cover fee at certain hours, usually later in the evening. On Super Bowl Sunday, some bars will require tickets (usually fairly inexpensive and may include a drink or food) or a cover charge.
Find out more about where to celebrate on Super Bowl Sunday in Boston.
So if you arrive in time before the Celtics game, walk around the neighborhood and check out the bars - and then go into the ones you like and ask about tickets/cover charges.
I've added more details about what you'll find in each area below.
Have fun!!!

Publisher, BostonDiscoveryGuide.com
---
Sports Bars Closest to TD Garden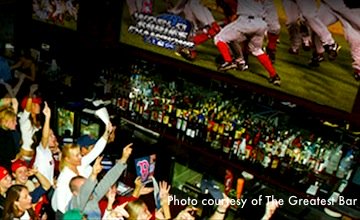 If you're looking for a place that's loud, fun, and maybe even slightly raucous, you'll find plenty of choices in the streets across from TD Garden and surrounding the Onyx Hotel.
Some of the most popular include The Fours, The Harp, Greatest Bar (shown in photo to the left), and Sports Grille. You can read more about them, and others, here.
All will be full of celebrators - but if you walk by and check them out in person, you should be able to fairly easily spot the ones with the vibe that's right for you.
If you're not sure, try the ones that don't charge a cover so that you can easily move on if you want to try something else.
Streets in this part of town are narrow (except for Causeway, which runs in front of the Garden) and tend to be filled with partying fans, unless the weather is particularly bad.
---
Pubs & Bars around Faneuil Marketplace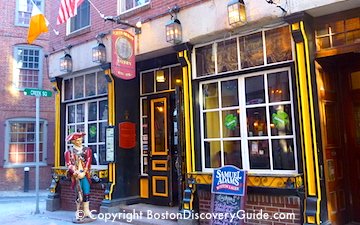 If you want to go slightly farther afield, walk 3-4 blocks down Merrimac Street (which becomes Congress Street) toward the Faneuil Marketplace area.
As you pass the Boston Holocaust Memorial, look across it to Union Street, where you'll see a bunch of small pubs, including a couple of Boston's most historic taverns (Green Dragon (shown in photo above) and Bell in Hand - more about them here.
Peek in, and you'll see that "historic" does NOT mean "dull" - these pubs will also be full of celebrating sports fans, but will tend to be somewhat quieter and perhaps more convivial than the area closer to the Garden.
---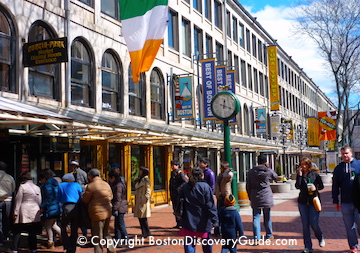 Once you reach Faneuil Marketplace (shown in photo on the left), you'll find everything from a recreation of the Cheers bar to Ned Devine's Pub and several other places.
All of our bars and pubs by law must also serve food, so almost any of these places (assuming you avoid the obvious dive bars around the Garden) will also be a good place to eat. Just keep in mind that if they're packed with fans, service may not be as good as in non-crowd times.
---
Hotels near TD Garden
Coming to an event at the Garden? Consider spending the night or the weekend at one of these top nearby hotels:
Check out more hotels near TD Garden
---
More Fun Ways to See Boston
---
More Articles about Super Bowl Sunday & TD Garden
---
Need a Boston Hotel or Apartment?
Use this handy map from Booking.com to find the perfect place to stay. Just enter your dates to find what's available, see the best rates, and make your reservations.