Home > Hotels > Hotels near TD Garden >
Onyx Hotel Boston
Boutique Hotel near TD Garden
Stylish exterior of the Onyx Hotel Boston, which soars 10 stories above what you see in this photo
The Kimpton Onyx Hotel Boston, an upscale boutique hotel featuring stylish red and black decor, offers a convenient location near Boston's TD Garden sports and entertainment center, all the lively nearby nightlife, and Faneuil Hall Marketplace.
One of the top Boston boutique hotels, the Onyx's West End location almost next to TD Garden puts it a few blocks to the north of downtown Boston - about an 8-10 minute walk, depending on where you are going.
If you're looking for a downtown Boston hotel but also want to be near Faneuil Hall Marketplace and all of the surrounding clubs and other nightlife, the Onyx is a great option.
You can easily walk to North End, Beacon Hill, and the Museum of Science located several blocks away. And like other Kimptons, the Onyx Hotel ranks high among pet friendly hotels in Boston.
The Onyx is also in an excellent location if you're looking for hotels near Boston's Government Center complex or nearby Massachusetts General Hospital (MGH).
Check TripAdvisor reviews and compare rates
Onyx Hotel Boston Accommodations at a Glance
Choose from: 112 rooms and suites in 11-floor building
Loyalty program: Kimpton Hotels InTouch
Child-friendly: Yes. Kimpton Kids amenities include cribs, in-room safety kits (no need to pack the outlet covers and night lights), a welcome gift, list of kid-friendly activities and restaurants nearby, and child-sized animal print robes for wearing in the hotel
Pet-friendly: Yes. Pet amenities include gourmet dog cookies, clean-up bags, and fee-based dog-walking and dog-sitter services
Pampering for you: In-room spa services available
Parking: 24-hour valet parking with in-and-out privileges
Fitness Center: Yes, on-site
Room Service: 24 hours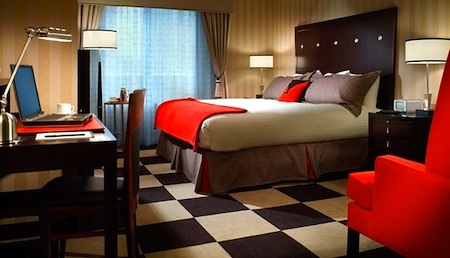 Guest room at the Onyx Hotel Boston showing the fun red, black, and tan decor
Cool Amenities at the Onyx Hotel
Amenities in Your Room
WiFi: Free in-room WiFi for Kimpton Hotels InTouch members (free sign-up)
In-room safes: Yes - Laptop-sized
Very cool animal print robes to wear during your stay
Frette linens on your bed
37" flat screen TVs
Organic tea and coffee products
Full length mirrors and lighted make-up mirror
Complimentary morning newspaper
Amenities in the Hotel
Hosted evening wine hour in the hotel lobby
Onyx Hotel Specials and Discounts
When booking reservations, look for:
AAA discount
Government rates
Special packages - Onyx Hotel Boston usually offers attractive discounts and special packages. Recent offerings include "Sports FANatic," "Stay in Love," "Stay & Save - 20% OFF," and more!
Check recommendations and rates
Onyx Hotel Restaurant and Dining Nearby
On-site restaurant at the Onyx Hotel
Ruby Room - Breakfast buffet, casual dining, and drinks - easily one of the most gorgeous bistros in Boston, with fiber optic lighting over the black granite bar and lush red everywhere else. Restaurant reservations: 617-557-9950
The Ruby Room at Boston's Onyx Hotel
Recommended restaurants and pubs near the Onyx
The area around TD Garden is famous for its sports bars, Irish pubs, and bistros, and the Onyx is surrounded by lots of terrific options. Here are a few of my personal favorites:
The Fours (166 Canal St) - The ultimate sports bar, named in honor of legendary Bruins player Bobby Orr (#4); also serves tasty pub food - excellent place for a casual dinner if you want to watch a game on the big screen.
McGann's Irish Pub (197 Portland St) - Excellent Irish and American pub food, plus plenty of big screens and occasionally live Irish music in the evenings.
Saus (33 Union St) - Belgian waffles and fries with addictively good sauces - doesn't get better than this!
From Saus, you're only a few steps away from Faneuil Hall Marketplace, where you'll find plenty of restaurants and a Great Food Hall. A couple of Boston's oldest historic restaurants including Union Oyster House are nearby.
You can also easily walk to one of my personal favorites for clam chowder in Boston - 26 North at the Bostonian Boston, across from Faneuil Marketplace

More Hotels near TD Garden
Boston Discovery Guide > Hotels > Hotels near TD Garden > Onyx