How can we book a photographer to take a picture of one of the runners? 

Thanks,
Bernie
Concord, New Hampshire

Boston Discovery Guide is a reader-supported publication. When you buy through our links, we may earn a commission at no additional cost for you. Learn more
---

Great question!
I'm going to assume you've thought of the obvious things (i.e., search on line for "Boston photographers" or maybe "Boston sports photographers," place an ad on Craig's List or even fiverr.com) so I'm going to suggest a few options slightly off the regular path.
Boston has a LOT of art and photography classes and schools, some stand-alone, some as parts of larger institutions.
Some attract professionals who just want to polish a few skills or learn something new, others focus on photographers of all skill levels and backgrouns, and still others have regular college students.
Having seen local shows featuring the work of participants, faculty, and students presented by these groups, I can tell you that they're as good or better than what you'll see in many galleries. The professionals in the groups may be available to take on new clients, and many students are always looking for ways to make a little money and some may be out photographing the Marathon anyway, so hopefully you can connect with someone who will be a perfect fit with your needs.
I'm going to give you names and urls for a few schools that I know have well-regarded photography programs.
My suggestion is to either email or call them, briefly explain what you want, and ask to be connected to someone who teaches a course in, say, sports photography, visual journalism, or whatever makes sense (look at the programs and course offerings on the sites, and you'll get some ideas).
Once you reach the instructor, explain what you want in more detail and ask if they could either recommend someone or let their students know about this opportunity, and if anyone is interested, how to contact you.
Alternately, they may give you information about a campus website or whatever to post your need on.
Here are six local photography and art schools and programs to contact:
Also, in case it's helpful for deciding where you'd like the photographer to shoot the photos, here's Boston Discovery Guide's mile by mile description of the Boston Marathon Route.
Hope this helps you get some great photographs!

Publisher, BostonDiscoveryGuide.com
Top Photo: Boston Marathon runners
---
More Information about Visiting Boston for the Marathon
Find a Hotel for the Marathon
Check out hotel rates by entering the dates of your stay:
More about how to save on Boston hotels
---
Fun Tours of Historic Sites in & near Boston
Here are some interesting things to do while you're in Boston:
---
Boston Marathon Information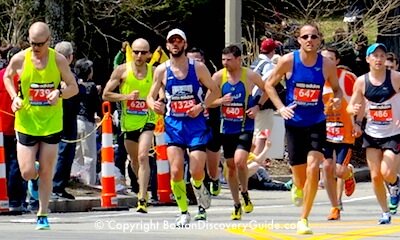 ---
More Articles about Getting Around Boston during the Marathon
---
Need a Boston Hotel or Apartment?
Use this handy map from Booking.com to find the perfect place to stay. Just enter your dates to find what's available, see the best rates, and make your reservations.