Best RV Camp Near the Boston Marathon - Where to Stay?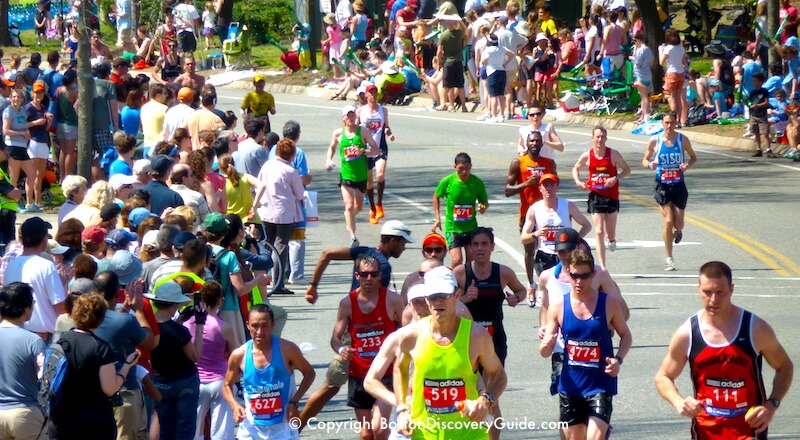 I will be traveling to Boston for the Marathon on April 16th next year, and I would like to travel by RV and camp for a few days with my young family. 

Which is the best RV site that will give me good access to the race day transport plus security for my family? I want them also to be able to view the race day also. 

Thanks,
Martin
Toronto

---

Martin, congratulations on qualifying for the Marathon!
Staying in an RV site sounds like a great plan. However, the transportation logistics may be tough to work out if you don't have a car. 
As you know, the race starts in Hopkinton, roughly 25 miles to the southwest of Boston. 
Some runners get dropped off there. Buses also pick up runners at Boston Common (central Boston) between 6am and 7:30am, and transport them to the starting point.

The closest RV camping ground to Hopkinton, as far as I'm aware, is in Littleton to the northwest of Boston. Littleton is about 25 miles from Hopkinton. Littleton also has a stop on the Fitchburg line of Boston's commuter rail.
If you camp at the Boston Minuteman Campground in Littleton, perhaps your family could drop you off at the starting point in Hopkinton (check the baa.org site for details on exactly where to drop-off point is). 

Then they could go back to Littleton and take the commuter rail into Boston (more info at mbta.com - search on "commuter rail."). This line of the commuter rail comes into North Station, which is also a connecting point for the T (Boston's subway) Green Line, which you can take out to the race path - Copley Square (which gets totally packed because that's where the finish line is) or farther out to watch the race. 

Alternately, they could drive to any point along the Marathon route and watch the race from there. Even though my kids are now teens and therefore no longer young children, that's what we do because the crowds are much less intense and it's much easier to see the runners. 

I do not know what options, if any, exist for parking an RV either at the commuter rail station or along the route, which is mostly suburban residential areas and town centers, until you get into Boston.

Although I don't have any specific information about RV campground security, here are a few things to keep an eye on, since you'll be there with young children: 

1) Although I think mid-April is too early to have to worry about Lyme disease from deer tick bites, we've had an unusually mild winter so far, so there's a lot of optimistic speculation that spring may come early. If the campground is in a wooded area which would provide habitat to deer, the possibility of getting bitten by the ticks could be a a concern

2) Some parts of Littleton are fairly wooded and rural. If the RV camp is located in one of these areas, there could be wild animals in the vicinity - so depending on how young your children are, you may want to keep a close eye on them

3) During some years, the ground is still fairly frozen during mid-April, especially outside of Boston. Hiking and even walking can be somewhat treacherous at this time of the year if you're not on a path because what appears to be solid ground may be a swampy area with a thin layer of ice on top - I've found this out the hard way! So with young children, just be very aware of where they're playing.

Our Patriots Day celebrations fall on this same weekend, and involve lots of reenactments - terrific for kids as well as grown-ups. Hopefully you'll get a chance to go to a couple of these events while you're here.

Here are links to pages on BostonDiscoveryGuide.com with information about many of the things that I've mentioned. 
Hope you have a wonderful time in Boston, and best of success in the Marathon!

Publisher, BostonDiscoveryGuide.com