Home > Colleges and Universities >
Berklee College of Music
Study the art and business of music at Berklee College
Berklee College of Music may be your school of choice if you want to immerse yourself in contemporary music while taking classes in composition, musical performance, and other skills for becoming a professional musician.
Founded in 1945 by MIT-trained engineer and radio orchestra arranger Lawrence Berk, Berklee College of Music was the first U.S. music school to teach jazz - and jazz along with rock, blues, folk, and other contemporary music remains at the center of Berklee's programs.
Although Berklee is officially located in Boston's Fenway neighborhood, it straddles the boundary between Fenway and Back Bay, with a number of buildings in each area.
What makes Berklee College of Music unique
Berklee's approach is to use contemporary music as the basis of practical career preparation for the working musician. You can expect to find classes that combine the art of music with the business of music.
Berklee offers a fully-accredited 4-year baccalaureate degree as well as a diploma option, a 5-year duel-major program, a joint MBA graduate program with Suffolk University, and almost 20 summer programs. You can choose from among 29 principal instruments, and 12 majors.
About 80% of Berklee grads work in the music industry, as does much of the faculty.
And who knows . . . maybe you'll be classmates with a future music star. Well-known Berklee grads include Branford Marsalis, Aimee Mann, Melissa Etheridge, Aerosmith drummer Joey Kramer, John Schfield, Quincy Jones, and Suzanne Tedeschi . . . just to name a few!
What you'll enjoy at Berklee College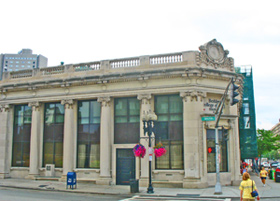 Berklee is a special community of musicians from all over the world, coming together to make music.
Numerous big-name contemporary musicians perform here - frequently! Plenty of them are on the faculty.
Berklee has 6 performance spaces, including the Berklee Performance Center, its flagship concert hall on Mass Ave, where you can see many top performers in jazz, blues, folk, rock, and other contemporary music several nights a week. With 5 other performance spaces as well, you'll usually have your pick of interesting performances to attend.
Campus Tours
Berklee encourages prospective students to visit when classes are in session and attend a concert, special performance, or recital.
Student-led tours are available at noon and 2pm, Monday through Friday, whenever classes are in session (except for finals week). They last 60-90 minutes and will show you the classrooms, studios, practice rooms, labs, and more.
Walking tours of the campus leave from the Office of Admissions on the 6th floor of the Genko Uchida Building at 921 Boylston Street. You should reserve a space by calling 617-747-2221.
And sure to check the Berklee website before you go to find performances scheduled during the period that you'll be there.
Details and Directions
Founded: 1945
Students: 4,000; almost 25% come from 70+countries outside the U.S.
Campus type: City
Dorms: Residence hall space for about 800 students, plus help in finding off-campus housing
Address: 1140 Boylston Street, Fenway, Boston, MA
Nearest T station: Green Line/Hynes
Parking: Metered parking along the street is very hard to find in this area. Best choice is to take the T - but you can also park in area garages, including Boston parking garages in Fenway
Organizational type: Private, secular, non-profit
For more information: 617-266-1400

Other topics of possible interest:
Boston Discovery Guide > Colleges and Universities > Berklee College of Music