Boston Events for September 2014
Top things to do in Boston during September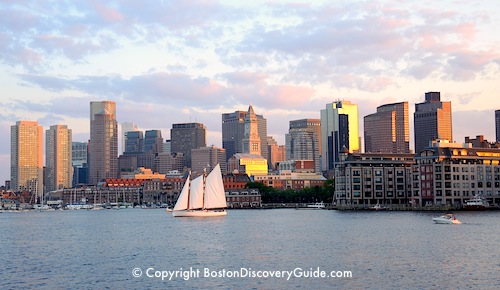 My favorite Boston city skyline photo - a reminder to go on a Harbor cruise during September
Top Boston Events for September 2014 include art and music festivals, open studios, outdoor markets, Harbor cruises, and Boston Fashion Week. The city buzzes with energy as college and university students return.
Labor Day Weekend events plus the final days of Boston Harbor Hotel's Blues Barge Jazz Concerts and Summer in the City movies down by the waterfront get September off to an exciting start.
Of course, New England Patriots fans rejoice as the team kicks off the first game of the regular season down at Gillette Stadium. Red Sox fans contemplate the American League playoffs - will this be another World Series win?
Toward the end of the month, you may begin to start seeing glimpses of fall foliage color - every year is different!
Enjoy September's balmy weather by dining outdoors, tossing a frisbee on Boston Common, and joining a whale-watching cruise.
Meanwhile, enjoy all these fun Boston events for September!
Add an event to the Boston Event Calendar for September 2014
Quick Links: Boston events calendar: August l October l Other Months


September 11 Commemorations
Boston September 9/11 events open to the public to commemorate the heroes and the fallen of the tragedy on September 11, 2001 include:
- 9/11 Wreath-Laying Ceremony - Wednesday, September 11; 7:30am (time to be confirmed) - Boston Public Garden's 9/11 Garden of Remembrance memorial near the Arlington Street entrance
- Flag Lowering, Moment of Silence, Reading of Names - Wednesday, September 11, 8:30am (time to be confirmed), Massachusetts State House lawn
- 9/11 Mass Military Heroes Care Package Event - Wednesday, September 11; 1-3pm (time to be confirmed) - Ring Fountain on the Greenway - volunteers assemble care packages for Military members serving overseas
- "Extremely Loud Incredibly Close" - September 11 at 5:30pm, North End Public Library - film about an 11 year old boy whose father dies in the 9/11 attack on New York. Starring
Visit more war memorials in Boston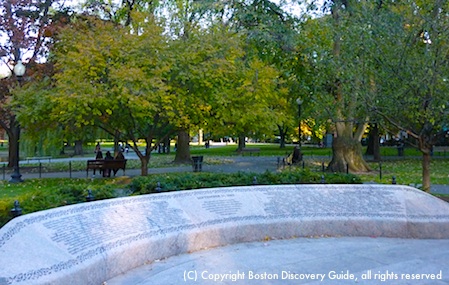 Garden of Remembrance in Boston Public Garden
Hotels near Boston Common

More great hotels in Downtown Boston
Films at the Gate - Free Chinese Film Festival in Chinatown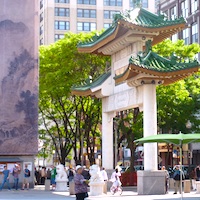 The Chinatown Park Plaza on the Greenway morphs into an outdoor movie theater for this popular end-of-summer event featuring Kung-Fu Classics (Mandarin or Cantonese, with English subtitles). Folding chairs are available on a first-come, first-served basis - or bring your own, along with carryout from nearby restaurants (no alcohol, though). Films start at 8pm or dusk (whichever comes first).
Films at the Gate Schedule:

This is the schedule from last year, to give you an idea about what to expect for 2014. Look for updates closer to September.
Friday, September 13 - Mismatched Couples (1985) - Starring Donnie Yen, Yuen Woo Ping, May Lo (Cantonese)
Saturday, Sept 14- Heroes of the East (1978) - features a duel over Chinese Shaolin King Fun and Japanese Ninja Karate (Mandarin)
Sunday, Sept 15- White Dragon (2004) - Comedy about a spoiled Hong Kong teen who must save her prince with magic kung fu powers (Cantonese)
Where: Chinatown Park on the Rose Kennedy Greenway
Closest T station: Red Line, South Station (nearest public restrooms are also here)
Cost: Free - sponsored by Asian Community Development Corporation, series curator Jean Lukitsh, founding producers Leslie and Sam Davol, and numerous other local organizations, businesses, and individuals
Find more Boston film festivals
Free Museum Day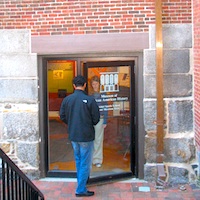 Visit Boston museums for free as part of Smithsonian Magazine's nationwide Free Museum Day celebration.
Participating Boston and Cambridge museums include the Museum of African American History, Museum of Fine Arts, Old South Meeting House, Otis House, Peabody Museum of Archeology and Ethnology (at Harvard in Cambridge), and Photographic Resource Center at Boston University.
Free tickets: Go to this special Smithsonian Magazine website page (link is usually active by mid-August), fill in your name and address, and download your tickets: www.smithsonianmag.com/museumday
Save Big $$$s on Museums and More Top Attractions
If you're not going to be in Boston on Free Museum Day, don't forget that a Boston Discount Card gives you free entrance to museums and lots of other attractions every day while your card is valid - plus you get to go straight to the head of the line.
GoBoston Card

60 ways to save up to 55%

On attractions, tours, cruises

CityPASS

5 top attractions in 9 days

Over 50% savings

Go Select

YOU choose your tours,

attractions, cruises - Save BIG!
Mayor's Cup Race & Hub on Wheels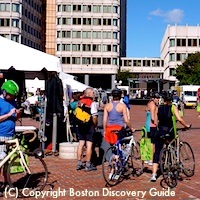 Mayor Menino isn't just playing around about supporting biking in Boston.
This 2-day event features 2 key attractions.
On Saturday, the Mayor's Cup races attract 200+ professionals including Olympians and National Champions complete for a $30,000 purse, along with a kids race for future stars.
Races take place from 11:30am - 5:45pm, and are designed to be spectator friendly. Best places to watch: Congress Street and Cambridge Street under the main banners. Volunteers will be on hand to help you find a good spot.
If you want to participate, bring your own bike (or rent one at a bike shop or Hubway) to City Hall Plaza for Hub on Wheels on Sunday. Choose the 10-, 30-, or 50-mile loop and enjoy a car-free ride on Storrow Drive, along Boston Harbor, and around city neighborhoods. Explore the city without dodging cars! Registration begins at 6:30am, and the ride takes place between 8:00am and 1:30pm. City Hall Plaza turns into a block party with music, vendors, food trucks, gift bag, snacks, and Harpoon's famous Beer Garden.
Dates: September 21-22
More information: http://bostoncyclingcelebration.com/
More about touring Boston by bike
Fall Foliage Tours
Leaves may still be green in Boston in September, so if you want to see gorgeous foliage, you need to go outside of the city where you'll start to see lots of spectacular colors by mid-month.
Luxury 1-day fall foliage tours take you to the best viewing locations in New Hampshire, Maine, and even the Cape (although you'll see more color in the Cape in October). Sit back and relax while someone else drives and you get to enjoy all the scenery!
New England Lighthouse Cruise Foliage & Lighthouse Cruise
Throughout the summer, these special 1-day New England Lighthouse Cruises focuses on viewing the most special Lights between Boston and Maine (such as Graves Light, shown in the photo), the late September cruise date also includes views of gorgeous foliage along the Massachusetts, New Hampshire, and Maine coasts.
Don't miss this spectacular cruise from Boston!
More Places to See Fall Foliage in Boston & Beyond
Boston Red Sox Schedule for September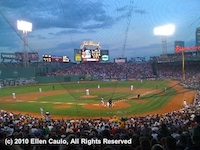 Where: Fenway Park
Closest T station: Green Line / Kenmore

Tickets: TicketLiquidator
| AceTicket
Sunday, September 1 vs White Sox - 1:35pm
Monday, September 2 vs Tigers - 1:35pm
Tuesday, September 3 vs Tigers - 7:10pm
Wednesday, September 4 vs Tigers - 7:10pm
Friday, September 13 vs Yankees - 7:10pm
Saturday, September 14 vs Yankees - 1:05pm
Sunday, September 15 vs Yankees - TBD
Tuesday, September 17 vs Orioles - 7:10pm
Wednesday, September 18 vs Orioles - 7:10pm
Thursday, September 19 vs Orioles - 7:10pm
Friday, September 20 vs Blue Jays- 7:10pm
Saturday, September 21 vs Blue Jays - 7:10pm
Sunday, September 22 vs Blue Jays - 1:35pm

Essential Information for Boston Red Sox Fans
Boston Theater and Shows September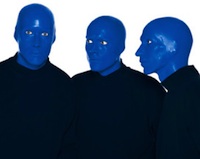 Blue Man Group - Charles Playhouse - Schedule & discounted tickets - ongoing

Check back later for more shows and theater in September.




Tickets:
TicketLiquidator
| AceTicket
| Goldstar - 1/2 price tix
Use our
TicketLiquidator Discount Code
for more savings:
Boston Concerts for September 2014
| | |
| --- | --- |
| Photo courtesy of SarahBrightman.com | |
Wang Theatre
| TD Garden
| Blue Hills Bank Pavilion | Gillette Stadium

Boston Symphony Hall
| House of Blues
| Paradise Rock Club

Orpheum
| Wilbur Theatre
| Colonial Theatre
| Royale

Boston Opera House | Comcast Center
| Agganis Arena
More Boston concerts during September

Fun Boston Tours for September
Boston Bruins Preseason Games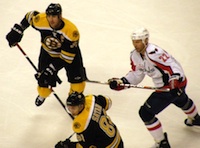 Location: TD Garden
Nearest T stop: North Station
Parking: Boston garages near North Station / TD Garden
The Boston Bruins launch their 2014-2015 season with two preseason games at the Garden in September. Come join the excitement on the ice!
Thursday, September 19 vs Red Wings- 7:00pm
Monday, September 23 vs Capitals - 7:00pm

Find ticket prices and best seats
Night of Stars on the Common: Boston Ballet
Boston Ballet celebrates its 50th anniversary this year - and kicks off the next 50 years by presenting a free evening performance on Boston Common.
The gala 2013-2014 season includes 6 thrilling productions including Mikko Nissinen's The Nutcracker in late November and December, and Cinderella in the spring.
Check the complete listing of Boston Theatre District Performances for dates and details.
Half-price tickets for Boston events in September
Half-price Boston shows, cruises, and events in September
- Odyssey Cruises - Lunch, Brunch, Dinner - Boston Harbor
- The Jungle Book: The Musical - Boston University Theatre
- Harry Potter Potted Potter- Paramount Center
- Hoedown Saturdays Boston Harbor cruise - Samuel Clemens, The Freedom, or New Boston ships
- Duck Tours - Selected dates only - See Boston by land and by water
- Improv Asylum: Vanity Project
- City Lights Sail - Boston Harbor
- Blue Man Group - Charles Playhouse
- Electronic Dance Music Party Cruise on Boston Harbor - Samuel Clemens, The Freedom, or New Boston ships
- The Crucible at Emerson Umbrella Center for the Arts

Check back later for more September half price tickets.
Find even more half-price shows, cruises, and events!

New England Patriots at Gillette Stadium - September 2013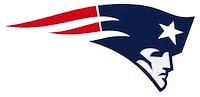 Two New England Patriots home games take place at Gillette Stadium during September - so don't miss this chance to welcome the Pats back for the new season! Get your tickets now, and get ready to join in the fun!
When:
- Week 2 - Thursday, September 12, 8:25pm vs NY Jets
- Week 3 - Sunday, September 22, 1pm vs Tampa Bay

Where: Gillette Stadium
Tickets: Check for great prices, great seats, and sometimes discounts
Getting there: The Patriot Train - plus more ways to get to Gillette from Boston
Stay: Hotels near Gillette Stadium
Deutsche Bank Championship New England PGA Tour 2013
Top Labor Day Weekend event: PGA Tour golfers compete for an $8 million purse in the Deutsche Bank Championship to benefit the Tiger Woods Foundation and New England-area charities. Defending champion Webb Simpson will take on past champions. TPC Boston, named by Golf Digest as one of the "Top 10 Best New Private Clubs in the U.S." when it opened, is 38 miles south of Boston.
When: August 30 - September 2
Where: TPC Boston in Norton MA
Stay: Find best hotels near Norton
More information and tickets: Website

Photo: Courtesy of Deutsche Bank Championship New England PGA Tour
Return to Top - Boston September Events 2013

Boston Arts Festival 2013
When: Friday - Saturday, August 31-September 1
Where: Christopher Columbus Park, North End (near Boston Marriott Long Wharf)
Cost: Free
Closest T station: Blue Line/Aquarium
More information: 617-536-5400; www.bostonahtsfestival.com
The Boston Arts Festival presents 2 days of performances and art displays. Performances range from dance to music to improv from 12 noon - 6pm. Art also covers a huge range - metalworking, photography, glass, jewelry, assemblage, and much, much more. Kids will love the huge number of hands-on activities aimed at them.
Return to Top - Boston September Events 2013
South End Open Studios - September 2013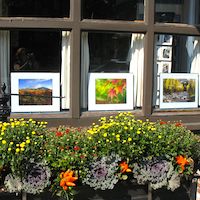 When: September 20-21, 11am-6pm
Where: Boston's South End; Information booths at Tremont and Milford Streets, Albany and Plimpton; and Harrison and Waltham
Nearest T station: Orange Line/Back Bay
South End Open Studios provide a glimpse into more than 200 studios and galleries of some of the city's top artists - and a chance to buy directly from the creators of the pieces on display.
What to look for: everything from fine arts to hand-built bicycles, from home decor to installation art. Be sure to check out the in-studio demonstrations involving photography, quilts, and letterpress printing.
This is the biggest art event in the South End, with all the major studios and art buildings will be open. See even more on Sunday at SoWa Open Market.
Berklee BeanTown Jazz Festival 2013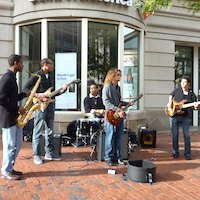 Jazz will fill the air at free and ticketed concerts during the 13th annual Berklee BeanTown Jazz Festival on September 28, with local musicians, Berklee College students, and faculty joining jazz superstars in stellar performances. This year's theme is "The Next Generation."
Where: Columbus Ave between Burke Street and Mass Ave in Boston's South End
More information and event schedule: http://www.beantownjazz.org/
More about Berklee College of Music
Return to Top - Boston September Events 2013
Mass Brewers Fest on Labor Day Weekend
Don't miss this chance to sample brews of dozens of Massachusetts breweries - who even knew we have so many? The fun starts on Friday, August 30 at the Mass Brewers Fest when 30+ brewers offer 80 different craft beers for your sampling pleasure at the World Trade Center in Boston's South Boston Waterfront neighborhood.
New this year and sure to be fun: Collaboration beer, concocted by a dozen brewers earlier this month at the Mayflower Brewing Company and ready for tasting at the Fest. Will it be good? You'll be the judge!
Ticket information: Event website
Boston Fashion Week 2013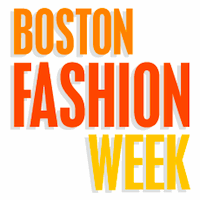 Boston Fashion Week is bigger and better than ever this year - 9 days packed with celebrations of Boston style. Enjoy runway shows, exhibitions, special events, and parties as Boston's fashion professionals, retailers, and talented design students explore ideas, innovations, and new directions. BFW takes place at the Mandarin Oriental, Copley Place, and the new Revere Hotel.
Find out about staying in the 5-star Mandarin Oriental or the glamorous new Revere Hotel

When: September 27 - October 5
More information: BFW website
Boston Marathon Registration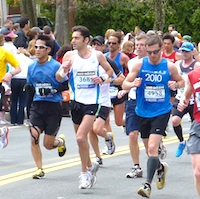 Registration for the Boston Marathon begins in September for the race to be held during April of the following year (April 21 for 2014). It takes place on a rolling basis over the course of 2 weeks, with runners with times 20 minutes or more below the Marathon qualifying times for their age/gender going first.
Registration is not guaranteed, as the number of people who want to run exceeds the race's capacity of approximately 25,000 competitors - so don't wait to register!
Hotels fill up early, and rates increase the longer you wait to make reservations - so check out Boston Marathon hotels.
Return to Top - Boston September Events 2013
Boston Calling . . . Part 2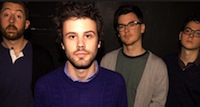 Boston Calling, the 2-day music festival that made its debut to sold-out crowds back in May, returns to City Hall Plaza on September 7 and 8.
Headliners Vampire Weekend and Passion Pit join with 16 other groups to bring non-stop live performances to the heart of Boston from noon - 10:30pm on both days.
Look for 2 stages, 2 beer gardens, lots of food trucks, and loads of fun! This is a family-friendly event with all ages welcome; kids under 10 attend free!
Tickets: www.bostoncalling.com
Labor Day Boston Events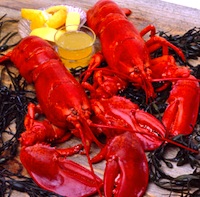 Labor Day 2013 is on Monday, September 2
Wondering what to do in Boston on Labor Day Weekend? Most Boston locals head to the Cape, the Islands (Nantucket and the Vineyard), or the mountains - so if you're planning a Labor Day, you'll find it easier than usual to make reservations easily in local restaurants, get affordable tickets for a Red Sox game, see a show, cruise around Boston Harbor, go shopping for Labor Day sales - and even find some Boston hotel bargains.
Check out these Labor Day events (since this holiday falls early in September this year, we're listing events from Friday, August 30 through Monday, September 2):
- Odyssey Dinner Cruise in Boston Harbor (check for half-price tickets)
- First Friday at Museum of Fine Arts
- Blue Man Group at the Charles Playhouse - Aug 31, Sept 1, Sept 2 (check for half-price tickets)
- Deutsche Bank Championship New England PGA Tour in Norwood
- Mass Brewers Fest
More about Boston Labor Day Events

Check for Labor Day Boston Hotel Discounts
Continuing during September in Boston
SoWa in Boston's South End
Noon Concerts at King's Chapel on the Freedom Trail
First Fridays at Museum of Fine Arts
Sunday Family Fun at the Esplanade
Free Thursday Concerts at ICA Boston
Deutsche Bank Championship New England PGA Tour

Coming to Boston in October
Haunted Happenings Grande Parade in Salem
Return to Top - Boston Event Calendar September
Find More Top Boston Events Each Month
Want to tell others about a Boston Event for September?
Tell us where it's being held, dates, times, cost, and who's sponsoring it. Most important, tell us why others will enjoy it.

Where to get more information about it (phone # and web address) helps others find it.

Please include your name and location on the submission form, and at least 1 photo or image to represent the event. Submissions without your name and one or more photos or images will not be accepted.
What Other Visitors Have Said
Click below to see contributions from other visitors to this page...

September 2013 Boston Events
The Beehive's 16th Installment in Their Continuing Art Series WHAT: On Tuesday, September 24th, 2013, from 6:30PM - 8:30PM, The Beehive's co-owner …
September 2012 Boston Events
Thinking about giving your personal space a makeover? Don't miss this free event featuring Jeff Lewis, known across America as house flipper par excellence …
Like this Page? Please Share!
Boston Discovery Guide Home > Events > September Events