Boston Discovery Guide Home > Boston Events
Boston Event Calendar - December 2012
Nutcracker, Christmas Trees, Pops, More!
Holiday lights in Boston's Faneuil Hall Markeplace in December
All kinds of exciting things to do pack the Boston Event Calendar for December 2012.
If you're visiting Boston in December, you'll see festive lights and sparkling Christmas trees everywhere as the city embraces the coming of winter. Holiday shoppers fill the sidewalks and stores, and music is in the air.
Best of all, you'll find lots of special holiday events: the Christmas tree light ceremony on Boston Common, The Nutcracker, Black Nativity, Boston Pops, and other special shows.
On New Year's Eve, up to a million people join the First Night celebrations across Boston's central neighborhoods - easily the biggest event in the December event calendar!
New this year is Blink!, a festive music and lights show every evening at Faneuil Hall Marketplace.
Plan to spend time walking around the city, enjoying all the homes and shops decked out in the holiday spirit. Check out all the special Christmas in Boston events and activities.
Finally, if you're planning a visit to Boston over New Year's Eve, be sure to make your hotel reservations early to avoid disappointment. Look for special New Years Eve packages.
Quick Links:
Add an event to the Boston Event Calendar for December 2012
Holiday Tree Lighting Ceremonies in Boston - 2012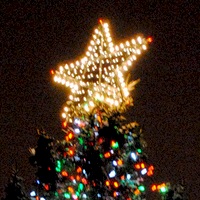 Christmas tree lighting ceremonies in several central locations signal the "official" start of the holiday season in Boston. These festive occasions are fun to attend and the lights are spectacular!
Here are several of the best Holiday Lighting Ceremonies to check out during 2012:

- Boston Common Holiday Lighting - Thursday, November 29, 6pm-8pm. Mayor Menino hosts this exciting event near the Visitors Information Center on Tremont St, starring the special tree sent as a gift from Nova Scotia and 80+ other lighted trees throughout the Common and Boston Garden - catch an ice skating show at Frog Pond at 5pm and a special performance by American Idol finalist Elliot Yamin after the lighting.
- Commonwealth Avenue Mall - Thursday, December 29, immediately after Boston Common Holiday Lighting - also presided over by Mayor Menino
- 31 Nights of Lights at Prudential Center - From Saturday, December 1 through New Year's Eve on December 31, Prudential Tower displays lights of a different color each night
- Faneuil Hall Marketplace - Check November calendar for date

More about where to see special holiday decorations in Boston, plus a photo gallery


Holiday Events - Look for Half-Price Tickets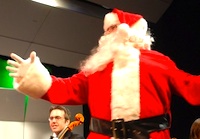 Don't miss these half-price tickets to top Boston Christmas and holiday events:

- Family Holiday Pops - Boston Civic Orchestra
- The Nutcracker
- Vienna Boys Choir
- Handel's Messiah - Boston Baroque at Jordan Hall; Handel and Haydn Society at Symphony Hall
- A Christmas Carol on stage
- A Christmas Celtic Sojourn with Brian O'Donovan
- The Comedy Club at Cheers presents top stand-ups
First Night 2012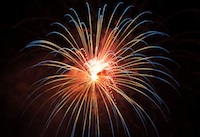 When: December 31
Where: Boston's central neighborhoods: Back Bay, Downtown, South Boston Waterfront, Fenway, West End
More information: First Night Boston
Stay: New Year's Eve Hotel Packages and Specials
Over 1 million people typically turn out for Boston's gala celebration to welcome the coming New Year. This day-long, alcohol-free event features ice sculptures, fireworks, crafts, performances, entertainers, and a grand parade filled with costumed entertainers.
In case you're shuddering at the thought of so many people in one place, don't worry - events are spread out over a number of centrally-located Boston neighborhoods.
When the weather cooperates, stroll around outdoors to view the amazing ice sculptures - if it doesn't, enjoy the many indoor performances.
New Year's Eve Special Packages at Boston Hotels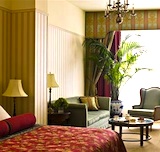 Special New Year's Eve Boston hotel packages give you elegant accommodations to enjoy when the night's festivities end, plus a tantalizing array of complimentary amenities and meals. Some even let you add on extra nights at discounted rates.
What's on offer? Look for specials like the "New Year's Eve Rest and Recovery" package at the Langham including a "Recovery Brunch" at Cafe Fleuri on New Year's Day. Other hotels offer complimentary First Night buttons, special dinners, even gala parties.
Each special package is unique - so check out each one to see which you like best! And remember, you can also book at the regular rates, usually at their lowest levels during winter months. Check out New Year's Eve hotel specials in Boston
Globe Santa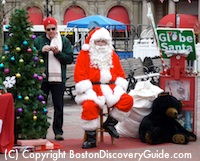 Want to meet Globe Santa? You can find him (or her) in various places and events around Boston during December, such as Copley Square (shown in photo) and Faneuil Hall Marketplace.
More important...want to help Globe Santa raises fund for Boston's neediest children, one of Boston's best holiday traditions? 100% of all donations go to purchase and deliver holiday gifts for Boston families in need. More about donating
Tree-Lighting Ice Skating Show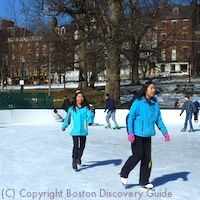 When: November 29, 5pm
Where: Frog Pond, Boston Common
Parking: Closest is Boston Common Garage
Cost: Free

Stop by the ice rink at Frog Pond on your way to Boston's Holiday Tree lighting ceremony to enjoy a free ice show of holiday performances by local and national figure skate champions as well as some of The Skating Club of Boston's most talented skaters, including synchronized skating teams.


Half-price tickets for Boston events in December 2012
- British rock singer-songwriter Graham Parker and The Rumour - Wilbur Theatre
- A Christmas Celtic Sojourn with Brian O'Donovan at Cutler Majestic Theatre
- How the Grinch Sole Christmas! The Musical at the Wang Theatre
- Duck Tours - selected dates @ Prudential Center
- Craftboston Holiday 2012 Sale @ the Boston Center for the Arts
- The Way of the World at the Boston Conservatory
- Boston Celtic vs Dallas Mavericks at the Garden - Dec 12
- Lunch, Brunch, and Dinner Cruises on The Odyssey in Boston Harbor
- ImprovAsylum's Main Stage Show - Live Improv and Sketch Comedy
- Blue Man Group, Charles Playhouse
- Nick's Comedy Stop presents top stand-up comics

Half-price tickets to top Boston concerts, shows, tours, games, and other events become available about 2 months before their scheduled date - why pay more?
Return to Top - Boston Events December
The Nutcracker Ballet at the Opera House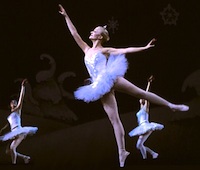 When: December 1 - December 30, matinees and evening performances almost daily (except for Sundays)
Where: Opera House, 539 Washington Street, Boston Theatre District
Ticket options:
- TicketLiquidator
for best seat choices on last-minute tickets
- Boston Ballet website
Closest T station: Green Line/Boylston
Attending a performance of The Nutcracker is a holiday tradition in Boston, and for good reason - there's nothing more magical than watching Clara, the Sugar Plum Fairy, and all the other dancers twirl around the stage as Tchaikovsky's music soar, and then walking out of Boston's gorgeous Opera House afterwards and perhaps seeing snowflakes softly falling.
Nutcracker performances continue until the day before New Year's Eve, with weekends and the period right around Christmas being the most challenging in terms of getting tickets. See Boston Event Calendar - November for full details.

Boston Concerts during December 2012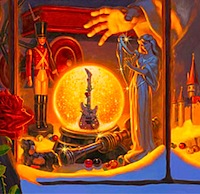 Dec 1 - Grace Potter & The Nocturnals @ House of Blues

Dec 5 - The Temptations & The Four Tops @ Wilbur Theatre
Dec 6- Kiss 108 Jingle Ball: Justin Bieber, The Wanted, Train, & Ed Sheeran @ TD Garden
Dec 8-24 - Holiday Pops - Boston Pops @ Symphony Hall
Dec 9 - Dave Matthews Band @ TD Garden
Dec 12 - Of Montreal @ Paradise Rock Club
Dec 15 - Leonard Cohen @ Wang Theatre
Dec 16-29 - Christmas Revels @ Sanders Theatre, Cambridge
Dec 23 - Trans-Siberian Orchestra: The Lost Christmas Eve @ TD Garden

Boston Concerts Performance Venues & Show Information
Wang Theatre
| TD Garden
| Bank of America Pavilion | Gillette Stadium

Boston Symphony Hall
| House of Blues
| Paradise Rock Club

Orpheum
| Wilbur Theatre
| Colonial Theatre
| Royale

Boston Opera House | Comcast Center
| Agganis Arena
More Boston Concerts in December
Photo copyright Marcus Nolf, Creative Commons license
Santa Speedo Run on Newbury Street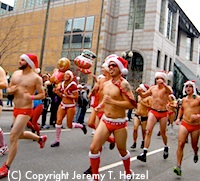 In case you need an extra incentive to do your holiday shopping in Back Bay on Saturday, December 8, the annual Santa Speedo Run may be just what you're looking for as 500 scantily-clad Santas complete a 1-mile jog to raise money for the Play Ball Foundation, which brings sports to local Boston middle-schoolers.
Runners kick off at Lir (903 Boylston) at 1pm and make their way down Boylston to Berkeley and then back up Newbury Street and back to Lir. Bring your camera!
More about Newbury Street shopping and art galleries
Speedo Santa photo courtesy of Jeremy T. Hetzel
The Velveteen Rabbit - Magical Family Theatre Event
Live actors, puppets, and original music bring to life in Boston Children's Theatre's production of this favorite children's tale about Velvet, the homely toy rabbit who fears she can never compete with the exciting live rabbits outside the nursery window.
Bring your whole family to enjoy this uplifting holiday show about the power of a child's imagination.
When: December 3 - December 18
Where: Roberts Studio Theater at Claderwood Pavilion, Boston Center for the Arts, 527 Tremont Street
Tickets: Boston Children's Theatre website
- Also check Goldstar for half-price tickets
ICA Boston Art Show Openings in December
Ragnar Kjartansson: Song, December 12- April 7, 2013 - This is the artist's first solo museum exhibition in the U.S., featuring video works and a special live performance
Mickalene Thomas, December 12- April 7, 2013 - See a fascinating exploration of the artist's motifs as you view the development and process of her work.
Where: Catch both shows at ICA Boston in the South Boston Waterfront
Admission: $15 general admission; free entrance with GoBoston Discount Card and on Thursday nights from 5pm-9pm
239th Boston Tea Party Reenactment - 2012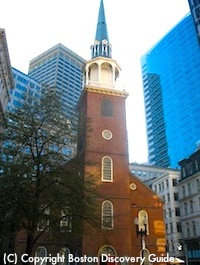 Celebrate the 239th anniversary of the Boston Tea Party - take on the role of a Patriot or a Loyalist as you reenact the famous tax protest and spark a revolution. Events take place at Old South Meeting House, where the Old South's Tea Party Players portray Patriots such as Samuel Adams, Paul Revere, and John Hancock as they recreate the events of Dec. 16, 1773, when more than 5,000 colonists gathered here to voice concerns on a moonlit night - and then headed down to Boston Harbor for their tea party.
New this year: after the debate, you'll also proceed down to Griffin's Wharf, location of the Boston Tea Party Ships & Museum, and watch as the tea is dumped into Boston Harbor.
When: Sunday, December 16, 4pm
Where: Old South Meeting House
Closest T station: Red and Orange Line/Downtown Crossing; Orange and Blue LIne/State
Parking: Use the Boston Common Garage and walk over - maybe an 8-10 minutes , or check out Boston garages near Government Center
Cost: $12 through 11/1
More information and tickets: 800-838-3006; website

Return to Top - Boston Event Calendar December
Boston Hotels Special Packages for December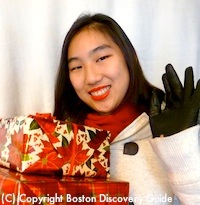 Millennium Bostonian Holiday Shopping Package - Superior Plus room overlooking Faneuil Hall Marketplace, $50 food and beverage credit at North 26, Welcome Bag and Savings Card for Faneuil Marketplace. Check Rates
Marriott Long Wharf Wicked Suite Sunday Package - Waterfront suite, custom cocktails from waterline, one dozen fresh local oysters shucked in your room, in-room movie marathon (3 films), movie munchies tray, breakfast for 2 in Waterline restaurant, late checkout complimentary parking - must use promotional code YX1 in the Corporate/Promotional box when booking. Valid through 12/31/12; requires 3 day advance booking. Reserve Now
Boston discount cards
Use Boston discount passes for free admission to Museum of Fine Arts, Boston Aquarium, Museum of Science, Fenway Park tours, and many more top attractions, cruises, museums, and tours.
GoBoston Card

60 ways to save up to 55%

On attractions, tours, cruises

CityPASS

5 top attractions in 9 days

Over 50% savings

Go Select

YOU choose your tours,

attractions, cruises - Save BIG!
North End Holiday Stroll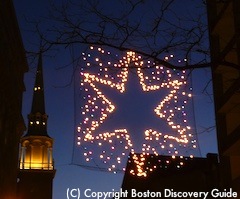 When: Friday, December 7, 7pm-11pm
Where: North End
Closest T station: Orange Line/Haymarket
Parking: Don't even think about street-side parking! Try Boston garages near Government Center

Participating North End boutiques, galleries, and studios offer warm hospitality and 1-night-only discounts during their Buon Natale Holiday Stroll.
Fairmont Battery Wharf, luxury North End hotel, offered last year (look for the same this year) a special North End Holiday Stroll Package including a complimentary room upgrade, dinner for 2 at Aragosta Bar and Bistro, 50% off your room rate for the following night if you decide to stay for an extra day, early check in, late check out, and a North End map for your shopping pleasure.
2012 Holiday Pops from Boston Pops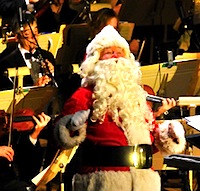 When: December 5 - 24, 2012; 37 matinee and evening performances before and after Christmas
Where: Symphony Hall, 301 Massachusetts Avenue (intersection of Mass Ave and Huntington Ave), Fenway, Boston
Closest T station: Green Line/Symphony
Tickets and more information: website

Conductor Keith Lockhart and the Boston Pops present the beloved annual Holiday Pops concerts during the mornings, afternoons, and evenings before and after Christmas featuring traditional holiday favorites.
Seven special kids matinees include a family sing-along, photo opportunities with Santa after the performance, and a special kids menu for those seated at tables.
Get in the mood by listening to A Christmas Festival
by the Boston Pops, which includes many favorites such as Winter Wonderland, White Christmas, and more.
Boston Concerts Performance Venues & Show Information
Wang Theatre
| TD Garden
| Bank of America Pavilion | Gillette Stadium

Boston Symphony Hall
| House of Blues
| Paradise Rock Club

Orpheum
| Wilbur Theatre
| Colonial Theatre
| Royale

Boston Opera House | Comcast Center
| Agganis Arena
Return to Top - Boston Event Calendar December
Blink! Boston's Newest Annual Holiday Event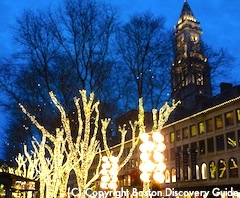 Blink! combines 350,000 flashing LED lights and music from the Boston Pops' Holiday Pops show to set Faneuil Hall Marketplace ablaze every evening through December 31.
Catch the free show, which runs 12 times between 4:30pm and 10pm, as you stroll around the country's open-air marketplace.
Faneuil Hall Marketplace is also where you'll find the largest Christmas tree in New England.



Holiday Family Activity: Gingerbread House Brunch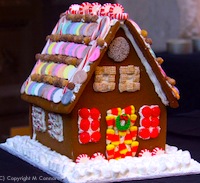 Decorate your own Gingerbread House while enjoying a holiday brunch in this special event in one of Beacon Hill's magnificent mansions, Hampshire House (home of the original Cheers). Perfect Sunday event for the whole family!
When: Sundays - December 2, 9, 16, & 23, 2012
Where: Hampshire House, 84 Beacon Street (across from the Public Garden), Boston's Beacon Hill
Public Transportation: Green Line/Arlington
Parking: Closest is Boston Common Garage
Cost: $25 per gingerbread house, plus what you spend on brunch
Reservations (a must): 617-227-9600
Boston Baroque performs Handel's Messiah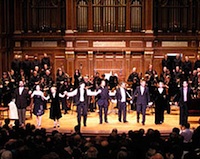 When: December 7 and 8, 7:30
Where: Jordan Hall at the New England Conservatory, 30 Gainsborough Street, Fenway neighborhood
Closest T station: Green Line E/Symphony
Tickets: $27 - $68
More information and tickets: Boston Baroque's website; check Goldstar for possible half-price tickets
Photo courtesy Boston Baroque
Musical Director Martin Pearlman's Grammy-nominated production of Handel's Messiah with soprano Mary Wilson, mezzo soprano Ann McMahon Quintero, tenor John McVeigh, and baritone Andrew Garland is a spell-binding experience.
Adding to the experience are Boston Baroque's period instruments, plus the splendor of Jordan Hall's perfect acoustics. Attending a performance of Messiah is a Boston Christmas tradition for many people, and this production is always among the very best.
Boston Baroque is also playing special New Year's Eve and First Day Concerts. More . . .
Black Nativity, 2012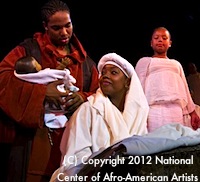 Another beloved Boston Christmas tradition is Harlem Renaissance poet Langston Hughes' gospel song-play, Black Nativity. Hughes' retelling of the original Nativity story comes to life in this marvelous production combining words, music, and dance, including traditional Christmas favorites sung in Gospel style.
From the moment when the actors walk on stage singing "Go Tell it on the Mountain" to the final scene, you'll be captivated and enthralled.
Presented by the National Center of Afro-American Artists and Roxbury Community College, this renowned holiday show features a large cast of professional singers, dancers, musicians, and actors, along with talented amateurs, children, and community dignataries. It has enchanted Bostonians and visitors from all over the world since 1970, making it the longest-running Black Nativity production in the world.
When: December 14-16, 21, 22; evenings and matinee shows
Where: Blackman Auditorium, Northeastern University, 342 Huntington Ave, Boston
Closest T station: Green Line, E/Northeastern
More information and tickets: Black Nativity's website; 617-585-6366; also check Goldstar in case half-price tickets become available
Photo courtesy National Center of Afro-American Artists
Return to Top - Boston Event Calendar December
Beacon Hill Holiday Stroll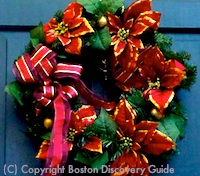 When: Thursday, December 6, 6pm-9pm
Where: Charles Street, Beacon Hill
Closest T station: Red Line/Charles-MGH
Parking: Boston Common Garage
Carolers and music, festive holiday decorations, and all the eclectic boutiques, galleries, and restaurants along Charles Street make this annual Holiday Stroll a special occasion. Enjoy the festive spirit - and get all of your holiday shopping done in one evening!
More about top places for holiday shopping in Boston
Celtics at the Garden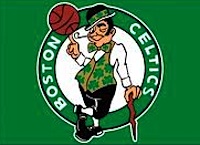 Where: TD Garden
Stay: Hotels near TD Garden
Park: Garages near TD Garden
Celebrate: Nightlife near Celtics Games

Tickets for Boston Celtics Games
With the Bruins sidelined by their endless lockout, the Celtics are the only game in town. Fortunately, Kevin Garnett, Paul Pierce, Rajon Rondo, and teammates provide plenty of excitement during home games over at the Garden.
Wednesday, December 5 vs Minnesota Timberwolves - 7:30pm
Saturday, December 8 vs Philadelphia 76ers - 7:30pm
Wednesday, December 12 vs Dallas Mavericks - 8:00pm - check Goldstar for 1/2 price tix
Wednesday, December 19 vs Cleveland Cavaliers - 7:30pm
Friday, December 21 vs Milwaukee Bucks - 7:30pm

Return to Top - Boston Event Calendar December

Christmas Celtic Sojourn 2012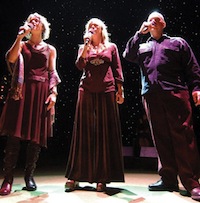 When: December 16 at 1pm and 5pm, December 20 at 8pm, December 21 at 8pm, December 22, 3pm and 8pm
Where: Cutler Majestic Theatre at Emerson College, 219 Tremont Street, Theatre District, Downtown Boston
Closest T station: Green Line/Boylston
More information: Cutler Majestic website; (617) 824-8000
Enjoy a marvelous afternoon or evening of Christmas Celtic music and dance featuring Seamus Egan with Solas, harpist Catriona McKay, fiddler Chris Stout, Alyth McCormack, Jon and Nathan Pilatske, and Cara Butler from the Chieftains, Navan, Lindsay O'Donovan, Mick McAuley, Eamonn McElholm, and many other talented performers.
Brian O'Donovan, host of classical music radio station WGBH's Celtic Sojourn program presents this popular event, now in its 10th year. In addition to the Boston performances, Christmas Celtic Sojourn also offers shows Worcester, Rockport, and Providence.
New England Patriots Schedule for December 2012
New England Patriots Home Game Schedule at Gillette Stadium for December
When: Home games on December 10, Dec 16, and Dec 30
Where: Gillette Stadium
Tickets: Check for best prices, seats, discounts
Getting there: How to get to Gillette Stadium from Boston
Stay: Hotels near Gillette Stadium
| Week | Day | Date | Time | Opponents | Stadium |
| --- | --- | --- | --- | --- | --- |
| 13 | Sunday | 12/2 | 1:00 pm | Miami Dolphins | Miami |
| 14 | Monday | 12/10 | 8:30 pm | Houston Texans | Gillette |
| 15 | Sunday | 12/16 | 8:20 pm | San Francisco 49ers | Gillette |
| 16 | Sunday | 12/23 | 1:00 pm | Jacksonville Jaguars | Jacksonville |
| 17 | Sunday | 12/30 | 1:00 pm | Miami Dolphins | Gillette |
Return to Top - Boston Event Calendar December
Christmas Revels at Harvard's Sanders Theatre 2012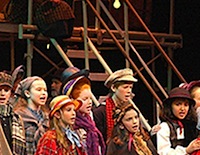 When: December 14 - 27 - matinees and evening shows
Where: Sanders Theatre in Memorial Hall, Harvard University, Cambridge, MA
Closest T station: Red Line/Harvard Square
Tickets: Revels website (tickets on sales Oct 20, noon)
Since 1971, the Christmas Revels Boston have used music and dance to explore winter solstice traditions from different cultural perspectives. The 2012 theme is "An Irish Celebration of the Winter Solstice."
2012 marks the Christmas Revels 42nd anniversary. Over 60 singers plus an Irish band featuring legendary piper Paddy Keenan, fiddler Sheila Falls Keohane, Irish Dancers, the Pinewoods Morris Men, and the Cambridge Symphonic Brass Ensemble will recreate the arrival of Irish immigrants in the U.S. a century ago, bringing with them their rich culture of poetry, dance, and music. The performance is set in aboard the deck of the R.M.S. Carpathia as the immigrants celebreate a joyous Christmas at sea.
Want to get a preview of the Revels? Listen to samples of The Christmas Revels: In Celebration of the Winter Solstice
, Sing We Now of Christmas
, and Wassail! Wassail! Early American Christmas Music
.
Boston Bruins Schedule for December 2012 - LOCKOUT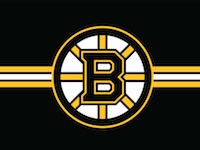 Home game location: TD Garden
Nearest T stop: North Station
Parking: Boston garages near North Station / TD Garden
Stay: Hotels near TD Garden
Celebrate: Best Boston bars near TD Garden
Show your love: Dress like a Bruin (or do your holiday shopping the easy way!)


Where's the Bruins' schedule? Well, the 2012 lockout continues, so no point in giving space to a schedule that isn't happening. . . with even the Winter Classic canceled, doesn't look good for this season.
Buy yourself a Bruins shirt, wear it everywhere, and hope they're back at the Garden in 2013.
Need more ideas about what to do in Boston in December? Check out my recommendations for best things to do in Boston in December.
Find More Fun Boston Events Year Round
Want to tell others about a Boston Event for December?
Tell us where it's being held, dates, times, cost, and who's sponsoring it. Most important, tell us why others will enjoy it.

Where to get more information about it (phone # and web address) helps others find it.

Please include your name and location on the submission form, and at least 1 photo or image to represent the event. Submissions without your name and one or more photos or images will not be accepted.
Events contributed by other visitors
Click below to see events added by other visitors to this page...

The Donkey Show New Year's Eve! The celebrated smash hit The Donkey Show, brings you the ultimate disco experience—a crazy circus of mirror balls and feathered divas, of roller skaters...
Holiday on Ice 2012 at Kendall Square in Cambridge Community Ice Skating@Kendall Square presents the 7th Annual Holiday on Ice on Saturday, December 15 2012 (rain date is Sunday, December 16). Free admission...
Christmas Day Dinner at Beacon Hill Hotel & Bistro Leave the cooking to someone else this Christmas Day and come into the Beacon Hill Hotel & Bistro on Tuesday, December 25th, 2012 from 1:00PM – 10:00PM....
New Year's Eve Party at the Beehive in Boston's South End The Beehive Celebrates A Fabulous, Glamtastic, Discothèque Burlesque, Champagne-Soaked New Year's Eve 2013 Break out the bubbly and make a resolution...
Marché de Noël Saturday, December 8 10am - 5pm Come find the perfect gifts with a French flair! Stroll through the Center, enjoy a complimentary warm glass of cider...
Craftboston Holiday 2012 Craftboston Holiday 2012 Thursday, Dec 6 6:00p to 9:00p at Cyclorama, Boston Center For The Arts, Boston, MA Craftboston Holiday is a selective display...
Boston December Event: Ceramic Cup Sale at Society for Arts and Crafts Our Cups Runneth Over at The Society of Arts and Crafts 175 Newbury Street, Boston, MA November 16, 2012- January 19, 2013 Reception: Friday November...
Beyond the 4th Wall Presents ONCE UPON A MATTRESS (JR) Beyond the 4th Wall is a Cambridge nonprofit theatre organization that coordinates musical theatre productions within the Cambridge Public School District....
Trash Talkin' Tailgate Grub with Boston Red Sox Chef Nookie Chef Nookie Cooks Up Winning Game-Day Grub at the Boston Center for Adult Education Trash talk is a part of any sporting event, and it can be fun to give,...
Turn Your Passion Into a Paycheck: Learn How to Craft Your Own Brew Peak Organic Reveals the Secrets to Successful Home Brewing at the BCAE Thirsting to learn a thing or two about the beer business? Head to the Boston...
Behind the Curtain The BCAE Heads South with a Behind the Curtain Performance of MEMPHIS The Boston Center for Adult Education (BCAE) continues its popular "Behind the Curtain"...
Boston Culinary Class Event: Brew & Chew with Slumbrew & Posto Boston Center for Adult Education's latest celebrity chef class, "Brew & Chew with Slumbrew & Posto," gives you the perfect way to get a taste of Boston...
Boston December Event: Bach Christmas Oratorio Embrace the holidays with Handel and Haydn Society's annual Bach Christmas celebration, featuring three cantatas from Bach's Christmas Oratorio. Audience...
Handel Messiah at Boston Symphony Hall For 159 years, Boston's Handel & Haydn Society has performed the magnificent Handel's Messiah at the beginning of the holiday season. For their 2012 performance,...
New Year's Eve Dinner in Salem, MA Ring in the New Year with 62 Restaurant & Wine Bar, the highly rated and award-winning restaurant located just north of Boston in Salem, Massachusetts....
Get Lucky this New Year's Eve at Zócalo Cocina Mexicana! Looking for a low-key but fun and tasty way to ring in the New Year? Zócalo Cocina Mexicana located in Boston, MA and Olé Mexican Grill located in Cambridge,...
Christmas Day Dinner Leave the cooking to someone else this Christmas Day and come into the Beacon Hill Hotel & Bistro on Sunday, December 25th, 2011 from 1:00PM – 10:00PM....
Special Boston Winter Solstice December Event Winter Solstice Celebration in Legend and Song Come celebrate the winter solstice in one of Boston's most gorgeous historic homes, the Loring-Greenough...
Boston Holiday Tour: A Very Merry Night on Beacon Hill Boston Center for Adult Education's special Beacon Hill holiday walking tour has it all! First, the tour guide will take you to see all the festive...
Smolak Farms Gingerbread House Workshop Gingerbread houses must be one of the coolest pleasures of the holiday season - but if you've ever tried to make one, you may know that it's harder than...
Christmas Tree Pull with the Newfoundland Dog Club of New England at Smolak Farms! Want to combine some old-fashioned holiday fun with a great excuse to see some of the New England countryside north of Boston while getting your fresh...
Boston Event - Science Ink: Tattoos of the Science-Obsessed You'll have the opportunity to find out everything you ever wanted to know - and then some - about tattoos when bestselling local author Carl Zimmer discusses...
Like this Page? Please Share!
Boston Event Calendar for December 2012
Boston Tourism and Discovery Guide > Boston Events > Boston Events in December