Quincy Market / Faneuil Hall Marketplace
Best shopping in Boston's historic downtown
Outdoor shopping next to national-brand stores in Quincy Market
Quincy Market - also called Faneuil Hall Marketplace - offers 100+ stores, artisan pushcarts, restaurants, and pubs right on Boston's famed Freedom Trail.
More specifically, Quincy Market is actually the name of one of the four historic buildings making up the Marketplace.
Others include Faneuil Hall where the Boston Tea Party rebellion against British Taxation began, North Market, and South Market.
An appealing jumble of local shops, international brands, street performers, and food stalls spill out onto the cobblestone plaza where merchants and shoppers have come together for almost four centuries.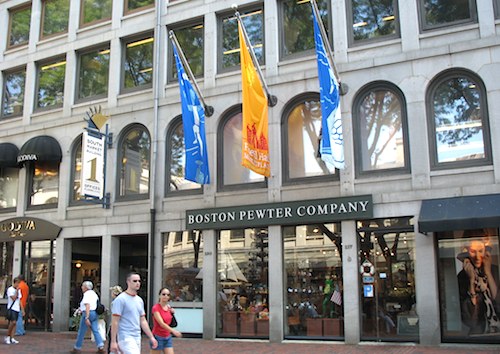 Nearby you'll find several of the city's oldest taverns, historic restaurants, and
Haymarket
, Boston's oldest outdoor produce market, plus the haunting glass towers of
Boston's Holocaust Memorial
. Many popular
Boston nightlife
spots also also cluster here.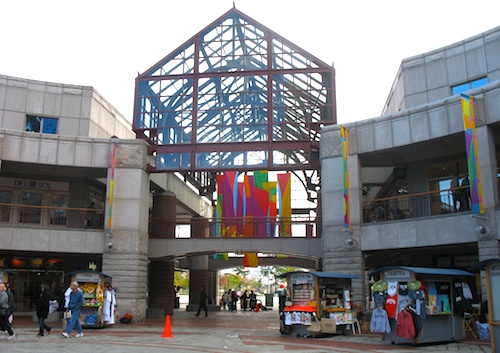 Photo taken within Faneuil Hall Marketplace, looking east toward Boston Harbor
If you're visiting Boston, Quincy Market / Faneuil Hall Marketplace tops many lists of top attractions due to its mix of shopping, dining, nightlife, and entertainment.
Not only will you find lots to see and do here, but you'll also have the experience of being in one of the oldest, most historic parts of the city - you'll literally be following the footsteps of the Puritans as they walked to market.
Outdoor dining at Ned Devine's, Irish pub in Quincy Market
More Fun Ways to See Boston
Faneuil Marketplace Shopping
So what exactly will you discover here?
First, unlike typical shopping malls that contain a bunch a stores and eateries grouped together under one roof, you'll find 4 separate buildings: Quincy Market (in addition to being the colloquial name of this shopping complex, "Quincy Market" is also the name of one of the buildings, now a magnificent food hall - more on that in a moment!), Faneuil Hall, North Market, and South Market.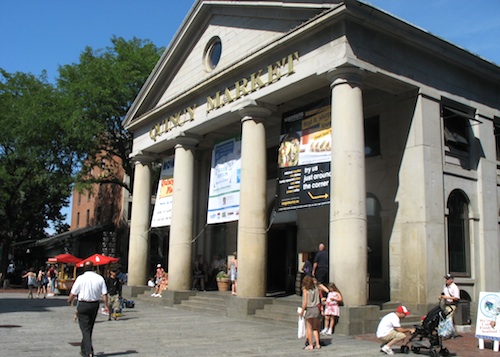 Quincy Market, one of 4 buildings - all original - in the Faneuil Hall Marketplace
But that's not all. You'll also find free-standing restaurants, kiosks, a large greenhouse, and indoor and outdoor pushcarts. Linking part of this together and providing a dramatic harbor-facing entrance is Marketplace Center, with additional office and retail space.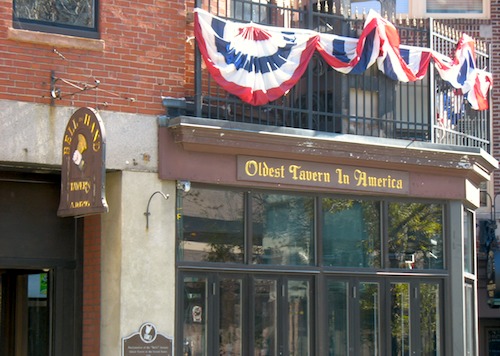 The Bell in Hand, around the corner from Quincy Market
Also, keep in mind that the Quincy Market shops are right in the middle of one of Boston's oldest and most historic areas. Along nearby lanes and alleys with names like Merchants Row, Salt Lane, and Marsh Square, you'll find
more small shops.
Along and near the somewhat larger Union, North, and Blackstone Streets, you'll find
even more businesses, taverns, and eateries.
Stores within the central market complex include an interesting mix of up-scale favorites that you'd find in any typical shopping mall, such as Ann Taylor, Urban Outfitters, Orvis, Coach, Gap, Victoria's Secret, Build-A-Bear, Nine West, Crate & Barrel, and Crabtree & Evelyn.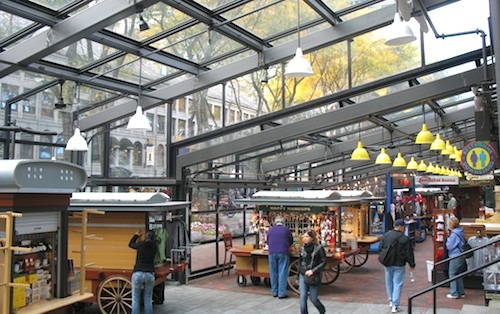 Pushcarts in atrium space in the South Market building
But you'll also find a few not-so-typical national brands here as well - Harley Davidson stands out.
Most of the stores and pushcarts are in the North Market and South Market buildings, although you'll also find some shops on the first floor of Faneuil Hall as well as along the nearby streets.
Faneuil Hall Marketplace attracts large numbers of tourists, although you'll find even larger numbers of locals these days.
For this reason, you'll find lots of Boston- and New England-oriented stores that you don't necessarily see elsewhere, such as Best of Boston, Boston Pewter Company, Local Charm, Local Collection, and the Yankee Candle Company.
Definitely worth checking out as well are branches of a couple local museum shops: Boston's Museum of Fine Arts and the Bostonian Society Museum Shop.
What makes Quincy Market really unique are the 40+ pushcarts, echoes of the market's Colonial past. These offer an interesting mix of Boston logo items, campus gear for local colleges, local artisan crafts, and other unique products.
Faneuil Hall Marketplace's Street Performers
From late spring through early fall, Faneuil Hall Marketplace's top-notch street performers, called "buskers," entertain and delight onlookers.
Performer on ladder in front of flag entertains crowd in front of Quincy Market
An annual 3-day "Street Performers Festival" throughout the Memorial Day holiday weekend kicks off the season as jugglers, clowns, puppeteers, musicians, mimes, and comics provide non-stop entertainment.
However, you'll also see the talented performers at various spots in the marketplace throughout the summer, weather permitting.
Where to dine and drink in Faneuil Hall Marketplace
In keeping with the spirit of the old days, you'll find plenty of places to eat and drink in and near the Quincy Market complex.
Within the Quincy Market building, you'll find an amazing food hall - a long row of mouth-watering food stalls offering many different popular options - Italian, Greek, seafood, Mexican, fresh fruit, pastries, Asian.
Inside the Food Hall
All of the food tends to be freshly prepared, high-quality, and delicious -
much better
, in my opinion, than what you'd normally find in a typical shopping mall food court.
I always have to fight the temptation - well, sometimes I don't fight that hard - to gather fixings for a feast as I walk by . . . a cup of New England clam chowder from Boston Chowda, a perfect slice of thin-crust cheese pizza from Regina Pizzeria, a fruit kabob, some shrimp from Boston and Maine Fish Company, souvlaki from Mykonos Fair, perhaps a chocolate cannoli from North End Pastries . . . and that's just a small fraction of the yummy possibilities.
Italian pastries in the Food Hall in Quincy Market
But with almost 20 restaurants within the Marketplace and even more along nearby streets, you don't want to be too hasty in your dining decisions before you've considered all the possibilities.
Fancy some seafood? You can choose from KingFish Hall, national chain McCormick & Schmick's, or patio dining at Salty Dog Seafood Grill & Bar.
Want to try some local specialties at some of the city's - and the nation's - oldest restaurants? Durgin Park Restaurant is close at hand, and Oyster Union House is right around the corner (41 Union Street - just follow their sign and you'll find them easily).
Outdoor diners at Cheers in Faneuil Hall Marketplace
"Cheers" (the television show) fans can stop by for a drink in an exact replica of the bar on the TV show, have a meal at Sam's Cafe at Cheers, or dine outside the popular pub. Cheers also features live comedy on Friday and Saturday nights.
Or hang out at the nearby historic taverns, The Bell in Hand (45 Union Street) and the Green Dragon Tavern (11 Marshall Street), sometimes called the "headquarters of the American Revolution" due to its popularity with Sam Adams and other Sons of Liberty.
Kids (and grownups) love the food at Sluggers Dugout and the desserts at Boston Chipyard. Another favorite with all ages is Wagamama, the Japanese noodle restaurant.
Why Is Quincy Market historical?
Almost from Boston's very beginning of in 1630, buyers and sellers have come together in the area where Quincy Market is located. After Faneuil Hall was built and donated to the city in 1742, other market buildings, warehouses, and shops began popping up in the same vicinity.
The waterfront and docks used to all the way up to where Faneuil Hall is now located, and farmers, traders, merchants, and citizens congregated here to do business, load and unload ships, socialize, drink, and eat.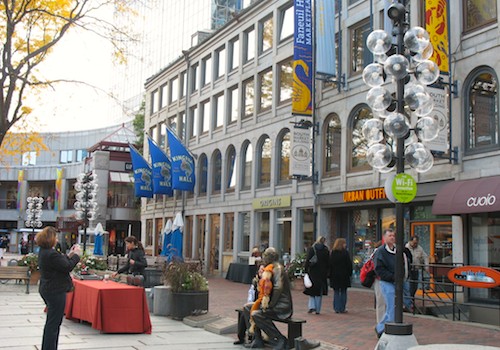 By the 1820s, Mayor Josiah Quincy decreed that the city had outgrown Faneuil Hall and the surrounding buildings. Amid considerable opposition, he had inlets filled to create lots of additional land, docks moved, seven new and almost-new streets laid, and a splendid 2-story gray granite market building modeled on London's Covent Gardens erected.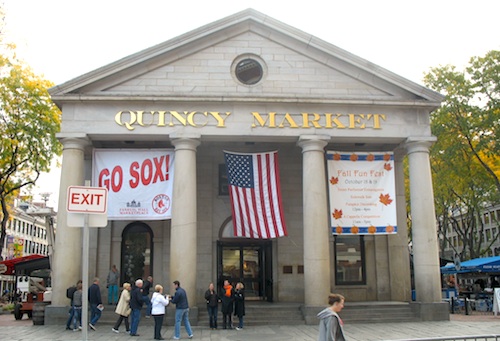 The Greek Revival building, with 22-foot Doric columns weighing 15 tons each, opened in 1826 and became known as Quincy Market (locals pronounce it "qwin-zee", to rhyme with "twin-z"). Meat and produce vendor stalls lined the halls of the building - similar to what you see today, except now most of the food is cooked and ready to eat and enjoy.
By the early 1970s, Quincy Market, Faneuil Hall, and many of the buildings around them were mostly empty and falling into ruin. The old restaurants and taverns remained open and vendors still sold produce at Haymarket, but much of the vitality had drained out of the area after the old West End was razed and replaced by government buildings and high-rise condos in the 1950s and '60s.
To make matters worse, an elevated highway erected in the 1950s, the Central Artery, not only cut off the area (and the rest of the city) from the North End, but even worse, the highway towered over it, spewing noise and pollution.
Fortunately, for the future of Quincy Market, three significant things happened:
When Boston's Freedom Trail was established in the late 1950s, it included Faneuil Hall along with other nearby sites - thus luring tourists and locals to this part of the city.
Kevin White, Mayor of Boston from 1968 to 1984, decided to revitalize the Faneuil Hall/Quincy Market area, and hired visionary developer James Rouse, sometimes called "the man who made cities fun again." Faneuil Hall Marketplace (the official name, although you'll hear "Quincy Market" more frequently, maybe because it's easier to pronounce and spell) was the first of Rouse's hugely successful "festival marketplaces."
Boston's infamous "Big Dig" project removed the Central Artery in 2006, and this area became pleasant once again.
View of Faneuil Hall Marketplace entrance, photographed from the Greenway
Today, you can see the grand entrance to Faneuil Hall Marketplace from the waterfront, walk to it across the beautiful
Rose Kennedy Greenway
from the
North End,
and enjoy the Marketplace - without the roar or smell of nearby traffic. If you haven't been to Quincy Market since the Central Artery was removed, you must come again soon and see the difference for yourself - it is stunning.
Quincy Market is now more popular than ever with Boston locals as well as tourists. Along with Fenway Park and the rest of the Freedom Trail, it's one of Boston's top 3 visitor attractions. Whether you live here or are just visiting, you'll find a lot to enjoy in this festive part of the city.
Essentials: Quincy Market
Location: At the edge of Boston's Government Center / West End neighborhood, adjacent to the Financial District, and across from the North End and Historic Downtown Boston; the Marketplace Center entrance is on Congress Street, but you can access the area from all sides
Hours: Most shops are open Monday - Saturday from 10am-9pm, and Sunday from noon - 6pm; many of the Quincy Market Food Hall stalls as well as the restaurants remain open later, as do many of the restaurants and taverns in the surrounding neighborhood.
Nearest T station: Blue Line/Aquarium; Blue and Orange Lines/State
For more information: 617-523-1300; website
Questions about Quincy Market/Faneuil Hall Marketplace?
Have a question about Boston's Quincy Hall / Faneuil Hall Marketplace? Ask, and I'll do my best to answer.

First, though, check out what others have asked - I might have already answered the same question for someone else.

When asking your question, please fill out the whole form, including lines for name and location that say "optional."

After you send your question, you'll see a page that thanks you and asks you to set notification options. I highly recommend that you check the first 2 boxes so you'll be notified when I reply - otherwise, you'll have no way of knowing other than checking the website periodically. When you see my reply, please let me know if it was helpful!

Thanks for getting in touch, and enjoy your visit to Boston!

Susan

Questions from Others about Quincy Market/Faneuil Marketplace?
Here's what others have asked:

Smoothies and other fresh fruit specialites in the Food Hall in Quincy Market
Like this Page? Please Share!
More Places to Shop in Boston
Boston Discovery Guide > Shopping > Malls > Quincy Market