Boston Event Calendar -
March 2015
Best celebrations, parades, festivals, fun!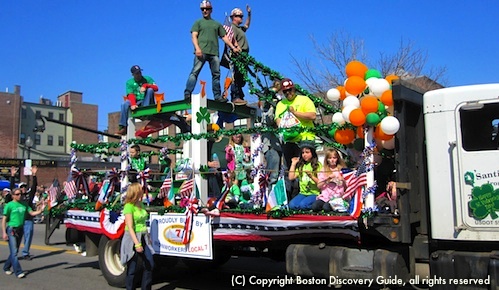 Boston's famous St Patrick's Day parade - top March Event
March is a wonderful time to visit Boston! Expect to feel the first hints of spring - and perhaps enjoy the return of warm weather.
Lots of fun activities pack the Boston Event Calendar for March 2015, so you'll find lots to do and see.
Our famous Saint Patrick's Day Parade draws huge crowds of spectators - but there's a lot more.
Dine Out Boston, the Flower and Garden Show, and the Boston Massacre reenactment ...
Plus awesome concerts by the Dropkick Murphys at House of Blues and TD Garden, Celtic Woman, Romeo Santos, and many more top performers.
And don't forget the Underground Film Fest and Big Apple Circus. So take a look at the event calendar for March, make your hotel reservations, and come enjoy Boston!
Add your own event to the Boston Event Calendar for March 2015
St Patrick's Day Parade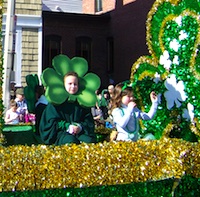 Boston's famous St Patrick's Day Parade takes place in South Boston ("Southie"), and starts at the Broadway T station on the Red Line. NOTE: The parade route is altered for 2015 due to the massive snow banks. From the T station, paraders will march down Broadway and finish at Farragut Road. Volunteers are clearing the snow from the route, so you should find plenty of good viewing spots along Broadway. Don't forget to wear green and bring a camera!
When: Sunday, March 15, 1pm - lasts about 3 hours
Closest T station: Red Line/Broadway
More about the St Patrick's Day Parade plus tips for getting there
More about other St Patrick's Day events
See our recommendations for the most convenient places to stay - especially if you're also catching the Dropkick Murphy's concert
Boston Flower and Garden Show 2015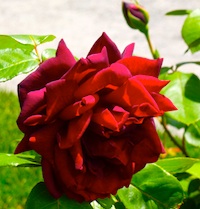 When: March 11 - 15 (10am-8pm on March 11-12; 10am-9pm on March 13-14; 10am-6pm on March 16)
Where: Seaport World Trade Center, South Boston Waterfront
Cost: $20 Adults, $17 Seniors (65+), $10 Children 6 - 17; Children 5 and younger are free

More about the Boston Flower and Garden Show
Dream about spring as you gaze at the lush gardens and gorgeous floral displays at the Boston Flower and Garden Show at the Seaport World Trade Center. This year's special theme is "Season of Enchantment," and you'll find lots of inspiration and tips in each of the 25+ display gardens. The weather outside may not be balmy, but all the displays of horticultural tools and products, garden furniture and ornaments, and hand-made crafts will make warm temperatures seem a little bit closer.
Where to stay nearby:
Return to top - Boston Event Calendar for March
More Boston Flower and Garden Events
Lady of the Camellias at the Opera House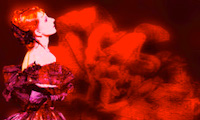 Boston Opera House, 246 Tremont Street - Through March 8
Follow the story of Armand, a poor young artist who finds his true love with someone he can never be with and feel his love, pain, and yearning as he attempts to run away with his forbidden love, the Lady of the Camellias. This magnificent ballet will bring you to a deeper understanding of love and desire.
More Boston Theater and Shows March 2015
Tickets:
TicketLiquidator
| AceTicket
| Goldstar - half-price tix


Boston Luxury Hotel March Special Deals 2015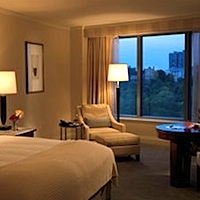 Boston luxury hotels rates are still seasonally lower in March than they will be in a couple of months - so pamper yourself with the best while getting a bargain.
- Ritz-Carlton Boston Common - The "Comfort You" special package gives you a $100 credit per stay when you stay 2 nights in a deluxe room, and $200 credit per stay when you stay 3 nights...move up to a suite, and get $200 for 2 nights and $400 for 3 nights. Rates start at $355 USD per night. Compare other discount rates
- Fifteen Beacon - Through March 19, the Winter Wishes Special lets you stay 2 nights for 10% off per night and 3 nights for 15% off, with rates staring at $295; or choose the Romance on the Hill Package where you'll get early check in (based on availability), a half bottle of Veuve Clicquot Champmagne, chocolate covered strawberries, and a late check out at 2 pm. Rates start at $495. Compare other discount rates and get reviews
- Eliot Hotel - Through March 31, the Winter in the City package includes a night in a suite, free overnight valet parking, and complementary buffet breakfast for two in Clio; available through March 31st. Rates start at $279. Compare other discount rates
Boston discount passes for attractions, tours, cruises
GoBoston Card

51 ways to save up to 55%

On attractions, tours, cruises

CityPASS

5 top attractions in 9 days

47% savings
Dropkick Murphys at House of Blues 2015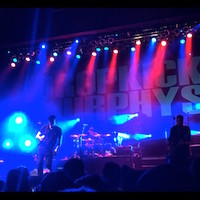 When: March 12-15 - House of Blues Boston
See Boston's favorite Celtic punk rock group, the Dropkick Murphys play their iconic favorites at House of Blues to celebrate St Patrick's Day in their home town.
Their shows here usually sell out way in advance - maybe because their "Shipping Up To Boston" song is practically a city anthem, or because their hit "Tessie" will forever be associated with the Red Sox and the World Series in 2004, or maybe because you never know what other groups they'll share the stage with - Aerosmith? Springsteen?
Get your Dropkick Murphys tickets now!!!
Half-price tickets for Boston events in March 2015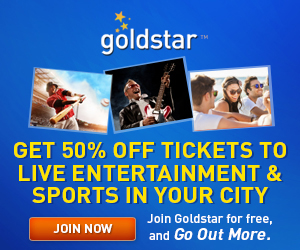 Find discount & half-price Boston Theatre tickets for March
- Blue Man Group @ Charles Playhouse - Ongoing
- Back Bay Chocolate Tour - Boston's Back Bay neighborhood
- Hot Chocolat walking tour - South End, Back Bay, Boston Common, Public Garden
- Boston Celtics basketball at TD Garden
- Huzzah! Tavern Nights at the Boston Tea Party Museum
- Odyssey Cruises - Brunch, Lunch, Dinner on Boston Harbor
- Mainstage Show - Improv Asylum- Harlem Globetrotters @ TD Garden
- Beginning Trapeze Lessons at the Trapeze School NY-Boston
- The Donkey Show- Oberon, Cambridge
- Boston Chocolate Workshop at Elephant & Castle Pub
- Comedian Josh Wolf at Laugh Boston
- Acoustica Electronica: Dance Party Show at the Oberon in Cambridge
- Alvin Ailey at the Wang Theatre
- Nick's Comedy Stop - Boston Theatre District
- Golden Dragon Acrobats @ Cutler Majestic Theatre with Cirque Ziva

Find even more half-price events!
Return to top - Boston Event Calendar for March
A St Patrick's Day Celtic Sojourn - 2015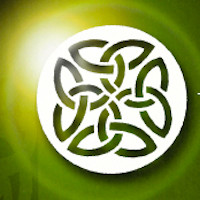 If you're a fan of Brian O'Donovan's Celtic Sojourn program on Boston's WGBH radio or his Celtic Sojourn Christmas celebration, you'll want to be sure to get to his celebration of Irish and Celtic music, dance, and storytelling in A St. Patrick's Day Celtic Sojourn at Sanders Theatre in Cambridge.
When: March 14-15, Sanders Theatre
Ticket information: 1-617-496-2222
Check Goldstar for discount tickets
More St Patrick's Day concerts


More Boston Concerts & Shows - March 2015
Wang Theatre
| TD Garden
| Blue Hills Bank Pavilion | Gillette Stadium

Boston Symphony Hall
| House of Blues
| Paradise Rock Club

Orpheum
| Wilbur Theatre
| Colonial Theatre
| Royale

Boston Opera House | Comcast Center
| Agganis Arena
Find more Boston concerts for March & other months
Winter 2015 Dine Out Boston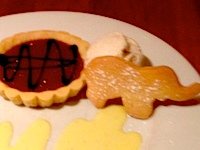 When: March 1 - 6 and March 8 - 13
Where: Top Boston restaurants - many choices in every neighborhood!
Cost: $15, $20, $25 - depends of the restaurant you choose (prices to be confirmed)
Twice each year, you can enjoy fine dining at very affordable prices at the best Boston restaurants. Sample the latest "hot" restaurants where normally you'd pay much more, visit old favorites, and explore a few places you've never tried before.
Check Dine Out Boston for participating restaurants and other information. And don't forget to check tips for getting the most value out of Dine Out Week!
Boston Underground Film Festival - 2015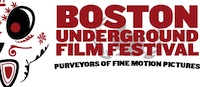 When: March 25-29, 2015
Where: Brattle Theatre, Harvard Square, Cambridge
Closest T station: Red Line/Harvard
More information: website
The Boston Underground Film Festival screens independent, provocative, and experimental films and videos that deliberately push the envelope in style, content, and form.
What can you expect to see? An exciting mixture of experimental feature films, music videos, animations, documentaries, and shorts that celebrate and embrace the controversial, the confrontational, the political, and the alternative visions of their makers and their audiences.
If you're coming specifically for the festival, here are several hotels convenient to Harvard Square to consider:

Find more Boston film festivals
Return to top - Boston Event Calendar for March 2015
St Patrick's Day 5K Race in Southie - 2015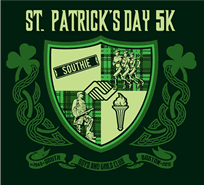 Just a couple of hours before the big St Patrick's Day Parade starts on Sunday, March 15th, the St Patrick's Day 5K Road Race kicks off at 11am from the South Boston Boys and Girls Club at 230 West 6th Street.
Head over to cheer on the 1,750 runners, who are carrying on a long tradition - this race first started back in 1945. You can identify the first 600 entrants by their official long-sleeved race shirts designed by one of the race's most famous sponsors, the Dropkick Murphys, Celtic punk rock group with Southie origins.
Sponsorship money and donations raised by the marathon racers goes to support South Boston youth programs. More details and registration at the South Boston Boys and Girls Club website.
Photo courtesy of South Boston Boys and Girls Club
Free tour of Symphony Hall - 2015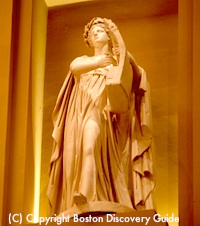 When: Select Wednesdays at 4pm and Saturdays at 2pm during Symphony Season (October - late April) - dates for March include March 4, 7, 18, and 28, but call 617-638-9390 to confirm and to make reservations
Where: Symphony Hall, Massachusetts Avenue Lobby, Fenway
Cost: Free - but you need to RSVP
More information: Boston Symphony Orchestra website
Musicians and engineers consider Boston's Symphony Hall to be the most acoustically perfect concert space in the United States. It is also gorgeous. Join BSO volunteers on a behind-the-scenes tour of Symphony Hall and hear about the hall as well as the history and traditions of the famed BSO's musicians and conductors.
Return to top - Boston Event Calendar for March 2015
More Fun Boston Tours
Boston 2015 Whale Watching Season Begins!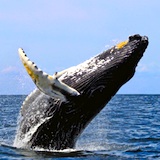 Boston whale watching cruises start on March 28th!
These 3-4 hours excursions take you through Boston Harbor and out to Stellwagen Bank, a protected marine area about 25 miles east of the city. Marine biologists or naturalists serve as guides to make sure you don't miss a thing.
Be sure to bring your camera!
Get your whale watch tickets and reservations
More about Boston whale watching cruises


Big Apple Circus 2015: Metamorphosis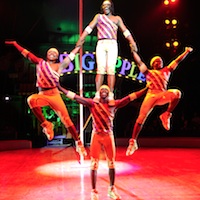 When: March 24 - May 10
Where: City Hall Plaza
Closest T station: Green and Blue Lines/Government Center
If you drive: Nearby parking garages
Tickets: $25 - $100; 800-922-3772
Get ready for excitement under the big top when the Big Apple Circus sets up its tents on City Hall Plaza for an all-new show featuring talented performers from around the world. With a ringmistress, jugglers, horses, trapeze artists, dogs, clowns, and live music from the Big Apple Circus Band, the show packs in plenty of laughs and thrills for your whole family.
Check Goldstar for half-price tickets
Jesse Cook - "Nuevo Flamenco" Guitarist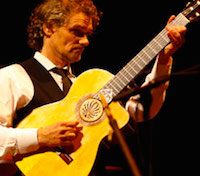 Highly regarded guitarist Jesse Cook performs at the Wilbur Theatre in Boston's Theatre District on March 11 and 12 at 7:30pm.
Cook is considered one of the most influential figures in "nuevo flamenco" music, which brings together many world music influences including flamenco rumba and jazz.
Closer to the concert dates, you can also check Goldstar for half-price tickets
First Fridays at MFA 2015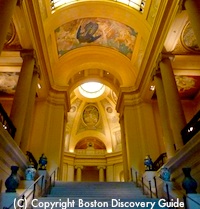 Art, live music (usually jazz), and a cash bar featuring signature cocktails, wine, and tapas provide the perfect setting for meeting up with friends (and making new ones), relaxing, and enjoying the MFA's elegant ambiance. Part social event, part opportunity to enjoy the Museum and the art within it.
When: March 6, 6:00 - 9:30pm (and also the first Friday of most months)
Where: Museum of Fine Arts, 465 Huntington Ave, Boston's Fenway neighborhood
Nearest T station: Green Line/Museum
Cost: Tickets required; get free ticket with museum admission ($25)
Must be: 21+
Boston Insider's Tip: Arrive early to get your ticket - they do fill up
Boston Celtics and Boston Bruins at the Garden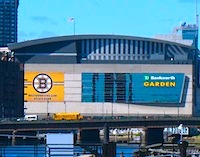 March marks the last full month to catch a Bruins or Celtics game during this season as they wrap up in April.
Home games at TD Garden are scheduled for almost every day in March.
Bruins Schedule & Tickets
Thursday, March 5 vs Flames - 7:00pm
Saturday March 7 vs Flyers - 1:00pm
Sunday, March 8 vs Red Wings- 7:30pm
Thursday, March 12 vs Lightening - 7:00pm
Tuesday, March 18 vs Sabres - 7:00pm
Thursday, March 26 vs Ducks - 7:00pm
Saturday, March 28 vs Rangers - 1:00pm
Tuesday, March 31 vs Panthers - 7:00pm
Celtics Schedule & Tickets
Sunday, March 1 vs Golden State Warriors - 6:00pm
Wednesday, March 4 vs Utah Jazz- 7:30pm
Wednesday, March 11 vs Memphis Grizzlies- 7:30pm
Friday, March 13 vs Orlando Magic - 7:00pm
Monday, March 16 vs Philadelphia 76ers - 7:30pm
Sunday, March 22 vs Detroit Pistons - 6:00pm
Wednesday, March 25 vs Miami Heat - 7:30pm
Monday, March 29 vs LA Clippers - 7:00pm

More useful information:
Harpoon St Patrick's Festival
Celebrate St Patrick's Day a little early with corned beef and cabbage, live music by Irish and rock bands from the Boston area, and of course, Harpoon beer and Harpoon Celtic Red. More information: St Patricks Day Events
When: Friday, March 6, 5:30-11pm and Saturday, March 7, 1pm-9pm
Where: Harpoon Brewery, 306 Northern Ave, South Boston Waterfront
Nearest T station: Red Line/South Station; take Silver Line 2 or 3 and get off at Harbor Street, or take the free shuttle from South Station - look for shuttle signs behind the station. Note: there is no parking at the brewery for the festival
Cover charge: $20; bring a designated driver or stay over in one of the nearby South Boston Waterfront hotels)
Important to know: Tickets are not sold in advance, and capacity is limited - so arrive early!
Age: 21+
More information: Harpoon Brewery website - click on "Festivals"
Boston Massacre Reenactment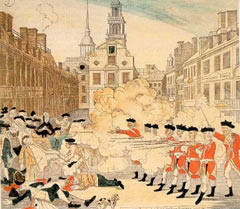 When: March 7, 2015; Massacre re-enactment at 7pm
Where: Old State House Museum, 206 Washington St, Boston; outdoor re-enactments take place in front of the Old State House at the corner of State and Congress Streets
Closest T station: Orange and Blue Lines/State Street
Tickets: Required only for inside events due to space limits inside the museum; free with Museum admission but you should get them as early as possible to avoid disappointment. Outdoor events take place in front of the Old State House and do not require tickets.
More information: 617-720-1713
Find out more about what really happened at the Boston Massacre - and where to find the almost-hidden site
Return to top - Boston Event Calendar for March
Boston Irish Film Festival - 2015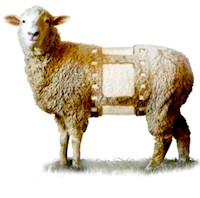 When: March 19-22
Where: Somerville Theatre at Davis Square
Closest T stations: Red Line/Davis Square (Somerville Theatre)
Cost: $10 per film or a Festival Pass for $50 (to be verified for 2015)
Reservations/more information: Film Festival website
March is the month for all things Irish, and this 4-day Boston Irish Film Festival will make you think you're back in the Emerald Isle. Films focus on Ireland and Irish culture, and what it means to be Irish in the 21st century. More than 3,000 fans attend this popular film series.
Films showcase feature the very best of contemporary Irish cinema - about 30 premiers, features, shorts, and documentaries in all, with a focus on productions unlikely to otherwise be shown in the U.S.
Coming to Boston specifically for the Festival? Harvard Square hotels are the closest - walk or take the Red Line of the T to Davis Square. Two hotels close to the Harvard Square T stop to consider:

Find more Boston film festivals
Return to top - Boston Event Calendar for March

Chinese New Year Events - Lion Dance Parade & Chinatown Main Street Cultural Village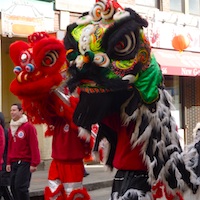 When: Sunday, March 1, 2015; parade usually starts around 11am, although sometimes speeches take place first and the parade kicks off after they finish and usually lasts about 2 hours; Cultural Village runs from 12 noon to 3pm
Where: Beach Street and other nearby streets in Chinatown, Boston; Cultural Village takes place at the the China Trade Building at the corner of Boylston and Washington Streets
Closest T station: Orange Line/Chinatown (or walk over from any Downtown Boston T station
Cost: Free
Chinese New Year for 2015 officially starts on February 19 to welcome the Year of the Goat. One of the most popular Chinese New Year activities in Boston is the huge Chinese New Year Parade in Chinatown featuring Lion Dances, drums, and firecrackers - truly an awesome event!
Chinatown Main Street Cultural Village features free fun activities - calligraphy, dough characters, origami, balloons, and more!
More information about the CNY Parade - plus photos
Where to go for Dim Sum after the parade
Quick Links to other Boston events calendars: February l April l Other Months
Continuing during March in Boston
Boston Wine Festival at Meritage Restaurant
Noon Concerts at King's Chapel on the Freedom Trail
Looking ahead to April . . .
Like this Page? Please Share!
March Events Posted by Others - Or Post Your Own
In addition to the March events described on this page, many other interesting events take place in and around Boston.
We hear about lots of these events directly from other visitors to Boston Discovery Guide, or from the event organizers. Find a list of these events
Do you know about an event for March that other might enjoy? Tell us about it here
Or, if your event is for another month (not March), tell us about it here
Return to Top - Boston Events Calendar for March
Top Boston Events Each Month!
Boston Discovery Guide > Events > Event Calendar for March