We are only afforded about 8 hours before our flight leaves back to the UK and want to see the best of Boston. We have to store our luggage too which is a pain, but what can you recommend for us to be the easiest and cheapest way to see and get about Boston.
Thanks,
Sarah
Top photo: Hop-on hop-off bus in Boston, (c) Boston Discovery Guide
Boston Discovery Guide is a reader-supported publication. When you buy through our links, we may earn a commission at no additional cost for you. Learn more
---

Dear Sarah,
I am happy to suggest three 1-day itineraries that give you terrific ways to see Boston's top attractions. Each one gives you a different type of experience, so you can chose the one that suits your interests the best.
You can easily do each one in less than 8 hours, which gives you plenty of time to get to Boston from the airport (and back at the end of the day), store your luggage, and even have time for a quick lunch.
You'll see Boston's top attractions, beautiful historic neighborhoods, and iconic historic sites.
You'll even get a short sightseeing cruise of Boston Harbor on a water taxi.
As a bonus, these itineraries allow you to securely and easily store your luggage for free along the way.
Hope this helps! Have a wonderful time in Boston!

Publisher, BostonDiscoveryGuide.com
How to See the Best of Boston in 8 Hours
Storing Your Luggage (& Getting into the City)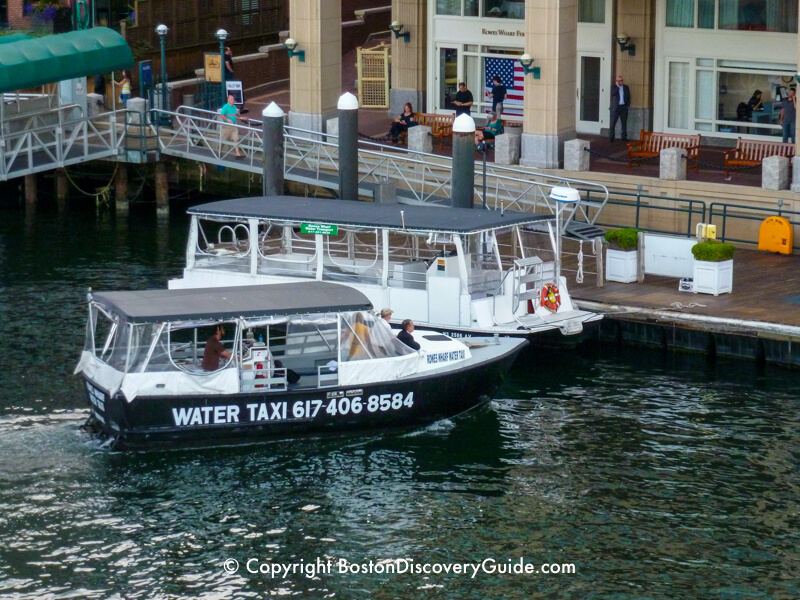 From Logan Airport, you'll take a water taxi to get to the downtown Boston waterfront - you'll be there in about 8 minutes or less. When you get to the water taxi dock at the airport (just follow the signs), tell the dispatcher that you want the Rowes Wharf water taxi.
Once you get off the boat, you'll see the Rowes Wharf Water Taxi office right in front of you. As part of their round-trip Airport Package (currently $35), they provide luggage storage for their passengers in their locked storage room next to the office - so stashing your bags couldn't be easier!
Now, you're ready to begin your Boston adventure.
8-Hour Boston Sightseeing Itineraries
These 8-hour itinerary assumes this is your first visit to Boston. It gives you a great introduction to the city, and in 8 hours, you can pack in a lot of sightseeing.
To make the best use of your time, I'm suggesting attractions that will keep you close to the waterfront, which includes many of the oldest and most historic parts of the city.
Here are three options for itineraries:
1. Hop-On Hop-Off Sightseeing Trolley
Boston's Hop-On-Hop-Off sightseeing trolleys give you a fantastic way to get a great overview of the city as they circle past the where you are and what you're seeing. Stay on for a complete circuit - or get off at any point to explore, and then get back on. To save time, you can get a ticket online before you arrive.
If you want to see even more of Boston from a different perspective, there is a 90-minute sightseeing cruise of Boston Harbor that takes you past a lot of historic sites such as the USS Constitution ("Old Ironsides") Navy warships as well as the Boston Harbor Islands and at least one lighthouse. On-board guides describe what you're seeing and also include a lot of American history, including bits about the Revolutionary War. You can get tickets online.
2. Whale Watching Cruise, New England Aquarium, & Faneuil Marketplace
For a different type of sightseeing experience, you might consider a whale watching cruise. They are the most popular visitor attraction and a fantastic experience lasting a total of about 3.5 hours.
Your boat - a high-speed catamaran - takes you offshore where you can see whales, dolphins, and other marine life up close in their natural habitat, and along the way, you'll see the Boston Harbor Islands and a lighthouse or two along the way.
Professional researches on board will describe what you're seeing and answer questions. Find out more and get tickets
Want to see more local marine life? The New England Aquarium is next to the wharf where you'll depart for the whale watching cruise - so make a visit there before or after the cruise. Get a skip-the-line ticket before you go because the lines can be long and slow-moving.
Alternately, walk across the Rose Kennedy Greenway (the park you'll see near the wharf and the Aquarium) to Faneuil Marketplace for lunch and shopping.
3. Boston's Freedom Trail
The 16 or so historic sites along Boston's Freedom Trail include an interesting assortment of attractions in city's oldest neighborhoods - which happen to also be among the most vibrant modern areas where you'll find lots of excellent restaurants, shops, and parks.
You can join one of the popular guided walking tours (this one is inexpensive and popular).
Alternately, you can also walk along it at your own pace - pick up a free Freedom Trail map at the Tourist Information Center on Boston Common - ask for one at the customer service desk, as the maps prominently displayed in the racks cost money - the free ones give you everything you need to know.
Getting Back to Logan Airport
Once your time in Boston is up, just head back to Rowes Wharf, get your luggage, and ask the person at the customer service desk to call for a water taxi (in there's not already one on the way back to the dock) to take you back to Logan Airport.
---
Need a Boston Hotel or Apartment?
Use this handy map from Booking.com to find the perfect place to stay. Just enter your dates to find what's available, see the best rates, and make your reservations.