Boston Veterans Day Events for 2017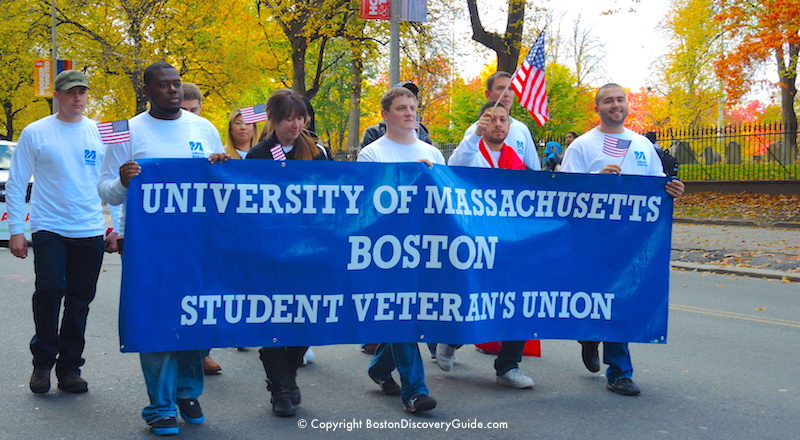 Veterans Day events in Boston pay tribute to veterans, and to Boston's military history and fight for freedom.
Not just one, but two 2017 Veterans Day Parades, a special Harbor cruise to Fort Warren to explore Boston's military history, and several other special events to honor veterans mark the occasion.
Veterans Day sales in Boston provide large discounts; this is your best chance to shop for gifts on sale before the frenzy of Black Friday holiday shopping.
The holiday marks the anniversary of the November 11, 1918 signing of the Armistice, the agreement to end the fighting during World War I, once called the "war to end all wars."
Veterans Day is always observed on the Armistice anniversary, regardless of the day of the week on which it falls.
In 2017, the commemoration takes place on Saturday, November 11.
Veterans Day is an official Federal holiday, which means Federal, state, and municipal offices, banks, and schools are closed in Boston, but most other businesses including stores and shopping malls are open (and most offer big sales and discounts).
Although Armistice Day initially honored just those who fought and died in World War I, its meaning was expanded after World War II and the Korean War to honor all veterans - and to be renamed Veterans Day.
Boston's Veterans Day Parade(s)
Boston's first Veterans Day Parade, kicks off at 1pm on November 11 at the corner of Boylston and Tremont Streets. The second Veterans Day Parade, known as the Veterans for Peace Parade, follows right behind it to honor and celebrate the original intention for Armistice Day - a Day of Peace. Check November Calendar for parade start time and date updates
Both parades march around Boston Common along Boylston and Tremont Streets, and on to City Hall Plaza and the front of Faneuil Hall next to the statue of American Revolution patriot Samuel Adams, where you can hear a variety of speeches, anti-war poetry readings, and music.
Look for an assortment of military units, high school ROTC groups, honorary militias, marching bands, veterans' organizations, and - since this is Boston where we proudly carry our traditions forward - debate and dissent.
The Suffolk County Council/District 7 of the American Legion coordinates the parade with the city. For more information: (617) 303-5693
---
Official Boston Veterans Day Parade Photos
The Boston Police Pipes and Drum Corps leads the parade, playing stirring traditional and contemporary military music spanning the centuries.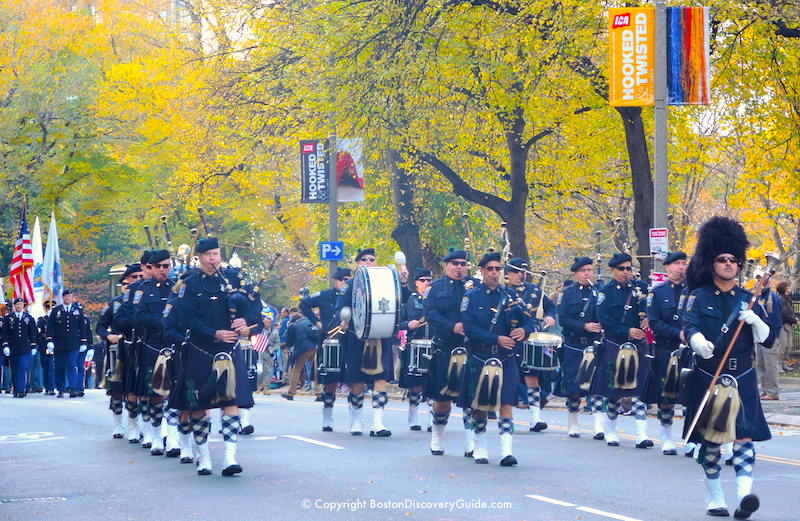 This is the Gaelic Column of Pipes and Drums - the Boston Police Department's bagpipe band.
The award-winning Gaelic Column performs at many local cultural events and parades, police officer funerals, and ceremonies. They have also performed in concert with the Dropkick Murphys.
These Active Duty marchers are part of the U.S. Navy crew who operate, maintain, and offer tours of U.S.S. Constitution in the Navy Shipyard.
Built in Boston in 1797, "Old Ironsides" is the oldest commissioned warship afloat in the world and is most famous for defeating a British frigate after a fierce battle during the War of 1812.
The U.S.S. Constitution is a popular Freedom Trail site. More about visiting the ship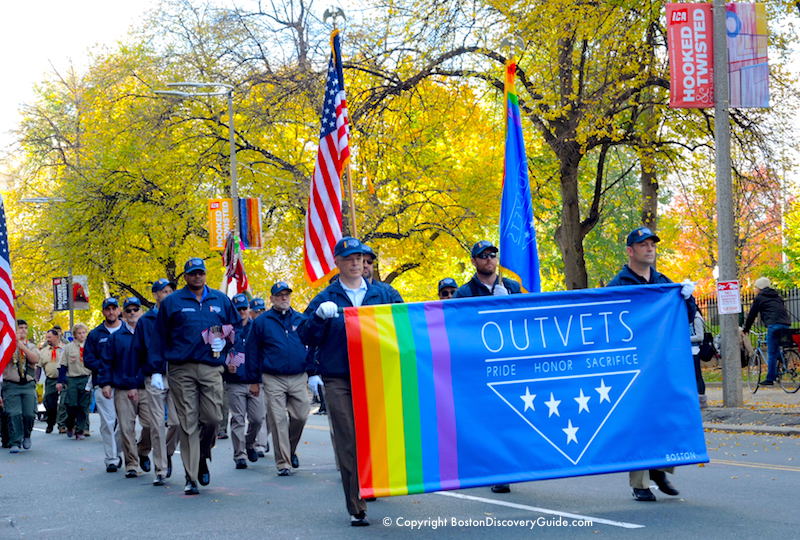 These marchers are from OUTVETS, a fairly new Boston LGBT veterans organization (and the first in New England) dedicated to LGBTQ vets, active duty members, and their families.
Members are involved in community service activities here in the Boston area. They also - usually - march in the South Boston Saint Patricks Day Parade.
---
Boston Veterans for Peace Veterans Day Parade Photos
Boston's Smedley D. Butler Brigade of Veterans for Peace leads the second parade, following immediately after the first one.
Why two parades?
Some groups marching in the official Boston Veterans Day Parade didn't want Veterans for Peace, a group founded in 1985 to increase awareness about the price society pays to fight wars, to participate in their parade.
So every year, Veterans for Peace marches in a second Veterans Day Parade in commemoration of Armistice Day, separated from the first parade by about 3 minutes, 300 yards, and a police escort.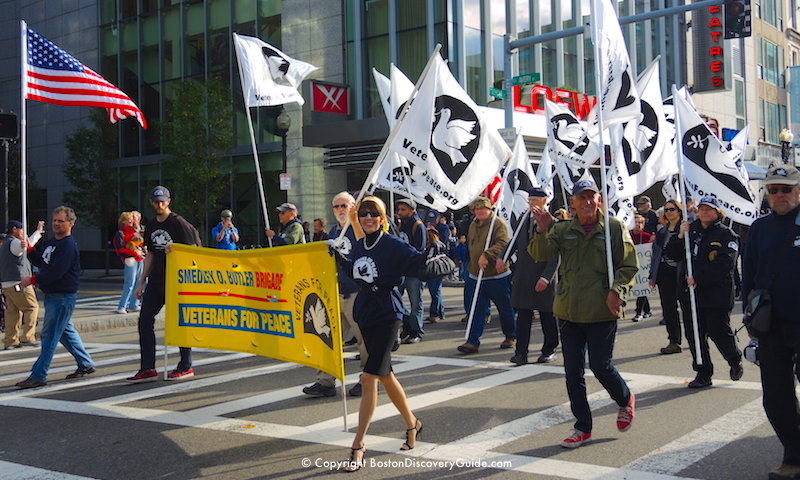 If you look closely, you may see marchers wearing hoodies emblazoned with a statement Veterans Day Parade marcher wearing hoodie with a statement attributed to Major General Smedley Butler, U.S. Marine Corps, "War is a racket. A few profit - the many pay."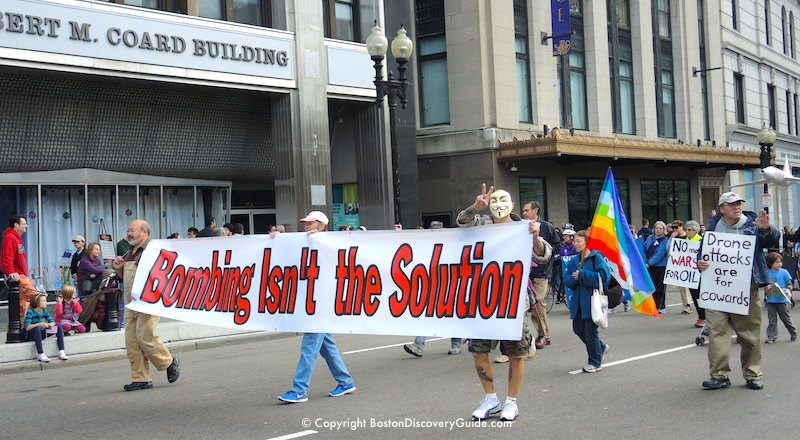 Marchers in the second parade carry a variety of signs to promote finding peaceful solutions to settle conflicts.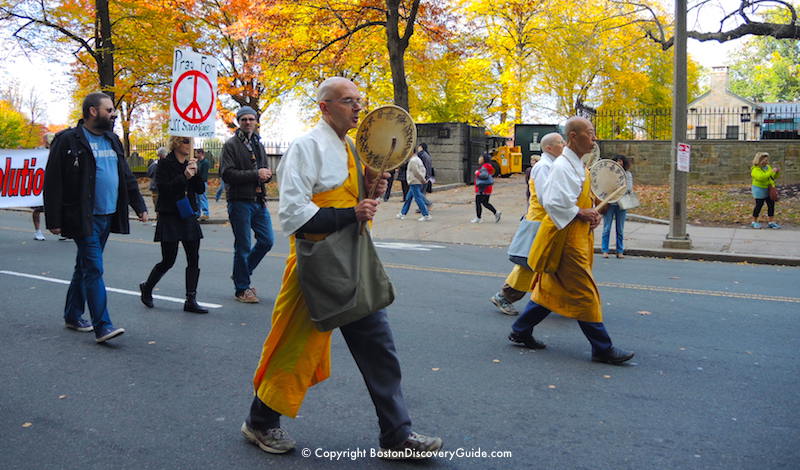 If you look closely, you may see marchers wearing hoodies emblazoned with a statement Veterans Day Parade marcher wearing hoodie with a statement attributed to Major General Smedley Butler, U.S. Marine Corps, "War is a racket. A few profit - the many pay."
---
Boston Hotels Close to the Veterans Day Parade Route
If you are coming from out of town to march in or watch the Veterans Day Parade, here are hotels close to the parade route:
Veterans Day Cruise to the Boston Harbor Islands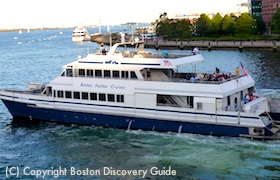 Being almost 400 years old, Boston has plenty of military history - and this special cruise to Fort Warren on Georges Island provides an enjoyable way to learn about it while honoring our veterans, past and present.
The cruise stops at Georges Island for a tour of Fort Warren.
Once you reach Georges Island, Park Rangers will present a program about the military history of Boston Harbor from the American Revolution through the Civil War and up to the present time.
The cruise boat departs from Long Wharf on Boston's Downtown Waterfront at 11am, but you should arrive 20-30 minutes early for check-in and boarding for the 5-hour excursion.
Veterans go on the cruise for free. Everyone else pays $10. Sponsors of this wonderful event include the Boston Harbor Island Alliance, Arbella Insurance, the National Park Service, and the Massachusetts Dept. of Conservation and Recreation.
Please note - this cruise takes place on Saturday, November 11, 11am (date and time to be confirmed for 2017).
More information: Veterans, please call 617-223-8666 for reservations and free tickets; everyone else should use the "reserve now" link on the Boston Harbor Islands website: http://www.bostonharborislands.org
Shop the Veterans Day Sales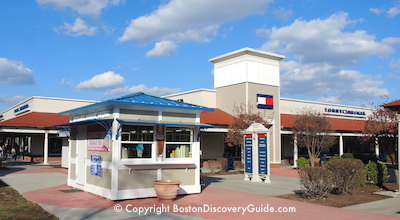 Smart shoppers hit the Veterans Day sales hard! For best places to go, see my Columbus Day Sales suggestions.
If you are a Veteran, Home Depot and Lowe's will give you a 10% discount on November 11. (Bring your government-issued military ID card; discounts apply to other days for most U.S. military; here is more information.)
Wrentham Village Outlets offer some of the biggest bargains on luxury brands - sale prices on top of the usual discounts but get there very early to avoid traffic and parking snarls. Or hop on one of the Wrentham Village buses from Boston and relax while someone else does the driving.
You can also find a closer discount shopping alternative at Assembly Row, 5 minutes (by subway) from Downtown Boston. Hop on the Orange Line and get off at the new Assembly station. Veterans Day sales usually offer 30% to 70% off the already discounted prices.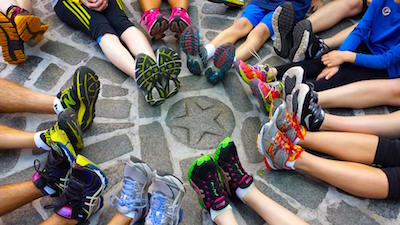 Freedom Trail Runs take place in Boston on just about every Saturday, including the ones before and after Veterans Day.
The guide-led run is actually a tour for runners, providing an active way to tour Boston's historic sites.
You'll run along the Freedom Trail from site to site, which stops at each landmark to learn about the site.
Tours depart at 8:30am on Saturday mornings, and last about 2 hours.
More information, including signup: www.freedomtrailrun.com
Want to show your appreciation for the sacrifices that Veterans have made to keep our country strong? Volunteer to serve meals at the New England Center for Homeless Veterans at 17 Court Street in downtown Boston, just a few steps from the Freedom Trail.
Volunteers are needed every day to serve both lunch and dinner, and for other activities as well. You can volunteer as little as an hour, or for a full day - one time only, or on an on-going basis. Call ahead to register at 617-371-1800, or register online.
Saying "thank you for your service" is ok - but doing something to show your appreciation is even better!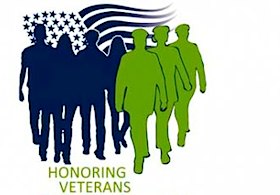 The 2017 Veterans Walk and Run honors those who have served, and works toward solutions to prevent and end homelessness among Veterans.
This fundraiser event is sponsored by Back on My Feet Boston, and helps support homeless Vets.
The walk/run starts at the New England Center for Homeless Veterans next to Government Center, and follows a route around Boston Common before returning to the lobby of 53 State Street (just half a block from NECHV) for pizza and ice cream.
The event starts at 6pm on 11/11/17. (date and time to be confirmed for 2017)
Tickets are $35, and registration is required. More information
Veterans Specials at Boston Restaurants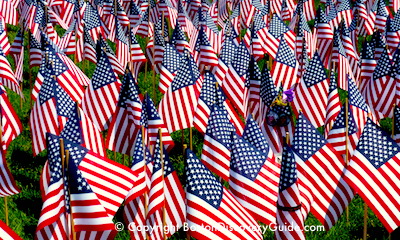 If you're a veteran or active duty military, several Boston restaurants want to thank you. You will need proof of your status, such as a military ID, photo of yourself in uniform, or other proof of service.
McCormick & Schmick's (Faneuil Hall Marketplace and Park Plaza Boston locations) offers veterans a complimentary lunch or dinner entree from a special menu (ie, no big steaks) on Sunday, November 6, 2016 . Reservations are a must - find details on the M&S website at: http://www.mccormickandschmicks.com/featured-promotion/Veterans-Day.aspx
Cask 'n Flagon (62 Brookline Ave, across from Fenway Park; also in Marshfield MA) will thank all Veterans and Active Duty Military by offering a complimentary entree on Wednesday, November 9. (not yet confirmed for 2016) (This offer, in compliance with state law, excludes alcohol.)
Uno Chicago Grill (731 Boylston St in Back Bay; 280 Huntington Ave in Fenway; 645 Beacon Street in Back Bay; 22 JFK Street in Harvard Square, Cambridge) - Free individual pizza or entree if you purchase another pizza or entree of equal or greater value - tell the staff you want to support the Wounded Warrior Project (the group that does the Garden of Flags on Boston Common on Memorial Day, and they will donate a portion of your check.
Bar Louis (121 Brookline Ave, near Fenway Park) - Free appetizer or entree for Veterans on Veterans Day
Chipotle (283 Washington Street on the Freedom Trail, plus many other Boston locations)- Buy one, get one free on Veterans Day from 3pm until closing; valid for all military personal, military spouses, and Veterans- you need to show ID
Fogo de Chao Brazilian Steakhouse (200 Dartmouth Street) - 50% off your meal for Veterans and Active Duty service members, and 10% off up to 3 guest meals
More Special for Veterans - 2017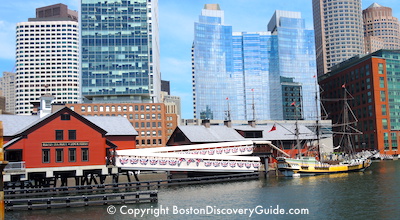 Boston Tea Party Museum & Ships (306 Congress Street) - Free admission for all Veterans, active duty miilitary personnel, and police officers on November 11 - must show current ID for active duty or DD214 (proof of release from the military) at the door. More information about admission - 1-855-832-1773
More information about the museum
Franklin Park Zoo - Free admission to Veterans on Saturday, November 11, 2017, 10am - 3:30pm (closes at 4pm) (date and time to be confirmed for 2017)
The Hall at Patriot Place (by Gillette Stadium in Foxborough) - Free admission to this fun sports museum on November 9 - 15 for military Veterans and Active Duty military service members - must shop proper military identification.
Go to the North End for Ravioli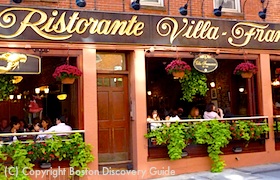 Ravioli gained status as the traditional Veterans Day food after President Woodrow Wilson invited 2,000 hungry returning soldiers to the White House for a ravioli (newly trendy due to advances in commercial canning) dinner in 1918.
Carry on the tradition by heading to Boston's North End where most of the Italian restaurants along Hanover and Salem Streets will have ravioli - or other equally delicious pasta - on their menus. More about Boston Italian restaurants in every neighborhood.
More Boston Veterans Day Weekend Suggestions
Coming to Boston for a 4-day weekend including Veterans Day? Here are suggestions about a few more things to do: