Boston Veterans Day Events for 2014
Best Things to Do on Veterans Day in Boston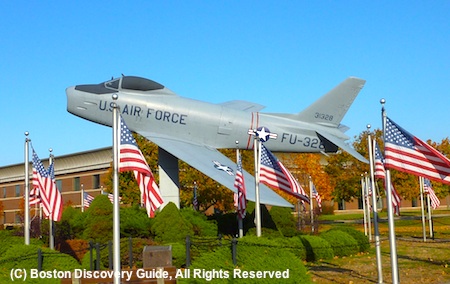 F-86 Sabrejet from Korean War at Hanscom Air Force Base in Concord MA, 10 miles west of Boston
Veterans Day events in Boston pay tribute to military veterans and to Boston's military history and fight for freedom.
Not just one, but two 2014 Veterans Day Parades, a special Harbor cruise to Fort Warren to explore Boston's military history, and special other special eventsmark the occasion.
Traditionally, Veterans Day sales in Boston provide large discounts. It's your best chance to shop for gifts before Black Friday ushers in the frenzy of holiday shopping.
Veterans Day, always observed on November 11 regardless of the day of the week on which it falls, marks the anniversary of the signing of the Armistice, the agreement to end the fighting in World War I in 1918, and has been celebrated since 1919.
Veterans Day is an official Federal holiday, which means Federal, state, and municipal offices, banks, and schools are closed in Boston, but most other businesses including stores and shopping malls are open (and most offer big sales and discounts). In 2014, the Federal Veterans Day holiday is on Tuesday, which state and municipal offices as well as most local schools will also observe.
Although initially honoring just those who fought and died in World War I, its meaning was expanded after the Korean War to honor all veterans.
Boston's 2 Veterans Day Parades
Boston's Veterans Day Parades kick off at 1pm on Monday, November 11, 2014 at the corner of Boylston and Tremont Streets, and wind their ways along Boston Common and on to City Hall Plaza and Faneuil Hall, where you can hear a variety of speeches and music.
Look for a variety of military units, high school ROTC groups, honorary militias, marching bands, veterans' organizations, and - since this is Boston - political debate and dissent.
Why two parades?
Some groups marching in the official Boston Veterans Day Parade didn't want Veterans for Peace, a group founded in 1985 to increase awareness about price society pays to fight wars, to participate in their parade.
So Veterans for Peace marches separately in their own parade, separated from the first parade by about 3 minutes, 300 yards, and a police escort.
Photos of the Official Boston Veterans Day Parade

Photo captions, from left to right:
1) Boston Veterans Day Parade marchers carrying American and U.S. Coast Guard flags
2) East Boston Army JROTC's Clipper Battalion
3) Marchers from Boston's English High School
4) Marine Corps JROTC from Madison Park Technical Vocational High School in Boston's Roxbury neighborhood
5) Marchers from Jeremiah E. Burke High School in Boston's Dorchester neighborhood
6) Members of Charlestown High School's Air Force Junior ROTC in Veterans Day Parade
7) POW-MIA (Prisoner of War - Missing in Action) Flag carried by American Legion members
8) Members of R.O.C. Veterans Association in Boston marching in Veterans Day Parade
9) Veterans carrying American and South Vietnamese flags in Boston Veterans Day Parade
10) Veterans from American Legion Boston Chinatown Post No. 328
Photos of the Boston Veterans for Peace Veterans Day Parade

Photo captions, from left to right:
1) Veterans for Peace Veterans Day Parade in Boston
2) Marchers in Veterans for Peace Parade in Boston
3) Marchers carrying Peace Action sign (a reference to "police action," for the Korean and Vietnam Wars while they were being fought because they were undeclared wars)
4) Veterans Day Parade marchers carrying reminders of the costs of war
5) Members of brass band marching in Veterans for Peace Veterans Day Parade
6) Veterans Day Parade marcher wearing hoodie with a statement attributed to Major General Smedley Butler, U.S. Marine Corps, "War is a racket. A few profit - the many pay."
7) Marchers carrying Veterans for Peace banners
8) More banners carried by Massachusetts members of Veterans for Peace
9) Boston Veterans Day Parade marchers at the corner of Boylston and Tremont Streets
10) Veterans Day Parade marcher with "No War on Iran" sign
Boston Hotels Close to the Veterans Day Parade Route
Veterans Day Cruise to the Boston Harbor Islands - 2014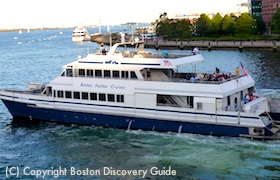 Being almost 400 years old, Boston has plenty of military history - and this special cruise to Fort Warren on Georges Island provides a fun way to learn about it.
The cruise stops at Georges Island for a tour of Fort Warren. Once you reach Georges Island, Park Rangers will present a program about the military history of Boston Harbor from the American Revolution through the Civil War and up to the present time.
The cruise boat departs from Long Wharf on Boston's Downtown Waterfront, at 11am, but you should arrive 20-30 minutes early for check-in and boarding for the 5-hour excursion.
Veterans go on the cruise for free. Everyone else pays $5. Sponsors of this wonderful event include the Boston Harbor Island Alliance, Arbella Insurance, the National Park Service, and the Massachusetts Dept. of Conservation and Recreation.
Please note - this cruise takes place on Saturday, November 15 - not on Veterans Day itself, which falls on a Tuesday for 2014.
More information: Veterans, call 617-223-8666 for reservations and free tickets; everyone else should use the "reserve now" link on the Boston Harbor Islands website: http://www.bostonharborislands.org
Shop the Veterans Day Sales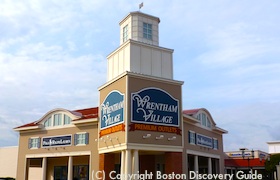 Smart shoppers hit the Veterans Day sales hard! For best places to go, see my Columbus Day Sales suggestions.
If you're a Veteran, Home Depot and Lowe's will give you a 10% discount.
Wrentham Village Outlets offer some of the biggest bargains - sale prices on top of the usual discounts but get there very early to avoid traffic and parking snarls. Or hop on one of the Wrentham Village buses from Boston and relax while someone else does the driving.
Volunteer for Veterans
Want to show your appreciation for the sacrifices that Veterans have made to keep our country strong? Volunteer to serve meals at the New England Center for Homeless Veterans at 17 Court Street in downtown Boston, just a few steps from the Freedom Trail. Volunteers are needed every day to serve both lunch and dinner. Call ahead to register at 617-371-1800, or register online.
Veterans Specials at Boston Restaurants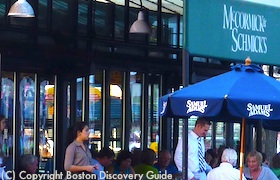 If you're a veteran or active duty military, a couple of Boston restaurants want to thank you. You will need proof of your status, such as a military ID, photo of yourself in uniform, or other proof of service.
Cask 'n Flagon (62 Brookline Ave, across from Fenway Park; also in Marshfield MA) will thank all Veterans and Active Duty Military by offiering a 40% discount on all food and beverages (except alcohol, excluded by MA law) on Monday, November 10, 2014.
McCormick & Schmick's (Faneuil Hall Marketplace and Park Plaza Boston locations) offers veterans a complimentary lunch or dinner entree on Sunday, November 10, 2014 (the day before Veterans Day). Reservations are a must - find details on the M&S website at: http://mccrmckschmcks.fbmta.com/members/ViewMailing.aspx?MailingID=36507263538
Boston Market (245 Mass Ave in Boston's Fenway neighborhood; 1010 William T Morrissey Blvd in Dorchester); offers veterans a free whole chicken with the purchase of any family meal - must show your military ID.
Go to the North End for Ravioli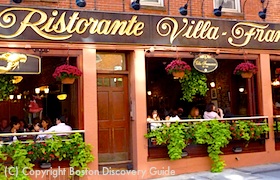 Ravioli gained status as the traditional Veterans Day food after President Woodrow Wilson invited 2,000 hungry returning soldiers to the White House for a ravioli (newly trendy due to advances in commercial canning) dinner in 1918.
Carry on the tradition by heading to Boston's North End where most of the Italian restaurants along Hanover and Salem Streets will have ravioli - or other equally delicious pasta - on their menus. More about Boston Italian restaurants in every neighborhood.
More Boston Veterans Day Weekend Suggestions
You may also like . . .
Like this Page? Please Share!
Boston Discovery Guide > Events > Veterans' Day Events