Boston Discovery Guide Home > Boston Events >
Boston Events November 2013
Top Things to Do in Boston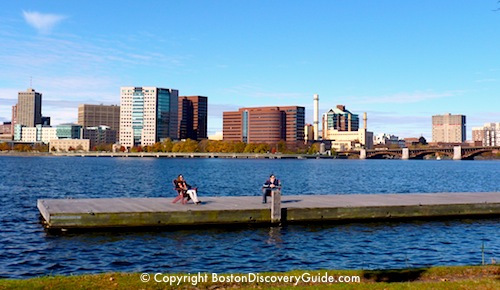 Floating dock on Charles River -
Perfect spot to soak up some November sun and enjoy views of fall foliage on Boston's Esplanade
Boston Events for November 2013 kick off with a huge Red Sox World Series Champions Rolling Rally Parade.
Also get ready for the Boston Comedy Festival, ice skating opening events on Boston Common's Frog Pond, and the season's first performances of The Nutcracker ballet.
The Boston Celtics, Bruins, and New England Patriots give sports fans plenty to cheer about.
Holiday tree lighting ceremonies fill the second half of the month.
If you're visiting Boston at the end of November, be sure to make restaurant reservations for a special Boston Thanksgiving dinner.
And if you're interested in the special Nutcracker performances beginning on the Friday after Thanksgiving, get your tickets as soon as possible because the best seats go fast.
Be sure to check out the huge Thanksgiving Parade in Plymouth, just south of Boston as well as other Thanksgiving Weekend events.
Add your Boston Events for November 2013
Quick Links: Boston events calendars: October l December l Other Months
Boston Red Sox World Series Rolling Rally Duck Boat Parade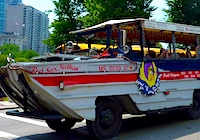 At 10am on Saturday, November 2, the winning Boston Red Sox will board 24 of the city's amphibious duck boats at Fenway Park for a rolling rally parade to celebrate their 3rd World Series championship in a decade.
The parade route will take them from Fenway Park down Boylston Street, making a left onto Tremont Street at Boston Common, and then another left at Charles Street. They'll head over to Science Park, where they'll slide into the Charles River and cruise about as far up as Fairfield Street (roughly down to MIT's Killian Hall on the Cambridge side of the river) before turning back toward Science Park.
Depending on how you count, the parade route covers about 4-5 miles on land and water, plus the loop back down the Charles - so there should be plenty of good viewing spots along Boylston, Charles Street, and both sides of the river.
Find more Veterans Day activities
Veterans Day Events in Boston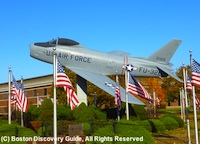 When: Monday, November 11, 2013
Two rival Veterans Day Parades marching through downtown Boston, even larger Veterans Day sales, a military history cruise to Fort Warren, and special restaurant deals for veterans are just a few of the special events happening in Boston on Veterans Day.
Find more Veterans Day activities
Half-price tickets for Boston events in November 2013
Half-price Boston shows, cruises, and events in November
Why pay full price when discount tickets from Goldstar are easy to find?
- The Hobbit - Wheelock Family Theatre
- Make Up Your Mind - Boston Center for the Arts
- Boston Celtics games- TD Garden
- Afternoon Delight- Comedy Matinee at Improv Theatre
- In the Mood - Cutler Majestic Theatre
- Arabian Nights - Central Square Theatre in Cambridge
- North End Secret Tour - Walking tour in Boston's North End
- Lunch, Brunch, and Dinner Cruises on The Odyssey in Boston Harbor
- Duck Tours - See Boston by land & water

Half-price tickets to top Boston concerts, shows, tours, games, and other events become available about 2 months before their scheduled date - why pay more?
Find even more half-price shows, cruises, and events!
Return to Top - Boston Events November
Thanksgiving Day 2013 - Enjoy a great dinner!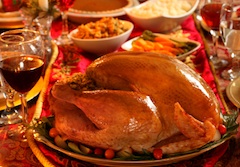 Thanksgiving is celebrated on November 28, 2013
Enjoy a stress-free Thanksgiving by making reservations . . . let someone else do the cooking!
Some of Boston's top restaurants serve special once-a-year Thanksgiving dinners where you can enjoy a memorable meal, ranging from formal traditional dinners to more casual buffets.
To be sure of getting a table, you must make reservations.
Find out more about Boston restaurants serving Thanksgiving dinner
Return to Top - Boston Events November
Special Christmas Tree Arrives from Nova Scotia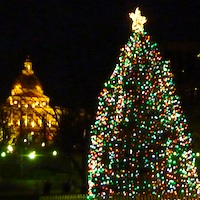 A very special Christmas tree will arrive at Boston Common at about 11am on Friday, November 15 - by tradition, the first official tree to be set up each year in the city.
Look for this special tree near the Visitors Information Center on Tremont Street. It's always the star of the Boston Common Holiday Lighting Ceremony, held in December in 2013.
Although Boston fills up with displays of beautiful Christmas trees throughout November and December, the most special tree of all is this Christmas tree proudly displayed on Boston Common. It symbolizes the close friendship between Nova Scotia and Boston.
Citizens of Nova Scotia send a huge, beautiful tree to the people of Boston every year in remembrance of Boston's help after a horrific explosion of a munitions ship in Halifax Harbor on December 6, 1917 killed almost 2,000 people and injured another 9,000. Within 24 hours of the disaster, a train loaded with supplies and emergency personnel from Boston arrived in Nova Scotia - the first outside help to reach the disaster scene, and the last to leave.
In a special recognition of those who were killed and injured in the Boston Marathon bombings last spring, a group of runners led the way as the tree left Halifax this year.
Half-Price Tickets for Christmas, Holiday, and New Year's Eve Events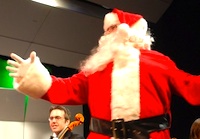 Half-price tickets to some wonderful Christmas and New Year's events begin to become available in November. Needless to say, grab these tickets fast when you see them because they won't last.
- A Christmas Story - Wang Theatre
- Irving Berlin's White Christmas - Weston Town Hall
- Back Bay Gala - New Year's Eve bash at the Sheraton Boston Hotel
- Young Professionals New Year's Eve Celebration - The Resolution Ball
- A Christmas Carol: The Musical - Boston Center for the Arts
- A Christmas Celtic Sojourn - Cutler Majestic Theatre
- Handel's Messiah - Jordan Hall

Get Half-Price Tickets to Boston Christmas and Holiday Events

"Black Friday" 2013 - Shopping Bargains, Sales, Discounts!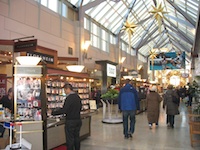 When: Friday, November 29 - as early as midnight in some places
In preparation: Take a nap right after Thanksgiving dinner, pack a turkey sandwich, start early, and keep your sense of humor!
If you're visiting Boston during the Thanksgiving holidays, indulge in "Black Friday" bargain-hunting - if you dare! The mad scramble to scoop up huge bargains is not for the faint of heart.
Where should you go? Try these Black Friday suggestions:
- Newbury Street boutiques and Boylston Street "big box" stores and discounters
- Quincy Market/Faneuil Hall Marketplace - big chain stores and unique Boston shops
- Cambridgeside Galleria (huge Best Buy, big Macys)
- Prudential Center - Middle of Boston's Back Bay neighborhood - Saks, Lord & Taylor
- Wrentham Premium Outlets (Get there super early - sure to be mobbed)
- Natick Mall - Biggest shopping mall in Boston

Return to Top - Boston Events November
Boston Hotels Special Packages for November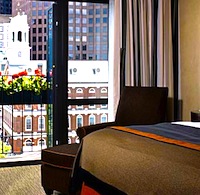 Check out these attractive November specials at top Boston hotels:
Faneuil Hall Shopping Package at the Millennium Bostonian - $50 food and beverage credit plus welcome bag at North 26, attractive room rate. Check rates
Frosty Fridays at the Colonnade - Reserve the 2-night Frosty Fridays weekend package, pay only the outside temperature for Friday night plus $309 for Saturday night, plus your choice of 2 Old Town trolley tour tickets or admission and skate rentals at Frog Pond Skating Rink, hot chocolate for 2 at Brasserie Jo, and overnight parking - now through March 28, 2014 - Reserve now
Save up to 30% at Boston Sheraton Hotel - Use discount rate plan CCCR when you book - discount and availability varies by day and length of stay - good now through December 15 - Reserve now
The Nutcracker Ballet at the Opera House - 2013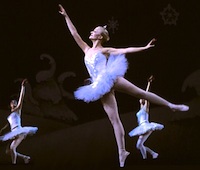 When: November 29 - December 29, matinees and evening performances almost daily
Where: Opera House, 539 Washington Street, Theatre District/Downtown Crossing (Downtown Boston)
Closest T station: Green Line/Boylston
Featuring gorgeous music by Peter Ilych Tchaikovsky, choreography by Mikko Nissinen, all new sets and costumes, and a soaring performance by the Boston Ballet, The Nutcracker is an annual holiday tradition - and the Boston Opera House is the perfect setting.
The adventures of Clara, the Mouse King, the Sugar Plum Fairy, the Russian Dancers, and The Prince as they dance around a magical winter landscape will enchant you.
Tickets for the most popular dates such as weekends can be hard to get, and they're expensive. Try these strategies:
Recommended Boston Theatre District Hotels
| | | | |
| --- | --- | --- | --- |
| | | | |
Holiday Tree Lighting & Blink! at Faneuil Hall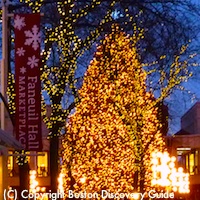 Even though mid-November may seem a little early for Christmas trees, Faneuil Hall Marketplace puts up its tree and turns on the lights for Blink! on Saturday, November 23, 2013 - and it's a beauty!
Blink! features a spectacular light show with over 350,000 (yes, that's roughly a third of a MILLION) low-energy LED lights and recorded music by Boston Symphony Orchestra's Holiday Pops.
Festivities and entertainment begin at 5pm and repeat periodically throughout the evening - perfect excuse to get a head start on your holiday shopping!
Boston Tuba Christmas - 28th Annual Tuba Christmas Concert at Faneuil Hall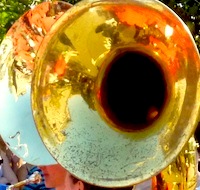 More than 150 tuba players delight the crowd at Faneuil Hall Marketplace when they perform their annual free holiday concert of Christmas classics on Saturday, November 30, 2013 at 2pm.
Closest T station: Orange Line/Haymarket
Parking: Boston garages near Government Center

John Coltrane Memorial Concert - 2013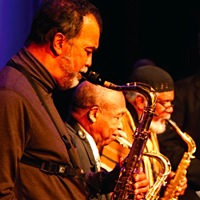 The 36th Annual John Coltrane Memorial Concert will feature the New England Spiritual Ensemble and the John Coltrane Memorial Concert Ensemble for 2013. The concert will take place on Saturday, November 23 at 7:30 at Northeastern University's Blackman Theatre, 360 Huntington Ave.
Musical selection will integrate Coltrane's contributions to Jubilee Songs.
Tickets: $32-$40 - call 617-373-4700; also check
Goldstar
for half-price tickets
International Fine Arts Show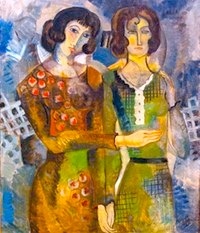 When: November 21-24, 2013
Where: The Cyclorama at the Boston Center for the Arts (539 Tremont Street) in Boston's South End
Tickets: $15 Friday - Sunday (under 12 free), $100- $250 for the Opening Night Gala Benefit - plus whatever you can't resist spending on art
Closest T station: Orange Line/Back Bay
More information: Fine Arts Boston website; 617-363-0405
Love this painting? Two Sisters, by Marguerite Zorach - look for it at the Tom Veilleux Gallery exhibit
40 top galleries from Boston, the rest of the United States, and Europe exhibit outstanding works at this premier show and sale of traditional and contemporary fine art. Paintings, sculpture, prints, photography, and mixed media are all represented.
A Gala Preview on Thursday, November 21 features delicious food and wine, good music, and of course, the wonderful art - a perfect holiday gift. All proceeds will benefit Shriners Hospital for Children - Boston.
Want to see more art in Boston? Check out:
Return to Top - Boston Events November
Veterans Day Family Event at USS Constitution Museum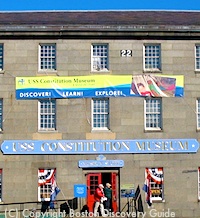 Take a free tour of the USS Constitution, located on the Freedom Trail in Charlestown and then walk across the plaza to the Museum where you can learn more about the Constitution's history, explore the interactive exhibits, and find out what the life of a sailor was like during the War of 1812.
Throughout Veteran's Day weekend (Nov 9-11, 2013, 10am-5pm), kids can make a paper officer's hat to take home, write letters to our troops for the holiday, and learn more about the War of 1812.
Location: Charlestown Navy Yard
Admission: Suggested donation of $5 adults, $3 seniors, $2 children
Find more Veterans Day activities
Holiday Decoration Displays in Boston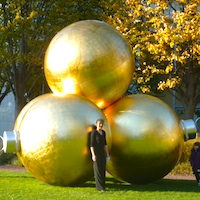 Festive holiday events take place throughout the last 3 weeks of November as dazzling holiday decorations get put into place, such as these giant golden balls, part of an expansive display in Prudential's South Garden.
In addition to Prudential Center, other good places in Boston to see Christmas decorations go up - or see the festive effects once they're in place include:
- Faneuil Hall Marketplace (be sure to check out the spectacular holiday tree and Blink!)
- Boston Common when the special Christmas tree arrives from Nova Scotia
- Macy's Holiday Tree Lighting on Summer Street in Downtown Crossing - date to be confirmed for 2013
- Charles Street in Beacon Hill
- Copley Square in Back Bay
- Boston Common, after the Holiday Lighting Ceremony
Le Cordon Bleu Boston Thanksgiving Demo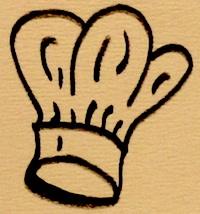 Just in time for Thanksgiving, Le Cordon Bleu College of Culinary Arts in Cambridge is hosting their annual demonstrations by master chef instructors showing you how to turn an ordinary turkey dinner into a scrumptuous holiday feast.
Added bonus: You get to tour their commercial kitchens.

When: 10:30am, November 16, 2013
Where: Le Cordon Bleu, 215 First Street, Cambridge, MA
Cost: Free - but must sign up in advance due to limited seating - call 888-394-6222

Thanksgiving Parade and Celebration in Plymouth - 2013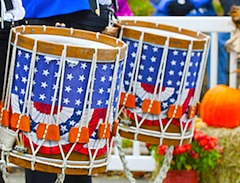 One of the top Boston events in November is Thanksgiving, and to get a full flavor, head south of the city to Plymouth to join this huge 3-day Thanksgiving Celebration along the harbor and waterfront.
The centerpiece is the Thanksgiving Day Parade, kicking off at 10:30am on Saturday, November 23, considered the best Thanksgiving parade in the country, after the Macy's Day Parade in NY.
The parade kicks off at the historic waterfront. Costumed reenactors playing the roles of Pilgrims bring this period in our history to life during a food festival, music festival, and entertainment.
What makes this parade special are the historically accurate chronological floats, drum and bugle corps, and reenactments from all periods of American history, beginning with the Pilgrim era in the 17th century and continuing through the 21st.
When: November 22 - 24, 2013
Where: Waterfront, Plymouth, MA
Where to stay: Best Plymouth Hotels
More Parade and Festival information: Website
Photo courtesy of USA Thanksgiving, the event planner
New England Patriots Schedule for November 2013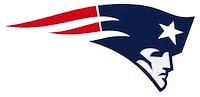 When: Home games on November 3 and November 24
Where: Gillette Stadium
Tickets: Check for best prices, seats, discounts
Getting there: How to get to Gillette Stadium from Boston
Stay: Hotels near Gillette Stadium
Week 9 - Sunday, November 3, 4:25pm vs Pittsburgh
Week 10 - Bye
Week 11 - Monday, November 18, 8:30pm at Carolina
Week 12 - Sunday, November 24, 8:30pm vs Denver

Find Discount Tickets, Half-Price Tickets, Luxury Seating and Box Seats Tickets:
Get the complete New England Patriots Schedule
Celtics at the Garden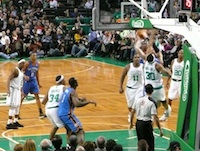 Where: TD Garden
Stay: Hotels near TD Garden
Park: Garages near TD Garden
Celebrate: Nightlife near Celtics Games

The Boston Celticsplays its first full month in the regular season, with 9 home games at TD Garden. Get ready for some green and white action!
Get Celtics tickets
Boston Celtics Schedule for November - Home Games
Friday, November 1 vs Milwaukee Bucks - 7:30pm
Wednesday, November 6 vs Utah - 7:30pm
Monday, November 11 vs Orlando - 7:30pm
Wednesday, November 13 vs Charlotte - 7:30pm
Friday, November 14 vs Portland - 7:30pm
Friday, November 22 vs Indiana - 7:30pm
Wednesday, November 27 vs Memphis - 7:30pm
Friday, November 29 vs Cleveland - 7:30pm

Essential Information for Boston Celtics Games
Get the complete Boston Celtics Schedule
Boston Jewish Film Festival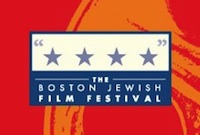 When: November 6-18, 2013
Where: Museum of Fine Arts in Boston's Fenway neighborhood, Coolidge Corner Theatre in Brookline, with additional screenings throughout the Greater Boston metro area
Tickets: Most films are $12; a festival pass for $225 ($250 after July 31) lets you watch (in premium seating) all films, and gives you access to special pre- and post-film gatherings
More information: Website
Thirteen days of the best new international and American independent films exploring the Jewish experience and presenting films with themes about Jewish culture, heritage, and history. Traditional, experimental, documentaries, and animated formats.
Find more Boston film festivals
Boston Lyric Opera 2013 - 2014 Season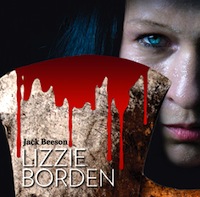 Boston Lyric Opera is New England's largest opera company, and their exciting 2013 - 2014 season offers plenty of excitement with 4 all-new productions:
Mozart's The Magic Flute - October 4, 6, 9, 11, 13 (including some matinees) at the Shubert Theatre Theatre of the Citi Performing Arts Center
Lizzie Borden - November 20, 22, 23, 24, 2013 - A BLO Opera Annex Production at the Castle at Park Plaza, 130 Columbus Ave, Boston
Verdi - Rogoletto - March 14, 16, 19, 21, 23, 2014 at the Shubert Theatre
Bellini - I Puritani - May 2, 4, 7, 9, 11, 2014 at the Shubert Theatre

Main BLO venue: Shubert Theatre, 265 Tremont Street, Theatre District, Downtown Boston
Closest T station: Green Line/Boylston
For more information and ticket information: 866-348-9738
Also, check GoldStar events for half-price tickets for adults
Get half-price tickets for students with a student subscription - call 617-542-6772 for details
Boston Tours - Have fun while your see Boston!
Boston Concerts during November 2013
| | |
| --- | --- |
| Photo courtesy of BonnieRaitt.com | |
Museum of Fine Arts - Annual School Sale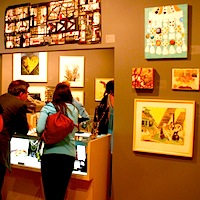 Over 4,000 art fans, collectors, and shoppers attend the School of the Museum of Fine Arts' annual sale each year to snap up the fabulous creations by faculty, students, and alums. Thousands of paintings, photographs, prints, sculpture, new media, and more! Sales benefit student scholarships at the School of the Museum of Fine Arts.
When: November 21 - 23, 10am-8pm; Nov 24, 10am-5pm
Where: School of the Museum of Fine Arts, 465 Huntington Avenue
Closest T station: Green Line E/Museum
For more information: 617-369-3622
Admission: Free
Return to Top - Boston Events November
Boston Comedy Festival 2013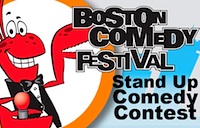 When: November 8 - 16
Where: Boston's many comedy and other venues - Dick's Beantown Comedy Vault (124 Boylston St, Boston), Davis Square Theatre (225 Elm St, Somerville), Somerville Theatre (55 Davis Square, Somerville), The Burren (247 Elm Street, Somerville)
Age: 21+
What you need to do: Make reservations! Most tickets run from $10 - $20, depending on the show - although $6 - $75 is the actual range
Tickets: www.bostoncomedyfest.com
Check GoldStar Events for Half-Price Tickets
Top comedians from all around the world come to Boston to celebrate and practice comedy during this festival of laughs. Talent scouts, contests, and of course, lots of comedy make this a don't-miss event, whether you're a comedian or a fan. A stand up contest keeps everyone hopping.
And don't forget, Boston's many comedy clubs mean you can enjoy shows by the best local, national, and international comedians almost every night of the week.
Return to Top - Boston Events November
Downtown Crossing Holiday Market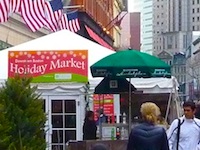 Holiday Market brings local crafts, original art and jewelry, and artisinal foods to Downtown Crossing. Look for appearances from Santa, singers and other entertainment, plus an excellent supply of Christmas trees and holiday decorations.
This free event takes place in Downtown Crossing across from Macy's (Summer Street, off Washington) from Saturday, November 30 - December 28, 11am-7pm Mondays through Saturdays, and 11am-5pm on Sundays. More
Boston International Antiquarian Book Fair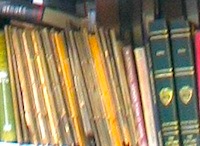 When: November 16-18, 2012
Where: Hynes Convention Center, 900 Boylston, Back Bay, Boston
Closest T station: Green Line / Hynes
For more information: 617-369-3204; website; or e-mail insideout@smfa.edu.
Entrance fee: $15 for Friday night preview plus Saturday and Sunday, $8 Saturday, $8 Sunday
Whether you're a serious collector of old books, want to shop for a few holiday gifts, or just like to read, the huge Boston International Antiquarian Book Fair is a must-visit. With over 120 dealers from the U.S. and Europe, the fair attracts visitors from around the world. In addition to the rare, collectible, and antiquarian books on exhibit and for sale, you'll also find manuscripts, autographs, maps, atlases, modern first editions, and fine and decorative prints.
If you're coming from out of town, nearby hotels close to the Hynes include the Back Bay Hilton, the Mandarin Oriental Boston, the Colonnade, the Charlesmark, the Sheraton Boston, and the Lenox.
Return to Top - Boston Events November
Boston Bruins Schedule for November 2013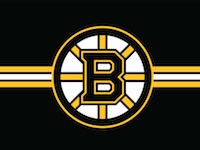 Home game location: TD Garden
Nearest T stop: North Station
Parking: Boston garages near North Station / TD Garden
Stay: Hotels near TD Garden
Celebrate: Best Boston bars near TD Garden
Show you care: Dress like a Bruin
Find awesome tickets to see the Bruins play
Here's the Bruins home game schedule for November - get ready for some excitement!
Teusday, November 5 vs Stars- 7:00pm
Thurday, November 7 vs Panthers - 7:00pm
Saturday, November 9 vs Maple Leafs - 7:00pm
Monday, November 11 vs Lightning - 1:00pm
Thurday, November 14 vs Blue Jackets - 7:00pm
Thurday, November 21 vs Blues - 7:00 pm
Saturday, November 23 vs Hurricanes - 1:00pm
Monday, November 25 vs Penguins - 7:00 pm
Friday, November 29 vs Rangers - 1:00 pm
Saturday, November 30 vs Blue Jackets - 7:00 pm
Buy yourself a Bruins blanket.
Get the complete Boston Bruins Schedule
Boston Latino International Film Festival

When: November 7-10, 2013
Where: David Rockefeller Center for Latin American Studies at Harvard University in Cambridge (1730 Cambridge Street), and other screening venues
Tickets: Available through festival website
More information: Website
Look for 4 exciting days of films, receptions, and special events at the 10th Annual Boston Latino International Film Festival. This very special 11th year celebration of BLIFF features 60 movies from 17 countries along with the participation of 15 well-known local, national, and international directors.
Find more Boston film festivals
Return to Top - Boston Events November
Ice Skating Begins at Frog Pond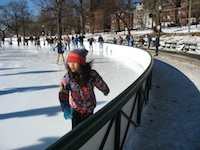 Frog Pond in Boston Common opens for ice skating on November 23.
On opening night, a special opening night celebration and entertainment takes place on opening night at 6pm, with public skating following the show
Closest T station: Green and Red Line/Park
Park: Boston Common Garage

More about ice skating on Boston's Frog Pond
Take a spin on the ice as ice skating season begins at Frog Pond, right in the middle of Boston Common. The opening ceremony features performances by local skating stars followed by public skating.
With picturesque Beacon Hill in the background, skating on Frog Pond is one of the things that makes so Boston terrific in the winter. Bring your own skates, or rent them at the rink for a reasonable fee. Be sure to stop by the Lily Pad Cafe snack bar, overseen by the talented chefs from 75 Chestnut and Hampshire House, where you'll enjoy some of the best hot chocolate, Belgium waffles, and cookies in the city.
Stay near Frog Pond ice skating
Check out other fun kids activities in Boston (vouched for by my daughters!)
Return to Top - Boston Events November
Japanese Ceramics Exhibit Opens at MFA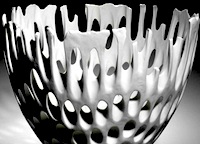 Where: Museum of Fine Arts, 465 Huntington Avenue, Fenway, Boston
Closest T station: Green Line E/Museum
Admission: $25; free entrance (and go to front of the line) when you have a Boston Discount Card

"Fired Earth, Woven Basket" brings together the work of top Japanese ceramic and bamboo artists in this show of innovative sculptural pieces created over the past 60 years. Contemporary Japanese quilts, fabric screens, and intricate paper sculptures will also be on display. The exhibit opens on November 12 and runs through September 8, 2014.
Get free admission to MFA with a Boston discount pass
GoBoston Card

51 ways to save up to 55%

On attractions, tours, cruises

CityPASS

5 top attractions in 9 days

47% savings
Use these Boston discount passes for Museum of Fine Arts, plus admission to lots of other attractions, museums, tours, and cruises
Return to Top - Boston Events November
Best Boston Events All Year!
Want to tell others about a Boston Event for November?
Tell us where it's being held, dates, times, cost, and who's sponsoring it. Most important, tell us why others will enjoy it.

Where to get more information about it (phone # and web address) helps others find it.

Please include your name and location on the submission form, and at least 1 photo or image to represent the event. Submissions without your name and one or more photos or images will not be accepted.
What Other Visitors Have Said
Click below to see contributions from other visitors to this page...

Like this Page? Please Share!
Beyond the Boston Event Calendar for November 2013
Boston Discovery Guide > Boston Events > November Events