Home > Attractions >
Top Boston Attractions
Best Things to Do in Boston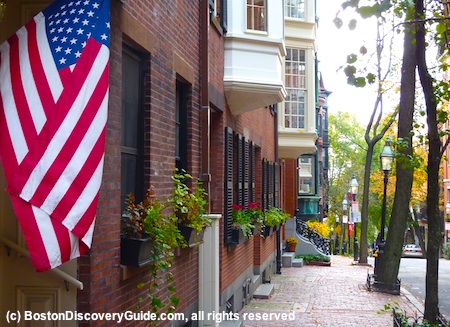 Street in Boston's Beacon Hill neighborhood
What are the top Boston tourism attractions, the iconic sights, events, and things to do that set Boston apart from everywhere else?
For first-time Boston tourists, the Freedom Trail gives you a fast way to get a flavor of early American history and the brave Colonists who first settled here and later fought for liberty.
As you explore the Freedom Trail's path through the heart of the most vibrant parts of the city, you get to see modern Boston - great shopping, terrific restaurants, and our gorgeous waterfront - as well!
For more frequent visitors, a Red Sox game in Fenway Park, a show in the Theatre District or concert at one of our top classical, rock, or jazz venues, a day in the Museum of Fine Arts or a whale watching cruise out of the Harbor let you enjoy the best of Boston!
You can easily visit all of these top Boston tourism attractions because they're located right in the middle of the city, near excellent hotels, restaurants, and public transportation.
Top Boston Attractions Photo Gallery

1. Freedom Trail
The 2.5 mile long red line marking Boston's Freedom Trail links 16 historic sites associated with Boston's earliest Puritan settlers, their fight for liberty leading to the American Revolution, the War of 1812, and Boston's role in the abolition of slavery.
You'll visit graveyards filled with tombstones and memorials to the first settlers and Revolutionary heroes, walk through Ben Franklin's neighborhood, and explore Paul Revere's home. In other Freedom Trail museums, you can even see items from the Boston Tea Party.
Have lunch and shop at one of the most famous Freedom Trail sites, Faneuil Hall Marketplace.
Cross a short bridge to Charlestown for a free tour of the USS Constitution and up-close views of the iconic 221 foot high Bunker Hill monument. And then hop on the $2 ferry back to the Downtown Waterfront.
Neighborhoods: Historic Downtown Boston, North End, Charlestown
Hotels near the Freedom Trail:
Downtown:
North End:
Charlestown:

Marriott Residence Inn - Families love the suites with kitchenettes - Rates & reservations
Constitution Inn - One of Boston's lesser-known bargain hotels - Rates/reviews
How to get to the Freedom Trail: Take the T (subway): Green Line to Park Street station; when you emerge, you'll be on Boston Common, the first Freedom Trail site. Walk over to the nearby Tourist Information Center and pick up a free map showing the Freedom Trail and other top Boston attractions.
More:
Return to Top:
Top Boston attractions
More Fun Boston Tours
2. Prudential Skywalk Observatory
All of Boston, plus Cambridge and beyond stretch out below you from the Prudential Skywalk Observatory on the 50th floor of the Prudential Center building - perfect way to begin or end your visit to Boston.
Boston Insider tip: Get free admission to the Prudential Skywalk Observatory with a discount card.
Neighborhood: Back Bay
Hotels near Prudential Center:
Closest T station: Green Line/Hynes Auditorium
More:
Return to Top:
Top Boston attractions
3. Boston's Theatre District, Concerts, Shows
Marquee of the newly restored Paramount Theatre
Theater thrives in Boston, especially in the downtown Theatre District, home to the largest group of architecturally outstanding early theaters in North America plus recent additions.
Theatre District shows include everything from from Broadway shows to avant-garde experimental theater productions from nearby Emerson College, and everything in between. A number of our best comedy clubs also call the Theatre District "home."
Hotels near Boston's Theatre District:
Ritz Carlton Hotel - Luxury choice in the heart of the Theatre District near the Boston Opera House - Rates & reviews
Revere Hotel - Lots of glamor plus larger rooms - Rates & reviews
Boston's legendary concerts and musical shows and performances rival the Theatre District for popularity, and attract the world's top rock stars, classical musicians, jazz masters, and every other kind of performer you can imagine.
Be sure to check out the Boston concert schedule. You'll find great performances going on in multiple spots in the city on almost every night of the year.
Related:
Return to Top: Top Boston attractions


4. Fenway Park
America's smallest and oldest ballpark, Fenway Park is home field for the Boston Red Sox from April through fall.
Neighborhood constraints dictate Fenway's odd shape, and the Green Monster bedevils visiting teams, providing on-going entertainment to Red Sox fans.
Best of all, Fenway Park's in-town location means you can either walk or take the subway (the "T") to get to a game.
Home games always sell out – but if you can't get tickets, try a Fenway Park tour (free with GoBoston discount card) or watch the action on the big screens at nearby sports bars. Don't miss this top Boston attraction!
Boston Insider tip: For the ultimate almost-on-the-diamond experience, stop by Bleacher Bar, located right under the Green Monster. Sit at one of the tables in front of the garage-sized door opening, and gaze out at home base.
Neighborhood: Fenway
Hotels near Fenway Park:
Buckminster Hotel - Affordable hotel 1 1/2 blocks from Fenway - Rates/reviews
Hotel Commonwealth - Luxury hotel 2 blocks from Fenway Park - Rates/reviews
Closest T station: Green Line/Kenmore
More:
Boston discount cards - How to get BIG savings
GoBoston Card

51 ways to save up to 55%

On attractions, tours, cruises

CityPASS

5 top attractions in 9 days

47% savings
Discount passes will save you significant money - as much as 50% savings - on Fenway Park tours, Prudential Skywalk Observatory, Museum of Fine Arts, Boston Aquarium, Museum of Science, Boston Harbor cruises, and many more top attractions, cruises, museums, and tours.
5. Museum of Fine Arts
Already one of the finest art museums in the U.S., the MFA added to its international prestige with the new Art of the America's Wing.
The new wing features 53 galleries showcasing 5,000 pieces of art from all over the Western Hemisphere.
You'll see ancient Mayan burial urns, historic ship models evoking the arrival of the Europeans and Africans, John Singleton Copley's famous painting of midnight rider Paul Revere, and Revere's silver Sons of Liberty bowl.
And that's in addition to MFA's other must-see collections. Visiting with kids? Head straight for the mummy collection in the Egyptian area.
Free admission with a Boston Sightseeing Pass.
In addition to MFA, we have over 30 other museums covering every subject you can imagine - sports, science, history, art, and more - all top Boston attractions!
MFA neighborhood: Fenway
Hotels near MFA:
Midtown Hotel - One of Boston's most affordable hotels - Rates & reviews
Colonnade Hotel - Sleek luxury high-rise hotel with the city's only rooftop swimming pool - Rates & reviews
Inn @ St Botolph's - Visiting with your family? Try a suite at this luxury boutique - Rates & reviews
Closest T station: Green Line/MFA
More: Other popular Boston museums include the Museum of Science, New England Aquarium, John F. Kennedy Library, Isabella Stewart Gardner Museum, and Harvard Museum of Natural History (Cambridge). More about Boston museums
Return to Top: Top Boston attractions

6. New England Aquarium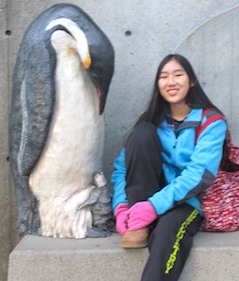 One of the most popular of all top Boston attractions, the New England Aquarium features a Giant Ocean Tank soaring 4 floors high, almost 700 fish and animals, and the friendliest penguins you'll ever encounter.
Watch divers feed the animals, train the Harbor seals, and if you really get get hooked on marine life, join one of the Aquarium's whale watch cruises.
Free admission with a Boston Discount Pass.
A visit to the New England Aquarium can easily fill an entire day, especially if you watch one of the marine-oriented shows at the Simons IMAX Theatre next door.
Aquarium neighborhood: Downtown Waterfront
Hotels near the New England Aquarium:
Closest T station: Blue Line/Aquarium
More:
Return to Top: Top Boston attractions


7. Fall Foliage In and Near Boston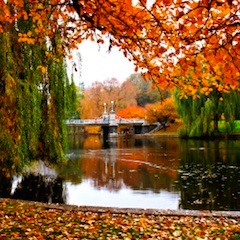 Starting in October, you can see famous New England fall foliage right in Boston.
You don't even have to make any effort to see it - just walk through the Public Garden and Boston Common, stroll along the Boston Esplanade and Rose Kennedy Greenway, and explore Boston's leafy central neighborhoods - Beacon Hill, Back Bay, Bay Village.
If you have even a few hours to spare, though, going on one of the popular fall foliage tours will let you see the most spectacular views and brilliant colors in the New England countryside without the hassle of driving - New Hampshire, Maine, even Cape Cod. Most are by luxury motorcoach - but be sure to check out the lighthouse and foliage cruise up the coast of Maine.
To see even more, take one of the special fall foliage cruises along the New England and Canadian coastline. Boston's centrally located CruisePort makes boarding your ship so easy, and the cruises are more affordable than you might imagine. You'll see some of the most famous autumn color in the world - plus enjoy all the fun and luxury of a cruise!
These popular September and October tours fill up fast - so don't wait to reserve your spot!


8. Museum of Science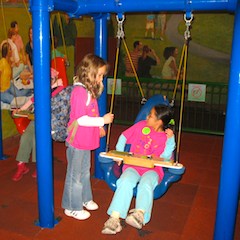 Boston's Museum of Science appeals to all ages, thanks to a huge number of exhibits designed for different age groups.
Small children experience the dynamic of physics by creating motion and force as they try out equipment close in spirit to what you might find on the playground.
Older kids (and adults) can explore nanotechnology. Everyone loves the dramatic lightning show.
Free admission with a Boston Discount Card.
Plenty of temporary and revolving exhibits mean you'll always find something new. And with a planetarium and IMAX theater, this is another place where you can easily spend an entire day.
Museum of Science neighborhood: West End
Hotels near Museum of Science:
Royal Sonesta in Cambridge - Closest hotel to the museum, and a favorite of families because of the spectacular indoor-outdoor swimming pool
Liberty Hotel - Hip and trendy West End hotel occupies a former jail
Wyndham Hotel Boston - This convenient mid-range West End hotel has an outdoor swimming pool and is also convenient to TD Garden, Beacon Hill, and Faneuil Hall/Quincy Market
Closest T station: Green Line/Science Park
More: Science museum fans will also want to visit the MIT museum in Cambridge
Return to Top: Top Boston attractions


9. Make Way for Ducklings Sculpture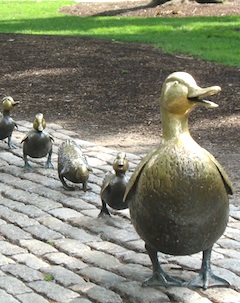 Duck-size bronze statues of Mrs. Mallard leading Zack, Nack, Quack, and the rest of her brood attract children of all ages to the northwest corner of Boston's Victorian era Public Garden, also home to the famous Swan Boats.
If you're visiting with children, Make Way for Ducklings is a must-see site - one of the top Boston attractions.
The Public Garden and adjacent Boston Common are also top attractions in their own right, offering much to see and do.
Once you've seen the Ducklings statues, stroll over to the Public Garden's Lagoon and go for a tranquil 15-minute Swan Boat ride. You'll even get to see famous Mallard Island, populated by present day descendents of Mr. and Mrs. Mallard's brood.
Visiting during winter? Cross Charles Street to Boston Common and go ice skating on Frog Pond. On a summer evening during late July/early August, catch a free Shakespeare in the Park performance.
Neighborhood: Boston Common/Public Garden
Hotels overlooking the Public Garden and Boston Common:
Please note - Not all rooms will overlook the Public Garden and/or Common - so be sure to request the view you want.
Closest T station: Green Line/Park or Arlington
More:
Return to Top:
Top Boston attractions
10. Boston's Waterfront, Harbor Cruises, Whale Watching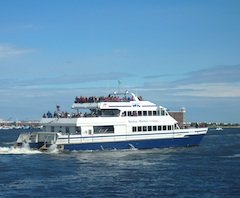 Boston's spectacular Downtown Waterfront provides easy access to a whole different world to explore just a few minutes from the city.
Hop on one of the popular Boston Harbor Cruises, experience the excitement of a whale watching cruise, or fine dining and a Harbor Cruise on the Odyssey.
Just a short 10 minute walk from Downtown, you'll reach Boston's trendiest and most rapidly developing neighborhood, the lively South Boston Waterfront neighborhood, filled with lots of new waterfront restaurants, a couple of popular museums, and some of the summer's best concerts at the Blue Hills Bank Pavilion.
This is also where you'll find Boston's CruisePort, launching spot for weekly cruises to Bermuda from late spring through summer, and fall foliage cruises through October.
More cruises from Boston to check out:
Return to Top: Top Boston attractions

11. Newbury Street Shopping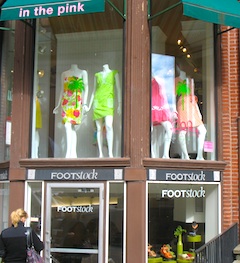 Although you'll find unique shopping opportunities in most Boston neighborhoods, the 8 blocks along Newbury Street in Back Bay pack designer boutiques, home accessory shops, and art galleries into stylish Victorian brownstones.
Only one street over, on Boylston, look for high end electronics, athletic gear megastores, and even a few bargain-packed discounters.
With Prudential Center and Copley Place shopping nearby, the whole area is a fashionista's dream come true, and a top Boston attraction for visitors as well as local shoppers.
Neighborhood: Back Bay
Hotels near Newbury Street shopping:
Closest T station: Orange Line/Copley
More:
Return to Top: Top Boston attractions


12. Boston Marathon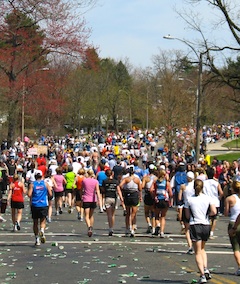 Elite athletes from all over the world compete in the Boston Marathon, a top Boston attraction held on the third Monday in April (which, coincidentally, is also Patriots Day, a local holiday commemorating the beginning of the American Revolution).
The 26 mile, 385 yard race begins west of Boston in Hopkinton and finishes on Boylston Street near Copley Square, not far from BU.
Neighborhoods: Fenway and Back Bay (where the finish line is located)
Hotels near Boston Marathon finish line:
Charlesmark Hotel - At Copley Square, almost across the street from the finish line at the Boston Public Library - Rates/reviews
Eliot Hotel - Luxury suites hotel, with many rooms overlooking the Marathon route on Commonwealth Ave - or walk over to the finish line on Boylston - Rates/reviews
Closest T stations: Green Line/Kenmore, Orange Line/Copley
More about the Marathon:
More special Boston Events:
13. Beacon Hill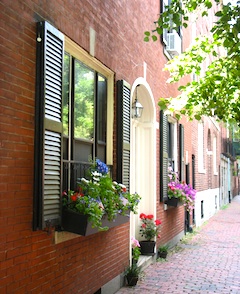 Beautifully restored Federal-period mansions and townhouses give you a glimpse of Boston 200 years ago when the city's wealthiest citizens and much of its African-American community shared this Beacon Hill neighborhood.
Going back even farther in Boston history, Beacon Hill is where Reverend William Blaxton, the first English settler on the peninsula now occupied by Boston, built himself a cabin and planted an orchard in 1625.
Explore Beacon Hill's narrow streets lined with stately mansions, including Little Women author Louisa May Alcott's residence facing Louisburg Square, go on a free Massachusetts State House tour, walk along the historic Black Heritage Trail, and visit the Museum of African-American History. Or check out the dozens of antique shops along Charles Street.
Best tour: Boston Movie Mile Tour
Neighborhood: Beacon Hill
Hotels in and near Beacon Hill:
Closest T station: Red Line/Charles-MGH
More: Massachusetts State House
Return to Top: Top Boston attractions
14. Boston Harbor Islands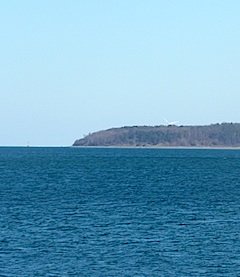 Did you know that Boston includes 32 islands and 2 peninsulas jutting out into Boston Harbor?
The Boston Harbor Island National Park Area feels like another world - but a short 15-minute ferry ride from Downtown Boston brings you to it.
Go hiking, kayaking, swimming, photographing - or just find a secluded beach for a picnic and nap. You'll quickly see why the islands rank high as top Boston attractions - even though lots of visitors don't even realize they exist!
Park Rangers give free guided tours and lectures on topics such as tidal pools on weekends.
Ferries run from early May through Columbus Day weekend in October, and depart from Long Wharf.
Need a faster way to see the Boston Harbor Islands? Go on a Boston Harbor cruise.
Location: Boston Harbor, with departure from Long Wharf on the downtown waterfront
Free fare on some cruise boats with the GoBoston Discount Pass.
Hotels near Long Wharf:
Boston Marriott Long Wharf - Waterfront hotel next to Long Wharf; popular with families - Rates/reviews
Harborside Inn - Near the waterfront, with mid-range rates - Rates/reviews
Closest T station: Blue Line/Aquarium
More:
Return to Top: Top Boston attractions
Like this Page? Please Share!
More to Explore - Boston's Biggest Events
Boston Discovery Guide > Attractions > Top Attractions