10 Top Boston Attractions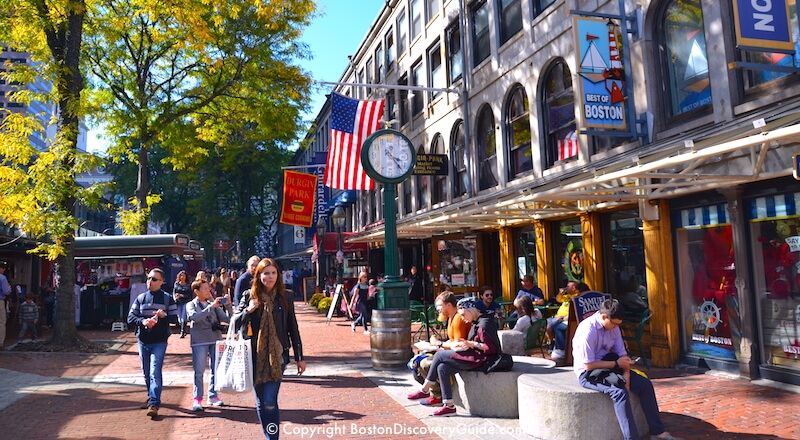 Whether you're coming to Boston for your first visit or your 40th, here are 10 top attractions to explore and enjoy.
Each attraction introduces you to a part of what makes Boston special - our unique history as the oldest city in the nation, our world-class sports teams and cultural venues, our spectacular waterfront location, and our historic neighborhoods and beautiful parks.
Boston's compact size means all of these attractions are close together, so you can easily reach them on foot or on the "T," as we call our subway.
If you want to see them all, allow about three days. Or, just pick one attraction and start there, as each of them provides a good starting point for getting to know (and love!) Boston.
If you're visiting for
Being the oldest city in the US, Boston is packed with Colonial and Revolutionary War sites for you to explore in lots of different ways: join a costumed guide for a walk along the Freedom Trail, visit historic houses-turned-musuems, or relieve history at the Boston Tea Party Ships & Museum.
You can soak up the ambiance of Federal and Victorian architecture as you walk around the elegant Beacon Hill and Back Bay neighborhoods, or enjoy a show in Boston's historic Theatre District.
For a different type of history, cheer the Boston Red Sox at Fenway Park, America's oldest major league baseball ballpark.
And don't forget, Boston is a waterfront city, wi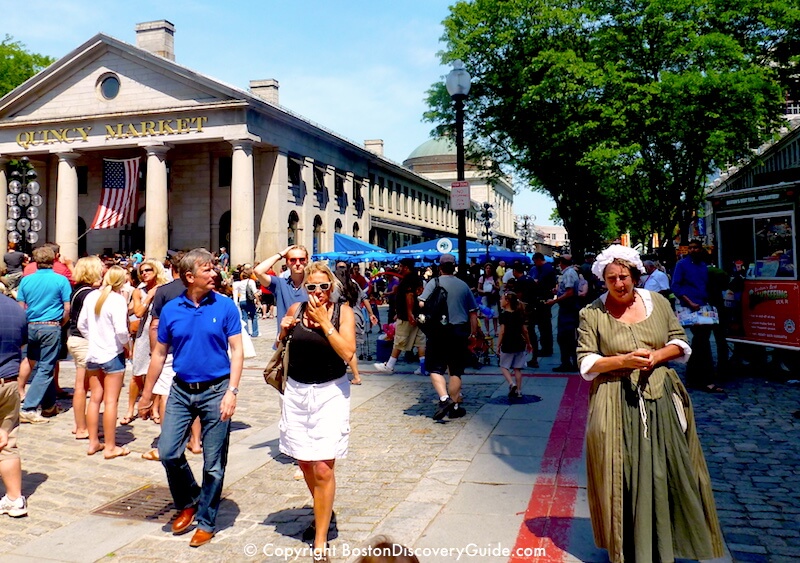 For the ultimate walk through history, follow the red strip of the 2.5 mile Freedom Trail to see 16 sites important to American freedom and civil liberties.
In addition to the famous Colonial and Revolutionary War sites along the Trail, you'll see other attractions closely related to America's fight for liberty such as the USS Constitution, known as "Old Ironsides," famous its role in the War of 1812.
Along the way, you'll pass through several famous historic Boston neighborhoods - Beacon Hill, the North End, Charlestown. Be sure to allow time for a meal in one of the many wonderful nearby restaurants. If you love shopping, you'll want to linger in Faneuil Marketplace after you explore the Faneuil Hall on the Freedom Trail.
Find out more about where to find a free map, doing the Freedom Trail on your own or joining a tour led by a costumed guide, and what to see at each of the 16 sites.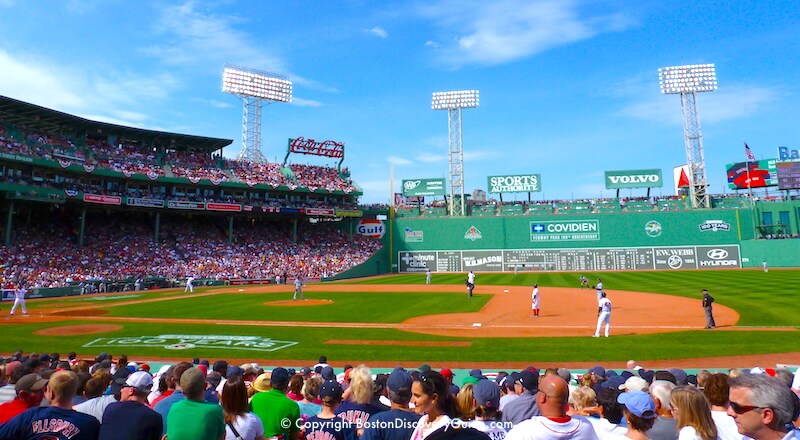 Built in 1912, Fenway Park is America's smallest and oldest ballpark, and home field for the Boston Red Sox from April through fall.
To fully experience Boston's passion for sports, attend a Red Sox game. It's the atmosphere that makes Fenway so special - the sea of Red Sox apparel, the rowdy chants, and the way everyone joins together in singing Sweet Caroline near the end of each game.
If the Red Sox aren't in town when you are, you can still visit Fenway. Get concert tickets when musical superstars such as U2 and Pearl Jam come to town and perform at Fenway, or take in a winter event such as Frozen Fenway.
Check out the schedule:

See the full schedule and available tickets for Fenway Park events
TicketLiquidator Discount Code - Enter TLSUMMER to get $10 off orders of $350+

Fenway's location near the center of Boston means you can get to a game or concert easily - just walk, or hop on the T (Boston's subway).
If you can't get tickets to a game or concert, try a Fenway Park tour (free with GoBoston discount card) or watch the action on the big screens at nearby sports bars.
Where to Stay Near Fenway Park
If you're coming to a Red Sox game, spend the night or the weekend at one of the nearby hotels, such as the hip Verb Hotel, directly across the street from Fenway Park: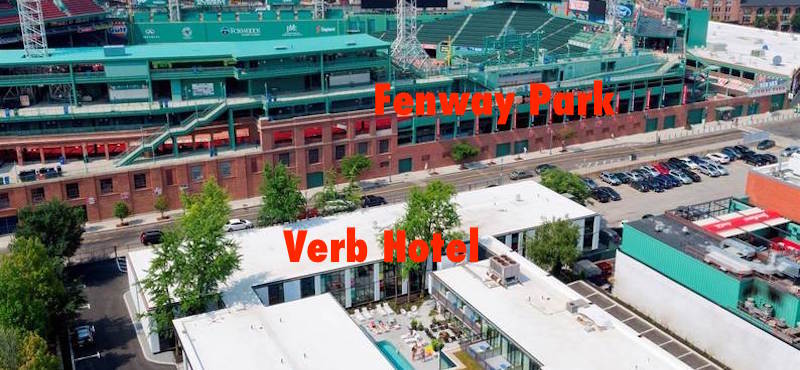 More top hotels near Fenway Park: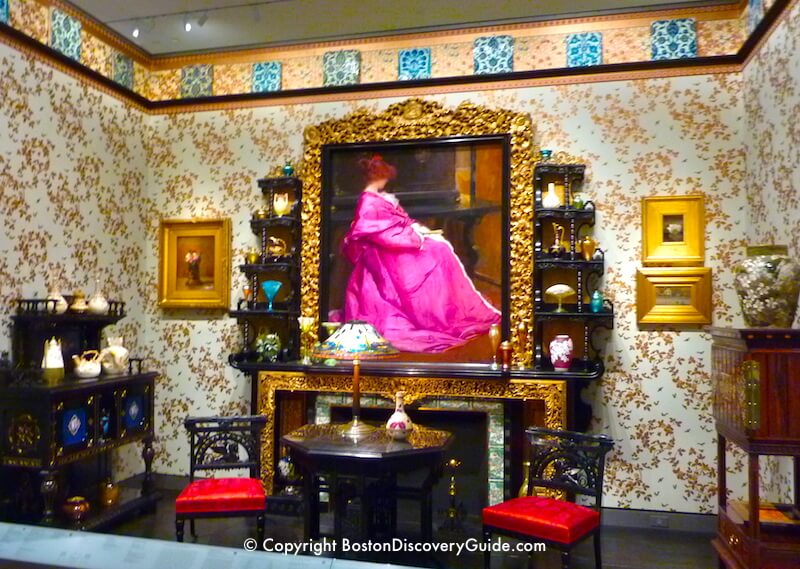 With hundreds of galleries filled with treasures from the ancient world to contemporary art, Boston's Museum of Fine Arts can easily keep you enthralled for an entire day, especially if you take a few breaks to sample MFA's various dining options, browse the vast bookstore and specialized boutiques, and perhaps take in one of the special activities such as a tour, film, or performance.
However, if you want to focus on the superb collections that set MFA apart, here are five places to start:
Art of the Americas: Filling a spectacular new wing, this vast collection covers the Pre-Columbian period through the late 20th century. What makes it outstanding is not only the exquisite and seldom-seen art from South and Central America and the Caribbean, but also the wide-ranging examples from North America, displayed to show you connections and continuity between cultures and across time.
Egyptian: Considered one of the best in the world, MFA's exceptional collection of mummies, statues, pottery, and other artifacts bring to life almost four milleniums of Egyptian culture.
Japanese Buddhist Temple Room: Based on an 8th century monastery in Japan, MFA created this special gallery to display Buddhist deities 100+ years ago. It's part of MFA's much larger Japanese collection. Don't miss the Japanese comtemplative garden located in a secluded corner outside the museum.
African: MFA's collection of West African masks, sculptures, funeral artifacts, and other art is especially strong.
Linde Family Wing for Contemporary Art: MFA's growing collection of today's art focuses on internationally renowned artists in a wide range of media. Displays change frequently, and in addition to more traditional forms such as paintings and sculpture, you typically will also see video, new media, crafts, and very large scale pieces, as well as live interactive performances.
How to visit MFA:
4. Public Garden, with
Make Way for Ducklings

& Swan Boats
The gold-domed Massachusetts State House (24 Beacon Street) dominates Beacon Hill and the surrounding area, and is Charles Bulfinch's masterpiece.
American Revolution heroes Samuel Adams and Paul Revere laid the cornerstones for it in 1795 and it was completed in 1798. Paul Revere originally covered the dome in copper, replaced by gold leaf in 1861.
Because the dome serves as the zero-mile marker for Massachusetts, Oliver Wendell Holmes called it the "hub of the solar system" - which is how Boston got its nickname, "The Hub."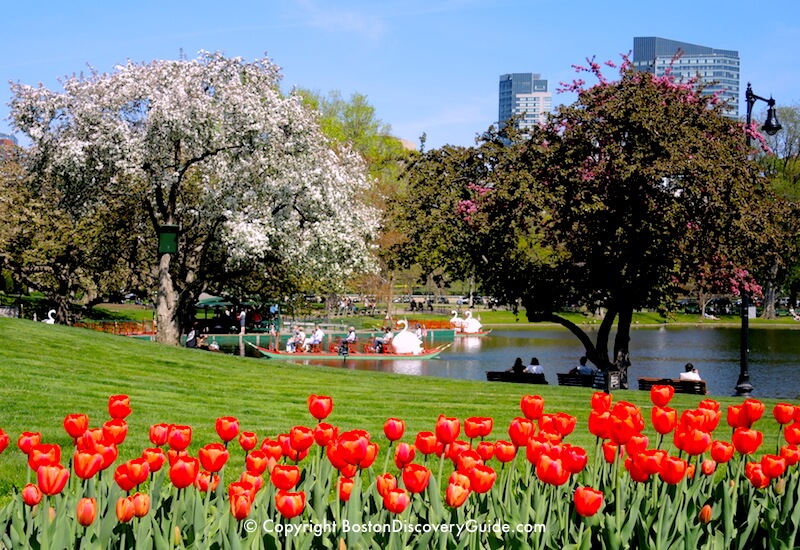 Set aside an hour or so to explore the State House, which is packed full of art and historic displays related to the American Revolution, Civil War, and Boston's role in the fight for liberty, or take a free guided tour.
Find out more about the Massachusetts State House on Boston's Freedom Trail - and how to get a free tour
Find out more about other Freedom Trail sites
---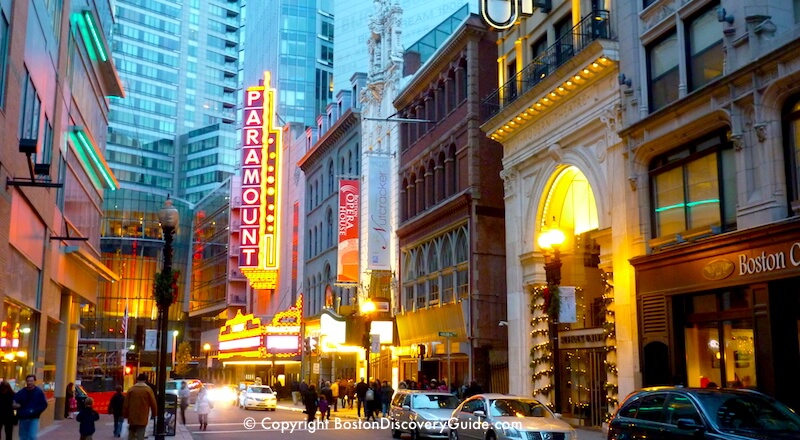 Directly across the State House on the edge of Boston Common, you'll see a magnificent bronze sculpture by Augustus Saint-Gaudens depicting the 54th Massachusetts Infantry, the first free black regiment in the Union Army, led by 25-year-old white Bostonian Colonel Robert Gould Shaw as they marched off to fight in the Civil War.
The Shaw Memorial marks the beginning of the Black Heritage Trail through Beacon Hill, which takes you past homes of prominent leaders in Boston's free black community during the 1800s and 1900s, safe houses along the Underground Railroad, and the Abiel Smith School and African Meeting House, both of which are now part of the Museum of African Americna History.
Unfortunately, you can go inside only the latter two, as the others are private residences, but you can join a free walking tour of the Black Heritage Trail, or follow the trail yourself.
You'll find tour information and self-guided walking tour maps on the museum's website.
6. Newbury Street Boutiques, Dining, & Architecture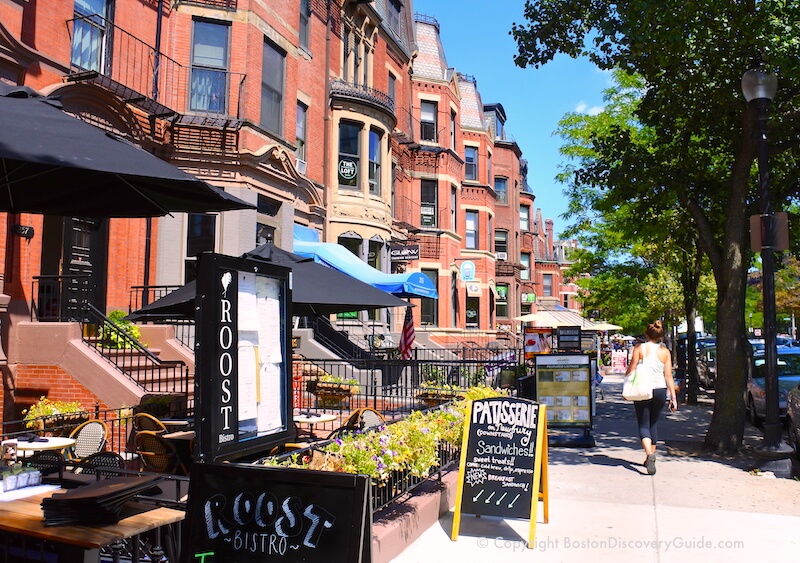 Mellow Victorian brownstones, clothing boutiques, and trendy restaurants where outdoor dining rules during warm months come together on Newbury Street's eight fashionable blocks in the exclusive Back Bay neighborhood.
Despite its reputation for being the domain of expensive international designers, Newbury Street also includes a lot of boutiques
You can explore Vilna Shul on your own, or join one of the informative guided tours. Although the tours are free, donations are gratefully accepted. Check Vilna Shul's website for visiting days/times.
Another way to see Vilna Shul is on the Boston Jewish Culture Walking Tour, which explores the depth and diversity of Jewish culture in Boston's Beacon Hill and other neighborhoods. In addition to Vilna Shul, you'll see typical Jewish homes on Beacon Hill's North Slope, and visit the West End House, the Holocaust Memorial, and a bit of the North End. Details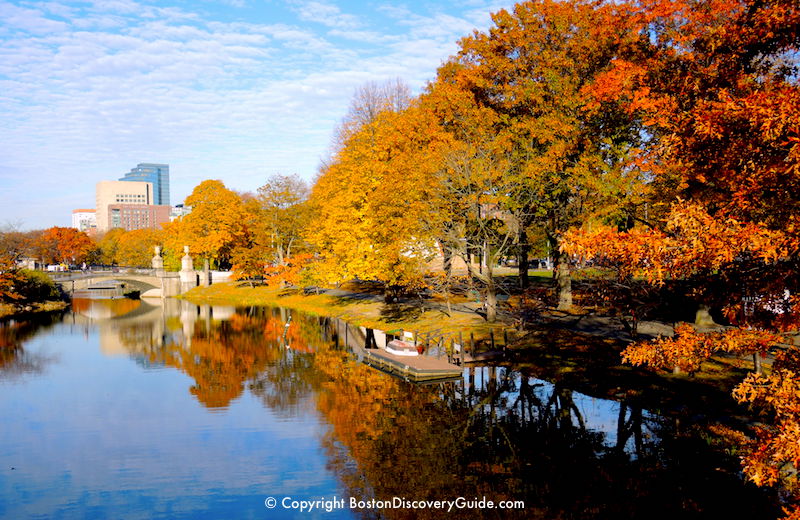 Surrounded by water on three sides, Boston offers you a huge variety of waterfront parks, river and harbor cruises, and hotels and restaurants with spectacular waterfront views.
Inside, the bar looks nothing like what you've seen on screen but it's a comfortable spot to enjoy a beverage and pick up a few souvenirs - touristy but fun. For "authenticity," visit the recreated Cheers in Faneuil Marketplace.
To experience a true neighborhood spot where locals do in fact know each other's name, have a meal at 75 Chestnut, a wonderful bistro around the corner with the same owner as Cheers.
Walk up Beacon Street in the direction of the State House, and at Number 50, you'll see a small granite plaque set in the wall to commemorate Reverend William Blaxton (a.k.a. Blackstone), the first English settler on the Shawmut (now Boston) peninsula. He built his cabin near this spot in 1625.
At Number 45, you can view the third house - really a mansion - built by Charles Bulfinch for Harrison Otis Gray in 1806.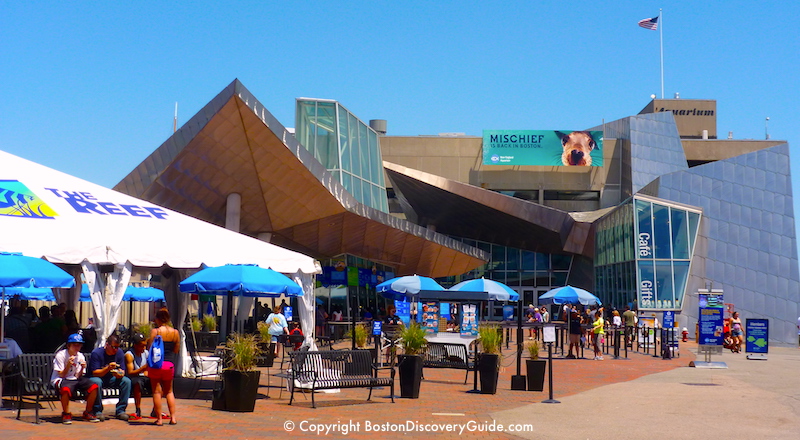 Beacon Hill boasts a number of wonderful restaurants, bistros, and bakery/cafes where you'll usually see a mix of local residents and visitors.
Here are some suggesions to get you started:
Charles Street

- Walk down Charles Street, and you'll spot plenty of casual and more formal places to eat. Head to the

Paramount

(44 Charles Street) for casual American fare,

Tatte Bakery/Caf

e (70 Charles Street) and Panificio (144 Charles Street) for delicious pastries and other casual fare,

Toscano

(47 Charles Street) to splurge on a memorable Italian dinner

Grotto

(37 Bowdoin Street, behind the State House) - Superb contemporary Italian cuisine in a creatively decorated, almost subterranean spot - Dinner nightly, Lunch Mondays - Fridays

75 Chestnut

(75 Chestnut Street) - Bistro fare superbly prepared using fresh, mostly local products - Dinner nightly, Sunday brunch year round, Saturday brunch September through June.

Ma Maison

(272 Cambridge Street) - Wonderful French bistro fare, perfectly prepared with fresh local products, headed by acclaimed chef/owner Jacky Robert.

The Sevens Ale House

(77 Charles Street) - Friendly local neighborhood bar, on the dive bar end of the spectrum. Good place to enjoy local brews or a Guinness, throw darts, and watch a game.

Beacon Street along the Freedom Trail

(toward King's Chapel) - You'll spot several small bistros, including

Scollay Square

(21a Beacon Street) for pub fare,

Zen

(21b Beacon Street) for Japanese grilled food and sushi, and

Emmet's Irish Pub

(6 Beacon Street) for pub fare with an Irish twist and live traditional Irish music sessions on weekend afternoons (3pm-6pm) - all three places are good; for something fancier, head to renowned steakhouse

Mooo

at the Fifteen Beacon Hotel (15 Beacon Street)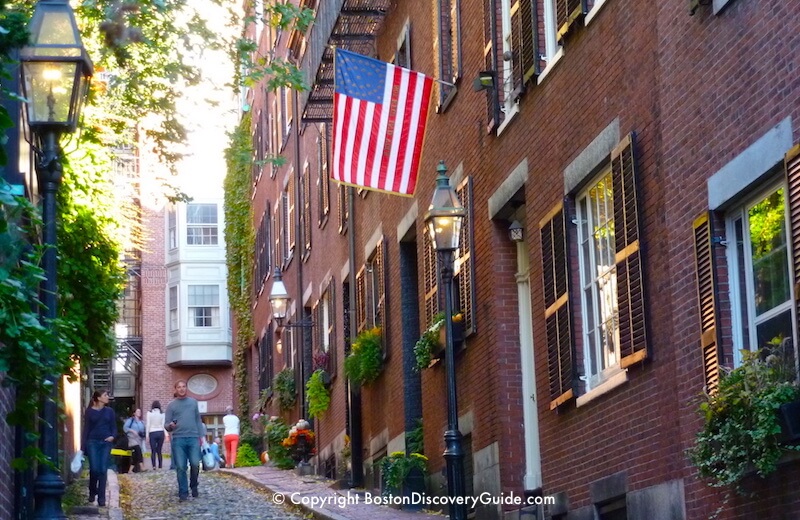 Boston Athenaeum (10 1/2 Beacon Street) is a private members-only library. It dates back to 1807, has huge rare books and art collections, and boasts an impressive list of past members: Nathaniel Hawthorn, Ralph Waldo Emerson, Louisa May Alcott, John Quincy Adams, John F. Kennedy, Margaret Fuller, and many more.
Although only members can access most areas of the library, you can join one of the free art and architecture tours offered to the public 2-3 times each week, as well as occasional public lectures.
Check their website for details.
10. Tea Party Ships & Museum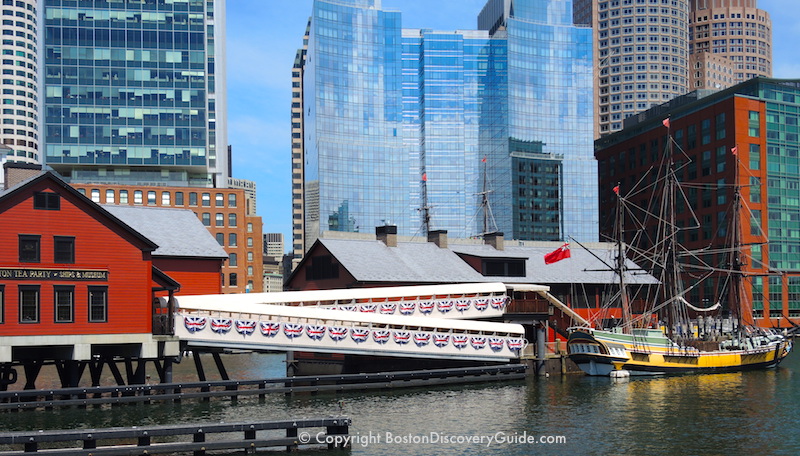 According to local tour guides, picturesque Acorn Street is the most-photographed street in America.
Is that true? No clue - but the cobblestone paving, Federal period row house, and gas lights mean you'll get some wonderful photos.
The best views are looking up Acorn Street from Charles Street.
Experience Boston's famous historic Beacon Hill neighborhood up close: stay in one of its wonderful hotels, such as luxury boutique Fifteen Beacon: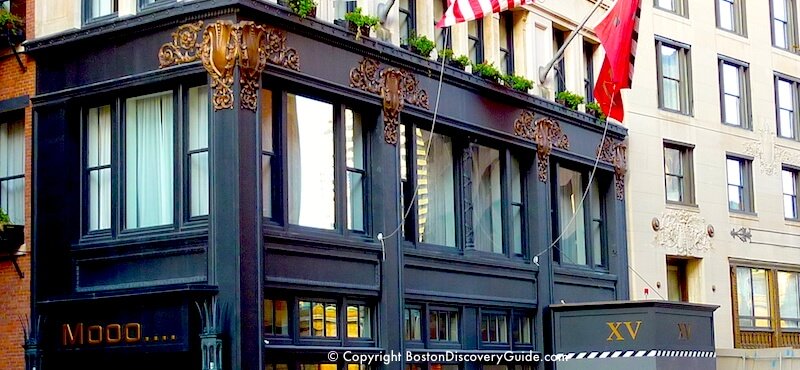 More top hotels in and near Beacon Hill:
Beacon Hill with a BOO

- This Halloween tour of Beacon Hill's darkest secrets introduces you to the neighborhood's history of mystery, murder, and mayhem - Details

Beacon Hill Holiday Stroll

- Special December shopping event along Charles street with refreshments, decorations, and plenty of holiday spirit - Details
More to Do in Beacon Hill
Walk across Beacon Street to Boston Common and have a picnic, go ice skating, or catch a performance of Shakespeare in the Park in July and August
Walk across Beacon Street to the Public Garden and admire the lavish flower gardens, go on a Swan Boat ride in the Lagoon, or pose for a selfie by the Make Way fro Ducklings statues
Walk across Storrow Drive on the footbridge near the Charles Street/Cambridge Street intersection to reach the Esplanade, where you can go for a run, relax on one of the floating docks on the Charles River, or enjoy a free summer concert or movie at the Hatch Shell
Getting to Beacon Hill - Directions & Parking
Subway: Green Line/Boylston or Orange Line/Chinatown
If you drive: The easiest place to park is in the garage under Boston Common, across Beacon Street.