Home > Boston Sightseeing by Neighborhood >
Historic Downtown Boston
Freedom Trail, Faneuil Marketplace, Historic Taverns, Haymarket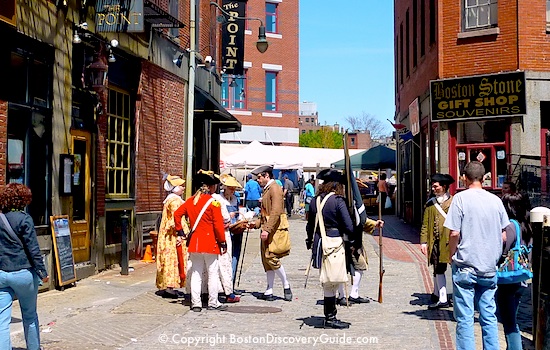 Costumed re-enactors on Marshall Street near The Point in historic downtown Boston - that's the Millennium Bostonian Hotel in the background, with Haymarket in front of it
Historic Downtown Boston encompasses much of the oldest and most historic areas of the city.
This is where you'll find numerous Freedom Trail sites, Haymarket, Faneuil Hall Marketplace, and a lively mix of historic taverns and Irish pubs.
Historic Downtown Boston hotels include luxury options as well as mid-range choices. All offer ideal locations for exploring both modern and historic Boston sites, nearby neighborhoods such as Beacon Hill and the North End, and the Rose Kennedy Greenway and waterfront departure points for Boston Harbor cruises.
Historic Downtown Boston Attractions
Freedom Trail- Boston's 2.5 mile Freedom Trail links together sites involved in the development of American liberty, and the largest number can be found in the Historic Downtown Boston area. To explore this entire section of the Freedom Trail, start at the Park Street/Tremont Street intersection and follow the red stripe marking the Freedom Trail.
Faneuil Hall Marketplace / Quincy Market - Four buildings make up this complex, filled day and night with tourists and locals enjoying the shopping, restaurants, Irish pubs, comedy clubs, and festival-like ambiance. A small ice skating rink provides even more entertainment for a couple of months in the winter.
Orpheum Theatre (1 Hamilton Place) - A historic concert hall dating back to 1852, now legendary for its rock concerts and terrific acoustics. Access it through an alley off Tremont Street across from Granary Burying Ground, as the lobby/main entrance now serves as retail space - yes, totally bizarre. Get performance schedule
Old City Hall (45 School Street) - Gorgeous Second Empire-style building on the Freedom Trail, with Ben Franklin statue in front. Kids will want to climb on top of the nearby statue of a donkey representing the Democratic Party - have your camera ready! Small exhibit about the building's history in the lobby.
Boston Holocaust Memorial (between Congress and Union Streets, near Faneuil Hall Marketplace) - Six soaring glass towers provide a moving reminder of the 11 million people murdered by the Nazis before their defeat in 1945. Walk through the outdoor memorial and read the inscriptions; best for ages about 12 and up. Free.
Blackstone Block (bounded by Union Street, North Street, Blackstone Street, and Hanover Street) - Narrow cobblestone lanes in this old section of the city date back to the 17th century and are believed to follow the original pattern laid out by the Puritans. Devastating fires caused early wooden building to be replaced
Ebenezer Hancock House (10 Marshall Street) - Built in 1767, owned by John Hancock, and occupied by his younger brother, Ebenezer, who disbursed money to the Continental Army during the American Revolution. Used as offices, so you can't tour - but the exterior along with the rest of the street gives you a sense of what this area might have looked like during the eighteenth century.
Historic taverns - Soak up history in these historic bars in the Blackstone Block, or create your own pub crawl. The Green Dragon Tavern, known as the "Headquarters of the Revolution," is where the Sons of Liberty plotted their tea party and Paul Revere eavesdropped on the Redcoats. Union Oyster House, open since 1826, occupies a 1740s building; Daniel Webster and JFK numbered among its fans. Boston's last town crier, Jimmy Wilson, started Bell in Hand in 1795 and has occupied its current space since 1844; however, alcohol has been served here only since 1919.
More historic taverns - Other Historic Downtown watering holes steeped in history:
Irish Famine Memorial (on the Freedom Trail across from the Old South Meeting House) - Two large sculptures of a family symbolize the 100,000 refugees who fled the Irish Famine and came to Boston in the 1840s, with the first sculpture depicting starvation and despair as the family leaves Ireland, and the second celebrating joy and prosperity as they find new hope in Boston, sometimes called the "capital of Irish-America."
Boston Athenaeum (10 1/2 Beacon Street) - Private library dating back to 1807. Non-members can explore the first floor and exhibition galleries, or join a free 60-minute tour (Tuesdays and Thursdays, 3pm) focusing on the library's architecture and museum-quality fine arts collection. Call 617-227-0270 for reservations.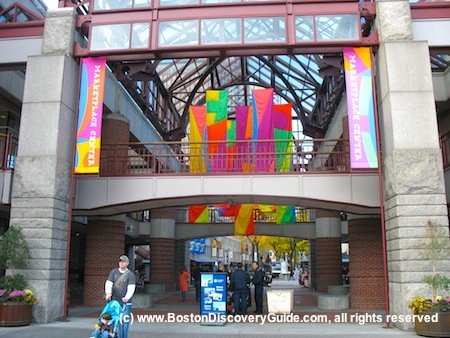 East entrance to Faneuil Hall Marketplace complex
Where to Stay in Historic Downtown Boston
Staying at a hotel in Historic Downtown Boston gives you the Freedom Trail at your doorstep, and easy access to all the area's top historic and modern attractions.
Check out these five excellent hotels right in the heart of historic Boston.
Historic Downtown Boston Restaurant Recommendations
Union Oyster House (41 Union St; 617-227-2750) - Historic seafood restaurant open since 1826, and still one of Boston's best. Specialties include their famous oyster bar, whole steamed lobsters, and New England shore dinners. More Boston seafood restaurants
Durgin Park (Faneuil Hall Marketplace; 617-227-2038) - Another historic Boston restaurant serving traditional New England fare - Boston baked beans, Yankee pot roast, lobsters, New England clam bake, fried clams, Indian pudding, Boston cream pie. Moderate.
Saus (33 Union St) - Belgian street food cafe offers frites and Liège waffles, with yummy sauces for both. Very affordable. More Boston Cheap Eats
Boston Restaurant Savings
Restaurant.com - Save 60% or More on Boston Restaurants
9 Park Street
(9 Park St) - Renowned Chef Barbara Lynch's wonderful Italian-French cuisine features mostly local and New England ingredients and exquisite wine pairings in an elegant townhouse overlooking Boston Common. Expensive. Bar menu is a relative bargain. (If you dine here and fall in love with the food, check out her cookbook:
Stir.
Mooo (15 Beacon St; 617-670-2515) - Deservedly one of Boston's top steakhouses; seafood is also excellent. Come for a special occasion, or when you're on an expense account. Top picks: beef Wellington, lobster, and any of the steaks. Affordable prix-fixe menu on Sunday night and Monday night, and the $20 prix-fixe lunch menu is a steal. Creation of top Boston chef Ken Oringer (Clio).
Scollay Square (21 Beacon St, 617-742-4900) - Bistro near the Massachusetts State House, with raised patio dining overlooking Beacon Street. My picks: meal-sized salads, seafood. Weekend brunch from 10am-2pm. Historic 1899 building; inviting interior.
Quincy Market at Faneuil Hall Marketplace - An English-style food hall lined with 35 stalls offering local specialties such as chowder and lasagna, plus homemade-type food from around the world. Gets VERY congested around midday.
Parker House Restaurant - Excellent New England classics. For lunch, go for the chicken waldorf salad or lobster roll and a slice of Boston cream pie. For dinner, start with mussels sauteed with chorizo followed by pan-roasted swordfish, a lobster from the tank, or rack of lamb. Almost all seafood is local. You can also get breakfast until 11 on weekdays.
Historic Downtown Boston Nightlife
Historic taverns and Irish pubs in the area around Faneuil Hall Marketplace add up to a very lively nightlife. You'll hear plenty of live Irish and other music, and probably encounter lots of revelers, especially on the weekend. Comedy clubs add to the merriment. If you're planning to drink a lot, bring a map with you so that you can find your way back through the winding streets to your hotel.
If you prefer a more sedate atmosphere, try the hotel bars in this neighborhood.
All of these bars serve decent to very good food; come for lunch or in mid-afternoon for a more relaxed atmosphere and more attentive service.
Hennessey's (25 Union Street) - Irish bar with live music, karaoke, DJs. Sometimes a small cover.
The Black Rose (160 State Street) - Very good reasonably priced pub food (including breakfast) with an Irish twist, live music every night, and plenty of Guinness. Top Irish musicians have played here, including U2. Nice fireplace upstairs.
Green Dragon Tavern (11 Marshall Street) - Historic tavern; pleasant place to stop for a drink and nachos. Live music on weekends and some week nights.
Bell in Hand (45 Union St) - Historic establishment, with great window tables for people-watching, and live music, karaoke, DJs, and dancing upstairs; cover on weekends.
The Point (147 Hanover Street) - Small bar with live music downstairs and a DJ upstairs on Friday and Saturday nights. Pub food such as burgers, quesadillas, and fried seafood.
Cheers (Faneuil Hall Marketplace) - Replica of the Cheers bar in the famed TV show (exterior shots show the Bull and Finch in Beacon Hill). Sure, it's touristy - but still a lot of fun. Come for the beer, burgers, ambiance, and outdoor seating during warm weather.
Ned Devine (Faneuil Hall Marketplace) - Combo Irish pub/restaurant/club, with outdoor seating, plus darkly atmospheric dining upstairs. Member of Harborfest "Hall of Fame" for their clam chowder. Live music, DJs, dancing on weekends; cover.

Outdoor tables at Ned Devine's in Faneuil Hall Marketplace in Historic Downtown Boston
Parks and Green Spaces
Two of Boston's most popular parks anchor the Historic Downtown Boston area at each end: Boston Common and Rose Kennedy Greenway:
Boston Common (across from Park Street) - One of Boston's most historic areas, and the oldest public park in the U.S. Explore the monuments, enjoy Shakespeare on the Common here during July-August, or just toss around a frisbee and have fun.
Rose Kennedy Greenway (across from Faneuil Hall Marketplace and Haymarket) - Ribbon-like park stretching from the North End to Chinatown. Beautiful and varied gardens, plenty of benches and tables, gourmet food trucks during the summer, a seasonal carousel and huge splash fountain for kids, and a variety of historical markers.

Rose Kennedy Greenway
Historic Shopping Venues
Although you'll find small specialty shops as well as a few street vendors scattered throughout the Historic Downtown Boston area, Faneuil Hall Marketplace dominates the shopping scene in this area.
Faneuil Hall Marketplace / Quincy Market - Part historic site, part shopping and restaurant complex, and part entertainment center, Faneuil Hall Marketplace has something for everyone. Browse in unique specialty boutiques, visit your favorite national or international brand stores, check out the interesting offerings from cart and kiosk vendors. Street performers entertain crowds where during the summer.
Haymarket- Boston's oldest outdoor market, dating back to around 1830 and still going strong!

Produce vendors at Haymarket, historic Boston outdoor market
Historic Downtown Boston - Colleges and Universities
Much of Suffolk University, along with its law and business schools, is located in Boston's historic downtown neighborhood. The Rosemary K. Stahl building, site of Suffolk's Welcome Center, is located at 73 Tremont Street.
Historic Downtown Boston photo gallery

Return to Top: Historic Downtown Boston Guide
More about Historic Downtown Boston
These books provide terrific information about this part of the city:
Insight Guides Boston Step by Step
- Very good walking tour of historic downtown, plus 15 other itineraries for Boston and nearby tourist sites and historic places
Walking Tours of Boston's Made Land
, by Nancy S. Seasholes - Find out what Boston used to look like - and follow her walking tours for a first-hand experience
AIA Guide to Boston
, by Susan and Michael Southworth - An architectural guide to most of Boston's and Cambridge's significant buildings
The Boston Globe Historic Walks in Old Boston, by John Harris - More walking tours - a fascinating mixture of history, drama, suspense, and even local gossip by a real expert
Historic Taverns of Boston
, by Gavin R. Nathan - Become an expert about Boston's historic taverns . . . and if you want to experiment, historic brew recipes to try at home!
Union Oyster House Cookbook
- Try some of their specialties at home
Historic Downtown Boston T Stations
Red and Green Lines/Park St

- Boston Common, near Park St/Tremont St intersection

Green and Blue Lines/Government Center

- close to Tremont St/State St intersection

Blue and Orange Lines/State Street -

under the Old State House
Nearby:

T Station beneath Boston's Old State House on the Freedom Trail
Parking in Historic Downtown Boston near Faneuil Hall
Boston's most historic sites cluster along streets laid out in Colonial times - in other words, they're narrow, twisting, and congested. Forget on-the-street parking - a garage will be your best bet. Easiest to access are garages at the edges of this area. Here are 3 where you'll find reasonable evening and weekend rates; high weekday rates reflect their location in the heart of central Boston.
Boston Common Garage - Huge parking garage under Boston Common; enter on Charles Street. Weekday rates are somewhat lower than average.
Parcel 7 Garage - 92 Sudbury Street, across from Haymarket. Daytime rates are slightly more than at Boston Common Garage - unless you get validation at Haymarket and other area businesses, which makes it the cheapest parking in town. The catch? It's often full.
75 State Street Garage - 75 State Street, enter at corner of State and Broad Street, very close to Faneuil Hall Marketplace/Quincy Market. Weekday rates are high, but it offers lower evening and weekend rates, made even cheaper by validation/discount tickets available at Faneuil Hall.
Historic Downtown Boston Boundaries
No official boundaries, as "Historic Downtown" simply describes the area with the oldest parts of Boston where you'll find the largest concentration of historic sites, restaurants, taverns, and of course, the Freedom Trail. Roughly speaking, when people say "historic Downtown Boston," they mean the area within these general boundaries:
North: Starting at the northeast corner of Boston Common, Beacon Street, left at Tremont Street, State Street, left on Congress Street, right at Hanover Street. (Yes, it zigzags.)
East: Rose Kennedy Greenway, between Hanover and State Street
South: Tremont Street, School Street, left at Washington Street, right at Court Street (which becomes State Street) to the Greenway
West: Park Street, bordering Boston Common
Like this Page? Please Share!
More Boston Neighborhoods to Explore
You may also want to check out:
Boston Discovery Guide > Boston Sightseeing by Neighborhood > Historic Downtown