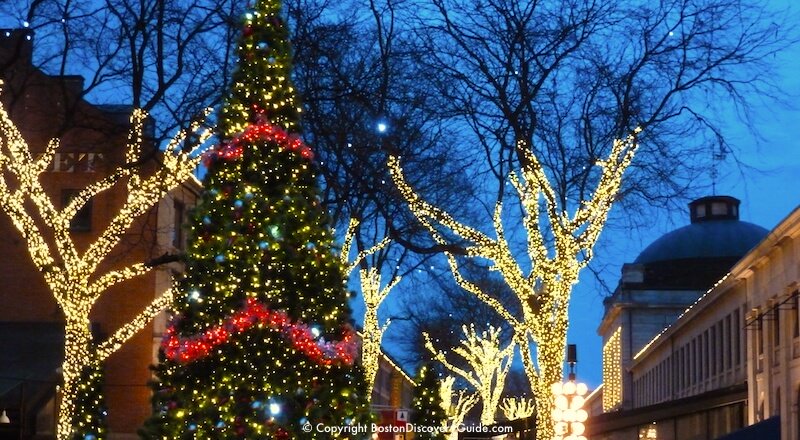 Christmas in Boston turns the city into a festive wonderland of lights, spectacular decorations, special holiday music and shows, and plenty of good cheer.
The winter holiday season is a wonderful time to visit!
Stop by Boston Common for a round of ice skating or walk over to Faneuil Hall Marketplace to see the performers.
Attend The Nutcracker or Black Nativity . . . enjoy a Holiday Pops concert at Symphony Hall . . . take part in special Boston Christmas Eve events . . . or just walk around and enjoy all the shining Boston Christmas trees, serenading carolers, and maybe even snow.
Where to Find Lighted Christmas Trees
By late November and early December, Boston sparkles with beautifully decorated and festively lit Christmas trees.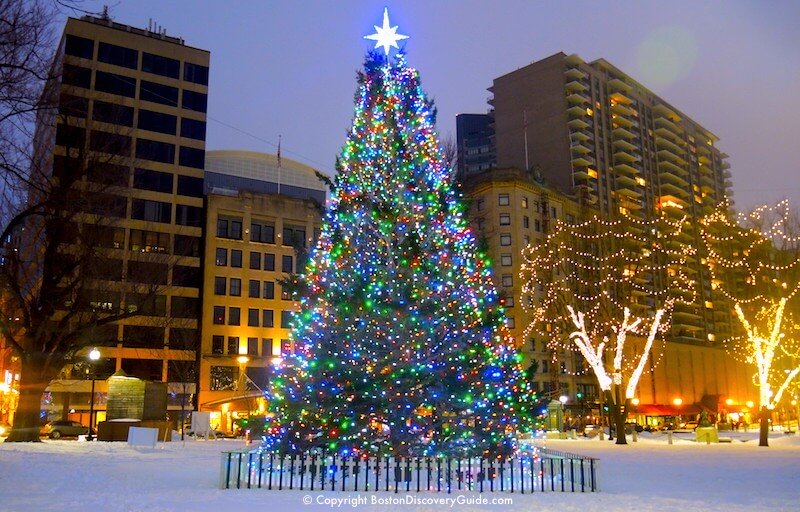 Two of the biggest trees stand proudly in Boston Common and Faneuil Hall Marketplace, site of the Blink! holiday lights and music show.
You can find another huge tree perched above Macy's in Downtown Crossing - plus plenty more in shopping areas, hotel lobbies, restaurants.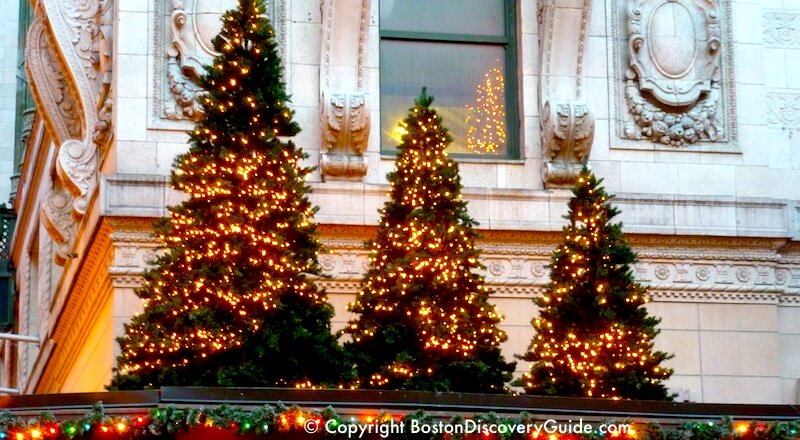 Want to actually see the Christmas lights turned on? Holiday tree lighting events take place in late November - early December.
For exact dates and details, check: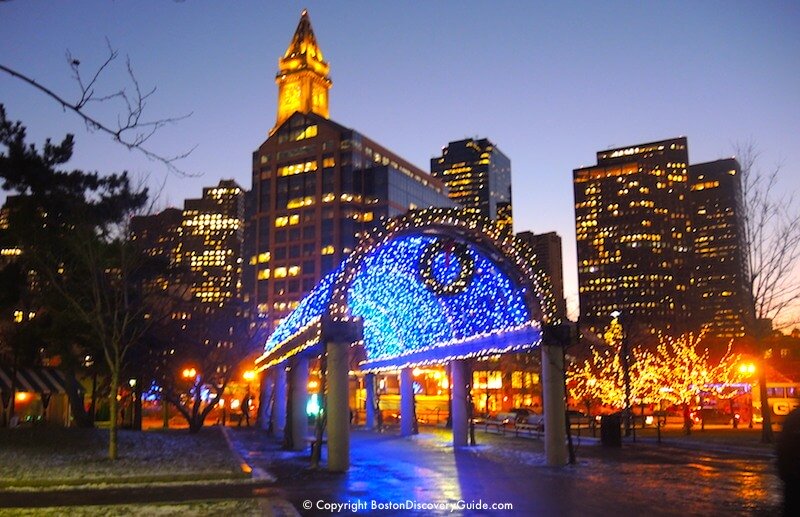 Holiday Concerts, Shows, & Performances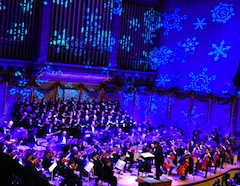 Boston Holiday Pops Concerts in Symphony Hall throughout the Boston Christmas season provide the perfect chance to sing along with old favorites, be photographed with Santa, and hear the special holiday music conducted by Keith Lockhart. Holiday Pops Tickets
Lots of other special musical performances also take place throughout December - here's a sampling:
- The Nutcracker - Boston Ballet at Symphony Hall
- Handel's Messiah @ Boston Symphony Hall - Full price $75-$80; Goldstar $38-$40
- New Year's Celebration - Boston Baroque at Sanders Theatre, Harvard University - Dec 31 and Jan 1 - Get half-price tickets from Goldstar
- A Christmas Celtic Sojourn - Cutler Majestic Theatre - Full price $45-$75; Goldstar $20-$59

Black Nativity is another huge Boston Christmas musical event. Tickets sell out fast - you need to move fast to get them, and be flexible about seating. More about Black Nativity tickets
Half Price & Discount Holiday Tickets
Discount and half price tickets start to become available for some performances about 4-8 weeks before the event.
They go fast - so if you see tickets you want, grab them!
- Handel's Messiah @ Boston Symphony Hall - Full price $75-$80; Goldstar $38-$40
- A Christmas Celtic Sojourn - Cutler Majestic Theatre - Full price $45-$75; Goldstar $20-$59
- Jose Mateo's The Nutcracker @ Cutler Majestic Theatre - Full price $52-$75, Goldstar price $26-$38
- Coco and Carols Cruise on the Northern Lights -Full price $46; Goldstar $28
- Urban Nutcracker @ Back Bay Events Center, Boston - Full price $35-$65; Goldstar $20-$35
- Moscow Ballet's Great Russian Nutcracker @ Orpheum Theater - Full price $59-$100; Goldstar $29-$50
- An Irish Christmas Carol @ Boston Harbor - Full price $46; Goldstar $28
- Amadeus @ Boston Center for the Arts - Full price $50; Goldstar $25
- Holiday Jazz Cruise @ Boston Center for the Arts - Full price $50; Goldstar $25
- Boston Baroque - Handel's Messiah @ Jordan Hall - Full price $30-$60; Goldstar $15-$30
- Holiday Pops @ Boston Symphony Hall - Full price $39-$157; Goldstar $31-$130
- Ho Ho Ho Holiday Concert with the Boston Gay Men's Chorus @ Jordan Hall - Full price $22-$62; Goldstar $10-$52

Find ALL half-price and discount Christmas and Holiday tickets
Blink! Holiday Light Show at Faneuil Market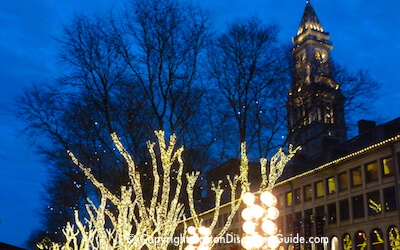 Blink! combines 350,000 flashing LED lights and music from the Hallelujah Chorus to set Faneuil Hall Marketplace ablaze every evening through January 5.
Catch the free show, which runs 12 times between 4:30pm and 10pm, as you stroll around the country's open-air marketplace, site of the largest Christmas tree in New England.
Faneuil Marketplace also offers excellent shopping opportunities - lots of unique "only in Boston" boutiques mixed in with larger national chains where you'll often see "40% off" signs.
Christmas Eve Events in Boston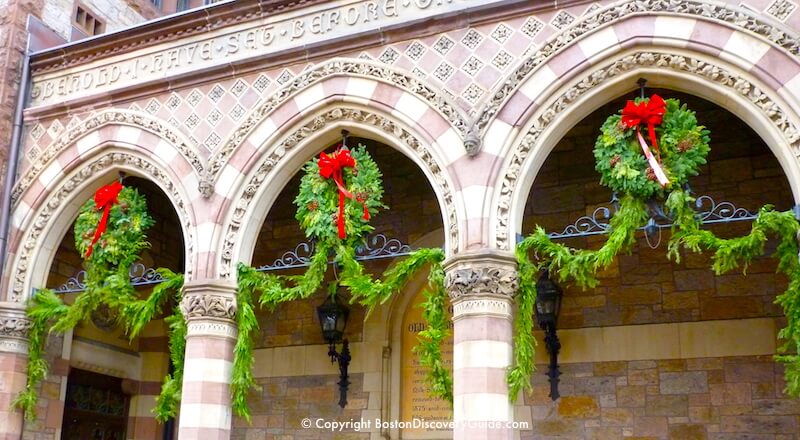 If you're looking specifically for events on Christmas Eve, you'll find an excellent mix of music, entertainment, and religious services.
Keep in mind that many businesses close early, some restaurants will be open only for lunch while others may close all day, and stores will be packed full of last minute shoppers. Some attractions and tours may also be closed for part or all of Christmas Eve.
Scroll down this page to find information - or use these Quick Links: Music | Entertainment | Church Services
Boston Hotels with Christmas Specials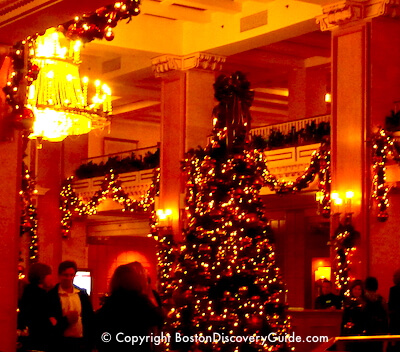 Boston hotels deck their halls - and their lobbies - with lavish seasonal splendor throughout December and the holiday season.
Better yet, they get into the spirit of giving by offering special holiday packages.
- Boston Harbor Hotel - "Fall Festival of Savings" - check rates
- Fifteen Beacon Hotel - "Winter Wishes" - compare rates
- Millennium Bostonian Hotel - "Holiday Shopping at Faneuil Hall Marketplace Special" - find best rates
Holiday Savings with Boston Discount Cards
Don't forget that Boston discount passes can save you up to 50% and more on top attractions during the holidays. They also make nice holiday gifts. Using a discount card is the easiest way to save money in Boston!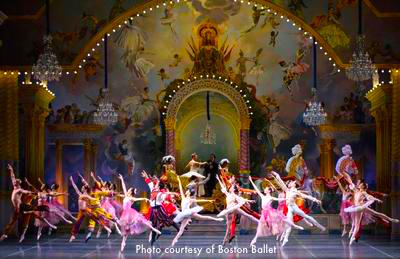 Another beloved Boston Christmas tradition is going to a show with a mixture of splendid music, dazzling dancers, and exciting performances.
As usual, The Nutcracker and Disney on Ice top the list of favorites, and are joined this year several other shows
If you are planning to come to Boston for the holidays, consider staying in one of the Boston Theatre District hotels and enjoying all the festive lights.
A 5-minute walk takes you to the Blink! light show (and of course excellent shopping) at Faneuil Marketplace. For more fun, head over to the ice skating rink at Frog Pond, just a block or two away.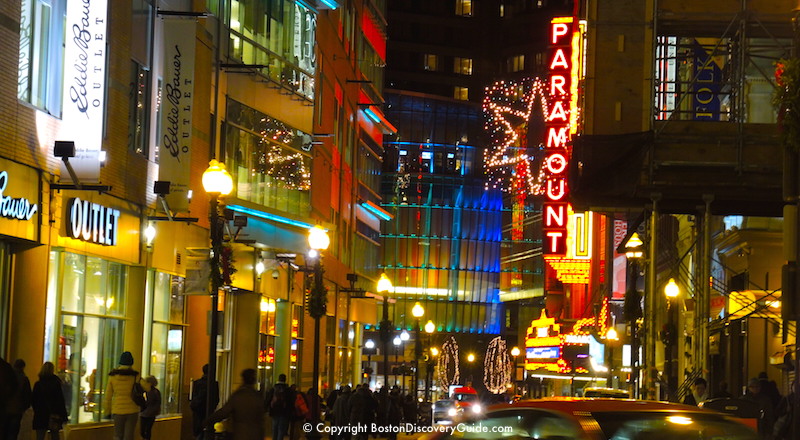 Christmas Shopping in Boston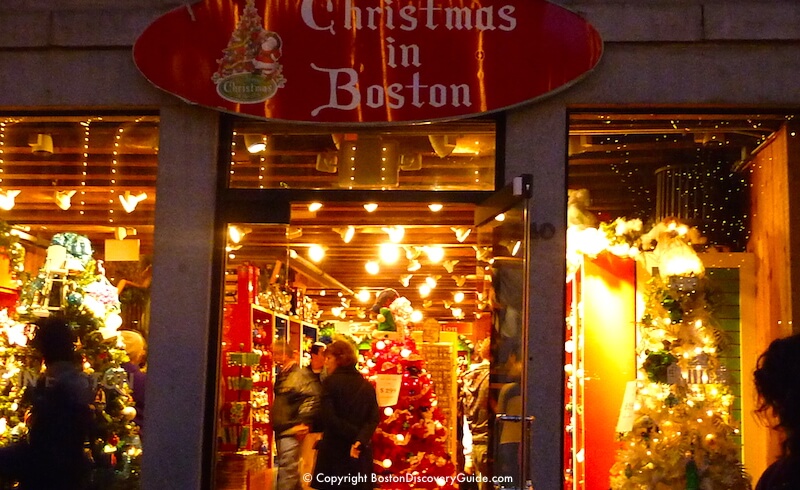 Boston stores deck their halls - and walls, windows, aisles - with holiday decorations designed to put you into the spending, and of course giving, spirit.
Just seeing all the decorations can be lots of fun.
But if you're serious about shopping, read our recommendations for the best places for Christmas shopping in Boston, especially if you want to accomplish a lot in a short time.
For biggest savings at discount outlets, check out Wrentham Village and Assembly Row.
Carolers - Where to Enjoy a Performance
One of the serendipitous delights about walking around Boston in December is happening upon a group of Christmas carolers.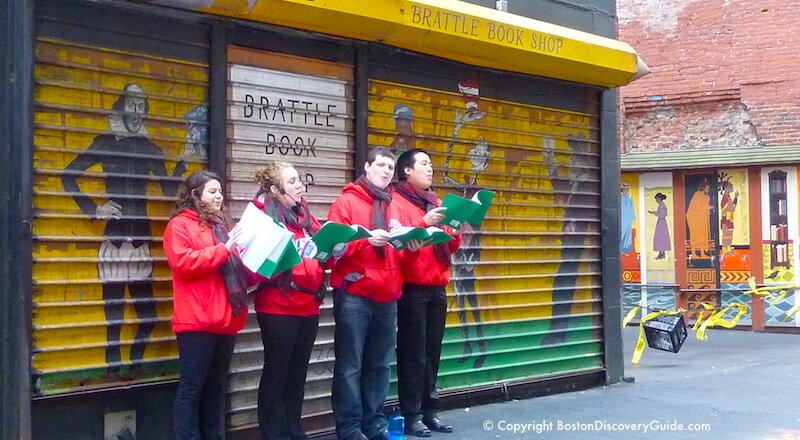 Some perform in predictable places like Faneuil Hall Marketplace and in Downtown Crossing near Macy's, but others appear in random places, singing just for the sheer joy of sharing traditional holiday music and Christmas carols.
Walk around Beacon Hill on almost any evening as Christmas draws near, and you're likely to hear a caroling party as they wind their way around the narrow streets, carrying candles and spreading holiday cheer.
Christmas in Boston - The Movie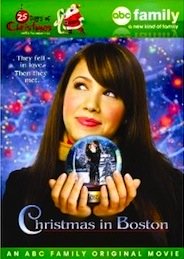 The holiday season brings the perfect excuse to watch Christmas in Boston, a light-hearted chick-flick movie. The plot is silly but sweet - pen pals since middle school, Gina and Seth have never met ...until finally Seth needs to make a Christmas week trip to Boston where Gina works.
The problem? All these years, they've been exchanging photos ... but of their best friends rather than of themselves. You can probably guess what happens - but still, it's fun to watch.
Note - don't watch this movie with your young kids unless you want to explain a non-culinary use of chocolate syrup.
The Boston part? Wonderful scenes of Back Bay and the giant Christmas tree in Faneuil Hall Marketplace. More about fun Boston Christmas movies
Where to Find Santa in Boston
Boston has plenty of Santas to grant Christmas gift wishes - or at least listen to your child's fantasy gift list.
You'll get some great photos - a perhaps a few surprises as you hear the wish list unfold.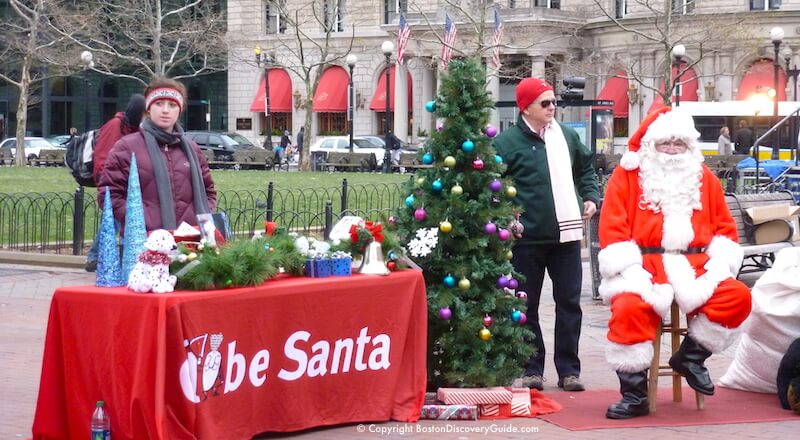 But to get into the real spirit of Christmas in Boston, watch for Globe Santa, who appears at various places throughout the city during the holiday season (hint: one place to find Globe Santa is in the Rotunda at Faneuil Hall Marketplace every Wednesday through Sunday during the holiday season). This is a special Santa, one who really does make wishes come true for the city's neediest families. When you see him (or her) - give generously!
You can find plenty more Santas throughout the city - try the Shops at Prudential Center, Downtown Crossing - look for pop-up Christmas markets, and practically every other Boston shopping mall.
Christmas Eve in Boston - Midnight Services & Special Music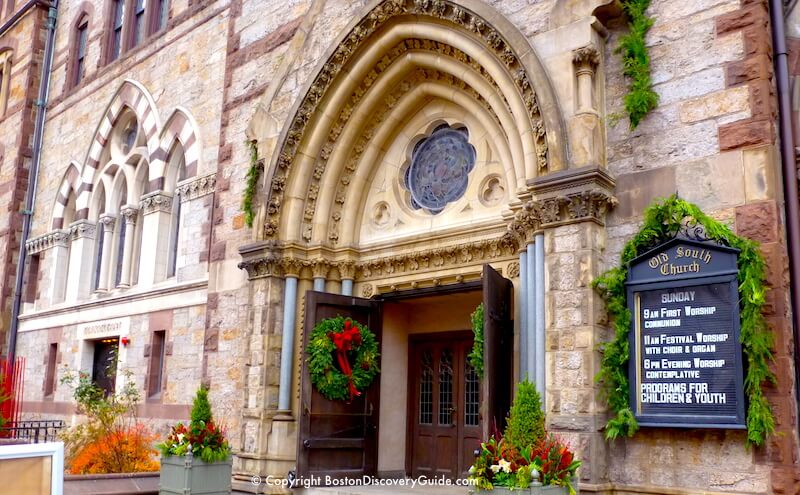 If you're visiting Boston and want to attend Christmas Eve or Christmas Day church services, you'll find a warm welcome from our famous churches, regardless of your personal beliefs or religion.
Here are Boston churches with Christmas Eve services and strong ties to Boston history. Please check their websites for service times and possible weather-related updates:
- Arlington Street Church (Unitarian Universalist; 351 Boylston Street, Back Bay; 617-536-7050, www.ascboston.org) - Renowned for its music and Tiffany windows
- Cathedral of the Holy Cross (Roman Catholic; 1400 Washington St, South End; 617-542-5682; www.holycrossboston.com) - Gothic Revival style; largest in New England); midnight mass on Christmas Eve
- Emmanuel Church/Center (home to Episcopal and Boston Jewish Spirit congregations; 15 Newbury Street, Back Bay, 617-536-3355; www.emmanuel-boston.org) - Famous for Bach cantatas presented during Sunday services
- King's Chapel (Ecumenical; corner of Tremont and School Streets, Historical Downtown Boston; 617-227-2155; www.kings-chapel.org) - Founded in 1686, Freedom Trail site, renowned for its music
- Old North Church (Episcopal; 193 Salem Street, North End; 617-523-6676; www.oldnorth.com) - Freedom Trail site where Paul Revere arranged for 2 lanterns to be hung; built in 1723; oldest standing church building in Boston; carols on Christmas Eve
- Old South Church (Congregational; corner of Dartmouth & Boylston, Copley Square, Boston; 617-536-1970) - The congregation dates back to 1669 and the second generation of Boston's founders; the magnificent Northern Italian Gothic building is the congregation's third home (you can visit the first, the Old South Meeting House, on the Freedom Trail)
- Park Street Church (Evangelical; One Park Street, across from Boston Common; 617-523-3383; www.parkstreet.org) - Freedom Trail site
- Trinity Church (Episcopal; 206 Clarendon St, Copley Square; 617-536-0944; www.trinitychurchboston.org) - World-famous architectural masterpiece by H.H. Richardson; afternoon and midnight services, with special organ music.
More Christmas and Hanukkah Celebrations in Boston Earlier in December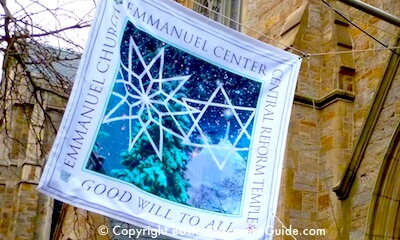 Menorah lighting

on Boston Common near the Park Street T Station, facing the State House;

Chabad of Downtown Boston

will conduct the public Menorah lighting from Sunday, December 6 through Monday, December 14 (details to be confirmed for 2015).

Hanukkah Cantata

- A Light Through the Age celebrates Hanukkah's spiritual meaning through story and song; Sunday, December 6, 2015, 4pm at

Central Reform Temple of Boston,

15 Newbury Street (Emmanuel Church), Back Bay neighborhood - www.alightthroughtheages.org

Chanukah-Inspired Donut Tasting

with Josh Danoff, founder/owner of renowned Union Square Donuts at Vilna Shul (18 Phillips Street in Beacon Hill) on Thursday, December 10, 2015 at 7pm; tasting preceded by wine and appetizers; Tickets $25 - advance purchase recommended as walk-ins can probably not be accommodated (Vilna Shul website). If you miss this event, you can now find Union Square Donuts at their own kiosk in the new Boston Public Market next to Haymarket Station (as well as at their Union Square location in Somerville).

Hanukkah Festival of Lights at Museum of Fine Arts

- December 9, 2015 - An evening celebrating Hanukkah, with a gallery tour of MFA's collection of Judaica, musical performances, candle-lighting ceremony in the Shapiro Family Courtyard, special menorah by Boston artist Janet Shapero, and other special exhibitions. Free with Museum admission (and you can get free admission if you have a Boston discount pass)

Menorah lighting and Hanukkah celebration

takes place at Faneuil Hall Marketplace - 2015 date and time to be confirmed. This family-oriented event features music, crafts, hot latkes, jelly doughnuts, chocolate gelt, dreidels, and games for children.

Christmas Chimes in the City - Old South Ringers Handbell Concert

- The handbell choir presents a program of Christmas music; free admission; December 11, 2015 from 7:30-9:30pm;

Old South Church

(Copley Square, corner of Dartmouth & Boylston, Back Bay, Boston)

Sing Nowell!

- Holiday Concert by the Boston Choral Ensemble celebrating the holiday season, including traditional and secular carols;

Old South Church

(Copley Square, corner of Dartmouth & Boylston, Back Bay, Boston), Sunday December 19, 2015, 3pm - for tickets ($10-$20), go to www.bostonchoral.org

Chorus Pro Musica

- Candlelight Christmas Celebration, complete with a candlelight procession with Gregorian chant, seasonal classics, and new works; Friday, December 18, 8pm; Tickets $22-$45;

Old South Church

(Copley Square, corner of Dartmouth & Boylston, Back Bay, Boston; 617-536-1970; www.choruspromusica.org)
Secular Entertainment on December 24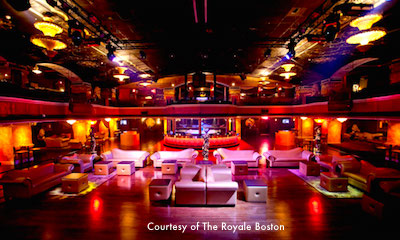 Try these suggestions for secular entertainment on Christmas Eve (verify schedules and hours; make reservations as early as possible):
Blue Man Group - Usually a couple of performances on Christmas Eve - Get schedule & tickets
Matzo Ball at the Royale (279 Tremont Street, Theatre District) - Music and dance beginning about 9pm on Christmas Eve for the nation's largest Jewish singles event (according to the sponsors, the Society of Young Jewish Professionals, JDate, and SLEEK Medspa) - 279 Tremont Street; 617-338-7699 - tickets required; always sells out; check website for ticket info, usually beginning in early November: http://royaleboston.com
Loews Boston Common Theater - 19 screens of entertainment (175 Tremont Street, across from Boston Common); call 888-262-4386 for shows and times
Chinatown restaurants - Many, although not all, are open on Christmas Eve and Christmas Day.
Boston's Holiday Market in Downtown Crossing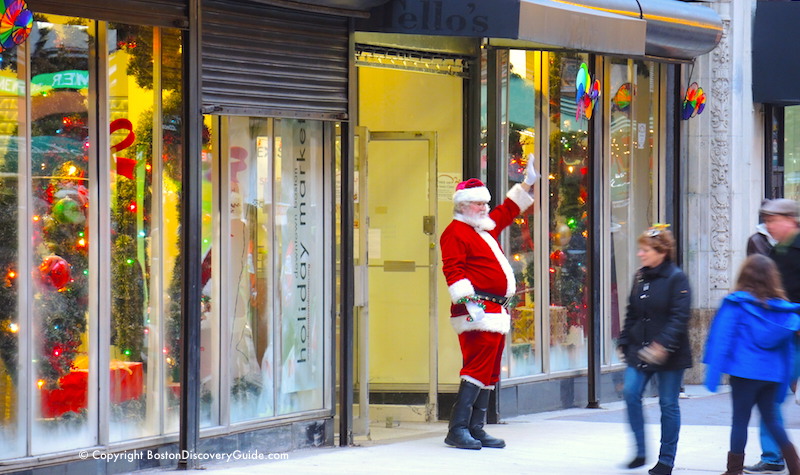 Boston's pop-up Holiday Market in Downtown Crossing appears in a different location each year - but festive decorations and a Santa or two make it easy to spot. Special one-of-a-kind jewelry ususally takes center stage, but you'll also find plenty of other handcrafted gifts such as Cambodian silk items, Costa Rican handcrafted decorative items, and delicious homemade and organic gourmet treats.
Downtown Holiday Market remains open until around January 10th, and is open 7 days/week from 11am to 7pm Monday through Saturday, and 11am - 5pm on Sundays.
Santa-Themed Fun Fund-Raisers: Santa Speedo Run & More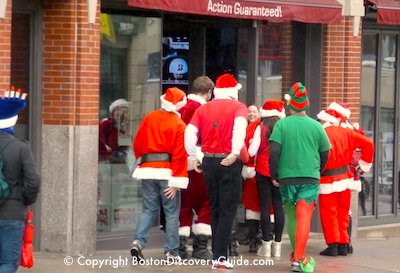 Numerous Christmas-themed Boston fund-raising events during December provide funds for those who might not otherwise have happy holidays.
You'll see lots of Santas, such as this group heading into Game On! near Fenway Park, engaged in these fund raising activities.
Perhaps the most famous is the Santa Speedo Run, involving about 500 scantily clad Santas running a loop down Boylston Street and up Newbury Street.
They warm the hearts of shoppers - and raise a significant amount of money for local charities.
Boston Attractions on Christmas - Open or Closed?
Most theaters, stores, the Frog Pond ice skating rink, and museums will be closed on Christmas. So what can you do on Christmas Day in Boston?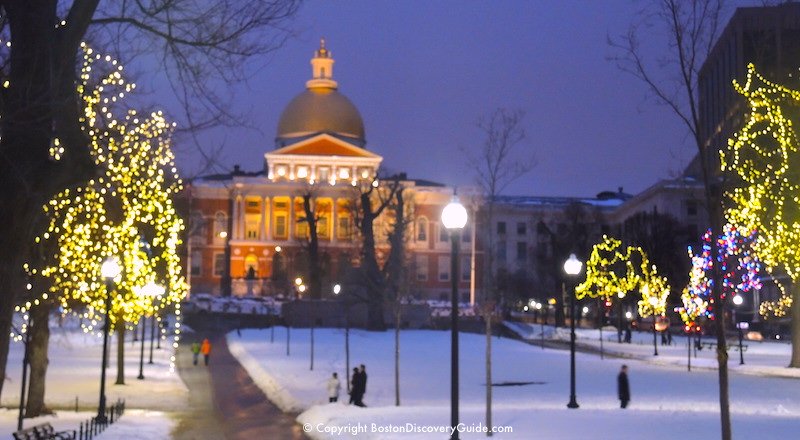 Most Boston movie theaters will be open (be sure to check first), including AMC Loews Boston Common 19 (175Tremont Street, across from the Common).
Blink! at Faneuil Hall Marketplace - Stores will be closed for business but come watch the breathtaking light and music show - a beautiful finish to Christmas Day.
Many Boston restaurants, including most hotel restaurants, will be serving Christmas dinner. Reservations are a MUST on Christmas Eve and Christmas Day, because this is a popular time to go out. If you don't plan ahead and can't get reservations, keep in mind that many Chinatown restaurants will be open, as well as most hotel bars where you'll usually find excellent bar menus.
First Night Boston - Welcome the New Year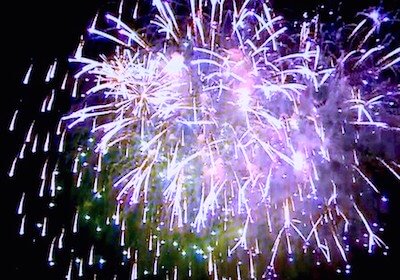 Sometimes Christmas in Boston feels like it ends too soon - but no worries, Boston's gala First Night extravaganza is just around the corner.
So even if Christmas is still in the future, it's not too early to plan for NYE.
Most important, if you're coming into the city for the big event, make your hotel reservations NOW to avoid disappointment - check out all the Boston New Year's Eve hotel specials.
---