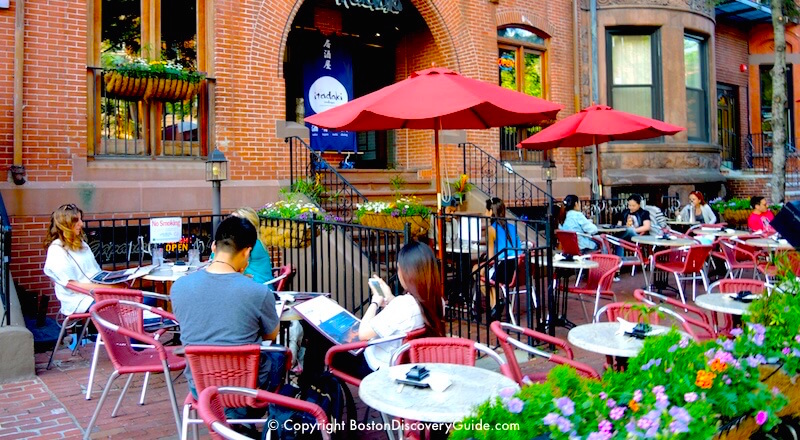 Boston restaurants offer up memorable food as varied as the city's rich history. Featuring the best local and New England ingredients and a mix of flavors from around the world, our talented chefs serve up something for every taste and budget.
With almost 3,000 Boston restaurants - many of them chef-owned - to choose from, you'll find wonderful places to dine in every neighborhood in the city.
So where should you dine, especially if you're a visitor to Boston and not familiar with all the options?
To make sure you get the most from your dining experience, start with Boston Discovery Guide's recommendations for restaurants by location, such as near famed Fenway Park, the downtown Theatre District, or in colorful Chinatown.
Or find the top restaurants offering your favorite type of cuisine - fresh local seafood straight from the dock, mouth-watering Italian favorites, steakhouses, French classics, Asian.
You can explore our history by sampling the fare at taverns dating back to the American Revolution. (Yes, raising a pint to Paul Revere does mean you've learned something about American history.)
And don't forget: this is sports-crazed Boston, so you'll definitely want to check out the tasty pub food in our top sports bars.
Plus as any Boston foodie will tell you, we serve up a whole lot more for you to enjoy: food trucks, farmers markets, food and wine festivals, and some of the best food tours anywhere. So bring your appetite, and we'll take care of the rest!
Boston Restaurants by Cuisine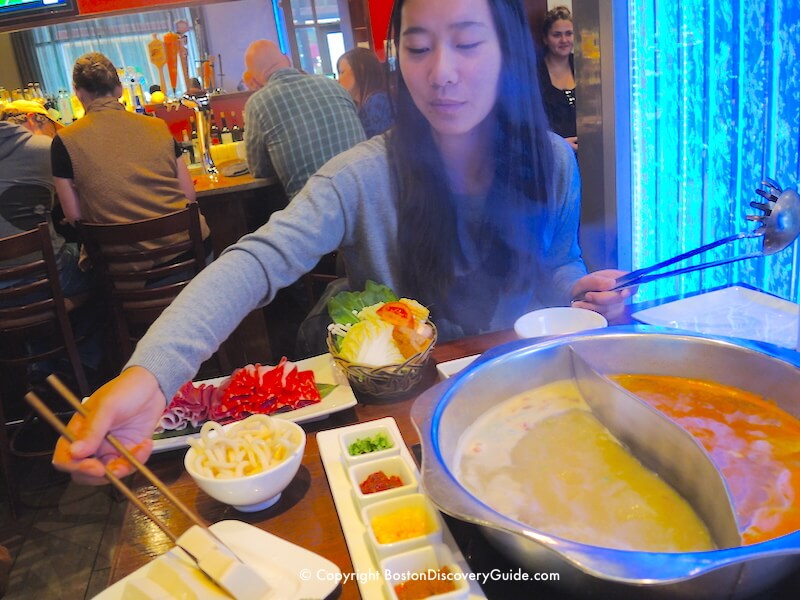 Bubor Cha Cha Seafood Restaurant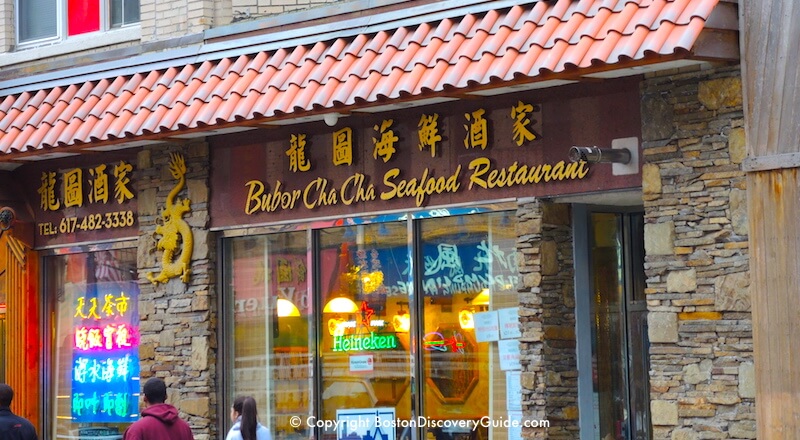 Bubor Cha Cha's decor - a fun South Pacific theme with fluffy white clouds scattered across the blue ceiling - gives you an immediate clue about this restaurant's specialties: Southern Chinese cuisine, with an emphasis on Cantonese, Hong Kong, and Hainanese dishes.
You'll see plenty of familiar items such as kung pao chicken and pork lo mein, plus you can order dim sum dishes throughout the day.
However, if you want to be adventurous, try one of the frog dishes, the delicate Hainan chicken, sautéed lotus root, sizzling beef rib with black pepper sauce, or the tasty eel with garlic.
And don't miss the very fresh seafood, swimming around in a tank until the moment you order it - and always one of the best reasons to dine in Chinatown. Choose what you'd like from a selection of fish and shellfish, including shrimp and lobster. The menu lists several preparation styles, but if you don't see exactly what you want - let's say you'd like your flounder served with garlic and ginger sauce - just ask.
45 Beach Street | (617) 482-3338 | Open until 2am on Friday and Saturday | www.buborchacha.com
Serene decor with traditional Chinese prints on the walls, a couple of big screens in the bar area, and comfortable seating with tables slightly farther apart than is the norm in many Chinatown restaurants make East Ocean City an appealing spot to relax with friends and enjoy the traditional Cantonese and Szechuan specialties.
You'll see a few tanks with live fish and lobsters when you come through the door, but in the kitchen are the really huge tanks, temporary home to approximately 600 pounds of live seafood a day.
Unless you arrive knowing exactly what you want, be prepared to read through a lengthy menu offering hundreds of possibilities - everything from Peking duck to hot pot to the fresh seafood swimming around the tanks in the kitchen. (Something you need to know: here, "hot pot" means the food was cooked in a sort of deep, pot-shaped bowl, which literally is hot.)
This is the place to try steamed scallops in the shell with ginger and scallions, a clam hot pot, Chinese sausage and scallops fried rice, and barbecued spareribs.
If you don't see exactly what you want, let your waiter know ... chances are good that the kitchen can produce it.
Portions at dinner are huge, and meant to be shared. Plan to take home leftovers - or order less than one plate per person.
Like most Chinatown restaurants, prices will not flatten your wallet. Unless you get carried away and load up on lobster and duck, your check for dinner (without drinks or tip) will likely be well under $20/person; at lunch, below $10.
25-29 Beach Street | 617-542-2505 | Open until 3am on Friday and Saturday, and 2am on other nights | Lunch menu available Monday - Friday (except holidays) until 3pm | www.eastoceancity.com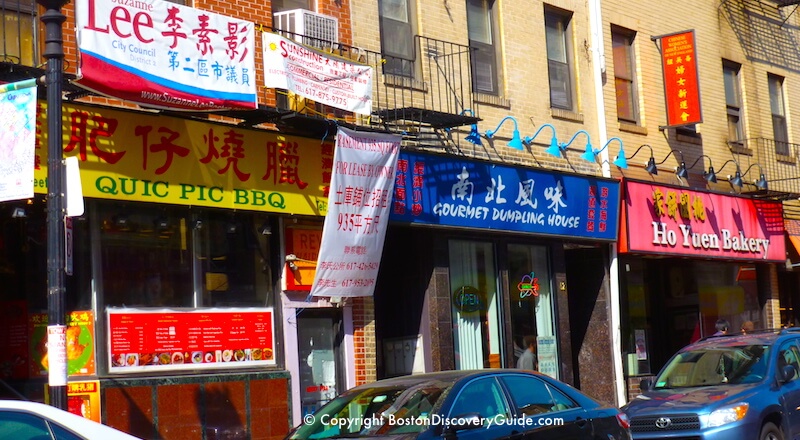 You'll almost always have to stand in line for a table at Gourmet Dumpling House - but if you want to dine on their intensely flavor soup dumplings, or xiao long bao (listed on the menu as "mini juicy dumplings") and other Taiwanese-style specialties such as sautéed mustard greens with edamame and tofu, chicken corn soup, pan-fried pork buns, eggplant with pork, fried peanuts, and sizzling baby beef ribs, you won't mind the wait.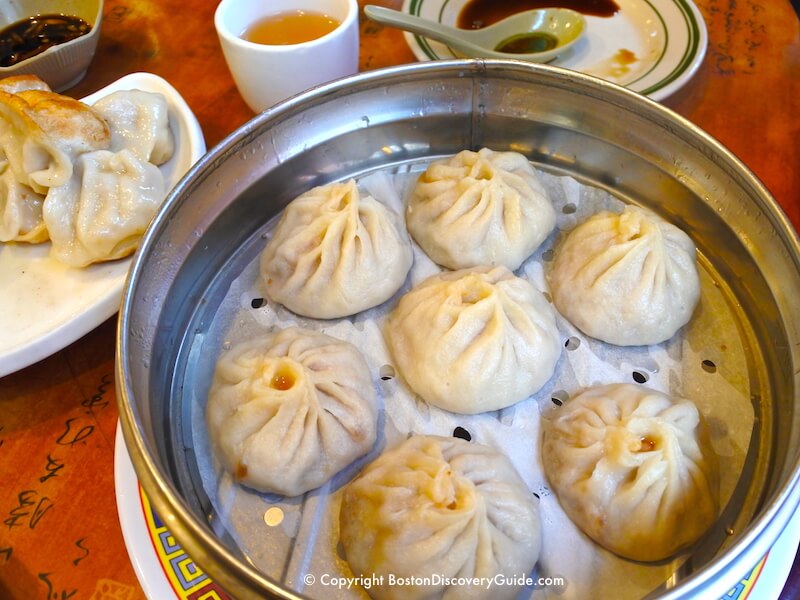 Gourmet Dumpling House is a no-frills restaurant, with tables crammed together in a small space.  You may sometimes be seated with strangers, which can actually be a lot of fun, especially when everyone tastes each other's food. 
52 Beach Street | (617) 338-6223 | www.gourmetdumpling.com
Chinatown Restaurants - Directions & Parking
Subway: Green Line/Boylston or Orange Line/Chinatown
If you drive: The easiest place to park is in the garage under Boston Common, just 2-4 blocks from these restaurants. The 660 Washington Street Garage is also reasonably convenient. It costs a few dollars more than the Boston Common Garage, but Q Restaurant (located next door) gives you up to 3 hours of validated parking for $7 - a great deal! Although there are other garages in Chinatown, the narrow and congested streets can cause them to be difficult to access.