Boston Event Cale
ndar February 2016
Boston Discovery Guide recommends best February fun!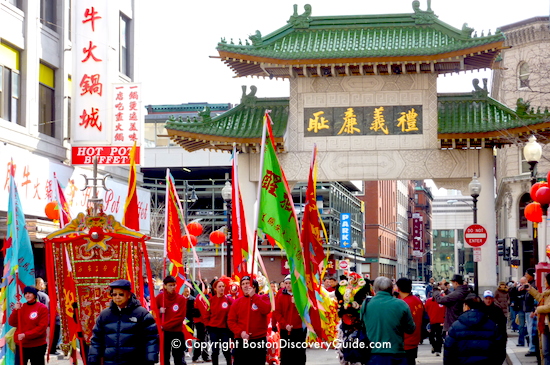 Chinese New Year's parade in Boston's Chinatown - Top February Event
The Boston Event Calendar for February 2016 includes Boston Beanpot hockey, the huge New England Boat Show, and Lunar New Year celebrations to welcome the Year of the Goat.
February brings 2 big holidays: Valentine's Day on February 14, and President's Day on February 16, with most schools in New England on winter vacation for the entire week of the 16th.
More to look forward to during February: the Boston Sci-Fi Film Festival.
Quick Links to more Boston events: January l March l Other Months
MFA Lunar New Year - Free Admission
Lunar New Year Celebration - Museum of Fine Arts - February 21, 2015, 10am
- Celebrate the Year of the Goat with free admission to Boston's MFA on February 21, and plenty of fun family activities all day to mark the Lunar New Year.
Explore Chinese, Korean, and Vietnamese traditions, and enjoy activities and performances including a Lion Dance. Special events include demonstrations of Gong-Fu (Chinese Martial Arts), Saebae (Korean ceremony), and calligraphy.
Can't come on the 21st? You can get free admission on other days if you have a valid Boston Discount Card.
February 2015 Theater & Shows
More Boston theater shows during Februrary
Where to Stay near the Theatre District
| | | | |
| --- | --- | --- | --- |
| | | | |
Half-price tickets for Boston Events in February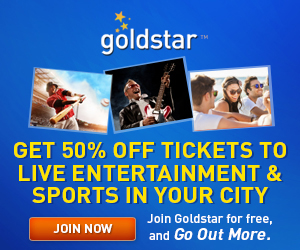 - Blue Man Group at the Charles Playhouse
- Nick's Comedy Stop - Boston Theatre District
- Dick Doherty's Comedy Den - Downtown Boston
- The Donkey Show - Oberon, Cambridge
- Back Bay Chocolate Tour - Boston's Back Bay neighborhood
- Shear Madness at the Charles Playhouse
- Mainstage Show - Improv Asylum

Find even more half-price events!
Boston Concerts during February 2015
| | |
| --- | --- |
| Photo of Diana Krall courtesy of dianakrall.com | |
Wang Theatre
| TD Garden
| Blue Hills Bank Pavilion | Gillette Stadium

Boston Symphony Hall
| House of Blues
| Paradise Rock Club

Orpheum
| Wilbur Theatre
| Colonial Theatre
| Royale

Boston Opera House | Comcast Center
| Agganis Arena
Chinese New Year Events - Lion Dance Parade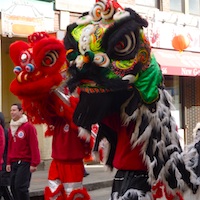 When: Sunday, March 1, 2015
See Boston Discovery Guide's March Events Calendar for more information
Note: In case you remember that this this parade takes place in February, you're right. However, Chinese New Year is based on the lunar calendar, and it takes place later than usual this year.

Where: Beach Street and other nearby streets in Chinatown, Boston
Closest T station: Orange Line/Chinatown (or walk over from any Downtown Boston T station
Cost: Free
More information about the CNY Parade and photos from previous years
More Winter Activities in Boston
Valentine's Day 2015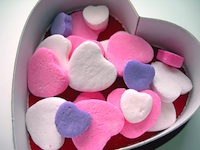 When: Saturday, February 14

Valentine's Day is big in Boston, with lots of different ways and places to celebrate. Find out moreabout all the different Valentines Day events and celebrations going on in Boston.
Lots of Boston's top hotels offer romantic Valentine's Day packages to save you money while giving you a special experience.
Enjoy the Champagne Dreams celebration package at the Fairmont Copley Plaza, the Boston is for Lovers at the Midtown Hotel, or the Be Mine? special at Fifteen Beacon - or choose from other special Valentine's Day offers from Boston hotels.
More romantic options: Boston hotels with fireplaces.
Champagne Dinner Dance & Valentine's Brunch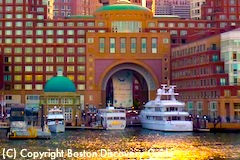 The Boston Wine Festival, underway from January through early April at the Boston Harbor Hotel, offers a special Champagne Dinner Dance on February 14 featuring live music, dancing, and incredible food matches with memorable Champagnes from Moet & Chandon.
Alternately, opt for Champagne, Creole dishes, and great Boston Harbor views at the Valentine/Jazz Brunch on Sunday, February 15.
More info about the Wine Festival
More info about Valentine's Day events in Boston
Cooking Classes for February 2015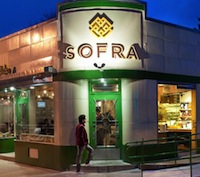 Best way to chase away the winter blues: take a cooking class from some of Boston's top chefs, and sample the results:
- Sofra's Bakery & Cafe - Award-winning Chefs Ana Sortun and other instructors from Oleana, Sofra, and Sarma conduct almost-weekly cooking classes/demonstrations at 6:30pm at Sofra (1 Belmont Street, Cambridge). In addition to yummy samples including wine pairings of everything the chefs demonstrate, you get a recipe book to take home with you.
On offer this month: February 3, Bars & Beads (chocolate confections, $85); February 10, Honey ($85); February 24, Why Ottoman Cuisine? (sample Turkish cuisine, $110)
More information: http://sofrabakery.com/classes
Check out more cooking classes during March
---
Boston Pride - Women's Professional Hockey Schedule - 2016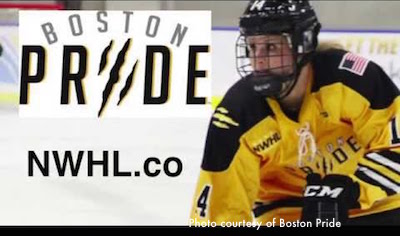 Boston Pride, women's professional hockey team, plays only 1home game during February at Bright-Landry Hockey Center (65 North Harvard Street, Boston) at Harvard University - so don't miss it!
Tickets are $20 and you can get them here: http://nwhl.co/tickets-pride
Here's the home game schedule for February:

February 14 vs Connecticut Whale - 3:00pm (Sunday)
---
Boston Beanpot Hockey 2015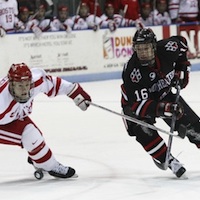 When: February 2 and 9, 2015
Week 1: Monday, February 2
- 5pm - Northeastern vs Harvard
- 8pm - Boston University vs Boston College
Week 2: Monday, February 9
- 4:30pm - Consolation Game starring Week 1 losers
- 7:30pm - Championship Game starring Week 1 winners
Where: TD Garden, Boston
Closest T station: Orange and Green Line/North Station
Parking: Garages near TD Garden
Find best seats: Find Beanpot tickets
In the legendary Boston Beanpot rivalry, teams from Boston's 4 major hockey schools battle on the ice during the first two Monday nights in February to determine who's the best.
Here's how it works: Week 1 features 2 games, as the teams pair off against each other. In Week 2, winners battle each other for the championship and #2 slot, while the losers play each other to see who will be in 3rd place.
How do the schools stack up? Here are the number of Boston Beanpot Hockey Championships won by each team during the 61 years since the tournament began in 1952:
Boston University - 29 Championships
Boston College - 18 Championships
Harvard - 10 Championships
Northeastern University - 5 Championships

Boston College won in last year, continuing a 6-year winning streak...will a different champion triumph in 2015?
Photo credit: Derek Yu
Where to Stay near TD Garden
Get Ready for St Patricks Day - Find Your Irish Ancestors at BPL & Get Your Dropkick Murphys Tickets
With St Paddy's Day right around the corner, February is not to early to start celebrating all things Irish.
Boston Public Library offers a fascinating program by professional geneological researcher Michael Brophy on how to use online resources to find your Irish ancestors. You can learn which websites are the best, and hear about recent additions of vital records.
More info
If you're planning to see Boston's own Celtic punk rockers, the Dropkick Murphys, perform their annual House of Blues St Patrick's Day concerts, now is the time to find the best tickets
Lunar New Year Celebration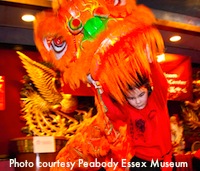 2015 welcomes the Year of the Goat in the Lunar Calendar, and the Peabody Essex Museum in Salem celebrates the New Year with a family fun day filled with performances such as Lion Dances, drumming, and music, storytelling, crafts, and a chance to explore the museum's rich collection of Asian art and the Yin Yu Tang house acquired from China. Perfect for children, teens, and adults.
When: Saturday, February 28, 10am - 4pm
Cost: Free, with museum admission - adults $18, seniors $15, Students $10, Youth (16 and under) and Salem Mass residents admitted free; or get free admission with GoBoston card
Where: Peabody Essex Museum, 161 Essex Street, Salem, MA
More information: 978-745-9500
Stay: Enjoy a night in a Salem hotel and have another day to explore Salem's witch museums, the House of the Seven Gables, and other attractions
Return to top - Boston Event Calendar for February
Photo courtesy of the Peabody Essex Museum
Bugs Bunny Film Festival - 2015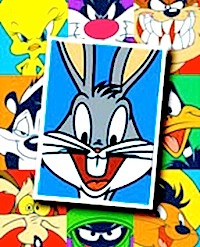 Just in time for school vacation week (in case you need an excuse), Brattle Theatre in Cambridge will their 20th Annual Bugs Bunny Film Festival. The festival features 3 different programs:
- All Bugs Revue
- Daffy Duck & Friends
- Looney Tunes Review
When: February 14 - 21 - multiple viewing times
Closest T station: Red Line/Harvard
Tickets: Brattle Theatre website
Hotels: Harvard Square Hotel, Charles Hotel, Sheraton Commander Hotel
Even if you're not a Bugs Bunny fan, there's plenty more to love at the Brattle during this same time period - don't miss Casablanca on Feb. 13-14 (Just in time for Valentine's Day), It Happened One Night, Feb. 20-21, and a David Lynch repertory series running from Feb 23 thru March 5.
Find more Boston Film Festivals
New England Home Show at Seaport World Trade Center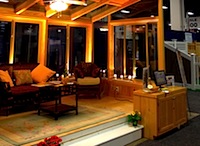 When: February 20-22, 2015
Where: Seaport World Trade Center, South Boston Waterfront
Stay: South Boston Waterfront Hotels
Admission: Adults, $12 (kids 17 and under free)
More information: Home Show website
If home remodeling or building is in your future, this is your chance to see hundreds of products and services exhibited in one convenient space, talk to the experts, and collect business cards and brochures for follow-up. Enjoy the mouth-watering Chef Fest and demonstrations by experts at this year's Furniture Project. You can expect to find everything from green energy options to outdoor furniture to fixtures, cabinets, appliances, flooring, windows, and more.
Boston Art Shows - February
Museum of Fine Arts
Stop by MFA during January to admire Gustav Klimt's Adam and Eve (1917-18) at Museum of Fine Arts (runs through April 27, 2015).
Klimt's work is being exhibited adjacent to Two Nudes (Lovers) (1913), painted by Klimt's friend, Oskar Kokoschka. Both paintings were created within a few years of each other in early 20th century Vienna. The exhibition lets you compare the scale experimentation and sexual expression of the two paintings.
Museum admission: $25/adult; free entrance with GoBoston or Boston CityPASS discount card


Institute of Contemporary Art - New Show Opening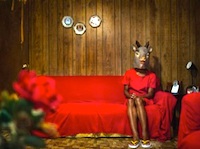 When the Stars Begin to Fall: Imagination and the American South, brings together 35 artists from various generations each using different ways of expressing the American South at ICA Boston on February 4, 2015.
You will find similarities between black life, contemporary art, and art that was done by by people who have little formal training known as "outsider" art. Runs through May 10, 2015.
Museum admission: $15/adult; free entrance on Thursdays from 5pm-9pm, for youth 17 and under, and anytime with the GoBoston discount card


Winter Break Week in Boston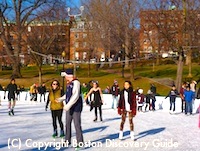 When public schools through New England close for a week's holiday in February, Boston is the most popular destination.
Hotels offer their lowest rates for the year during the winter months, you'll find plenty of winter outdoor activities, lots of shows and performances, museums, shopping, and more. Find our recommendations for what to do in Boston during winter break week.
More to check out:
Boston Sci-Fi Film Festival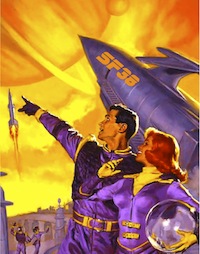 When: February 6 - 16, 2015 ("The 'Thon" runs from noon on the 15th through noon on the 16th)
Where: Somerville Theatre, Davis Square, Somerville
Closest T (subway) station: Red Line/Davis
Parking: Forget parking around Davis Square. If you must drive, park at the Alewife parking garage in Cambridge, only 1 T stop away from Davis Square
Cost: Single ticket prices TBD ($8 last year); $55 for fanatics attending the "24-hour 'Thon'"; $140 for 11-day Festival
More information: www.bostonsci-fi.com
The 40th annual Boston Sci-Fi Festival features 11 days of features and shorts from all over the world, plus a 24-hour marathon, "The 'Thon," that separates mere fans from committed fanatics on the final day of the fest. Can you sit through 1,440 minutes of sci-fi classics, premiers, cartoons, and more? The 'Thon is not for the faint-hearted!
If you're coming to the Sci-Fi Film Festival from out of town, you'll find the most convenient hotel options close to the Red Line of Boston's subway in Cambridge.
Check rates at these hotels near Cambridge T stations:
20th Annual Boston Wine Expo - 2015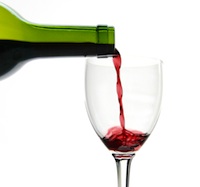 When: February 14-15
Where: Seaport World Trade Center and Seaport Hotel (look for special Wine Expo rates), 164 Northern Ave, South Boston Waterfront
Closest T station: Silver Line to World Trade Center (Seaport Hotel)
Tickets: Seminar-only tickets start at $25, and wine tasting tickets start at $89
Must be: 21+; no children, infants, toddlers, or teens
More information
Visitors from across the U.S. and around the world gather annually for Boston's biggest wine-tasting event - in fact, the largest consumer and trade wine event in the United States.
Choose tasting samples from among 2,000 wines from 200 international wineries, and watch cooking demos by local celebrity chefs such as Shannon Bard, Christopher Bassett, Chris Coombs, Barbara Lynch, Sara Moulton, Ming Tsai, Sam Talbot, and lots more!
You can even come extend your love for wine by experiencing and learning about the different foods and chocolates to pair with certain wines. For those who love wine and want to know more, come learn about Wine Basics with Leslie Sbrocco where she will teach you how to expertly shop, sip like a pro, and skillfully pair wine with foods and chocolates.
Boston discount passes for Boston attractions
GoBoston Card

51 ways to save up to 55%

On attractions, tours, cruises

CityPASS

5 top attractions in 9 days

47% savings
Use these Boston discount passes for museums, the New England Aquarium, plus admission to lots of other attractions, tours, day trips, and cruises - check out the savings!
Bruins February 2016 Home Schedule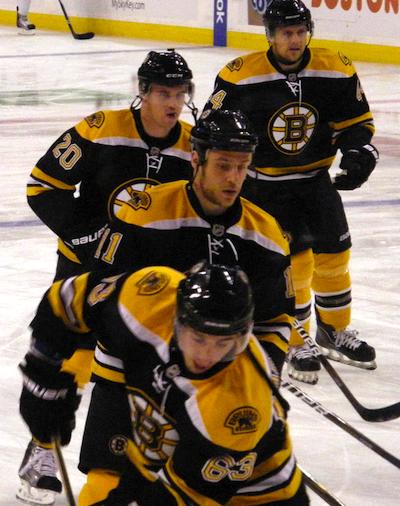 Start the New Year off right by going to see the Boston Bruins on the ice at Boston's TD Garden
February 2 vs Toronto - 7pm
February 6 vs Buffalo - 7pm
February 9 vs Los Angeles - 7pm
February 22 vs Columbus - 7pm
February 24 vs Pittsburgh - 8pm
February 28 vs Tampa Bay - 6:30pm







Hotels near TD Garden
Park: Garages near TD Garden
Celebrate: Nightlife near Celtics Games

Celtics February 2016 Home Schedule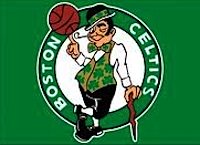 The Celtics pack in plenty of excitement during home games throughout December over at the Garden.
Get best prices on Celtics Tickets
February 3 vs Detroit- 7:30pm
February 7 vs Sacremento- 1pm
February 10 vs Los Angeles- 7:30pm
February 25 vs Milwaukee- 7:30pm
February 27 vs Miami - 3pm
February 29 vs Utah - 7:30pm


Opera Night at the Boston Public Library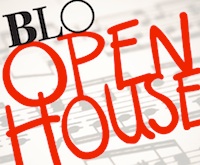 When: February 24, 6-7pm
Where: Boston Public Library, Copley Square, Boston's Back Bay neighborhood
Closest T station: Green Line/Copley
For more information: website
Cost: Free
Don't miss the Boston Lyric Opera's open house at the gorgeous Shubert Theatre! Not only do you get to go back stage, tour dressing rooms, and see the inner workings of one of Boston's premier theaters and New England's largest opera company, but you'll also get a glimpse one of the BLO's productions.
Be sure to also check out BLO's exciting production: Richard Wagner's The Flying Dutchman - April 26-May 5

Check GoldStar events for half-price tickets for adults
Get half-price tickets for students with a student subscription - call 617-542-6772 for details
SailFest: New England Boat Show 2015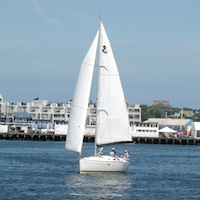 When: February 14-22
Where: Boston Convention and Exhibition Center, 415 Summer Street, South Boston Waterfront
Closest T station: Silver Line from Red Line/South Station
Stay: South Boston Waterfront Hotels
Cost: $15 adults, Children 15 and younger free (when accompanied by adult); cash only accepted for ticket purchases at the show (ATM in lobby)
More information: Boat Show website
New England's biggest boating event has something for everyone, including sailboats from 8' to 45'. Check out all 200+ exhibits, attend free daily boating and fishing seminars, and find out everything you need to know about owning a boat. Special events include SailFest, with over 100 booths devoted to sailboats. You don't want to miss out on the faster and smoother ride of the Miss GEICO Racing Boat.
Stay in nearby hotels, and enjoy Boston Harbor views from the top floors:
Get a head start on the season - check out best places for sailing lessons in Boston
Weekly noon concerts on the Freedom Trail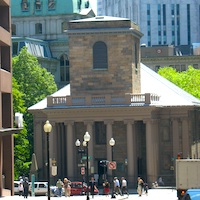 When: February 3 - and every Tuesday throughout the year at 12:15pm
Where: King's Chapel on Boston's Freedom Trail
Closest T station: Red and Green Lines/Park Street
Cost: Suggested donation of $3 at the door
If you're touring the Freedom Trail on a Tuesday, drop by King's Chapel at noon to hear a 30-40 minute concert. Performers vary each week, and perform a wide variety of music ranging from jazz to folk, medieval to modern. Particularly special are those featuring King's Chapel's renowned C.B. Fisk organ.
King's Chapel's music programs date back to 1713 when it became the first church in New England to get an organ. The current C.B. Fisk organ is its 6th.
Patriots at the Super Bowl - Tickets & Parties - & Duck Boat Victory Parade!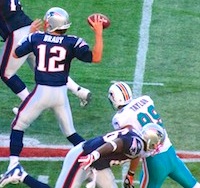 Update: The Patriots won the Super Bowl - and the celebratory Duck Boat Parade takes place at 11am on Wednesday, February 4.
The route is along Boylston Street from Prudential Center to Boston Common, and then left on Tremont Street to City Hall Plaza.
------------------
When: Sunday, February 1, 2015

The Patriots are going to the Super Bowl!
Can't get to Arizona? Then check out the best places to celebrate Super Bowl and watch the game in Boston.
And remember, show your loyalty by wearing New England Patriots jerseys, t shirts, and jackets.
More to know:
Need more ideas about what to do in Boston in February?
Check out Boston Discovery Guide's top recommendations for things to do in Boston in February.
Quick Links to more Boston events calendars: January l March l Other Months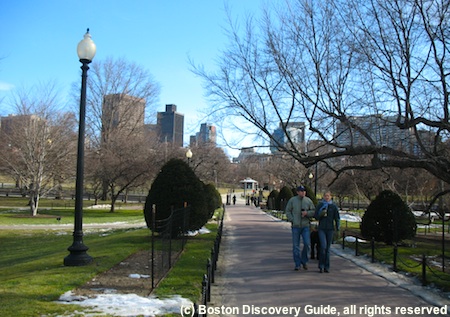 Boston's Public Garden in February
Continuing during February in Boston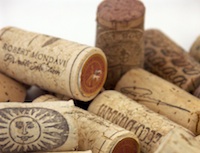 Boston Wine Festival at Meritage Restaurant
First Fridays at Museum of Fine Arts
More February Activities near Boston
Looking Ahead to March:
Looking Even Further Ahead - Winter Classic 2016 at Gillette Stadium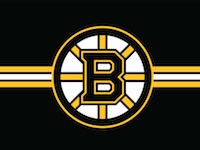 It's official - the National Hockey League has announced that the 2016 Bridgestone NHL Winter Classic will feature the Boston Bruins and arch-rivals Montreal Canadiens in an historic game at Gillette Stadium on January 1, 2016.
This will be THE way to spend New Year's Day, 2016!
Ticket information will be coming soon - but meanwhile, don't wait to reserve your hotel room near Gillette.
Closest is the spectacular Renaissance Hotel just steps away from the stadium.
More Hotels near Gillette Stadium - Winter Classic Picks
More about hotels near Gillette Stadium (and Wrentham Premium Outlets)
Best Boston Events All Year!
Like this Page? Please Share!
February Events Posted by Others - Or Post Your Own
In addition to the February events described on this page, many other interesting events take place in and around Boston.
We hear about lots of these events directly from other visitors to Boston Discovery Guide, or from the event organizers. Find a list of these events
Do you know about an event for February that other might enjoy? Tell us about it here
Or, if your event is for another month (not February), tell us about it here
Return to Top - Boston Events Calendar for February
Return to top - Boston Event Calendar for February
More to do in Boston in February
Boston Discovery Guide > Events > Event Calendar for February 2015