Looking for fun Memorial Day Weekend activities in Boston?
You can find a huge number of things to do on this unofficial start of summer in Boston if you spend your time in just three areas:
Pick one area to explore, or sample all three - all are within easy walking distance of each other, so combine them for your own self-guided walking tour. If you're a Boston visitor, this is a great way to see some of the city's top attractions while you relax and enjoy the beginning of summer.
So slather yourself with sunscreen, wear comfortable walking shoes, grab a water bottle (and a frisbee, if you're so inclined), and get ready to experience Boston's best Memorial Day activities and have some fun!
Top photo: Relaxing by the Lagoon in the Boston Public Garden on Memorial Day Weekend
Find out about Memorial Day Events in Boston
Music fan? Find out about the Boston Calling Music Festival on Memorial Day Weekend
---
1.  Memorial Day Activities: Boston Common & the Public Garden
Start your Memorial Day activities at Boston Common and, just across Charles Street, the Public Garden.
Together, these two gorgeous public parks form the heart of the city, although Boston Common dates back to the 1630s when Puritans settled here and grazed their cows on the Common's grassy slopes, while the more formal Public Garden dates back only to the Victorian era in the 1800s.
Boston Common
The Common attracts large numbers of people who visit its top Memorial Day attraction, the Garden of Flags, take their children to the playground or carousel, lie on the grass and soak up the sun, and toss frisbees.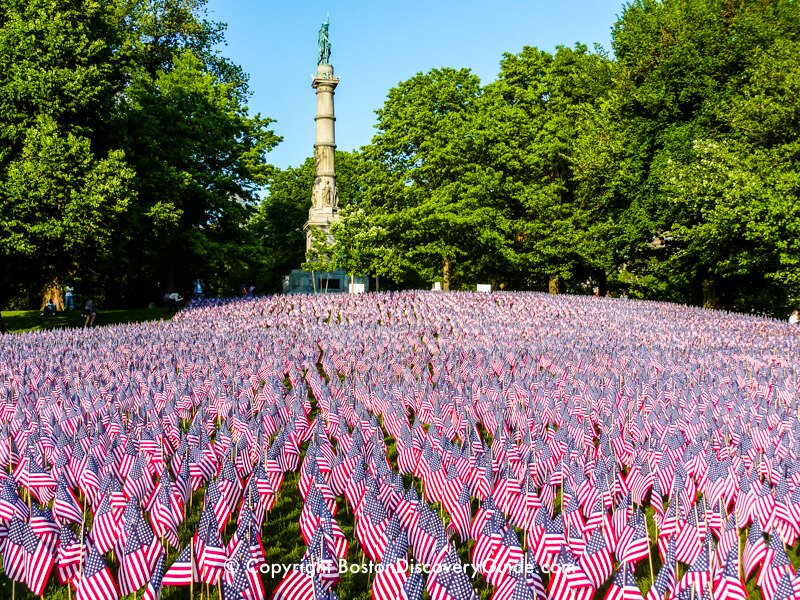 On Boston Common, a display of 37,000 American flags dominates the landscape. This Garden of Flags, put in place each May by Massachusetts Military Heroes, honors the memory of the Massachusetts service members who have given their lives to defend the United States and our freedom.
Where to find more Boston War Memorials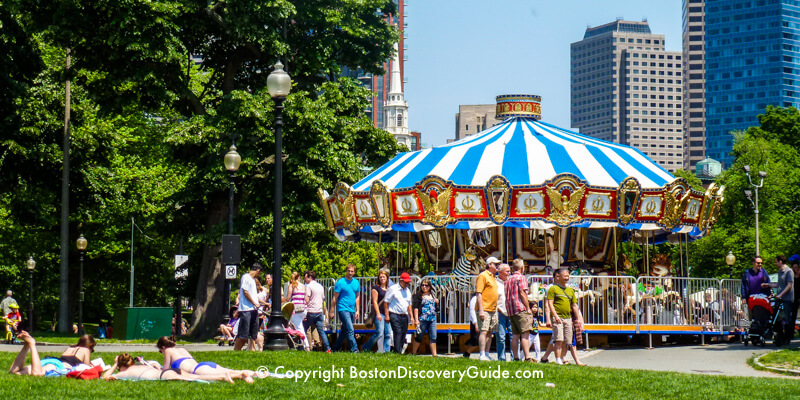 If you're visiting Boston with kids, stop by the Common's carousel for a ride.
Tadpole Playground (near Frog Pond) is another kids' favorite on Boston Common.
Find more favorite kids' activities in Boston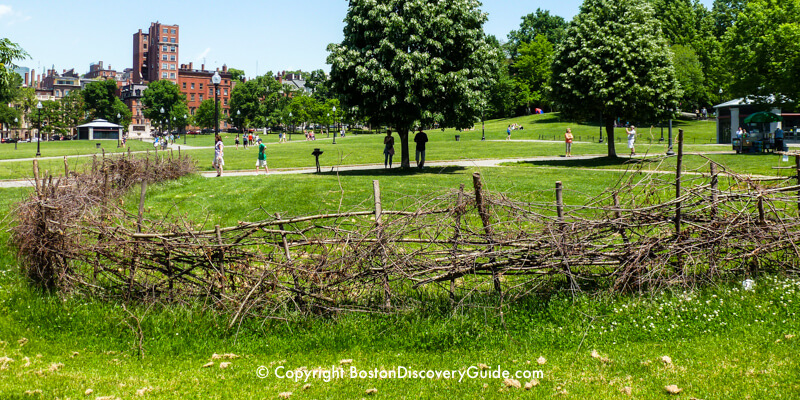 About a week before Memorial Day each year, members of the Massachusett and Wampanoag tribes work with local students to construct a fish-weir on Boston Common to honor the Native Americans who built fishweirs along the Boston area shorelines 3,500-5,200 years ago.
This is the only local memorial to the Native Americans who originally inhabited the area now covered by Boston. It remains up until about mid-June each year.
Want to find out more about Native American culture in Boston? Visit Plimoth Plantation's recreated Wampanoag homesite as part of their living museum on this popular day trip tour from Boston. Find out more about this tour from Boston
While you're on the Common, head over to the Tourist Information building and look for a red stripe going toward the gold-domed Massachusetts State House. That's the beginning of Boston's Freedom Trail - and a worthy detour if you choose to follow it past some of Boston's most historic sites.
Freedom Trail Tours
Experience a unique view Boston's history on these fun Freedom Trail tours:
The Public Garden
From Boston Common, cross Charles Street to enter the Public Garden, a carefully manicured and beautifully planted oasis filled with blooming plants that change with the seasons.
Stroll along the many winding paths, stop to listen to the musicians scattered around the park, and then head over to the Lagoon, a shallow human-made pond crossed by an ornate suspension bridge.
Take a 15-minute Swan Boat ride around the tranquil Lagoon. Although Memorial Day Weekend crowds may mean longer lines than usual, they move quickly because multiple boats will be in use.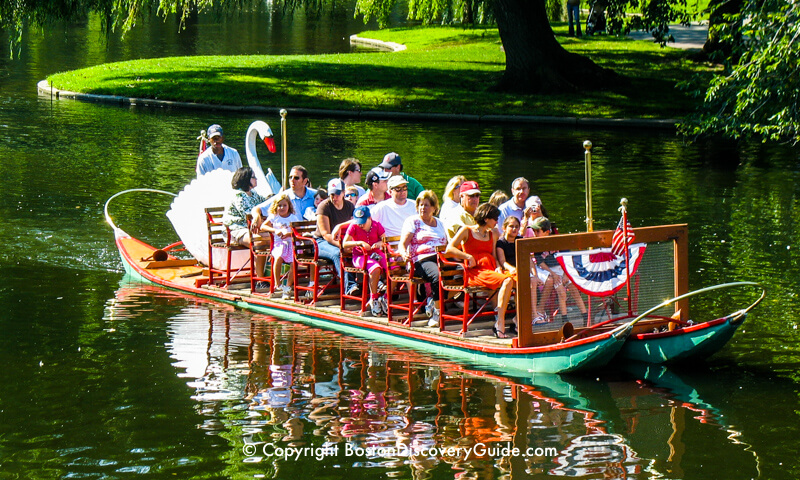 Don't miss the Public Garden's famous Make Way for Ducklings statues near the Beacon Street/Charles Street intersection.
And finally, check out the many roses planted around the Public Garden. Memorial Day usually marks the beginning of the roses' most intense blooming season, although they continue to flower throughout the summer and fall until frost.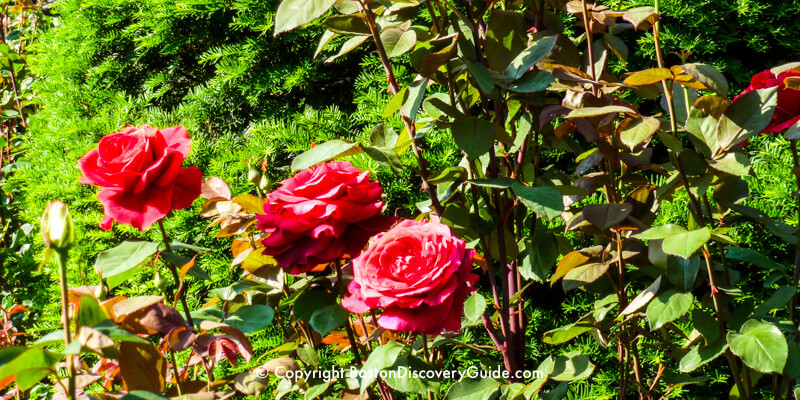 ---
More Ways to See Boston by Water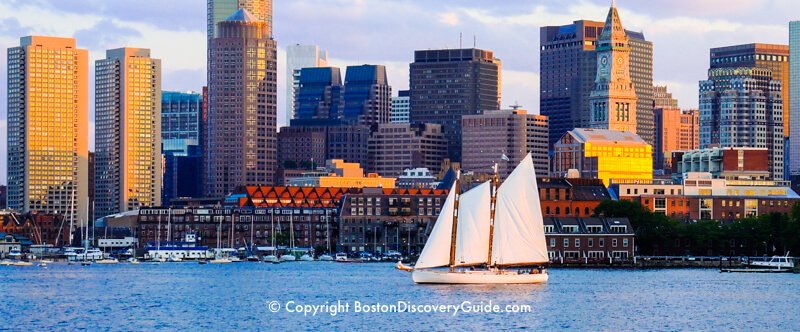 Tour Boston by boat - the best way to see the city!   Check out these fun sightseeing, music, and entertainment Boston Harbor cruises on the Yacht Northern Lights and Schooner Adirondack III:
Popular Cruises on the Northern Lights:
Sailing on the Adirondack III
Book Your July 4th Cruises Now!
---
2. Memorial Day Activities: Fenway Park
Nothing says "Summer!" in Boston like catching a Red Sox game or concert at Fenway Park.
With lots of Boston locals away for the holiday, tickets for Memorial Day Weekend are easier (and may be cheaper) to get than usual.
So check the Fenway Park events schedule for May to see what's on:
Enter DISCOVERY10 to save 10% on TicketLiquidator & TicketNetwork tickets. Good through 12/31/24.
Find Fenway Park tickets for May
Find Fenway Park tickets for other months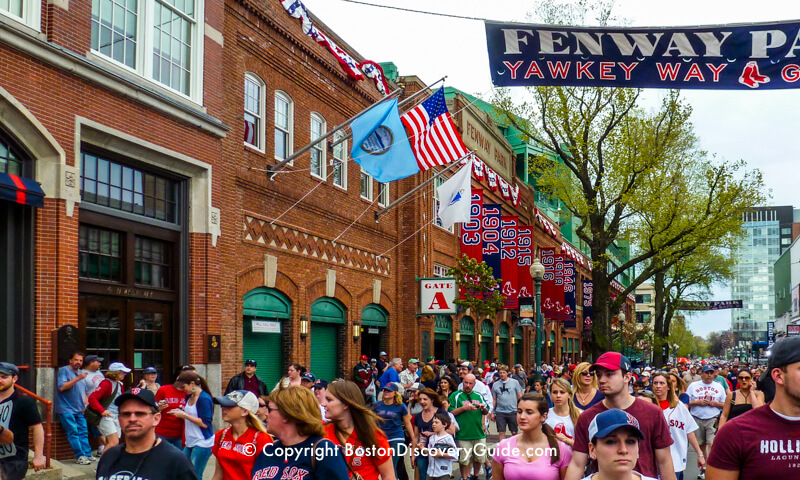 To get to Fenway Park from the Public Garden, walk down Beacon Street (runs along the north side of the Public Garden) for about a mile and a half until you get to Brookline Ave, turn left, and follow the crowds for 2 very short blocks to Fenway Park.
Or take the T (Boston's subway) to Kenmore Square - Brookline Ave is across from the station.
When you see the size of the crowds surging toward Fenway Park, you'll think that everyone in Boston is here.
On warm sunny days Memorial Day weekends, Fenway is simply a perfect place to be, and the quintessential Boston experience.
Find out more about Fenway Park
Fun Hotels near Fenway Park
If you're coming to a Red Sox game, spend the night or the weekend at one of the nearby hotels:
Check out more hotels near Fenway Park
---
3. Memorial Day Activities: Boston Waterfront, Faneuil Marketplace, Greenway
The biggest crowds of Boston Memorial Day visitors cluster around Faneuil Marketplace, the Rose Kennedy Greenway, and the Waterfront, where numerous activities keep everyone busy - although you can also just lie on the grass and bask in the warmth of the sun.
To get to this area from Boston Common, start at Beacon Street by the Massachusetts State House and walk down Beacon Street toward the waterfront (i.e., away from the Common). Beacon Street becomes into School Street. Turn left on Washington Street, walk 2 blocks, and turn right on State Street. Walk another block, and turn left on Congress Street. One more block, and you'll see Faneuil Marketplace on your right. The Greenway is directly on the other side of the Marketplace, and the Waterfront is just beyond the Greenway.
Faneuil Marketplace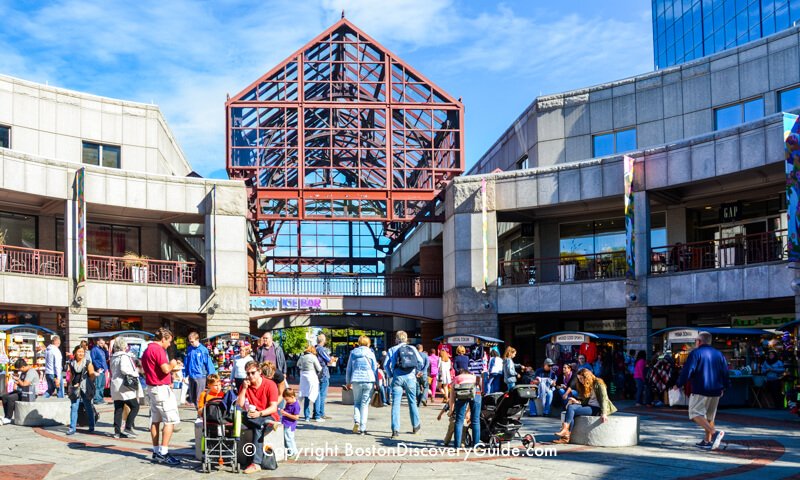 Faneuil Marketplace (sometimes called Quincy Market) contains numerous stores, boutiques, restaurants, bars. You can shop, drink and eat, or just sit in the sun and watch the market's street performers entertain you.
In addition to the regular shops, look for the many unique pushcarts scattered around the four-building complex. And don't forget that Memorial Day weekend features big sales - so a favorite activity here is looking for bargains and savings.
For a taste of history, visit Faneuil Hall, one of the stops on the Freedom Trail.
Rose Kennedy Greenway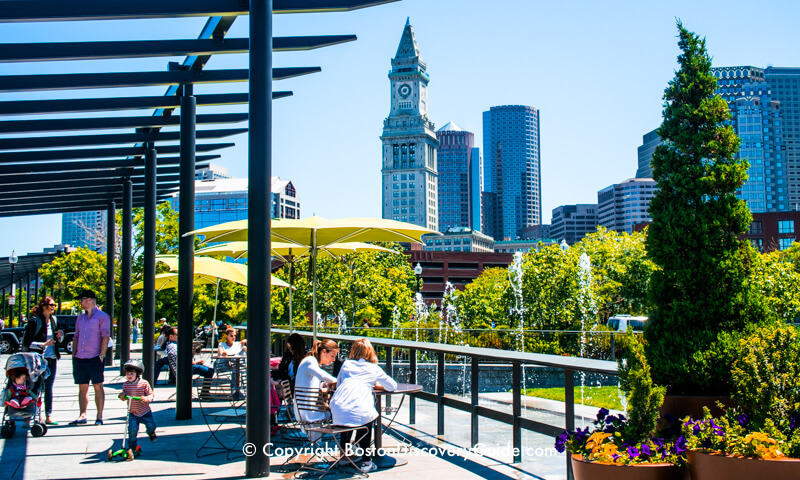 Boston's Rose Kennedy Greenway's many attractions and activities - art installations, concerts, festivals, a carousel, food trucks, Trillium Brewery's Beer Garden, picnics, performances, just to name a few - always attract Boston visitors and locals, so you can expect it to be especially lively on Memorial Day Weekend.
You'll find plenty of things to do and enjoy - but you can also just claim a chair or lie on the lawn and relax.
Traveling with kids? They'll love the splash fountains - and if the weather gets hot, so will you!
More about things to see and do on the Greenway
Want to take a walking tour of the Greenway? Here's what you'll find in each park
---
Boston's Waterfront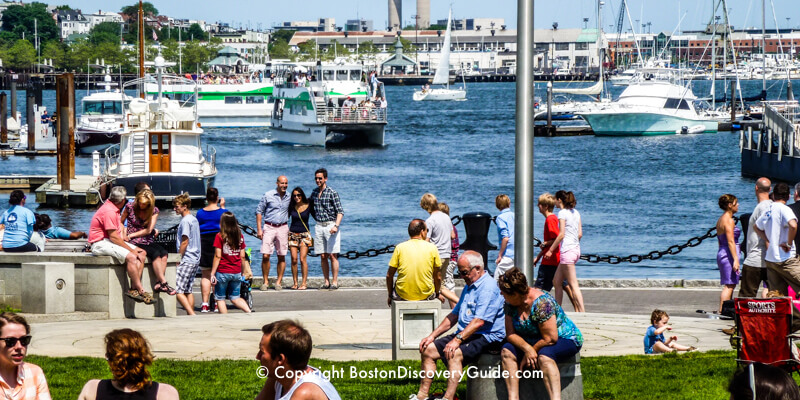 Despite all its history, museums, and even the Red Sox, Boston's waterfront location defines it. This is also where you'll find wonderful views of Boston Harbor, great restaurants, and fun places to just hang out.
But the best way to enjoy it is on the water. Take a Boston Harbor cruise departing from one of the convenient Downtown Waterfront Docks. Or choose a Whale Watching Cruise - a memorable experience that guarantees you'll see whales.
These cruises book up early due to demand on Memorial Day Weekend - so make reservations in advance to make sure you get a spot.
If rain develops (not unusual for the end of May), spend the day at the nearby New England Aquarium.
More Boston Cruises
See Boston from a unique perspective on these fun harbor cruises:
Find Boston's Best Waterfront Hotels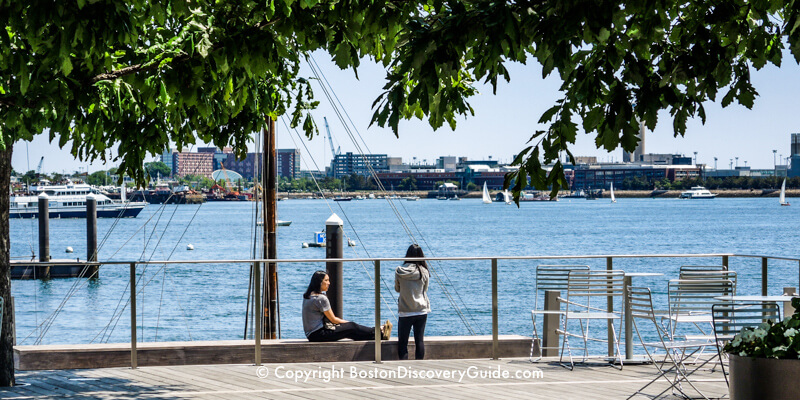 Boston's waterfront continues in the South Boston Waterfront/Seaport neighborhood, where you'll find some of the city's liveliest restaurants overlooking Boston Harbor.
For more Boston waterfront options, consider the Esplanade on the Charles River, Castle Island, and city beaches.
And don't forget - you can always hop on a ferry from Boston to Provincetown at the end of Cape Cod.
Popular Boston Tours & Day Trips
More To See & Do in Boston
---
More Boston Events during May
More Things to Do in Boston in May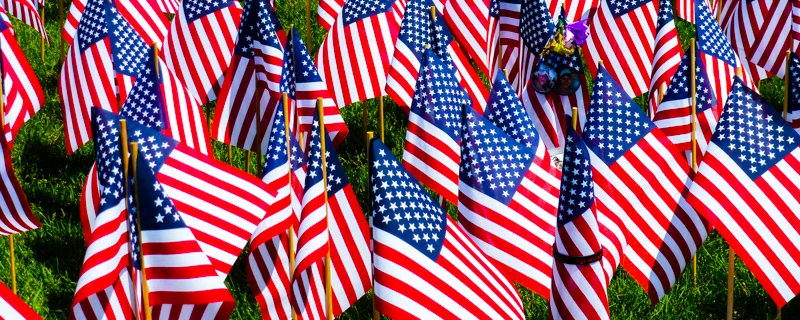 ---
More Articles about Boston in May
---
Need a Boston Hotel or Apartment?
Use this handy map from Booking.com to find the perfect place to stay. Just enter your dates to find what's available, see the best rates, and make your reservations.