Inexpensive Boston Hotels
Best cheap hotels in Boston - and where to find hotel deals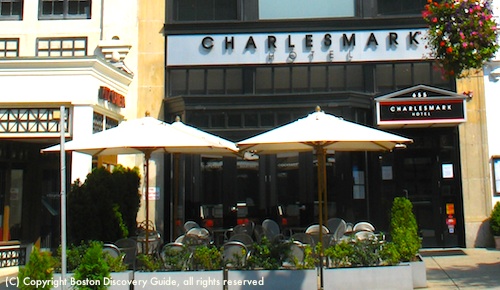 Inexpensive Boston hotels can save you a ton of money - and still give you a high-quality vacation and travel experience.
Boston hotel rates routinely rank as the highest in the U.S. - even ahead of New York, LA, and San Francisco.
But what a lot of Boston visitors don't realize is that you can also find bargain hotels in the heart of the city.
In addition, great seasonal deals give you even more savings, sometimes at the city's most expensive hotels.
Here are my insider tips about where you'll find the best cheap hotels in Boston, special deals and packages on higher-priced hotels, and other affordable accommodations.
I'll also show you how to save a bundle on parking, and explain when it makes sense to look at suburban hotels where you may find even bigger savings.
Finding inexpensive Boston hotel rates can be a challenge - but you'll love the results when you save hundreds of dollars.
Inexpensive Boston Hotels - 4 Top Choices
Start here if you want a cheap (for Boston) hotel in a great neighborhood. These 4 hotels almost always offer some of the lowest rates in town - plus they are in excellent central locations.
Buckminster Hotel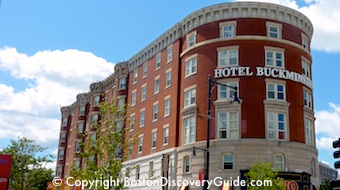 If you're looking for a cheap but nice hotel near Fenway Park or Boston University, the Buckminster can't be beat!
Furnishings are comfortable rather than elegant, but you can't beat the location half a block from Fenway Park - or the cheap rates.
Expect to pay more on game and concert nights at Fenway, as well as during graduation events at nearby Boston University and Northeastern University - but at other times, the Buckminster ranks as one of Boston's true bargain hotels.
Charlesmark Hotel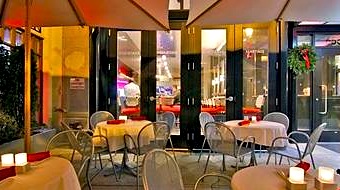 The Charlesmark Hotel offers a superb Copley Square location, gorgeous high-end custom furnishings, and lots of luxe touches - and great rates!
So what's the "catch"? Size...with only 33 rooms, this sought-after owner-operated boutique hotel is often fully booked!
So if you want to stay at the Charlesmark, you need to be very aggressive about booking as early as possible.
Hotel 140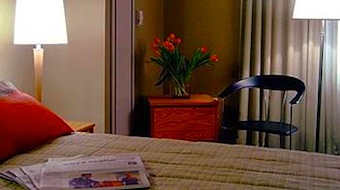 The small, contemporary boutique Hotel 140 occupies part of Boston's elegant former YWCA building, built in 1929 and now on the National Register of Historic Places.
You get an excellent Back Bay location. Hotel 140 is directly across from I.M. Pei's soaring glass-sided John Hancock Tower, and only one short block from magnificent Copley Square. The hotel is also near the Back Bay Amtrak/Subway station, the South End, and the Theatre District.
Rooms tend to be small and basic (large and luxe would mean much higher rates) but the grand lobby and staircase will take you back in time to the glamourous roaring twenties.
There is one problem ... lots of bargain travelers know about this gem, so getting reservations can be tough - book as far ahead as possible.
Midtown Hotel Boston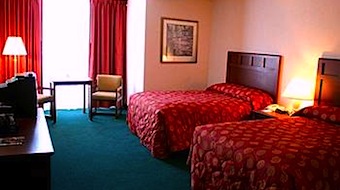 Sporting the architectural design of a 1950s Boston motel (which is what it used to be), the popular Midtown Hotel offers fairly basic decor - plus a small outdoor pool and a great Back Bay location just down the street from the much swankier Colonnade Hotel.
The Midtown is the closest hotel to cultural magnets such as Symphony Hall and Jordan Hall. It's also convenient to the Museum of Fine Arts and Prudential Center.
Why So Cheap?
You may be wondering what you give up in return for cheap Boston hotel rates. Convenience? Safety? Comfort?
Don't worry . . . what you'll give up in return for cost savings at these hotels are amenities. Boston's centrally-located inexpensive hotels tend to be small - no conference facilities, huge banquet halls, or fancy meeting rooms.
And, you may find ho-hum furnishings . . . older furniture, dated color schemes, and older color TVs rather than high definition flat screens. You're not going to find designer linens on the beds.
Bottom line? If you're willing to forego fancy shampoos and Italian linens, you can some some significant money.
3 More Inexpensive Boston Hotels to Consider
The following 3 hotels are not for everyone. But if they meet your needs and the rates compare well with other options, you may find a big bargain. Read the reviews carefully to make sure they're a good fit for you.
At certain times of the year, you can find amazingly low rates (for Boston) at each of them.
Club Quarters Hotel Boston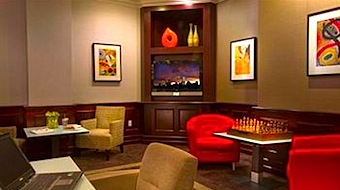 Located in the heart of Boston's downtown Financial District near the Freedom Trail, Boston Harbor waterfront, and Faneuil Hall, Club Quarters is a "private" hotel - there's no lobby and you must have a key to get in.
Club Quarters targets business travelers, and also works well for 1 or 2 leisure travelers.
The catch: This small but very popular boutique hotel is often fully booked due to its excellent location (and cheap rates), especially during the week. And if you need or want services from a front desk or onsite concierge, this will not be the hotel for you.
Milner Hotel Boston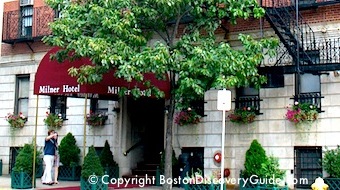 Visitors love or hate the Milner Hotel. Built in 1877 and one of the country's oldest continuously operating hotels, the Milner has a terrific location at the edge of the Theatre District, close to many wonderful restaurants.
The catch: Most rooms are small and fairly basic. Service gets mixed reviews. If you like luxury touches or updated decor or concierge service, you should stay elsewhere. However, if you like the convenient location and don't care about aesthetics or amenities, you'll love the Milner's bargain rates.
Holiday Inn Express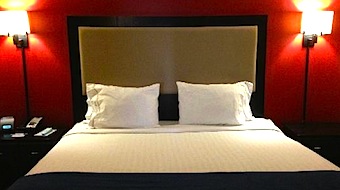 Holiday Inn Express offers a terrific location near TD Garden, Faneuil Hall Market, Beacon Hill, and the North End.
You'll also find lots of fun Irish pubs and sports bars nearby.
The catch: When the Bruins and Celtics play at the Garden, rates go up and the hotel books up fast. So look for attractive rates at other times. And even when the Garden is hosting home games, you may still find better rates here than at the nearby competition, as this small hotel does not have an onsite restaurant or garage (which is why it's a "Limited.")
Cheap Rates at Mid-Range Boston Hotels
Boston hotel rates vary for so many reasons. Time of the year and day of the week top the list. For example, you'll almost always find better rates during January than July.
But occasionally, you can find rates at mid-range hotels that are as low or lower than what you might find at inexpensive Boston hotels.
For example, accommodations catering primarily to business travelers may be pricey during the week but offer great weekend rates. Or, hotels near Fenway Park and TD Garden may drop their rates when no games or events are scheduled.
Feeling lucky? Check rates for these very nice hotels in great locations where looking for deals can sometimes give you a HUGE payback.
Wyndham Hotel Boston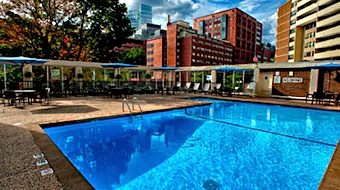 Across the street from MGH (Massachusetts General Hospital) and Beacon Hill, and just a short walk from TD Garden where the Bruins and Celtics play, the Wyndham offers an excellent location for reasonable rates.
But discounts and specials here can sometimes really sweeten the deal.
And the outdoor deck-top swimming pool is a huge bonus!
Millennium Bostonian Hotel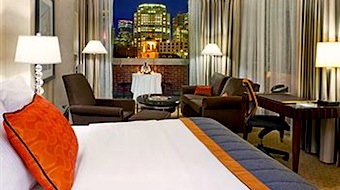 Located in Downtown Boston next to Faneuil Hall Marketplace, the luxe Millennium Bostonian Hotel puts you close to everything: historic sites along the Freedom Trail, sightseeing cruises departing from the waterfront, wonderful restaurants and nightlife.
Find a cheap rate here? Grab it!
Doubletree Hotel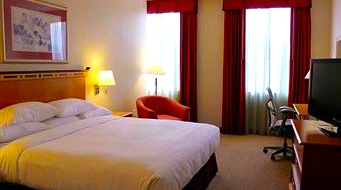 Great location across from Tufts Medical Center on the edge of the Theatre District and Chinatown - you'll enjoy dining in the wonderful Chinese and other Asian restaurants nearby.
The Downtown Doubletree caters to business travelers, so you can sometimes find very attractive rates, especially on weekends.
Courtyard Tremont Hotel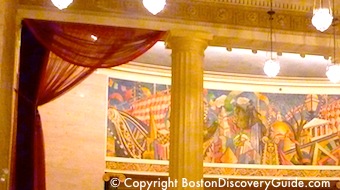 Marriott's Courtyard Tremont offers a terrific Theatre District location right down the street from the glitzier (and considerably pricier) W Hotel.
Public areas in this historic 1925 building have been restored to their former grandeur (that's a detail from the lobby in the photo).
With 15 floors and 315 rooms, the Courtyard Tremont is larger than you may realize at first glance. One of Boston's biggest dance clubs occupies space on lower floors at the back of the hotel, and Tremont Street itself can be loud at times - so ask for an interior room on an upper floor if you want to minimize noise.
Courtyard Copley Square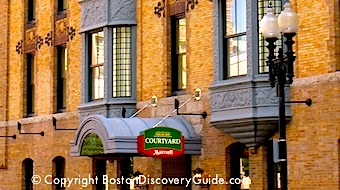 Tucked away in a gorgeous 1800s building on a quite side street in the trendy Back Bay neighborhood, the Courtyard Copley Square, a small boutique hotel that's part of the Marriott brand, is just around the corner from Copley Square, one of the city's loveliest plazas.
You'll be near the city's best restaurants and shopping, and you can walk to most major attractions.
Hyatt Regency Boston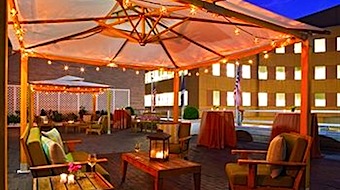 The huge 500+ room Hyatt Regency's location in the middle of the Theatre District and Chinatown is also near the Financial District, making the hotel popular with business and vacation travelers.
The indoor lap pool and outdoor terraces are a nice plus.
At some times of the year, you can find deals here - so it's always smart to check.
Hilton Financial District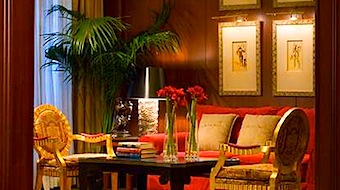 The Hilton Financial District's downtown location puts it only a few blocks from the waterfront.
Weekday rates at this popular near-luxe business hotel tend to be high, but look for bargains on the weekend when savvy leisure travelers get to enjoy all the amenities, including larger than average (for Boston) rooms and gorgeous public spaces.
Boston Marriott Copley Place
The Boston Marriott Copley Place is a gorgeous modern hotel in an excellent Back Bay location across from Prudential Center.
I'm always surprised when I see relatively low rates, because there's no obvious reason why you would get such a bargain here.
During big conferences here, rates will be higher and the hotel may be fully booked - so there are no guarantees. But always check rates here, because sometimes . . . you may find a bargain!
Cheap Rates at Boston's Top Hotels?
At certain times of the year, such as Labor Day weekend when everyone heads to the beach for the last days of summer, almost every hotel on the city is on sale. If your timing is right, you can sometimes find amazing rates at some of Boston's best hotels, such as the Park Plaza Hotel Boston, the Lenox Hotel, and the Omni Parker Hotel.
Why? These are older (but beautifully renovated) hotels, with wide ranges of room sizes - no cookie-cutter rooms here! You'll sometimes find the smaller rooms at a BIG discount. I've seen them at rates even lower than what you'd normally expect at Boston discount hotels.
How to Find the Best Boston Hotel Rates and Specials
Use this TripAdvisor search tool to see the best current Boston hotel deals. You can use it to compare what you'll get at each one, and how much you'll save.
Many of the hotels here, including a couple of the most inexpensive Boston hotels, offer
"specials" and "packages."
Some of these will save you money (occasionally
big
money), while others save you time by bundling popular amenities in with your room rate.
Usually "specials" are hotel discounts for certain nights, or perhaps a "free" night if you stay for 3-4 nights. If you're planning a 4-day trip, or have flexibility about when you come, these Boston hotel specials are definitely worth seeking out.
By contrast, Boston hotel packages usually bundle special services or amenities with the cost of your room. Typical package items might be free tickets to a destination such as the Museum of Fine Arts or an attraction such as a Fenway Park tour, or a complimentary meal such as breakfast or dinner in the hotel's restaurant. You'll also find Boston hotel packages based on themes, such as "Romance" or "Golf."
Sometimes, you'll find the best special deals and great rates at Boston luxury hotels. Here are 3 luxury hotels where you can occasionally snag amazing special packages for great rates, especially during winter months:
Are Hotels Outside of Boston Cheaper?
Yes and no.
You may find hotels with lower rates in Boston neighborhoods outside of the city center such South Boston and Allston, and also in some Boston suburbs. However, many of these hotels on the outskirts are not near subway stations. The time and expense of getting to and parking in central Boston will make any savings quickly disappear, along with a chunk of your precious vacation time.
In general, you're better off looking for inexpensive Boston hotels within the city's central neighborhoods - Downtown, Back Bay, Beacon Hill, the South End, the North End, the West End/Government Center, Fenway, and Charlestown. If your plans include Cambridge, then look for hotels near Harvard Square, Central Square, or MIT/Kendall Square.
However, Best Western Hotel Tria in West Cambridge is an 8-10 minute walk from the Alewife station on the subway's Red Line, and is worth considering . . . IF you can find low rates. From Alewife, you're about 10 minutes from Harvard Square in Cambridge and about 18 - 20 minutes from downtown Boston locations. You'll usually find much better rates in winter than in summer. Daily rates for parking will typically be less than those charged by downtown Boston hotels.
When Hotels in the Suburbs Make Sense
Sometimes, you may be planning a couple of Boston activities plus other excursions outside of the city. At other times, hotels in Boston and Cambridge fill up due to conventions or graduations. This is when looking for inexpensive hotels in Boston's suburbs may make sense.
Good areas to try are Lexington, Waltham, Newton, and Needham. They're reasonably close to the Mass Pike (which comes into Boston from the west), Route 128 (which circles Boston), and Route 2, which goes to the Alewife subway station on the Red Line.
Here are several attractive choices in each of these areas:
Lexington Hotels
Co-located at the same site, both of these Westin/Starwood hotels feature cool design and great amenities. Element targets the extended stay market. About 10 minutes to Red Line/Alewife station, assuming normal (non-rush hour) traffic:
Waltham hotels:
Perhaps 12-15 minutes to Red Line/Alewife station, assuming normal (non-rush hour) traffic:
Newton hotels:
Close to Mass Pike, and to Green Line subway stations:
Needham hotel:
Not too far from Mass Pike:
You can fairly easily reach various Green Line stations in Newton - but the Green Line "trains" (in reality, above-ground trolleys) are considerably slower than the Red Line trains.
Is the savings worth the time, inconvenience, and cost of having to commute into town by subway, or worst yet, drive in and park?
That's a question that only you can decide.
How to Shave 25% Off Your Boston Hotel Bill
Many Boston hotels are now charging up to $50 per day for parking - yes, that's up to $50 plus tax that gets added to your hotel bill each day. Some hotels charge more.
If you find a great rate of, say, $180 per night at a Boston hotel but have to pay another $50 for parking . . . well, you can do the depressing math. Leaving your car at home is a no-brainer way to save almost 25% on your total hotel bill.
You do not need a car in central Boston because you can easily take the subway ("T") or a cab. In fact, a car is a liability - just read my tips about driving in Boston to see why! If you are planning a day trip outside Boston during your visit, you can rent a car for the day - much cheaper!
But what if you're planning to drive to Boston, and taking a plane, train, or bus simply doesn't work for you? If you're planning to be here for 7 days or less, park at one of the T stations that allow overnight parking (find a list at the MBTA's website by clicking on "parking").
Park your car in the lot (in at least some lots, you'll need to arrive either before about 7:30am or after about 6pm to find a space), grab your suitcase, and take the T to your hotel. Or, if you're traveling with your family or friends, drive first to your hotel and drop off them and all of the luggage. Then drive to the T station, park, and take the T luggage-free.
You'll have to pay for the overnight parking ($8 at most stations) and of course your T ticket ($2.50 each way) - but you'll still save a bundle. Plus, parking at the station and taking the T to your hotel will probably be faster and easier than driving in the city.
Even Cheaper Hotel Alternatives
Are even the inexpensive Boston hotels pricier than your budget permits?
Don't despair . . . Check out these options:
Guest Houses - These are more like small furnished apartments than hotels. Rates are somewhat lower than most hotels - you won't save a lot of money, but everything helps! They're also good options if you're staying for several weeks or months. Try Copley House for nice studios and 1-bedroom apartments in a lovely location on the Back Bay - South End border.
Hostels - Hostelling International provides hostel accommodations in Fenway, as well as travel-related services such as tours. Both private and shared rooms are offered, although the biggest bargains are the shared rooms. Just keep in mind that since rates are on a per-person basis, if you're traveling with 1 or 2 other people, you may find better values at some of the inexpensive Boston hotels. Hostelling International Boston website and rates
Also check STATravel for more cheap rates on student hostels and hotels
- mostly private rooms and baths, NOT shared accommodations.
YWCA - The YWCA's Berkeley Residence in the South End near the Back Bay neighborhood offers nightly and longer term (5 weeks or more) lodging for very reasonable per-person rates. Both private and shared rooms are available, with shared baths. YWCA Boston website and rates: 40Berkeley.com
Like this Page? Please Share!
More Hotels to Explore
Boston Discovery Guide > Hotels > Inexpensive Hotels