Wyndham Hotel Boston Hotel
Super Location & Outdoor Pool near TD Garden, Beacon Hill, Faneuil Hall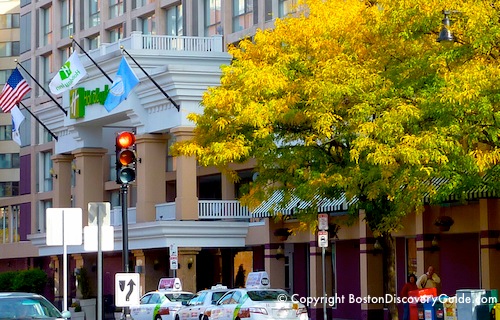 Wyndham Hotel (former Holiday Inn) near Boston's Beacon Hill in October
Wyndham Hotel Boston (you'll also see it referred to as "Wyndham Hotel Boston Beacon Hill") occupies a convenient West End spot ideally located half a block from Beacon Hill and Mass General.
Located at the corner of Blossom Street and Cambridge Street, the hotel gives you easy access to Faneuil Marketplace, TD Garden, and Government Center, and Massachusetts General Hospital (MGH) is practically right across the street.
Once you check in, get ready for a couple of unexpected bonuses.
Rooms are large, compared with most other city hotels.
And tucked away in behind the building, you'll discover a pleasant roof deck containing a rare treat in Boston: a heated outdoor swimming pool.
Needless to say, both these features make the Wyndham a popular choice for families!
Insider's Tip: Another Bonus for Sports Fans
Because the Wyndham's location is so close to TD Garden, visiting hockey and basketball teams playing the Bruins and Celtics sometimes stay here. So if you are a visitor from outside of Massachusetts, you may see your favorite hometown team members here.
What You'll Like at the Wyndham
"Great location!"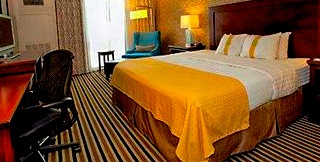 The newly refurbished 303 comfortable rooms and suites in this Wyndham feature traditional style furnishings and offer complimentary high-speed internet access.
You can work out in the fitness room year-round - plus don't forget about the seasonal outdoor swimming pool!
There is an onsite restaurant, but with all the excellent dining choices nearby, you may want to investigate Beacon Hill's cosy bistros, the fun sports bars near TD Garden, and the Food Hall at Faneuil Marketplace.
Near the Wyndham
"Top tourist attractions are all at your fingertips"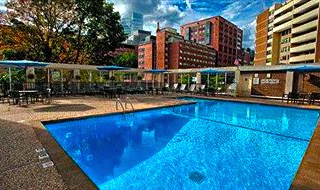 Historic Beacon Hill, home to many of the city's finest antique shops, is half a block from the hotel - just cross Cambridge Street, and you're there.
Explore the narrow cobblestone lanes and alleys, photograph the neighborhood's many original Federal and Victorian era mansions, and follow the Black Heritage Trail to see the path to freedom along the Underground Railroad.
Also near the Wyndham, you'll find an abundance of wonderful dining choices.
Small Italian, French, Middle Eastern, and Asian bistros and restaurants line the other side of Cambridge Street half a block away. All are quite good (yes, I can personally attest to this!), so just pick your favorite cuisine and get ready for an enjoyable meal.
You'll also find more great restaurants along Charles Street in Beacon Hill. And don't miss the bakeries - Cafe Vanille (unbelievable pastries) and Panificio (love the deep dish pizza and bistro food).
For a splurge dinner with one of Lydia Shire, one of Boston's top chefs at the helm, go to Scampo in the Liberty Hotel.
If you need to go somewhere else in the city and don't want to walk, the Charles/MGH subway ("T") station on Boston's Red Line is a couple of blocks away on Cambridge Street.
And if you need to rent a car for a day or two, you'll find a Dollar rental car agency on the hotel's garage level - very convenient!
If you're planning a visit to nearby MGH, you'll appreciate the Wyndham's convenient location and attractive rates.
Looking for More Hotel Suggestions?
Boston Discovery Guide > Hotels > Wyndham Hotel