Wyndham Hotel Boston (you'll also see it referred to as "Wyndham Hotel Boston Beacon Hill") occupies a top West End location ideally positioned half a block from historic Beacon Hill and world-famous Massachusetts General Hospital.
Located at the corner of Blossom Street and Cambridge Street, the hotel also gives you easy access to Faneuil Marketplace, TD Garden, and Government Center, and all the lively nightlife in Boston's newly-trendy West End neighborhood.
Once you check in, get ready for a couple of unexpected bonuses.
Rooms are large, compared with most other city hotels.
And tucked away behind the building hidden from street views, you'll discover a lovely roof deck containing a rare treat in Boston: a heated outdoor swimming pool.
Needless to say, both these features make the Wyndham a popular choice for families.
And, it's also rumored to be the hotel of choice for visiting hockey and basketball sports teams when they take on the Boston Bruins and Celtics at nearby TD Garden. So if you are a visitor from outside of Massachusetts, you may see your favorite hometown athlete here.
Top photo: Front view of Wyndham Hotel
Boston Discovery Guide is a reader-supported publication. When you buy through our links, we may earn a commission at no additional cost for you. Learn more
---
What to Expect at Boston's Wyndham Hotel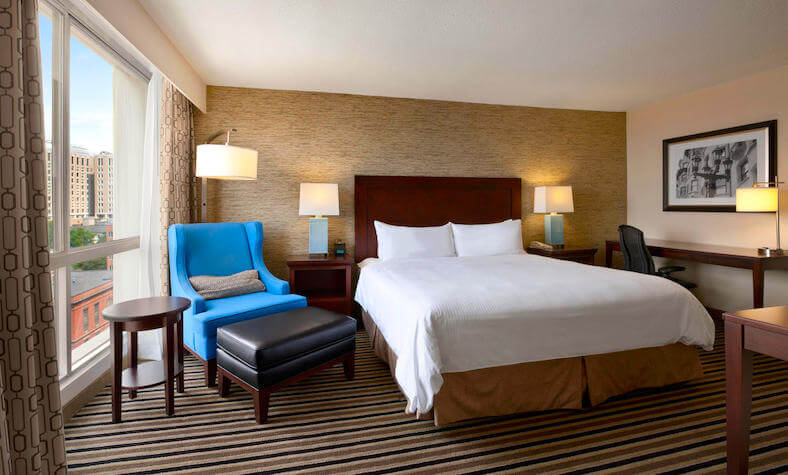 The newly refurbished 303 comfortable guest rooms and suites in this Wyndham feature traditional style furnishings and offer complimentary high-speed internet access. Colors are relaxing with upbeat touches.
You can work out in the fitness room year-round - plus don't forget about the seasonal heated outdoor swimming pool on a private roof deck behind the hotel.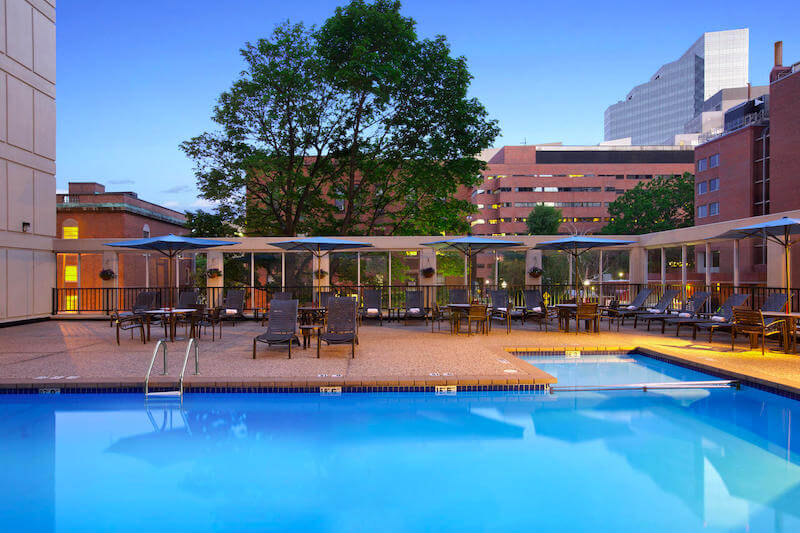 You'll also love the great location, surrounded by some of Boston's top destinations.
Although the hotel does have an onsite restaurant offering casual food such as burgers, sandwiches, soups, and salads, the surrounding streets are packed with excellent pubs, bistros, and trendy restaurants.
You'll find a number of them on nearby Charles Street and Cambridge Street in Beacon Hill, plus lots of fun sports bars near TD Garden, and every kind of cuisine you can imagine around Faneuil Marketplace.
Find room choices and make your reservations at the Wyndham
---
Attractions near the Wyndham Hotel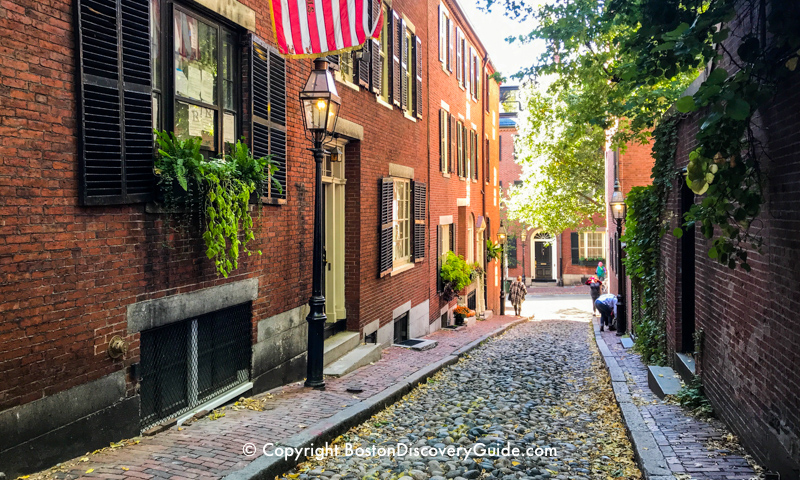 A stay at the Wyndham puts all of Boston's top attractions at your fingertips.
Historic Beacon Hill, home to many of the city's finest antique shops, is half a block from the hotel - just cross Cambridge Street, and you're there.
Explore the narrow cobblestone lanes and alleys, photograph the neighborhood's many original Federal and Victorian era mansions, and follow the Black Heritage Trail to see the path to freedom along the Underground Railroad.
TD Garden, the New England Aquarium, and Faneuil Marketplace are all less than a 10-minute walk from the hotel.
Also near the Wyndham, you'll find an abundance of wonderful dining choices.
Small Italian, French, Middle Eastern, and Asian bistros and restaurants line the other side of Cambridge Street half a block away. Tip Tap Room (138 Cambridge Street), Harvard Gardens (316 Cambridge Street), Ma Maison (272 Cambridge Street), Peregrine at the Liberty Hotel (170 Charles Street) - all are quite good, so just pick your favorite cuisine and get ready for an enjoyable meal.
You'll also find more great restaurants along Charles Street in Beacon Hill. And don't miss the bakeries - Tatte (unbelievable pastries) and Panificio (fantastic deep dish pizza and bistro food).
For a splurge dinner with one of Lydia Shire, one of Boston's top chefs at the helm, head to Scampo in the Liberty Hotel.
If you need to go somewhere else in the city and don't want to walk, the Charles/MGH subway ("T") station on Boston's Red Line is a couple of blocks away on Cambridge Street.
If you're planning a visit to nearby Mass General Hospital, you'll appreciate the Wyndham's convenient location and attractive rates.
Find cheapest rates and reserve your room
---
Wyndham Hotel Parking
Both onsite self parking and valet parking are available - a rarity in this part of the city. The current cost is $58/day for valet and $54/day for self-parking - and yes, that's a lot, but it's on par with what other nearby Boston hotels charge.
If you plan to use your car during the day, you can save money by parking at a cheaper garage a little farther away. The cheapest nearby option for weekends and nights is at Boston Common Garage (about a 10-12 minute walk).
A better (and cheaper) option is to not bring your car at all, if possible.
---
Boston Hotel Map Showing the Wyndham Hotel & Other Nearby Hotels
Enter your travel dates to get the most accurate hotel rates. If the Wyndham doesn't appear on the map, that means it's booked for your dates - so check out rates at other nearby hotels.
More about how to save on Boston hotels
---
More to Do & See in Boston
---
More Articles about Boston Hotels
---