Home > Hotels > Financial District >
Hilton Boston Downtown/Faneuil Hall
Stay Downtown near the Waterfront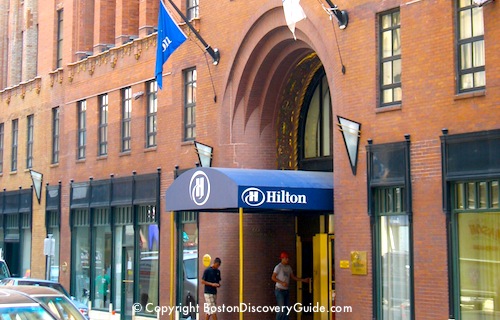 Although the Hilton Boston Downtown/Faneuil Hall in downtown Boston may not be an obvious choice for leisure travelers, it offers terrific value because of its easy access to top attractions, excellent restaurants, and the waterfront.
Faneuil Marketplace, the New England Aquarium, and the Rose Kennedy Greenway are nearby.
The Hilton becomes even more attractive when you can find discount weekend rates.
Still, it's one of those "hidden secrets" of Boston accommodations - a hotel that vacation visitors don't necessarily consider, but should.
Business visitors to Boston know the Hilton well because of its convenient location right in the middle of the Financial District. 
But more than location sets it apart from the competition.
What You'll Like at the Hilton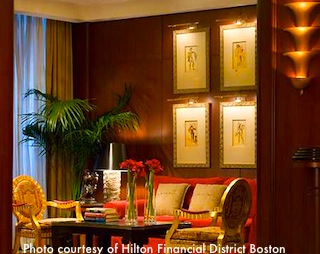 Part of what distinguishes the Hilton is its past life as Boston's first skyscraper, a historic landmark building erected in 1928.
Even though the building is no longer the tallest building in the neighborhood, you'll get glimpses of its original glamour in the Hilton's public reception areas.
Definitely different from what you may have experienced in recently built Hiltons!
Guest rooms have 12 foot ceilings, crown moldings, Art Deco-influenced furnishings, and high-speed Internet access. A plush robe and umbrella (not to imply that Boston is rainy) will await you in your room for your use during your stay in the Hilton Boston Financial District Hotel.
Some rooms even have views of Boston Harbor, just a couple of blocks away.
You can expect top-notch business class service - plus pet-friendly policies.
Boston Insider Tip: Valet parking is available, but this is Boston - it's expensive! If you have to bring a car, ask the hotel about cheaper parking options in the neighborhood.
Near the Hilton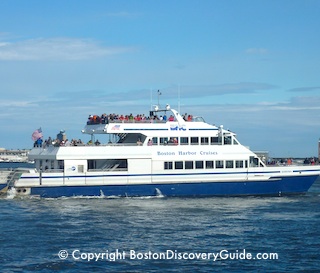 You may be wondering, if you're considing the Hilton for a vacation or leisure trip, will its location in Boston's Financial District be inconvenient or far away from the attractions and places you want to visit?
Actually, the Hilton's location is what really makes it a great value - despite being in Boston's most business-centric neighborhood, you're close to almost everything.
Walk a couple of blocks to the waterfront, and hop on a Harbor cruise ship for the day. A 5-minute walk in the other direction brings you to Boston Common, where you can walk along our historic Freedom Trail.
Not much further are the New England Aquarium, Faneuil Hall/Quincy Market, the mouth-watering restaurants in Chinatown, the Children's Museum, the Institute of Contemporary Art - and much more!
TD Garden, where you can catch a Boston Celtics or Bruins game, is about a 10-12 minute walk. You'll find historic taverns and plenty of sports bars around Faneuil Hall, along with lots of nightlife options near the waterfront and the hotel as well.
However, you'll also find lots of great culinary and beverage options in the neighborhood, including one of Boston's best Irish pubs (The Black Rose, 160 State Street) and plenty of excellent restaurants nearby.
You may also be interested in:
Boston Discovery Guide > Hotels > Financial District > Hilton Boston Downtown/Faneuil Hall