Home >
Boston Neighborhoods
Things to do and see in each Boston neighborhood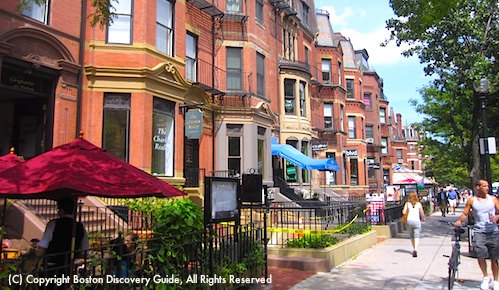 Newbury Street in Boston's Back Bay neighborhood
Boston is a city of gorgeous neighborhoods
- Beacon Hill, Back Bay, the North End, the South End, Fenway - each with its own personality, attractions, mouth-watering restaurants, and fascinating places to visit and things to do.
Beacon Hill, Back Bay, and Historic Downtown are where you'll find many top attractions, along with elegant Federal and Victorian architecture, excellent restaurants, and unique shops.
And Boston's other central neighborhoods - the North End, the South End, Bay Village, Fenway, the West End, Chinatown and other downtown areas, the South End Waterfront - form their own distinct communities.
But look beyond the surface, and you'll quickly discover that each of these special neighborhoods is like a small village, proud of its own rich history, architecture, attractions, shops, places to eat, hotels, traditions, and events.
To a surprising degree, residents know their neighbors' names.
Walk around enough, and you'll begin to get a feel for each neighborhood. Use our guide to Boston neighborhoods to discover and explore your favorite places in the city.
Boston Proper
Boston Proper - the oldest parts of the city where the Puritans first settled, including Beacon Hill, the West End, the North End, and Downtown - forms the center of Boston.
Boston Common and the adjacent Public Garden occupy the heart of Boston Proper, and the neighborhoods radiate out around them.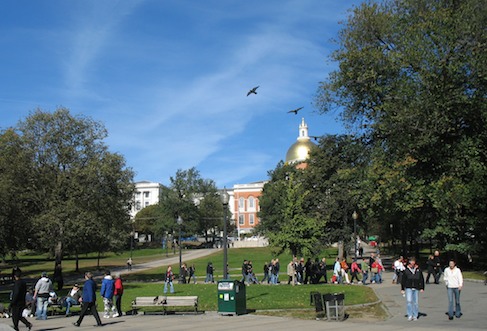 Boston Common, looking toward Massachusetts State House
If you're visiting Boston for the first time, the Common and the Public Garden are perfect places to begin getting to know the city.
Boston's popular walk through history, the Freedom Trail, begins in Boston Common. Children splash in the spray pool at Frog Pond, and everyone ice skates on it in the winter.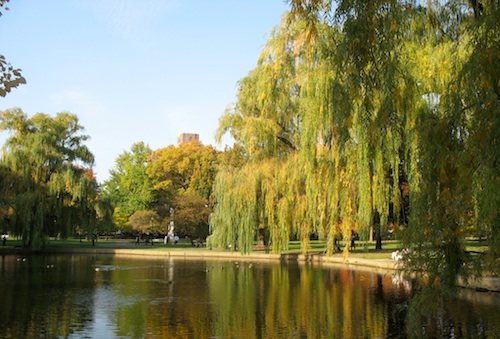 The Lagoon at Boston's Public Garden in Early November
Just to the west of the Common, across Charles Street, you'll find the more formal Victorian-era Public Garden.
Enter through the Public Garden's ornate gates, and enjoy this serene oasis.
You'll see Swan Boats gliding through the Lagoon, and if you're lucky, you'll even see the resident swans.
This is also where you'll find the popular Make Way for Ducklings sculpture.
---
Beacon Hill
Beacon Hill
, one of the loveliest and oldest Boston neighborhoods, lies directly north of the Public Garden and Boston Common. Stroll along Charles Street, and you'll see unique locally owned boutiques, antique shops, and tempting restaurants.
Beacon Hill's narrow tree-lined streets, gas lamps, red brick sidewalks and buildings, elegant Federal-period row houses, exquisite Louisburg Square, and stunning architecture make it one of the city's most beautiful neighborhoods.
Although only about one square mile in size, Beacon Hill is also packed with many historical attractions and important small museums as well as the glorious gold-domed Massachusetts State House. Important sites along the Black Heritage Trail sites attest to Beacon Hill's active involvement in the Underground Railway.
West End and Government Center
Directly to the north of Beacon Hill is Boston's West End. Once a thriving lower-income neighborhood with affordable housing and numerous small businesses, the character of the West End underwent radical change in the mid-1950s due to a controversial redevelopment effort. Massive government buildings were erected at the southern end of this area, which is now referred to as Government Center.
Today, this Boston neighborhood is home to several top medical facilities, including the mammoth Massachusetts General Hospital.
The spectacular Liberty Hotel, carved out of the old Charles Street Jail after a $150 million acquisition/renovation process, revitalizes the end of the neighborhood across from Beacon Hill. A massive upgrading of the area around North Station promises good things for that part of the neighborhood.
The strikingly unattractive "brutalist" style Government Center buildings replace the Old West End's colorful Scollay Square. Pricey high-rise condos dominate residential options.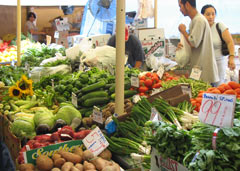 One of the few visible remnants of the old neighborhood is Boston's popular outdoor Haymarket, where vendors have been selling amazingly cheap produce since at least 1830.
As a Boston tourist, you'll also enjoy other West End / Government Center attractions.
These include the Museum of Science and the New England Sports Museum.
Sports fans flock to TD Garden near North Station, Boston home for the National Hockey League's Boston Bruins and the National Basketball Association's Boston Celtics.
And, when you're ready to explore another neighborhood, you can walk down Hanover Street across the beautiful new Rose Kennedy Greenway to the North End.
---
North End
Boston's North End occupies the northeast corner of the original Boston Peninsula.
Home to famed American revolutionary Paul Revere and Old North Church, where lanterns signaled the Redcoats' route - "One if by land, two if by sea" - the North End continues to be one of the city's most enchanting and secluded locations, loved by both tourists and locals. Water surrounds three sides of this old Boston neighborhood filled with narrow, winding streets.
For almost 50 years, the Central Artery - an ugly elevated highway that slashed through the heart of Boston - cut off Boston's North End neighborhood from the rest of the city. Now that a costly - but so worthwhile! - project called the "Big Dig" has dropped the highway to tunnel level, the gardens of the Rose Kennedy Greenway, Boston's newest park, have replaced it.
Part of Boston's Freedom Trail goes through the North End, and you can visit historic sites such as Copp's Hill Burying Ground and Paul Revere's House.
For many people, though, the biggest attraction of this mostly residential neighborhood where many Italian immigrants settled are the fabulous restaurants and in the summer, numerous festivals for patron saints.
You can enjoy sumptuous meals of the freshest seafood and Italian regional specialties - or head straight for the cappuccino and mouth-watering cannolis in one of the many too-tempting bakeries.
Afterwards, work off a few calories by strolling down to Christopher Columbus Park where you'll find the Rose Fitzgerald Kennedy Rose Garden. Or continue down the Greenway through Downtown and on to Chinatown.
---
Downtown Boston
You'll find Downtown Boston to the east and south of the Common. Despite being a compact area, this Boston neighborhood contains a dizzying number of distinct subareas: Downtown Crossing, the Financial District, the Downtown Waterfront, Chinatown, the Leather District, and the Theatre District.
Overlapping several of these subareas is what you might consider Historic Downtown Boston - the original core of the city, going back to Puritan days.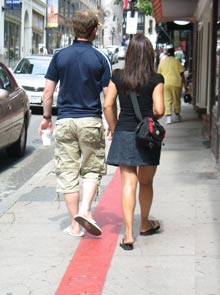 The red line marking the Freedom Trail winds through much of the oldest areas, especially along Tremont Street.
You'll spot some of the city's most cherished historical attractions such as the Granary Burying Ground, King's Chapel, and Old South Meeting House, squashed between much larger recent buildings and skyscrapers.
Finally, the Freedom Trail leads to Faneuil Hall Marketplace and Quincy Market, with the Boston Holocaust Memorial nearby.
Downtown Crossing includes businesses and a pedestrian-only shopping area along Washington, Winter, and Summer Streets.
Anchored by a large Macy's, Downtown Crossing also features many other chain and independent local stores. If you have, for example, a shoe emergency, you can go buy a new pair in DSW or similar reasonably priced stores in this area.
Numerous small restaurants and street food vendors also fill Downtown Crossing, which gets quite crowded around noon and after work as all the nearby office workers pour into the restaurants and stores.
Walk a couple of blocks to the east, and you'll be in the Financial District, surrounded by tall buildings along narrow streets. You'll find some nice restaurants and hotels in the Financial District. Post Office Square contains one of the loveliest gardens in the city.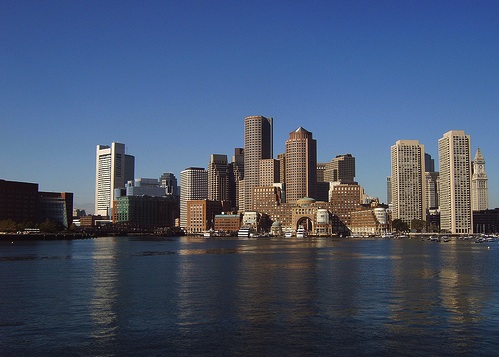 Boston Downtown Waterfront and Skyline
Photo courtesy of Willem van Bergen
Boston's Downtown Waterfront lies to the east of the Financial District. Now that the paths and gardens of the Greenway knit the areas back together again, this part of the city is rapidly evolving as hotels and restaurants rush to orient themselves toward Boston's gorgeous waterfront.
As a Boston visitor, you'll mainly be interested in the New England Aquarium, splendid waterfront and nearby hotels and restaurants, and spectacular waterfront views from the historical wharfs.
Ferries, cruise boats, and water taxis line the piers. Feel like exploring the Boston Harbor Islands? This is your starting point.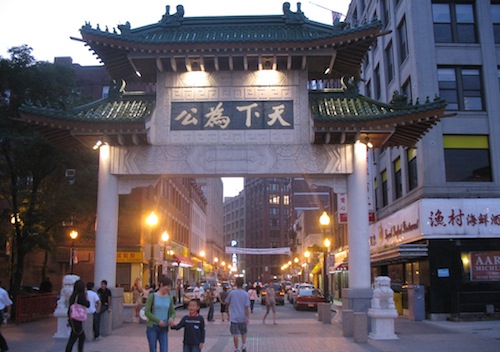 Gate to Boston's Chinatown
Heading back inland, Boston's colorful Chinatown lies just south of the Financial District.
The tiny but trendy Leather District, site of former leather factories now being transformed into condos and chic restaurants, occupies a few blocks south of Chinatown.
The Theatre District, where many of Boston's theaters share space with Emerson College, is adjacent to Chinatown and just south of the Common.
---
Boston's Neighborhoods Expand
Part of Boston's charm comes from its small, compact, walkable size. But when the Puritans first settled the area, Boston Proper was only about half of its current size and adjacent areas were underwater.
By the early 1700s, Bostonians began filling tidal mud flats around Boston Harbor to make new land for the city's growing population. Within less than 100 years, they needed more.
Starting around 1800, they looked west.
A very large tidal area called Back Bay extended from the Charles River, covering the Public Garden, most of the current Bay Village and Back Bay neighborhoods, and parts of the South End.
Efforts to begin filling the bay began in the early 1790s - but this created ugly mud flats. By 1799, Bostonians started dumping garbage and channeling sewage here, quickly creating a smelly mess. The solution? More land creation.
By the end of the 1800s, lots of new land had been made - enough to form 3 new Boston neighborhoods: Bay Village, Back Bay, and Boston's South End as we know it today.
---
Bay Village
Bay Village is Boston's smallest neighborhood. Almost hidden between the Theatre District, Back Bay, and Boston's South End, it's also perhaps the least-known of any Boston neighborhood, despite being located just a couple of blocks south of the Public Garden. With its Federal architecture, narrow streets, and gas lamps, it's like a quieter, smaller, less grand version of Beacon Hill.
More about Bay Village
---
Back Bay
Back Bay, on the other hand, is one of the city's best known areas. With stunning buildings, beautiful churches, and elaborate Victorian architecture, Back Bay ranks as one of the most popular Boston neighborhoods with locals and tourists alike.
Stretching out from the west side of the Public Garden, Back Bay is mostly residential - and what magnificent residences!
Brownstones along Commonwealth Ave with John Hancock Tower in the Background - Back Bay, Boston
Block after block of elegant brownstones parade on either side of Commonwealth Ave, a boulevard lined with saucer magnolias and dogwoods, with a statue-filled park down the middle.
Some of the city's swankiest shops line Newbury Street. Copley Place and Prudential Center contain even more. You'll also find some of the city's most elegant hotels and restaurants in this neighborhood, along with the over-the-top Italian Renaissance Boston Public Library, the glowing stained glass Mapparium at the Mary Baker Eddy Library, and other attractions.
---
The South End
If you love Victorian architecture, though, you must head to Boston's chic South End, which stretches south of Columbus Ave.
In this Boston neighborhood (not to be confused with the South Boston neighborhood), you'll find the country's largest concentration of Victorian brick row houses, most of them beautifully restored during the past 20-30 years.
Boston's South End Neighborhood
In fact, if you haven't visited Boston in recent years, you should include time in your travel plans to tour this gorgeous neighborhood.
You'll also find spectacular community gardens, superb chef-owned South End Boston restaurants, theaters, and unique shops.
The SoWa (South of Washington Street) part of the South End features a growing number of art galleries, hosts the popular South End Open Studios, and from spring to fall, provides space for the city's most interesting open air shopping at the SoWa Open Market.
More about
Boston's South End
---
Fenway, Charlestown, and South Boston Waterfront
Three more Boston neighborhoods have numerous attractions that you're likely to visit.
---
Fenway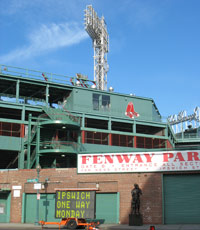 Fenway, which includes Kenmore Square, merges culture, academia, and sports. You'll find this neighborhood to the west of Back Bay, across Charlesgate and Mass Ave.
Home to Northeastern University, Boston University, Colleges of the Fenway, and several other colleges in Boston, Fenway gets its name from the Fens, a snake-shaped park flanking the Muddy River and the first gem in the Green Necklace, the series of green spaces surrounding Boston designed by Frederick Olmsted.
In this attractive Boston neighborhood, you'll find cultural jewels such as Symphony Hall, Jordan Hall, the Museum of Fine Arts, the Isabella Stewart Gardner Museum, plus lots of others.
Best known of all is Fenway Park, home of our beloved Boston Red Sox baseball team. Along surrounding streets, you'll see lots of Boston bars near Fenway featuring big screens for game viewing.
Concentrated in the Longwood area at the western end of Fenway are over 20 world-class medical treatment and research centers. Not coincidentally, you'll also find Harvard Medical School, Harvard Dental School, and the Harvard School of Public Health nearby.
---
Charlestown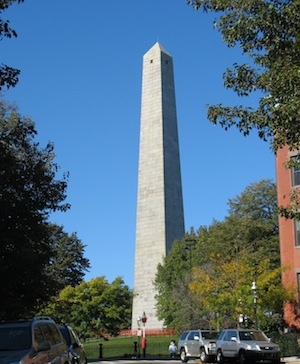 The Puritans actually tried to settle in Charlestown, north of Boston across the Charles River, in 1629 - but lack of fresh water made them sick and caused them to move to Boston the following year.
You may be surprised to hear that they didn't actually drink the water - they just needed it to make beer . . . but that's another story.
Charlestown operated as an independent community until Boston annexed it in 1873, and even though technically it is now a Boston neighborhood, it continues to have and cherish its own distinct identity.
Parts of the Freedom Trail pass through Charlestown. You can visit the famous Bunker Hill Monument, as well as "Old Ironsides" (the USS Constitution) in the Charlestown Navy Yard.
Charlestown also boasts some excellent restaurants, spectacular waterfront views, and the Warren Tavern, dating from 1780.
---
South Boston Waterfront
The South Boston Waterfront, occasionally called the Seaport District, is the most rapidly developing part of the city.
Piers and Harbor Cruise Boat at South Boston Waterfront
With Boston Convention and Exposition Center, the Institute of Contemporary Art (sometimes just called the "ICA"), and the Blue Hills Bank Pavilion drawing large crowds, and almost a quarter of a million cruise passengers passing through the Black Falcon Cruise Terminal each year, a lot is going on in this interesting Boston neighborhood.
More about the South Boston Waterfront
---
Other Boston Neighborhoods
Boston's other neighborhoods are primarily residential, although several have at least one interesting attraction that you may want to visit, especially if you're visiting Boston for more than a couple of days. All of these neighborhoods joined Boston through annexation.
Allston and Brighton, located west along the Charles River, are slightly separated from the rest of Boston by part of the independent city of Brookline. Allston was once a part of Brighton, and because the boundary between the two always seems fuzzy, you may hear them referred to as one entity, Allston-Brighton.
Allston is home to Harvard Business School, Harvard Stadium, and parts of Berkelee School of Music and Boston University. Boston College is also nearby. As you can probably imagine, lots of student live here - and you'll also find hundreds of inexpensive and delicious restaurants, bars, and interesting spots.
Brighton is a quieter, mainly residential area, but also has lots of small, inexpensive restaurants and interesting shops. The "C" branch of the T's Green Line ends at Cleveland Circle, which is close to Boston College.
East Boston will be on your path if you fly to Boston and land at Logan Airport, located here. If you stay in one of the Boston Logan airport hotels, you can easily reach the rest of the city by water taxi or the "T" - Boston's subway system - and of course, regular land taxis.
South of central Boston are mostly residential neighborhoods known collectively as the "Southern Districts." They include Roslindale, Hyde Park, West Roxbury, Mattapan, Mission Hill, Jamaica Plain, Roxbury, South Boston, and Dorchester. Although these Boston neighborhoods lack the concentration of tourist attractions found in other areas of the city, several have interesting sites that you may want to visit.
Mission Hill attracts architecture buffs who swoon over the neighborhood's fabulous Queen Anne, Gothic Revival, and Georgian Revival houses and buildings, many of which are undergoing restoration. An old puddenstone quarry in this Boston neighborhood supplied stone for the older buildings.
Many Mission Hill residents work in the adjacent Longwood medical area, or at nearby Northeastern University, Wentworth Institute, Massachusetts College of Art and Design, and the School of the Museum of Fine Arts.
Laid back but trendy Jamaica Plain gives center stage to the Arnold Arboretum, another Emerald Necklace jewel. If you're interested in horticulture or landscaping, you'll want to jump on the T for a visit.
If you're traveling with children, you may want to visit Boston's Franklin Park Zoo in Roxbury. Also of interest in Roxbury is the excellent Museum of the National Center for Afro-American Artists located in an interesting Victorian Gothic mansion.
Aside from the waterfront area, most of South Boston, called "Southie" by locals, is largely residential and away from the typical path of Boston tourists.
However . . . if you are a beach lover, you can discover one of Boston's hidden treasures at the end of a spit jutting into Boston Harbor. Castle Island, no longer a real island due to 19th century land creation efforts, is a favorite local beach and swimming spot outstanding views of the city and harbor.
Dorchester is the home of the University of Massachusetts, Boston. The John F. Kennedy Library and Museum, a stunning marble and glass structure designed by I. M. Pei, is also located here.
Like this Page? Please Share!
Boston Discovery Guide > Neighborhoods