Boston Tourism and Discovery Guide >
Boston's Freedom Trail
Top Boston travel attraction
The red stripe marking the Freedom Trail, Boston's 2.5 mile (4 km) path linking 16 historic sites important to the birth of American liberty, takes you on a walk through history. Not surprisingly, it's a top Boston attraction as well as a favorite Boston tour.
Stretching from Boston Common all the way to the Charlestown waterfront, the Freedom Trail takes you through the city's most historical areas.
Red brick in some places and red paint in others, the Trail leads you through time to:
Paul Revere's house in Boston's North End - and the church where two lanterns signaled his historic midnight ride
The site of the Boston Massacre, where the first bloodshed of the Revolution occurred
The USS Constitution, known as "Old Ironsides"
Bunker Hill, where one of the bloodiest battles of the Revolutionary War raged
Plus 12 more places closely linked to America's fight for liberty
All of these sites are the real thing - not re-creations or reproductions. When you visit Paul Revere's house, for example, you go inside his real house where he really lived.

Best of all, as you follow the Freedom Trail's red stripe, you'll also get to see 3 of the city's most interesting neighborhoods - older parts of Downtown Boston, historic Charlestown, and the picturesque North End.
You'll pass historic taverns where the Founding Fathers toasted freedom, Boston's spectacular waterfront, great shopping at Quincy Market and Faneuil Hall Marketplace, top restaurants, and beautiful parks such as the Rose Kennedy Greenway.
Boston's "living" museum

Boston's Freedom Trail began at a moment back in 1950 when a Boston journalist realized:
Boston has more sites related to the American Revolution and America's fight for independence than any other city.
These sites, so important in United States history, are within easy walking distance of each other.
The rest, as they say, is history.
Eight years later, the Freedom Trail became "official." It's how Boston commemorates the Founding Fathers' role in the birth of the U.S., and also protects these 16 historic sites from redevelopment fervor. Who knows, without it, Paul Revere's house might be converted to trendy condos.
Maybe it's due to Yankee frugality - but most Freedom Trail sites such as Boston Common, Faneuil Hall, the State House, several churches, and of course the graveyards still perform their original functions.
Others such as Old South Meeting House, Old State House, Paul Revere's house, and the USS Constitution are now museums.
More Fun Boston Tours
What You'll Find on the Freedom Trail
Here's a quick overview of what you'll find at each of the 16 sites. (Actually, I list 17, since even though King's Chapel and King's Chapel Burying Ground are next to each other and have similar names, they're not otherwise related).
Click on the links for more details, including tips about other places to see nearby.
I've organized the sites by neighborhood, starting with Boston Common at the edge of Downtown Boston.
After this section, you'll find tour information (or click here to go straight to it), plus a few insider tips about best ways to explore the Trail.
Downtown Boston Freedom Trail Sites

Boston Common, America's oldest park, dates back to 1634. Stroll across its green slopes where the earliest Puritan settlers grazed their cows and hanged witches, where British troops camped during their occupation of Boston, where 19th century literary giants argued about poetry, and where Dr. Martin Luther King spoke eloquently about freedom in the 20th century.


Despite being completed after the end of the Revolutionary War, the Massachusetts State House embodies the self-governance ideals that the Patriots won. Revolutionary hero and Massachusetts State Governor Samuel Adams laid its cornerstone, famous architect Charles Bulfinch designed it, and its golden dome gleams high above Boston Common and Beacon Hill.


The soaring steeple of the beautiful Park Street Church used to be the first landmark that people could see when coming to Boston. A number of firsts closely associated with American freedom, human rights, and social justice have taken place in this historic Downtown Boston landmark, including William Lloyd Garrison's first major speech in Boston against slavery in 1829.


Granary Burying Ground, one of Boston's oldest historic sites, dates from 1660. Due to all the famous patriots and Revolutionary War heroes buried here, it is sometimes called the "Westminster Abbey" of Boston. Wander through the shaded slopes and you'll discover the graves of Samuel Adams, Paul Revere, Boston Massacre victims, and other famous heroes.

Boston's Puritans fled England to escape religious persecution. Not surprisingly, Church of England religious services were banned in Boston. So imagine the Puritans' outrage when the English king demanded they build King's Chapel, an Anglican church, on part of a Puritan graveyard (now called King's Chapel Burying Ground). Did the Dead roll over in their graves?



King's Chapel Burying Ground is Boston's oldest graveyard - although it was bigger before King's Chapel was built next door. You'll find intricately carved gravestones for many of the first English settlers in this tranquil spot. See if you can find the one showing Father Time wrestling with Death! And if you enjoy ghost stories, this burying ground has a real chiller.


Born poor in Boston in 1706, Benjamin Franklin became a printer, publisher, political thinker, scientist, writer, inventor, and statesman. He got his start by writing for his brother's newspaper under the name of Mrs. Silence Dogood, getting lots of praise . . . until his jabs at witch-hunter Rev. Cotton Mather and other Puritan political powers in Boston landed him in hot water.


Built in 1718 and one of Boston's oldest brick buildings, the Old Corner Bookstore started life as a commercial space - and that's what it still is today. Occupied in the 19th century by the company that published famous authors Ralph Waldo Emerson, Henry David Thoreau, Nathaniel Hawthorne, and many others, the mellow red brick building now contains a jewelry store.


On December 16, 1773, Boston's Old South Meeting House, scene of many speeches supporting liberty, a crowd of 5,000 Colonists waited tensely to hear if ships carrying British tea would be allowed to leave Boston Harbor and go back to England. When the answer came back as "No!" - meaning they'd have to pay tax on it - they decided to have a tea party in Boston Harbor.


The Massachusetts Assembly and the British Royal Governors met and clashed in the Old State House until the Revolutionary War. Patriots made some of their most compelling arguments against British tyranny here, and on July 18, 1776, Colonists gathered around an outside balcony to hear the Declaration of Independence read aloud for the first time in Massachusetts.


The British occupied Boston in 1768 and tension filled the tavern-lined streets - an explosive combination. On March 5, 1770, a street brawl left 5 colonists dead, killed by Redcoats. Did the Colonists provoke them? Probably. Crispus Attucks, of African and Native American ancestry, was first to die in the Boston Massacre, as the Sons of Liberty quickly labeled the killings.

Back in 1742, wealthy merchant Peter Faneuil felt Boston needed a marketplace. City leaders weren't convinced, so Faneuil built Faneuil Hall Marketplace at his own expense and donated it to Boston. After Sam Adams and other Sons of Liberty made fiery speeches here, it became known as "The Cradle of Liberty." Today, Quincy Market, as this area is called, continues to be one of Boston's best shopping areas.

North End Freedom Trail Sites

Crafted from carved timbers and wooden pegs, Paul Revere's house, a medieval-style structure in the North End, is the only 17th century wood dwelling still standing in its original Boston site. Open today as a museum, the well-crafted house displays examples of some of Revere's metal work - spoons, bowls, dental wiring, bells, engraving plates - as well as late 17th century maps, furniture, and furnishings.


Not far away from Paul Revere's house is the beautiful Old North Church. Built in 1723, it is the oldest place of worship still standing in Boston and its active Episcopal congregation holds weekly services. In 1775, sexton Robert Newman, a friend of Paul Revere, hung 2 lanterns from the steeple to warn Charleston Patriots about British plans to go by water to Concord. The steeple still soars above surrounding buildings.


You can still see gravestones with pockmarks from musket balls, made when Redcoats used Copp's Hill Burial Ground, dating from 1660 and the 2nd oldest cemetery in Boston, for target practice. Generals watched from this hill in 1775 as their troops burned Charlestown to the ground - and continued watching in horror as half of their men died during the Battle of Bunker Hill. Nearby is the site of a later horror, the Great Molasses Flood.

Charlestown Freedom Trail Sites

Built in 1793 to protect U.S. merchant ships from attacks by the Barbary pirates, the wooden USS Constitution is the oldest commissioned warship afloat in the world. Nicknamed "Old Ironsides" after British cannonballs bounced off her seemingly impervious sides during the War of 1812, the Constitution is now open for tours by the Navy crew - a favorite of many kids.


The soaring 221 foot Bunker Hill Monument commemorates the first major battle of the Revolutionary War, and also the deadliest. Fought on Breed's Hill - the real Bunker's Hill is half a mile to the west - the encounter lasted only 2 hours. The victory went to the British, but the battle strengthened the resolve of the Patriots to win the war.
Freedom Trail tours
Choices for touring the Freedom Trail range from free (self-guided with a map, or led by a Park Ranger) or fee-based. Each option offers benefits, and you can't really go wrong, whichever you choose. Here's an overview of each option:
Self-guided
Pick up an excellent free map of the Freedom Trail at the Visitor Information Center on Boston Common (near the Park Street T station) or the National Historical Park Visitor Center at 15 State Street in Downtown Boston. You can also download the free map here.
Walk along at your own pace. Start and stop wherever you like. Walk fast and cover the whole trail in a couple of hours, or visit just a couple of sites, perhaps detouring for some super shopping in Faneuil Hall Marketplace or for a steaming cup of cappuccino in the North End - it's your choice!
Boston Common in Downtown Boston anchors one end of the Freedom Trail, and Bunker Hill in Charlestown anchors the other. You can start at either end, or at any point in the middle.
The Freedom Trail is not a loop - so if you walk from one end to the other, you will not be close to where you started. Fortunately, all of the sites are reasonably close to the T. The free Freedom Trail map shows nearby T stations.
Free Ranger tours
Join a free guided tour given by Rangers from the National Park Service.
The tours start in Boston Common, last 90 minutes, and include some but not all of the sites. Inquire about schedules at the Visitor Information Center or the National Historical Park Visitor Center.
The Rangers are quite knowledgeable, and give a good tour.
Also, if your children are the age where you may unexpectedly need to leave the tour in order to find bathroom facilities (the State House, Old State House, Old South Meeting House, and Faneuil Hall Marketplace are your best options), you won't have to regret dropping out of a pricey tour.
Fee-based guided walking tours
Several different groups give guided Freedom Trail tours, and the cost varies. Typically, the tours last 1-2 hours and include some but not all of the sites. Many of the tour guides are knowledgeable historians as well as skilled actors and entertainers. Some wear Colonial costumes.
I often eavesdrop for a few minutes when I walk past one of these groups, and am impressed by the value and entertainment they deliver.
Fee-based drive-by tours
Take a Boston city tour, such as the popular Boston Duck Tours. You'll drive by several Freedom Trail sites, as well as a lot of other places. The tour conductor will point them out and perhaps tell an anecdote. You'll only get a glimpse as you go by (assuming that traffic is moving), but you can explore the sites later on foot if you want to see them in more detail.
Don't, however, try to see the sites by driving by them yourself. The Freedom Trail is designed as a walking tour for good reason. Boston's narrow, winding streets make car maneuvering difficult, at best, plus not all sites can be seen by car.
Insider Tips
If you plan to explore only part of the Freedom Trail, pick one of the neighborhoods and focus on the sites in that area. If you have young children with you, this is a much saner approach than trying to complete the whole Trail.
In the Downtown section of the Trail, Faneuil Hall Marketplace makes a great focal point. You can see Faneuil Hall itself with the famous grasshopper weathervane, admire the statue of Sam Adams, explore the shops, and and enjoy the food in Quincy Market.
Stroll over to Union Street, where the Freedom trail continues to the North End. You'll pass Marshall Street, with the Ebenezer Hancock House at the corner. Built in 1767 and owned by John Hancock, the house was occupied by his younger brother Ebenezer. As Deputy Paymaster-General of the Continental Army, Ebenezer Hancock disbursed money here during the American Revolution - some of which might have been spent a bit farther down the street at the Green Dragon Tavern.
Embedded in the wall of the building across from the Ebenezer Hancock House is the legendary 1737 Boston Stone, said to be used to measure distances to and from "The Hub." Since the Old State House was used for that purpose until that role shifted to the dome of the new State House, that story may not be true - especially since records in the Library of Congress quote a Dr. Elliot as describing seeing the son of a shopkeeper inscribe "Boston Stone" on the rock as a way to draw attention to the shop's location.
Several other Freedom Trail sites are located in the other direction, plus you're close to the Holocaust Memorial, Haymarket (Friday and Saturday only), and parts of Harborwalk along the waterfront. The Rose Kennedy Greenway is nearby, in case you want to detour over to the North End or go have lunch in Chinatown.
In the North End section, Paul Revere's house gives an interesting glimpse of how people lived in the late 1700s. If you're on this part of the Freedom Trail, you'll want to spend time walking around the North End.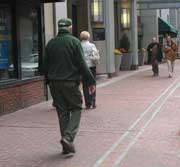 Hanover Street, right around the corner from Revere's house, is lined with tempting restaurants and bakeries, and if you turn north at Cross Street and then right onto Salem Street, you'll find even more.
You can also find some of the city's best seafood and Italian restaurants in this neighborhood. After a final espresso, you can cross the Rose Kennedy Greenway, and walk past Haymarket to Faneuil Hall.
If you decide to focus on the Charlestown Freedom Trail sites, the easiest - and most scenic - way to get there is to take the MBTA ferry from Long Wharf. Tickets are $2 each way, and even less if you use the T's "CharlieCard."
As you walk from the USS Constitution in the Charlestown Navy Yard to Bunker Hill, take a small detour down Main Street. You'll pass the Warren Tavern, great place for lunch or dinner for over 200 years, as Paul Revere and George Washington could attest . . . if they were still alive.
You'll also find some other excellent choices, such as Figs - or head back to the waterfront to Tavern on the Water.
Details and Directions
Open: You can visit outdoor Freedom Trail sites such as Boston Common and monuments all day, every day. The graveyards are open during daylight hours.
Indoor sites open for specific hours and close on some days, so call or check the website for each site that you want to visit.
Churches still in use for worship have services on Sunday and sometimes at other times which you're welcome to attend; they are not available for Trail tours during these times.
Accessibility: Although many of the sites are wheelchair accessible, some are not due to their age and historical preservation restrictions, so check in advance at each site if applicable.

Cost: Most of the sites are free. The churches gratefully accept contributions to help with maintenance. Three (Old South Meeting House, Old State House, Paul Revere's House) charge small fees. Fees for 2010 range from $3.50-$7 for adults, with reduced rates for children, seniors, and students.

Locations: Downtown Boston, North End, and Charlestown. See details about each site for more specific information.

Closest T stations to each end of the Freedom Trail:

Boston Common: Red and Green Lines/Park Street


Bunker Hill Monument: walk back across the Charlestown Bridge to Orange and Green Lines/North Station; alternately, you can walk back to the Naval Shipyard (USS Constitution location) and take the MBTA commuter ferry back to Long Wharf, near the Blue Line/Aquarium station and the Boston Marriott Long Wharf hotel

For other sites, please see details for each site


Parking your car:
If you arrive in Boston by car, you'll need to park it. Parking in Boston tends to be expensive. Choices near the ends and middle of the Freedom Trail include:
For more general information:
Freedom Trail Foundation - markets, manages, and supports the Freedom Trail sites, and operates popular guided tour. Call 617-357-8300; website http://thefreedomtrail.org

National Park Service - offers free 90 minute tours, weather permitting, and also provides information at the USS Constitution. For more information, call 617-242-5642.
Questions about Boston's Freedom Trail?
Have a question about Boston's Freedom Trail? Ask, and I'll do my best to answer.

First, though, check out what others have asked - I might have already answered the same question for someone else.

When asking your question, please fill out the whole form, including lines for name and location that say "optional."

After you send your question, you'll see a page that thanks you and asks you to set notification options. I highly recommend that you check the first 2 boxes so you'll be notified when I reply - otherwise, you'll have no way of knowing other than checking the website periodically. When you see my reply, please let me know if it was helpful!

Thanks for getting in touch, and enjoy your visit to Boston!

Susan

Questions about Boston's Freedom Trail
Here's what others have asked:

Like this Page? Please Share!
Related to Freedom Trail: