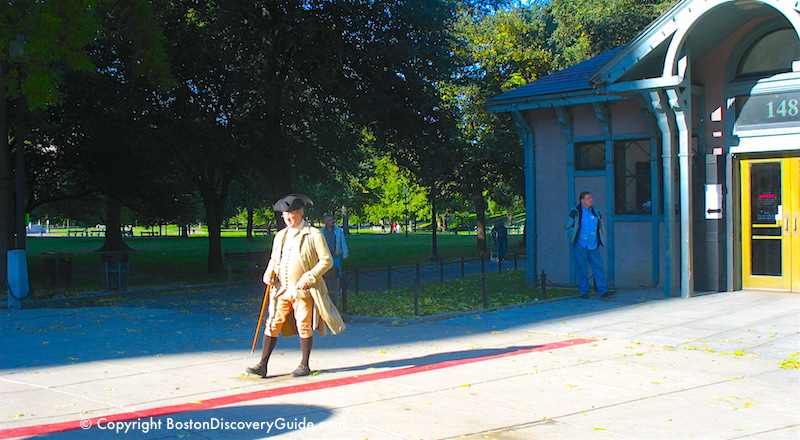 Ready to take an unforgettable walk through Boston's history?
The red stripe marking the Freedom Trail stretches for 2.5 miles (4 km) through Boston's most historic neighborhoods, and takes you to 16 sites important to the birth of American liberty.
Not surprisingly, the Freedom Trail is Boston's most popular tourist attraction.
Boston has more sites related to the American Revolution and America's fight for independence than any other city.
Best of all, they're within easy walking distance of each other.
As you walk along the Trail, you'll travel through Historic Downtown Boston, the North End, and Charlestown, from Boston Common to the Charlestown waterfront.
All of these sites are the real thing - not re-creations or reproductions.
When you visit Paul Revere's house, for example, you go inside his actual house where he lived with his wife and his 16 children.
Near the Trail, you can find additional historic sites such as the historic Green Dragon Tavern where Paul Revere, Sam Adams, and other Sons of Liberty spied on the Redcoats and planned their Tea Party.
Starting at the first site, here's a quick look at what you'll find along the Freedom Trail, where to get a free Freedom Trail map, some fun guided tours, and nearby hotels.
---
Boston Insider Tip - Where to Get a Free Freedom Trail Map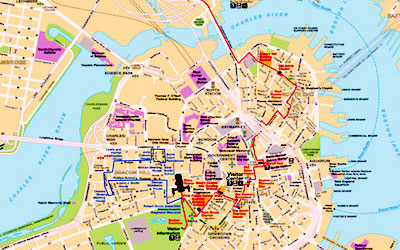 Before you leave the Common, walk over the the Visitor Information Center (147 Tremont Street), and pick up a free National Park Service map of the Freedom Trail and Black Heritage Trail.
To get the free NPS map, you have to go up to the counter at the Visitor Center and ask for the "free Freedom Trail map."
The maps in the display racks are not free.
---
---
---
---
---
---
---
---
---
---
---
---
---
---
---