Home > Attractions >
Boston's Freedom Trail
Top Boston travel attraction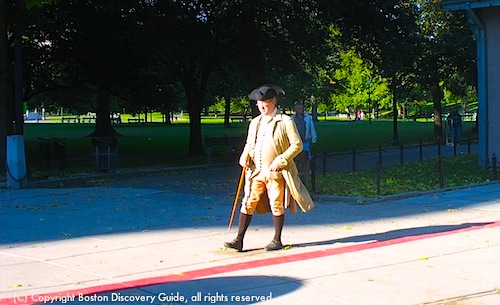 The Freedom Trail begins on Boston Common, near the Visitors Information Center
Want to take a walk through Boston's history?
The red stripe marking the Freedom Trail stretches for 2.5 miles (4 km) through Boston's most historic neighborhoods, and takes you to 16 sites important to the birth of American liberty.
Not surprisingly, the Freedom Trail is Boston's most popular tourist attraction.
Boston has more sites related to the American Revolution and America's fight for independence than any other city.
Best of all, they're within easy walking distance of each other.
As you walk along the Trail, you'll travel through Historic Downtown Boston, the North End, and Charlestown, from Boston Common to the Charlestown waterfront.
What's especially cool is that all these sites are the real thing - not re-creations or reproductions.
When you visit Paul Revere's house, for example, you go inside his real house where he really lived...with his 16 children.
Near the Trail, you can find even more historic sites such as the historic Green Dragon Tavern where Paul Revere, Sam Adams, and other Sons of Liberty spied on the Redcoats and planned their Tea Party.
Most Freedom Trail sites such as Boston Common, Faneuil Hall, the State House, churches, and of course the graveyards still perform their original functions. Others now serve as museums and one anchors a popular shopping and entertainment area.
Here's a quick look at a few of the most popular Freedom Trail sites along with links to the rest of the sites, other nearby must-see sites, hotels, and map and tour information.
Most Popular Freedom Trail Sites
Boston Common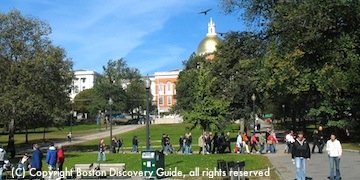 The Freedom Trail starts at historic Boston Common.
Stroll across its green slopes, and you'll be walking in the footsteps of Boston's first Puritan settlers who established civic life here.
You'll walk across the areas where Colonial militias trained, where public hangings took place over the span of 3 centuries, and where British troops camped out before heading to Concord on the first day of the American Revolution.
Listen carefully, and you may even hear echoes of the abolitionists who rallied support for equality and civil liberties here...of Dr. Martin Luther King, Jr who spoke here about freedom...of Barack Obama who spoke here about hope and the future before running for President.
Paul Revere's House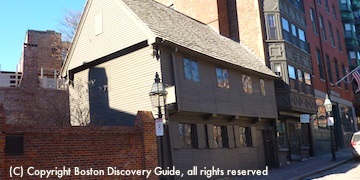 Crafted from carved timbers and wooden pegs, Paul Revere's house, a medieval-style structure in the North End, is the only 17th century wood dwelling still standing in its original Boston site. Open today as a museum, the well-crafted house displays examples of some of Revere's metal work - spoons, bowls, dental wiring, bells, engraving plates - as well as late 17th century maps, furniture, and furnishings.

Granary Burying Ground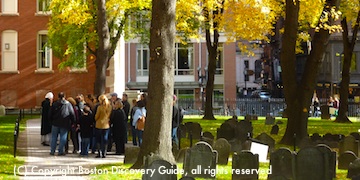 Granary Burying Ground, one of Boston's oldest historic sites, dates from 1660. Due to all the famous patriots and Revolutionary War heroes buried here, it is sometimes called the "Westminster Abbey" of Boston. Wander through the shaded slopes and you'll discover the graves of Samuel Adams, Paul Revere, Boston Massacre victims, and other famous heroes.
USS Constitution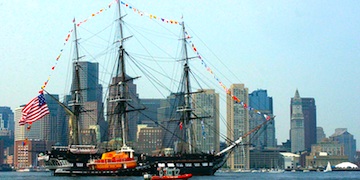 Built in 1793 to protect U.S. merchant ships from attacks by the Barbary pirates, the wooden USS Constitution is the oldest commissioned warship afloat in the world. Nicknamed "Old Ironsides" after British cannonballs bounced off her seemingly impervious sides during the War of 1812, the Constitution is now open for tours by the Navy crew - a favorite of many kids.

Faneuil Hall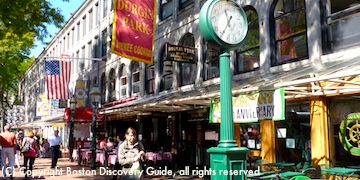 Back in 1742, wealthy merchant Peter Faneuil felt Boston needed a marketplace. City leaders weren't convinced, so Faneuil built Faneuil Hall Marketplace at his own expense and donated it to Boston. After Sam Adams and other Sons of Liberty made fiery speeches here, it became known as "The Cradle of Liberty." Today, Quincy Market, as this area is called, continues to be one of Boston's best shopping areas.

Freedom Trail Hotels
More Freedom Trail Sites
image links - remaining 12
note about King's Chapel
Freedom Trail Map and Tours
Need a map? Download this excellent free Freedom Trail map
Related Historical Events
Near the Freedom Trail

Despite being completed after the end of the Revolutionary War, the Massachusetts State House embodies the self-governance ideals that the Patriots won. Revolutionary hero and Massachusetts State Governor Samuel Adams laid its cornerstone, famous architect Charles Bulfinch designed it, and its golden dome gleams high above Boston Common and Beacon Hill.


The soaring steeple of the beautiful Park Street Church used to be the first landmark that people could see when coming to Boston. A number of firsts closely associated with American freedom, human rights, and social justice have taken place in this historic Downtown Boston landmark, including William Lloyd Garrison's first major speech in Boston against slavery in 1829.


Boston's Puritans fled England to escape religious persecution. Not surprisingly, Church of England religious services were banned in Boston. So imagine the Puritans' outrage when the English king demanded they build King's Chapel, an Anglican church, on part of a Puritan graveyard (now called King's Chapel Burying Ground). Did the Dead roll over in their graves?



King's Chapel Burying Ground is Boston's oldest graveyard - although it was bigger before King's Chapel was built next door. You'll find intricately carved gravestones for many of the first English settlers in this tranquil spot. See if you can find the one showing Father Time wrestling with Death! And if you enjoy ghost stories, this burying ground has a real chiller.


Born poor in Boston in 1706, Benjamin Franklin became a printer, publisher, political thinker, scientist, writer, inventor, and statesman. He got his start by writing for his brother's newspaper under the name of Mrs. Silence Dogood, getting lots of praise . . . until his jabs at witch-hunter Rev. Cotton Mather and other Puritan political powers in Boston landed him in hot water.


Built in 1718 and one of Boston's oldest brick buildings, the Old Corner Bookstore started life as a commercial space - and that's what it still is today. Occupied in the 19th century by the company that published famous authors Ralph Waldo Emerson, Henry David Thoreau, Nathaniel Hawthorne, and many others, the mellow red brick building now contains a jewelry store.


On December 16, 1773, Boston's Old South Meeting House, scene of many speeches supporting liberty, a crowd of 5,000 Colonists waited tensely to hear if ships carrying British tea would be allowed to leave Boston Harbor and go back to England. When the answer came back as "No!" - meaning they'd have to pay tax on it - they decided to have a tea party in Boston Harbor.


The Massachusetts Assembly and the British Royal Governors met and clashed in the Old State House until the Revolutionary War. Patriots made some of their most compelling arguments against British tyranny here, and on July 18, 1776, Colonists gathered around an outside balcony to hear the Declaration of Independence read aloud for the first time in Massachusetts.


The British occupied Boston in 1768 and tension filled the tavern-lined streets - an explosive combination. On March 5, 1770, a street brawl left 5 colonists dead, killed by Redcoats. Did the Colonists provoke them? Probably. Crispus Attucks, of African and Native American ancestry, was first to die in the Boston Massacre, as the Sons of Liberty quickly labeled the killings.

North End Freedom Trail Sites

Not far away from Paul Revere's house is the beautiful Old North Church. Built in 1723, it is the oldest place of worship still standing in Boston and its active Episcopal congregation holds weekly services. In 1775, sexton Robert Newman, a friend of Paul Revere, hung 2 lanterns from the steeple to warn Charleston Patriots about British plans to go by water to Concord. The steeple still soars above surrounding buildings.


You can still see gravestones with pockmarks from musket balls, made when Redcoats used Copp's Hill Burial Ground, dating from 1660 and the 2nd oldest cemetery in Boston, for target practice. Generals watched from this hill in 1775 as their troops burned Charlestown to the ground - and continued watching in horror as half of their men died during the Battle of Bunker Hill. Nearby is the site of a later horror, the Great Molasses Flood.

Charlestown Freedom Trail Sites

The soaring 221 foot Bunker Hill Monument commemorates the first major battle of the Revolutionary War, and also the deadliest. Fought on Breed's Hill - the real Bunker's Hill is half a mile to the west - the encounter lasted only 2 hours. The victory went to the British, but the battle strengthened the resolve of the Patriots to win the war.
Hotels near the Freedom Trail
Downtown:

North End:

Charlestown:

Marriott Residence Inn

- Families love the suites with kitchenettes - Rates & reservations

Constitution Inn

- One of Boston's lesser-known bargain hotels - Rates/reviews
Details and Directions
Hours: You can visit outdoor Freedom Trail sites such as Boston Common and monuments all day, every day. However, the graveyards are open during daylight hours - unless you're on one of the special Ghosts and Gravestones Tours.
Visitor hours for indoor sites vary, so call or check the website for each site that you want to visit.
Churches still in use for worship hold services on Sunday and sometimes at other times which you're welcome to attend; these sites are not available for Trail tours during these times.
Accessibility: Although many of the sites are wheelchair accessible, some are not due to their age and historical preservation restrictions, so check in advance at each site if applicable.
Cost: Most of the sites are free. The churches gratefully accept contributions to help with maintenance. Three sites (Old South Meeting House, Old State House, Paul Revere's House) charge small fees ranging from $3.50-$7.50 for adults, with reduced rates for children, seniors, and students.
Locations: Downtown Boston, North End, and Charlestown. See details about each site for more specific information.
Parking:
If you arrive in Boston by car, you'll need to park it. Parking in Boston tends to be expensive. Choices near the ends and middle of the Freedom Trail include:
More sites nearby:
Questions about Boston's Freedom Trail?
Have a question about Boston's Freedom Trail? Ask, and I'll do my best to answer.

First, though, check out what others have asked - I might have already answered the same question for someone else.

When asking your question, please fill out the whole form, including lines for name and location that say "optional."

After you send your question, you'll see a page that thanks you and asks you to set notification options. I highly recommend that you check the first 2 boxes so you'll be notified when I reply - otherwise, you'll have no way of knowing other than checking the website periodically. When you see my reply, please let me know if it was helpful!

Thanks for getting in touch, and enjoy your visit to Boston!

Susan

Questions about Boston's Freedom Trail
Here's what others have asked:

Like this Page? Please Share!
Related to Freedom Trail:
More Fun Ways to Tour Boston