Home > Boston Events >
Boston Event Calendar - January 2016
Best Things to Do in January in Boston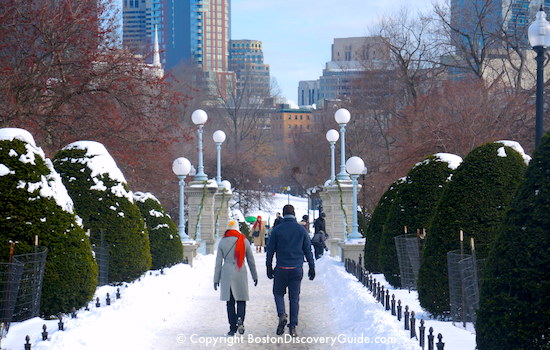 January scene: Walking across the snow-covered footbridge in Boston's Public Garden
Check the Boston Event Calendar for January 2016 for the fun things to do in the city - indoors and outdoors!
Yes, Boston's January weather can be cold - so you have to embrace it!
Watch the L Street Brownies kick off 2016 with their annual Polar Plunge - or treat yourself to a New Year's Day Brunch.
Join commemorations of former Boston University student (and renowned civil rights leader) Dr. Martin Luther King, Jr., savor wine and food pairings at the renowned Boston Wine Festival, cheer at a Celtics or Bruins game, and don't miss the Boston Celtic Music Festival.
Many Boston hotels give you their cheapest discount rates of the year during January. With so much going on in the city, January is the perfect time to enjoy world-class music, museums, sports, restaurants, and more.
With ice skating and sledding on Boston Common if we do get snow, plus plenty of indoor warmth in our welcoming Irish pubs, historic taverns, and superb restaurants, you'll find a city filled with excitement, fun, good food, and cheer.
January 2016 official holidays in Boston :
New Year Day - January 1
Dr. Martin Luther King Jr. Day - January 18
Add an event to the Boston Event Calendar for January
Quick Links: Boston events calendars: December l February l Other Months
Winter Classic 2016 at Gillette Stadium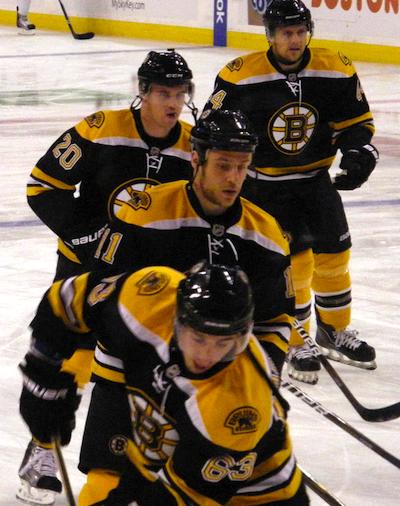 It's official - the National Hockey League has announced that the 2016 Bridgestone NHL Winter Classic will feature the Boston Bruins and arch-rivals Montreal Canadiens in an historic game at Gillette Stadium on January 1, 2016.
This will be THE way to spend New Year's Day, 2016!
And don't wait to reserve your hotel room near Gillette.
Closest is the spectacular Renaissance Hotel just steps away from the stadium.
More Hotels near Gillette Stadium - Winter Classic Picks
More about hotels near Gillette Stadium (and Wrentham Premium Outlets)


Bruins January Schedule at the Garden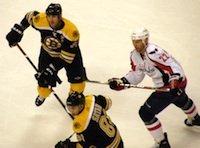 Start the New Year off right by going to see the Boston Bruins on the ice at Boston's TD Garden
January 1 vs Montreal, 1pm - Winter Classic at Gillette Stadium
January 5 vs Washington, 7pm
January 16 vs Toronto, 7pm
January 21 vs Vancouver, 7pm
January 23 vs Columbus, 7pm
January 26 vs Anaheim, 7pm
L Street Brownies Take Their Annual Plunge
Are they crazy . . . or just incredibly fit and brave?
Ever since 1904, the L Street Brownies celebrate the New Year by plunging into the icy waters of Dorchester Bay and raising money for local charities. If you're visiting Boston and want to have a true "insider" experience of our real culture - head to Carson Beach/L Street Beach for this famous Boston event on January 1.
Between about 500 and 1,000 swimmers participate in the New Year event. Irish bagpipers usually play until they also jump in the water. A large crowd of friends and onlookers cheer the swimmers on while passing around towels, vitamin C, and flasks.
Many of the L Street Brownies, a polar bear swim club formed in 1902 and named after the L Street Bathhouse in South Boston, swim here daily throughout the year. Although most members appear to be 50-something or younger, a number are in their 80s and 90s and attribute their strong immune systems to the daily exercise and icy water.
When: Friday, January 1, 2016 at 9:30am (Registration for those making the plunge starts at 8am)
Where: L Street Bathhouse at Curley Community Center (617-635-5104), 1663 Columbia Road, Carson Beach, South Boston
Closest T station: Red Line/JFK-UMass Station; walk half a mile to the Curley Community Center. Alternately, take the T Red Line to Broadway Station and transfer to the #9 or #11 City Point bus.
Note: MBTA subway and buses run on a holiday schedule in New Year's Day; expect more of a wait than usual
Parking: Available along Day Blvd
Cost: Free
More about Carson Beach and L Street Beach
New Year's Day Brunch
(aka "Hangover Brunch")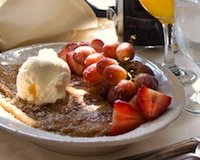 When: Friday, January 1

So, you partied all night to greet the New Year and slept until noon . . . but now you're awake and starving!
What Boston restaurants serve New Year's Day brunch?
Fortunately, more than you might imagine:
Be sure to make advance reservations, as lots of Boston locals as well as visitors go out for brunch on New Year's Day to get a good start on the New Year.


Boston Baroque First Day Concert 2016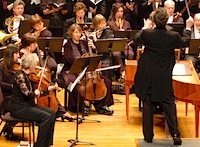 Boston Baroque welcomes the New Year with a thrilling performance of Domenico Cimarosa's Il Maestro di Cappela and Mozart's Arias and Duets. Celebrate with complimentary champagne and chocolates during intermission.
When: January 1, 2016, 3pm
Where: Sanders Theatre, Harvard University
Parking: Nearby garage, free
Tickets and more information: website; check Goldstar for possible half-price tickets
---
Celtics Schedule at the Garden - 2016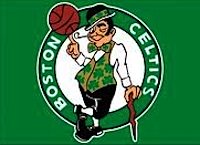 The Celtics pack in plenty of excitement during home games throughout December over at the Garden.
Tickets for Boston Celtics Games
January 2 vs Brooklyn - 3pm
January 6 vs Detroit - 7:30pm
January 13 vs Indiana - 8pm
January 15 vs Phoenix - 7:30pm
January 22 vs Chicago - 7:30pm
January 27 vs Denver - 7:30pm
January 29 vs Orlando - 7:30pm

Check Goldstar for discount tickets (selected dates)
Hotels near TD Garden
Park: Garages near TD Garden
Celebrate: Nightlife near Celtics Games

Best Boston Tours for January, 2016
Faneuil Hall Marketplace Tour- This fascinating tour lets you step back in time to learn about the market's central role in Boston's history, how it was built, and how it led to Boston's importance as an international trade center. The free tour takes place on Sunday, January 3 at 11am (weather permitting) and lasts about an hour. Meet your guide by Pulse Cafe on South Market Street. Find out more
---
Forget those New Year's Resolutions . . .
. . . and sign up for these special culinary classes for January and beyond (note: they almost always fill up quickly - so sign up fast if you want to participate):
- Sofra's Winter Cooking Classes - Award-winning Chefs Ana Sortun and other instructors from Oleana, Sofra, and Sarma conduct almost-weekly cooking classes/demonstrations from 6:30pm-9pm at Sofra Bakery (1 Belmont Street, Cambridge). In addition to yummy samples including wine pairings, you get a recipe book to take home with you.
On offer this month: January 19, Whole Grains and the Mighty Chickpea ($110); January 26, Love Affair with Chocolate (make something special for Valentine's Day!) ($85).
Questions? Contact classes@sofrabakery.com for more information
Check out more cooking classes during February and March
Half-price & discount theater, comedy, & event tickets for January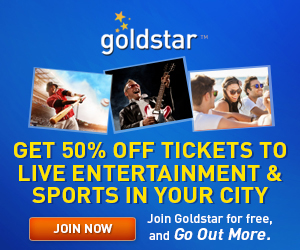 Half-price Boston tickets for January
Half price tickets usually start becoming available 3-4 weeks before an event, so check back for updates.
- Disney on Ice: World of Fantasy - Verizon Wireless Arena, Manchester, NH
- Shear Madness at the Charles Playhouse
- Improv Asylum's Mainstage Show - Boston's North End
- Speakeasy Circus - OBERON in Cambridge
- Boston Celtics for home games at TD Garden
- Odyssey dinner cruise - Boston Harbor
- Blue Man Group at the Charles Playhouse

MFA: Free Open House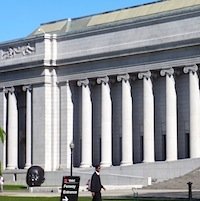 When: Monday, January 19 - Dr Martin Luther King Jr Day 2015
Where: Museum of Fine Arts, 465 Huntington Ave, Fenway, Boston; 617-267-9300; www.mfa.org
MFA will celebrate Dr King's legacy with special exhibitions and free admission on Dr Martin Luther King Jr Day.
Look for family-friendly activities and special exhibits throughout the museum celebrating Dr King, who lived in Boston while studying at Harvard and BU.
Can't come on the 19th? You can still get free admission if you have a Boston Discount Card.
GoBoston Card

51 ways to save up to 55%

On attractions, tours, cruises

CityPASS

5 top attractions in 9 days

47% savings
Winter Trails Day at Weston Ski Track near Boston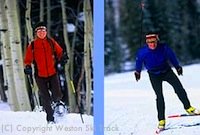 Winter Trails Day, on Saturday, January 10, 2015 is a national event designed to introduce everyone to the fun of being outside during the winter on cross-country skis or snowshoes.
Weston Ski Track, located only 30 minutes west of Boston, offers free snowshoe events between 9am and 2pm. You get a free snowshoeing trail pass, free snowshoe demos, and a free guided tour. Although some free snowshoes are available, they can only be used for 15-20 minutes per person in order to give everyone a chance to try them, but you can rent snowshoes and a pole at the regular rate of $13 ($7-$10 for kids & teens) if you want to spend a longer time on the trails.
More information: www.skiboston.com
More places to ski near Boston: Read our Guide to Massachusetts Ski Areas
More Winter Activities in Boston
---
Boston Pride - Women's Professional Hockey Schedule - 2016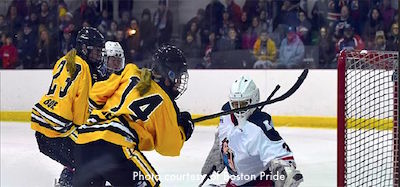 Boston Pride, women's professional hockey team, plays 3 home games during January at Bright-Landry Hockey Center (65 North Harvard Street, Boston) at Harvard University.
Tickets are $20 and you can get them here: http://nwhl.co/tickets-pride
Here's the home game schedule for January:

January 3 vs Buffalo Beauts - 3:00pm (Sunday)
January 10 vs New York Riveters - 3:00pm (Sunday)
January 17 vs Connecticut Whale- 3:00pm (Sunday)
---
Boston One-Minute Play Festival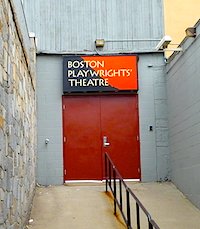 Here's your chance to see terrific theater from 50+ Boston area playrights - in two 2-night marathon series at the Boston One-Minute Play Festival!
Series A runs on Saturday and Sunday, January 3rd and 4th. Series B runs on Monday and Tuesday, January 5th and 6th. The 4-day event benefits Boston Public Works, a Boston playwrights' collective and event co-sponsor, along with Boston Playwrights' Theatre.
Performances take place at the Boston Playwrights' Theatre at 949 Commonwealth Ave on the Boston University campus. Performances start at 8pm. Tickets cost $20 for each series. Ticket information: www.facebook.com/one.minute.plays
Dr. Martin Luther King, Jr. Celebrations in Boston 2016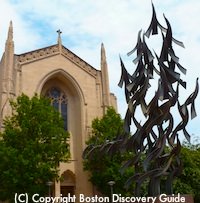 Martin Luther King, Jr. Day is a national holiday celebrated on the 3rd Monday in January - January 18th in 2016 - to commemorate Dr. King's role in ensuring civil rights, peace, and equality in America. Dr. King lived in Boston for several years while he studied at Harvard and Boston University, where he received his Ph.D. in systematic theology in 1955.
Although numerous events take place around Boston to honor Dr. King, one of the biggest is at Faneuil Hall on Boston's Freedom Trail at 1pm on Monday, January 18 (date and time to be confirmed for 2016). This event features a tribute by the Boston Youth Symphony Orchestra's Intensive Community Program of talented young musicians, and readings and tributes by distinguished guests. More information: http://www.afroammuseum.org/events.htm
More suggestions for Martin Luther King, Jr. Day:
Visit the Free at Last sculpture (shown in the above photo) honoring Dr. King in front of Marsh Chapel at Boston University, where he studied from 1951-55. Then attend BU's annual Commemoration of MLK Day (another of the city's biggest MLK Day events) at 1pm on January 18 (date and time to be confirmed for 2016) in BU's George Shermon Union (775 Commonwealth Ave). The 2016 event will include readings, talks, and dramatic pieces that reflect on the power of words to empower social justice and civil rights. More info: 617-353-4126 (Dean of Student's office).
Martin Luther King Jr Day of Service - Honor Dr. King's memory by participating in this event to make a better America by volunteering, part of the United We Serve initiative. Find more details on mlkday.gov
Visit Boston's Museum of African American History in Beacon Hill and walk along the Black Heritage Trail (the Museum is an excellent starting point). The museum will also host their Annual Tribute Concert to Dr. Martin Luther King Jr. on January 18 - time to be announced later (more info: 617-725-0022 x22)
Enjoy free admission on MLK Day at the Museum of Fine Arts, plus films, performances, and art activities to celebrate Martin Luther King Jr Day.
See more about the Free at Last sculpture on BDG's War Memorials page
Return to Top - Boston Event Calendar January
Shen Yun 2016 at the Wang Center
Shen Yun Performing Arts brings their brand new show of spectacular Chinese music and dance back to Boston's Opera House on January 22-24.
With incredible costumes, a full orchestra featuring Chinese and Western instruments, talented dancers, and animated backdrops, this mesmerizing show spans 5,000 years of Chinese dynasties, legends, and regions, including ethnic and folk dances, martial arts, drums, and powerful vocalists. You'll be dazzled by this unforgettable journey to the Middle Kingdom.
Find best seats and reserve your tickets now!
Patriots - Super Bowl!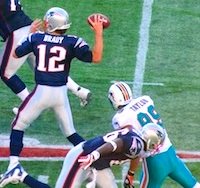 Will the Patriots head to the Super Bowl again in 2016?
Too soon to tell ... but never too soon to start planning for Super Bowl Sunday.
- Find recommendations for how to celebrate Super Bowl in Boston




Verdi's Un Ballo in Maschera ("The Masked Ball") at Sanders Theatre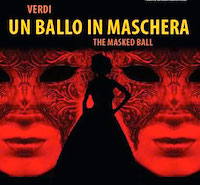 The Boston Youth Symphony Orchestra presents Un Ballo in Maschera at 3pm on Sunday, January 18 at Sanders Theatre on the Harvard campus in Cambridge. In this semi-staged production, Verdi's soaring arias provide a lyrical focus for this melodrama about intrigue, love, jealousy, and betrayal.
Tickets: $30-$45; children under 5 not admitted and recommended ages 10 and older due to the 3+ hours length. Call the Sanders Theatre Box Office at 617-496-2222 to order tickets.


Boston Art Shows - January 2015
Court Ladies or Pin-Up Girls at the Museum of Fine Arts explores the various images of women in Chinese art from the 11th through the 20th century, and includes paintings, prints, poster, and photographs from many different regions in China.
The show runs through July 19, 2015 at the Museum of Fine Arts, in Boston's Fenway neighborhood.
Museum (and show) admission: $25 adults; free entrance with Boston Discount Cards (GoBoston card and Boston CityPASS)
Adriana Varajão, a leading Brazilian artist, presents her first solo museum show in the US at the Institute of Contemporary Art Boston. In this show, she uses a series of self-portraits and color wheels to explore the complexities of skin color and mixed-race identity in post-colonial multicultural Brazil.
The show runs through April 5, 2015 at ICA Boston, on the South Boston Waterfront.
Admission: $15 adults; free entrance with GoBoston card
Boston Concerts during January 2015
| | |
| --- | --- |
| Photo courtesy Paula Poundstone | |
Find more Boston concerts during January
Wang Theatre
| TD Garden
| Blue Hills Bank Pavilion | Gillette Stadium

Boston Symphony Hall
| House of Blues
| Paradise Rock Club

Orpheum
| Wilbur Theatre
| Colonial Theatre
| Royale

Boston Opera House | Comcast Center
| Agganis Arena
College Nights at Frog Pond - 2015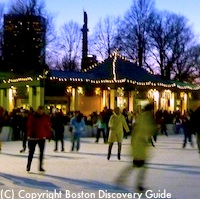 Head over to Frog Pond every Tuesday Night (except for major holidays) from 6pm - 9pm for College Nights. Show your current college ID and get half-price admission for $2 - it's the best cheap date in Boston!
When: Through mid-March (depending on the weather)
Where: Frog Pond, Boston Common
Closest T station: Red & Green Line/Park St
More about Ice Skating in Boston



More January Activities near Boston
Boston Wine Festival 2015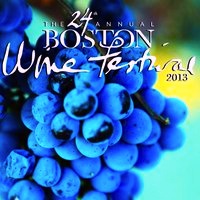 When: Friday, January 9 - Special Opening Celebration celebrating 26th anniversary of this epic Boston wine festival. Sample more than 50 wines from the many wineries featured this year, and enjoy seminars, receptions, and brunches as well as the world-famous dinners. Boston Wine Festival continues through March 27.
Where: Meritage, Boston Harbor Hotel, 70 Rowes Wharf, Boston Waterfront
Closest T station: Red Line/South Station
Cost: Tickets for dinner and wine range from about $145 - $290, depending on what's being served. Brunches start at $75
Almost 3 decades ago, Chef Daniel Bruce of Meritage Restaurant located in the luxurious Boston Harbor Hotel launched the Boston Wine Festival, now the longest-running and most famous food and wine event in the United States.
What is it about? For 3 months, Chef Bruce pairs some of the world's finest wines with his innovative cooking overlooking Boston's waterfront.
Chef Bruce, whose wine knowledge is exceptional even among Boston oenophiles, gathers bottles from the best boutique wineries around the world for events such as the Battle of the Cabernets, Super Tuscans, and Rising Pinots, as well as nightly dinners profiling the best from particular wineries or labels.
If you love excellent wine and superb food, this is a must-not-miss event.
Return to Top - Boston Event Calendar January
Boston discount passes for attractions, tours, cruises
GoBoston Card

51 ways to save up to 55%

On attractions, tours, cruises

CityPASS

5 top attractions in 9 days

47% savings
Music at House of Blues Boston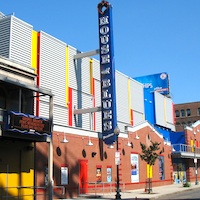 Where: House of Blues, Fenway, Boston
Closest T station: Green Line/Kenmore
If you drive: Parking near House of Blues Boston
Chase the January blues away at House of Blues Boston near Fenway Park to hear an interesting mix of locally and nationally known indie musicians playing blues, jazz, R&B, and sometimes Gospel. January performers include Devil Makes Three (Jan 10), The Tragically Hip (Jan 24), August Burns Red & Mas May 1 (Jan 25), London Grammar (Jan 26), Ben Howard (Jan 27), and Dr. Dog (Jan 31).
Get your House of Blues Boston Tickets Now!
More concerts and shows during January
Boston Celtic Music Festival - 2015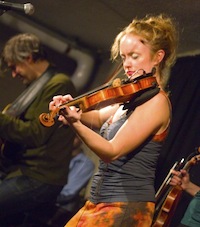 Boston's Celtic Music Festival on January 9-11, 2015, brings together over 100 musicians in a 3-day event to spotlight Boston area Celtic musicians and singers. Expect to hear lots of Irish fiddle music, Scottish, Cape Breton, Quebecois, and even New England music as the musicians explore Celtic music from Europe to the New World.
The festival kicks off on Friday with a parade and concert at Club Passim in Harvard Square (yes, despite having "Boston" in its name, the festival actually takes place in Cambridge), and music and traditional dancing at the Atrium. Music continues throughout Saturday at several venues, ending in a rousing concert of music and dance on Saturday night.
Closest T station: Red Line/Harvard Square
Cost: Tickets required for various events, with prices ranging from $15 - $28
More info and full schedule: www.clubpassim.org
Return to Top - Boston Event Calendar January
Looking ahead to February
Quick Links: Fun Boston Events Year Round!
January Events Posted by Others - Or Post Your Own
In addition to the January events described on this page, many other interesting events take place in and around Boston.
We hear about lots of these events directly from other visitors to Boston Discovery Guide, or from the event organizers. Find a list of these events
Do you know about an event for January that other might enjoy? Tell us about it here
Or, if your event is for another month (not January), tell us about it here
Return to Top - Boston Events Calendar for January
Like this Page? Please Share!
Boston Discovery Guide > Events > January 2015