Home > Boston Events >
Boston Event Calendar - January 2014
Best Things to Do in January in Boston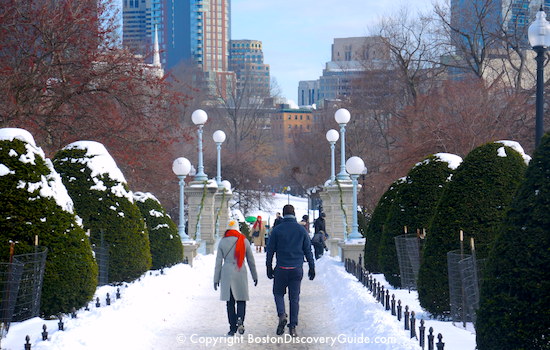 January scene: Walking across the snow-covered footbridge in Boston's Public Garden
Check the Boston Event Calendar for January 2014 for the fun things to do in the city - indoors and outdoors!
Yes, Boston's January weather can be cold - so you have to embrace it!
The 2014 Prudential U.S. Figure Skating Championships give everyone reason to love the ice.
Watch the L Street Brownies kick off 2014 with their annual Polar Plunge - or treat yourself to a New Year's Day Brunch.
Join commemorations of former Boston University student (and renowned civil rights leader) Dr. Martin Luther King, Jr., savor wine and food pairings at the renowned Boston Wine Festival, cheer at a Celtics or Bruins game, and don't miss the Boston Celtic Music Festival.
Many Boston hotels give you their cheapest discount rates of the year during January. With so much going on in the city, January is the perfect time to enjoy world-class music, museums, sports, restaurants, and more.
With ice skating and sledding on Boston Common if we do get snow, plus plenty of indoor warmth in our welcoming Irish pubs, historic taverns, and superb restaurants, you'll find a city filled with excitement, fun, good food, and cheer.
January 2014 official holidays in Boston :
New Year Day - January 1
Dr. Martin Luther King Jr. Day - January 21
Add an event to the Boston Event Calendar for January
Quick Links: Boston events calendars: December l February l Other Months
Bruins January Schedule at the Garden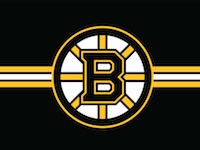 Start the New Year off right by going to see the Boston Bruins on the ice at Boston's TD Garden
Thurday, January 2 vs Predators - 7:00pm
Saturday, January 4 vs Jets - 1:00pm
Tuesday, January 14 vs Maple Leafs - 7:00pm
Monday, January 20 vs Kings - 1:00pm
Teusday, January 28 vs Panthers - 7:00pm
Thursday, January 30 vs Canadiens - 7:00pm
Celtics Schedule at the Garden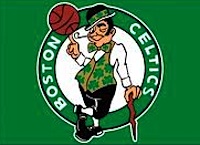 The Celtics pack in plenty of excitement during home games throughout December over at the Garden.
Tickets for Boston Celtics Games
Friday, January 3 vs New Orleans - 7:30pm
Monday, January 13 vs Houston - 7:30pm
Wednesday, January 15 vs Toronto - 7:30pm
Friday, January 17 vs Los Angeles - 7:30pm
Friday, January 24 vs Oklahoma City - 7:30pm
Sunday, January 26 vs Brooklyn - 6:30pm
Wednesday, January 29 vs Philadelphia - 7:30pm

Hotels near TD Garden
Park: Garages near TD Garden
Celebrate: Nightlife near Celtics Games

Forget those New Year's Resolutions . . .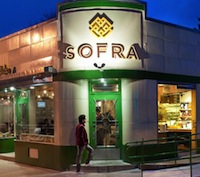 . . . and sign up for these special culinary classes for January and beyond:
- Sofra's Winter Cooking Classes - Award-winning Chefs Ana Sortun and other instructors from Oliean, Sofra, and Sarma conduct almost-weekly cooking classes/demonstrations at 6:30pm at Sofra (1 Belmont Street, Cambridge). In addition to yummy samples including wine pairings of everything the chefs demonstrate, you get a recipe book to take home with you.
On offer this month: January 13, Roots (tasty ways to cook root veggies) ($110); January 27, Getting to Know Your Knives (and taste a feast prepared with knives) ($110).
Questions? Contact classes@sofrabakery.com for more information
Check out more cooking classes during February and March
Half-price theater and comedy tickets for January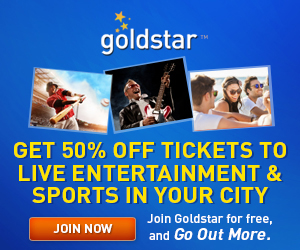 Half-price Boston tickets for January
Half price tickets usually start becoming available 3-4 weeks before an event, so check back for updates.
- Venus in Fur at the Boston University Theatre
- AcousticaElectronica: Dancy Party Show at the Oberon Theatre in Cambridge
- Boston Baroque Rings in the New Year with Bach - Sanders Theatre
- The Wingman - a night of "uncouth comedy" at West End Johnnie's
- Boston's Best Comics at Dick Doherty's Comedy Den - Boston
- Comedic Fantasy Insignificance - Central Square Theatre, Boston
- Hairspray at Wheelock Family Theatre
- The Color Purple @ Calderwood Pavilion, Boston Center for the Arts
- Blue Man Group at the Charles Playhouse
- Brunch, lunch, and dinner cruises on the Odyssey

Winter Trails Day at Weston Ski Track near Boston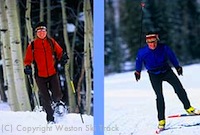 Winter Trails Day, on Saturday, January 11, 2014 is a national event designed to introduce everyone to the fun of being outside during the winter on cross-country skis or snowshoes.
Weston Ski Track, located only 30 minutes west of Boston, offers free snowshoe events between 9am and 2pm. You get a free snowshoeing trail pass, free snowshoe demos, and a free guided tour. Although some free snowshoes are available, they can only be used for 15-20 minutes per person in order to give everyone a chance to try them, but you can rent snowshoes and a pole at the regular rate of $13 if you want to spend a longer time on the trails.
More information: www.skiboston.com
More places to ski near Boston: Read our Guide to Massachusetts Ski Areas
Dr. Martin Luther King, Jr. Celebrations in Boston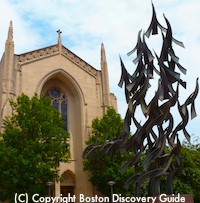 Martin Luther King, Jr. Day is a national holiday celebrated on the 3rd Monday in January - January 20th in 2014 - to commemorate Dr. King's role in ensuring civil rights, peace, and equality in America. Dr. King lived in Boston for several years while he studied at Harvard and Boston University, where he received his Ph.D. in systematic theology in 1955.
Although numerous events take place around Boston to honor Dr. King, one of the biggest is at Faneuil Hall on Boston's Freedom Trail at 1pm on Monday, January 20, 2014. This event features a tribute by the Boston Youth Symphony Orchestra's Intensive Community Program of talented young musicians, and readings and tributes by distinguished guests. More information: http://www.afroammuseum.org/events.htm
More suggestions for Martin Luther King, Jr. Day:
Visit the Free at Last sculpture (shown in the above photo) honoring Dr. King in front of Marsh Chapel at Boston University, where he studied from 1951-55. Then attend BU's annual Commemoration of MLK Day (another of the city's biggest MLK Day events) at 1pm on January 20 in BU's George Shermon Union (775 Commonwealth Ave). The 2014 event will include readings, talks, and dramatic pieces that reflect on the power of words to empower social justice and civil rights. More info: 617-353-4126 (Dean of Student's office).
Martin Luther King Jr Day of Service - Honor Dr. King's memory by participating in this event to make a better America by volunteering, part of the United We Serve initiative. Find more details on mlkday.gov
Visit Boston's Museum of African American History in Beacon Hill and walk along the Black Heritage Trail (the Museum is an excellent starting point).
Enjoy free admission on MLK Day at the Museum of Fine Arts, plus films, performances, and art activities to celebrate Martin Luther King Jr Day.
See more about the Free at Last sculpture on BDG's War Memorials page
Return to Top - Boston Event Calendar January
Tosca at Sanders Theatre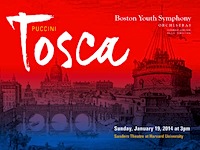 The Boston Youth Symphony Orchestra presents Tosca at 3pm on Sunday, January 19 at Sanders Theatre on the Harvard campus in Cambridge. In this semi-staged production, Puccini's soaring arias provide a lyrical focus for this melodrama about torture, murder, and suicide set in Rome in 1800. Children under 10 not admitted.
Tickets: $30-$40; children under 10 not admitted. Call 617-496-2222 to order tickets.


Boston Art Shows - January 2014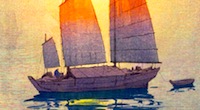 The Creative Process in Modern Japanese Printmaking at the Museum of Fine Arts looks at printmaking as a technique as well as a fine art form as it explores how Japanese artists stretch the woodblock process to go capture the content of their imaginations.
The show runs through February 13, 2014 at the Museum of Fine Arts, in Boston's Fenway neighborhood.
Museum (and show) admission: $25 adults; free entrance with Boston Discount Cards (GoBoston card and Boston CityPASS)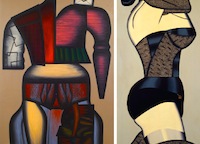 Christina Ramberg, a late 20th century American artist who died at 49 in 1995, is the focus of this exhibit at ICA Boston, which focuses on her paintings made between 1971 and 1981 exploring the mutable forms, identities, and transformations of the female body.
The show runs through March 2, 2014 at ICA Boston, on the South Boston Waterfront.
Admission: $15 adults; free entrance with GoBoston card
Boston Concerts during January 2014
Find more Boston concerts during January:
Wang Theatre
| TD Garden
| Blue Hills Bank Pavilion | Gillette Stadium

Boston Symphony Hall
| House of Blues
| Paradise Rock Club

Orpheum
| Wilbur Theatre
| Colonial Theatre
| Royale

Boston Opera House | Comcast Center
| Agganis Arena
College Nights at Frog Pond - 2014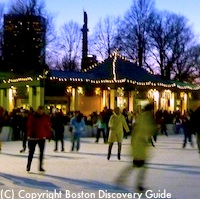 Head over to Frog Pond every Tuesday Night (except for major holidays) from 6pm - 9pm for College Nights. Show your current college ID and get half-price admission for $2 - it's the best cheap date in Boston!
When: Through mid-March (depending on the weather)
Where: Frog Pond, Boston Common
Closest T station: Red & Green Line/Park St
More about Ice Skating in Boston



More January Activities near Boston
Boston Wine Festival 2014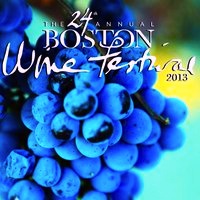 When: Friday, January 10 - Special Opening Celebration celebrating 25th anniversary of this epic Boston wine festival - sample more than 50 wines from the many wineries featured this year - Boston Wine Festival continues through early April
Where: Meritage, Boston Harbor Hotel, 70 Rowes Wharf, Boston Waterfront
Closest T station: Red Line/South Station
Cost: Tickets for dinner and wine range from about $145 - $290, depending on what's being served. Brunches start at $75
Twenty five years ago, Chef Daniel Bruce of the famed Meritage Restaurant located in the luxurious Boston Harbor Hotel launched the Boston Wine Festival, now the longest-running and most famous food and wine event in the United States.
What is it about? For 3 months, Chef Bruce pairs some of the world's finest wines with his innovative cooking overlooking Boston's waterfront.
Chef Bruce, whose wine knowledge is exceptional even among Boston oenophiles, gathers bottles from the best boutique wineries around the world for events such as the Battle of the Cabernets, Super Tuscans, and Rising Pinots, as well as nightly dinners profiling the best from particular wineries or labels.
If you love excellent wine and superb food, this is a must-not-miss event.
Return to Top - Boston Event Calendar January
Boston discount passes for attractions, tours, cruises
GoBoston Card

51 ways to save up to 55%

On attractions, tours, cruises

CityPASS

5 top attractions in 9 days

47% savings
Music at House of Blues Boston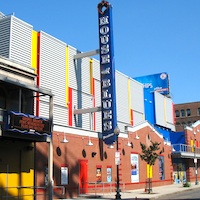 Where: House of Blues, Fenway, Boston
Closest T station: Green Line/Kenmore
If you drive: Parking near House of Blues Boston
Chase the January blues away at House of Blues Boston near Fenway Park to hear an interesting mix of locally and nationally known indie musicians playing blues, jazz, R&B, and sometimes Gospel. January performers include Jake Bugg (Jan 11), Disclosure (Jan 16), Datsik (Jan 17), Trombone Shorty and Orleans Avenue (Jan 18), Savoy (Jan 23), Lotus (Jan 24), Panic at the Disco (Jan 30), and Aer (Jan 31).
Get your House of Blues Boston Tickets Now!
More concerts and shows during January
Boston Celtic Music Festival - 2014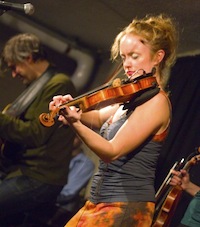 Boston's Celtic Music Festival on January 10-11, 2014, brings together over 100 musicians in a 2-day event to spotlight Boston area Celtic musicians and singers. Expect to hear lots of Irish fiddle music, Scottish, Cape Breton, Quebecois, and even New England music as the musicians explore Celtic music from Europe to the New World.
The festival kicks off on Friday with a parade and concert at Club Passim in Harvard Square (yes, despite having "Boston" in its name, the festival actually takes place in Cambridge), and music and traditional dancing at the Atrium. Music continues throughout Saturday at several venues, ending in a rousing concert of music and dance on Saturday night.
Closest T station: Red Line/Harvard Square
Cost: Tickets required for various events, with prices ranging from $12 - $28; special pricing for children for some events
More info and full schedule: www.bcmfest.com
Return to Top - Boston Event Calendar January
L Street Brownies Take Their Annual Plunge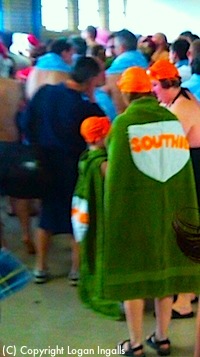 Are they crazy . . . or just incredibly fit and brave?
Ever since 1904, the L Street Brownies celebrate the New Year by plunging into the icy waters of Dorchester Bay and raising money for local charities. If you're visiting Boston and want to have a true "insider" experience of our real culture - head to Carson Beach/L Street Beach for this famous Boston event on January 1.
Between about 500 and 1,000 swimmers participate in the New Year event. An Irish band usually plays until they also jump in the water. A large crowd of friends and onlookers cheer them on while passing around towels, vitamin C, and flasks.
Many of the L Street Brownies, a polar bear swim club formed in 1902 and named after the L Street Bathhouse in South Boston, swim here daily throughout the year. Although most members appear to be 50-something or younger, a number are in their 80s and 90s and attribute their strong immune systems to the daily exercise and icy water.
When: Wednesday, January 1, 2014 at 9:30am (Registration for those making the plunge starts at 8am)
Where: L Street Bathhouse at Curley Community Center (617-635-5104), 1663 Columbia Road, Carson Beach, South Boston
Closest T station: Red Line/JFK-UMass Station; walk half a mile to the Curley Community Center. Alternately, take the T Red Line to Broadway Station and transfer to the #9 or #11 City Point bus.
Note: MBTA subway and buses run on a holiday schedule in New Year's Day; expect more of a wait than usual
Parking: Available along Day Blvd
Cost: Free
More about Carson Beach and L Street Beach
New Year's Day Brunch
(aka "Hangover Brunch")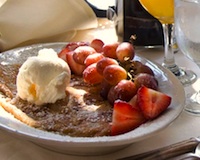 When: Tuesday, January 1

So, you partied all night to greet the New Year and slept until noon . . . but now you're awake and starving!
What Boston restaurants serve New Year's Day brunch?
Fortunately, more than you might imagine:
Be sure to make advance reservations, as lots of Boston locals as well as visitors go out for brunch on New Year's Day to get a good start on the New Year.


Boston Baroque First Day Concert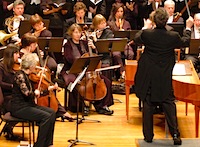 Boston Baroque welcomes the New Year with a thrilling performance of J.S. Bach's Brandenburg Concertos No. 3 and No. 4 featuring Soprano Kristen Watson, Tenor Matthew Anderson, and Baritone Andrew Garland. Celebrate with complimentary champagne and chocolates during intermission.
When: January 1, 2014, 3pm (also December 31, 2013 at 8pm)
Where: Sanders Theatre, Harvard University
Parking: Nearby, free
Tickets and more information: website; check Goldstar for possible half-price tickets
2014 U.S. Figure Skating Championships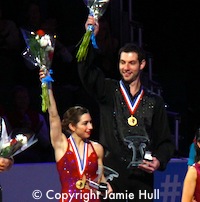 For the 7th time in history, U.S. Figure Skating brings the 2014 Prudential U.S. Figure Skating Championship to Boston's TD Garden and the Boston Convention and Exhibition Center from January 5-12. The Skating Club of Boston will cohost the event.
This is the nation's most prestigious figure skating event, with Massachusetts' own Nancy Kerrigan and Todd Eldredge among the past winners. Champions will be crowned in 20 events, the final qualifying point prior to selection of the U.S. Olympic Figure Skating Team for the February 2014 Olympic Winter Games in Sochi, Russia.
Tickets start as low as $10 - Don't miss this exciting event!
Photo of Marissa Castelli and Simon Scnapir, 2013 Pairs Champions, courtesy of Jamie Hull via CC-BY-SA-3.0 (http://creativecommons.org/licenses/by-sa/3.0).
Looking ahead to February
Quick Links: Fun Boston Events Year Round!
Know about a fun Boston event for January?
Tell us where it's being held, dates, times, cost, and who's sponsoring it. Most important, tell us why others will enjoy it.

Where to get more information about it (phone # and web address) helps others find it.

Please include your name and location on the submission form, and at least 1 photo or image to represent the event. Submissions without your name and one or more photos or images will not be accepted.
Events added by other visitors
Click below to see events added by other visitors to this page...

January 2014 Boston Events
On Tuesday, January 28th, 2014 Beat Hôtel, located in Cambridge's Harvard Square, will launch a new tribute series with an evening dedicated to the revolutionary …
January 2013 Boston Events
On Saturday, January 26th, 2013 from 9:00AM to 4:00PM the Boston Center for Adult Education (BCAE) will hold its second annual Writing Symposium "Writing …
Like this Page? Please Share!
Boston Discovery Guide > Events > January 2014